This article provides you with 50 different box braids with curls that have taken over the internet. Taking a break from wigs and weaves and switching to braids is an excellent choice. Not only do they help to protect the hair, but they also help to repair damages. Braids have been in existence since the 1990s, but guess what? The 2023 box braids with curls are everything you've ever desired! Grab your popcorn and keep reading.
1. Burgundy Red Box Braids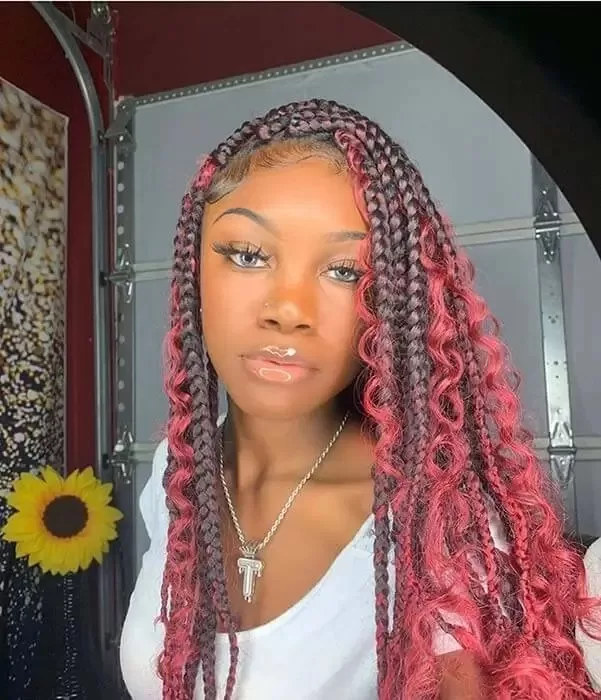 Combining red and burgundy goes smoothly. You can make it burgundy curls and red braids or switch it around.
2. Goddess Braids with Accessories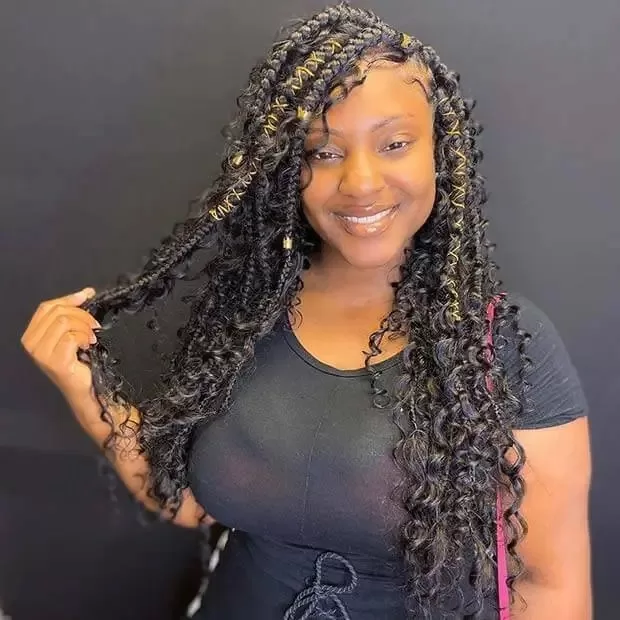 Here, we have very long braids with shining curls. Then there's the addition of gold cuffs and gold cords to give it a glamorous look.
3. Two Boldly Colored Jumbo Box Braids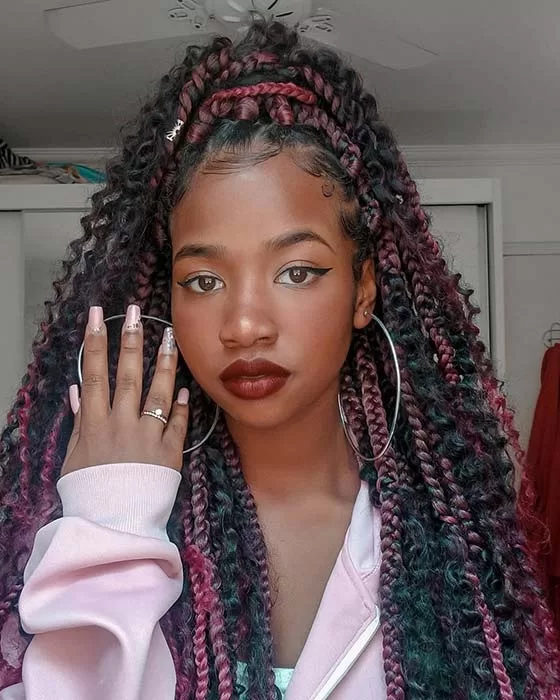 If you're more comfortable with bold colors. Here, there's plenty of black hair combined with a dark red color.
4. 90's Box Braids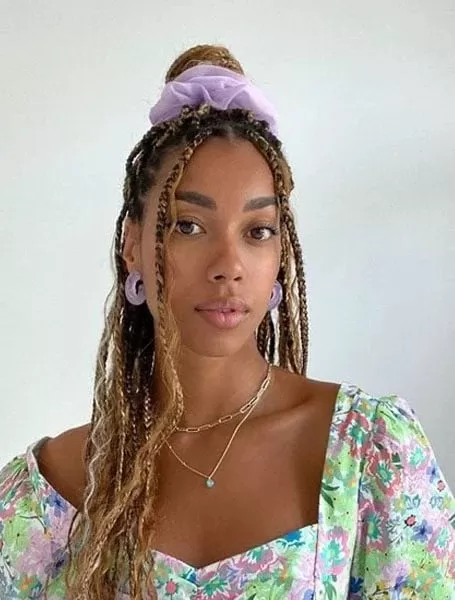 You have a special function at the museum or an event whose theme is history, this is the perfect hairstyle to show up with.
5. Breathtaking Braids with Loose Curls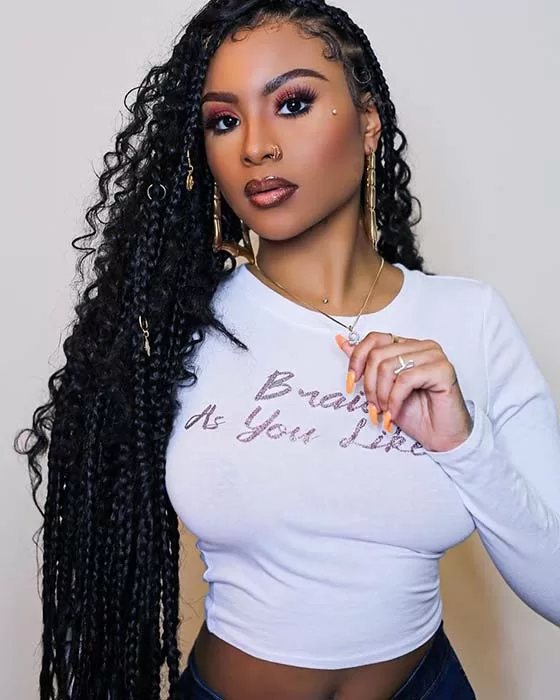 Long box braids worn to the right side are surely making a statement with those stunning-looking loose curls.
6. Knotless Goddess Box Braids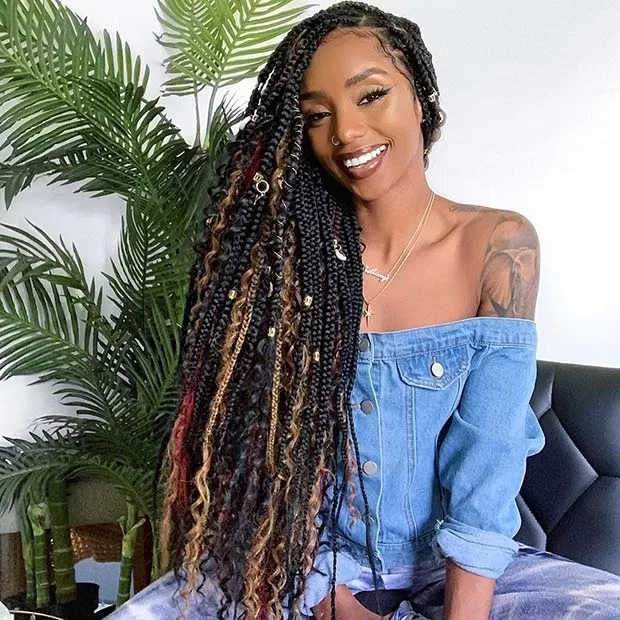 This hair is beautifully braided with different colours of loose curls and decorated with different accessories. Making it a great idea for the summer.
7. Square Bob Box Braids with Curls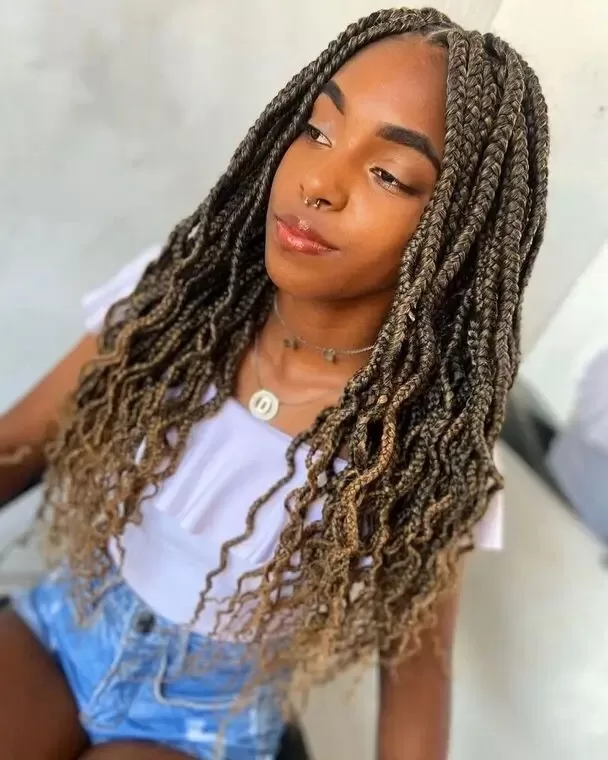 Square bob box braids look a bit harsh, especially when combined with thick curls; however, they're cute when rocked like this.
8. Jumbo Box Braids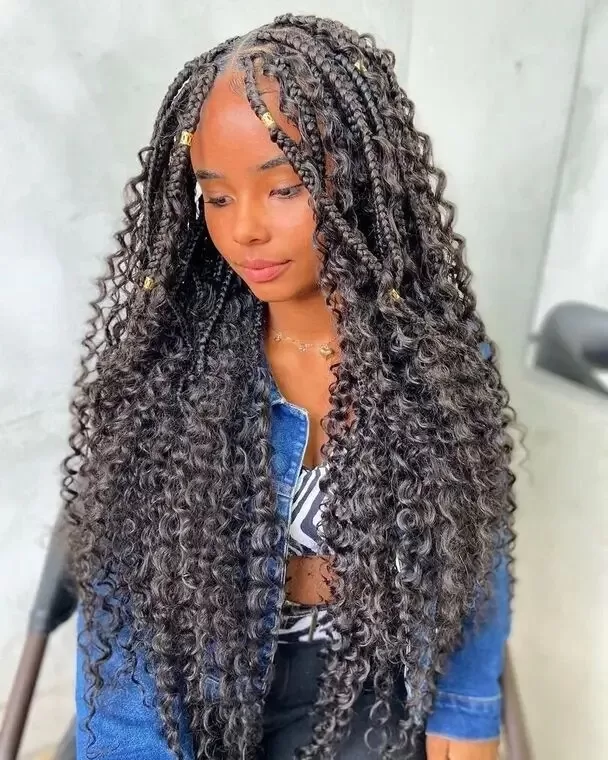 Jumbo box braids are all about going for thick braids with lots of curls.
9. Queen Goddess Box Braids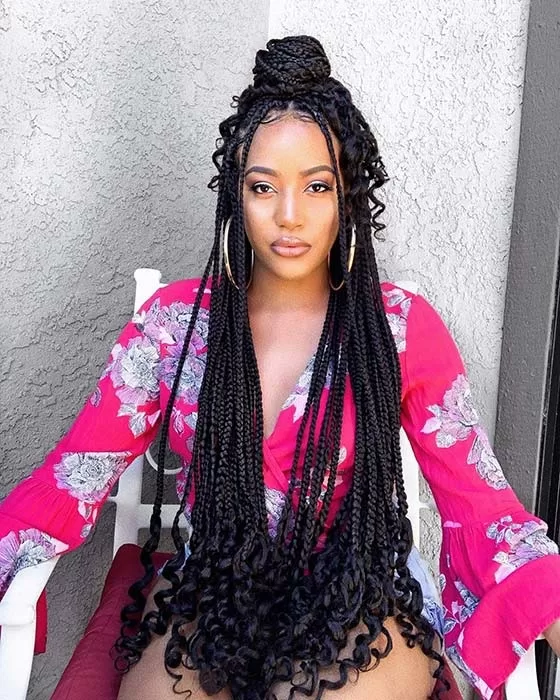 If you feel like a queen and want to look like one, this box braid is for you.
10. Mid-Length Crochet Box Braids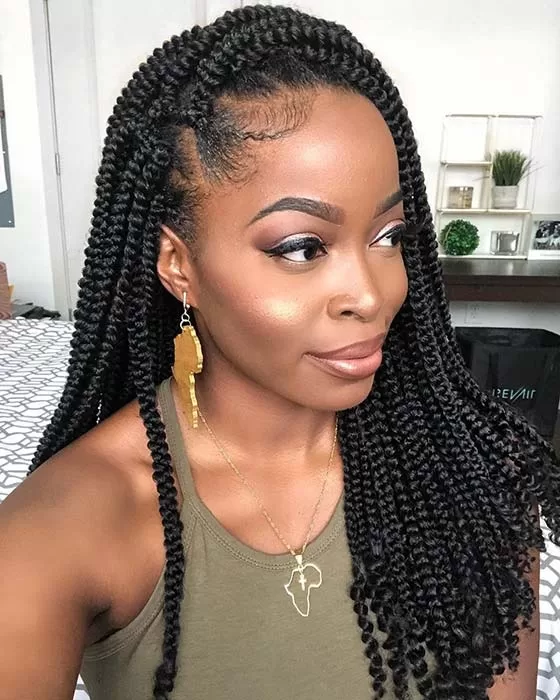 This look comprises 3 packs of coil-end box braids and 18 plus many concept afri-naptural braids.
11. Tight Curl Braids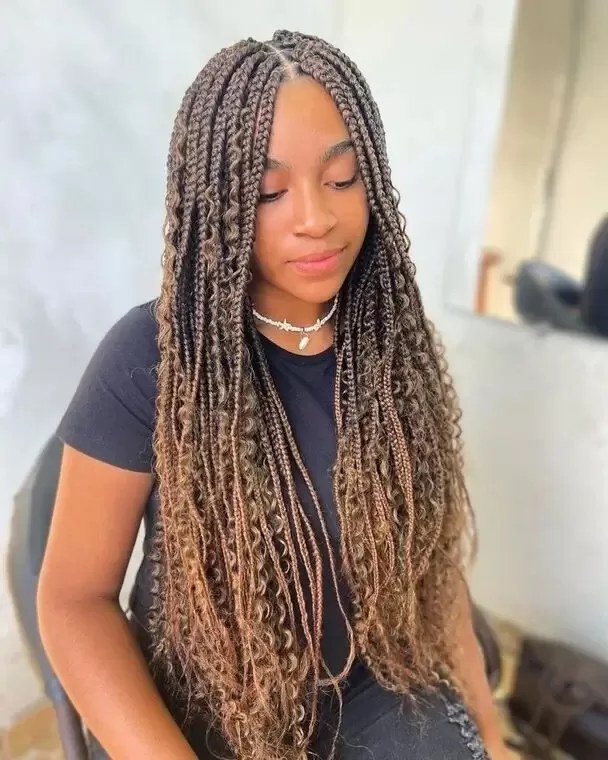 Here we have tight curls with intricate patterns. It's best for people with natural hair.
12. Side-Part Box Braids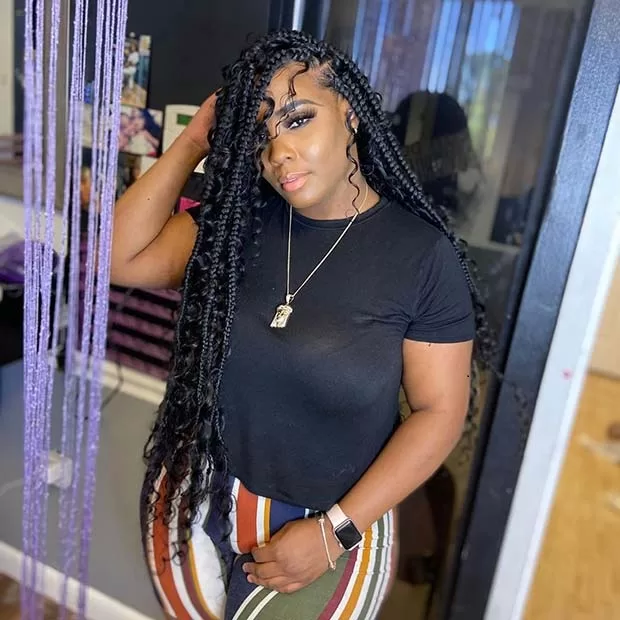 Long, chunky braids with tight curls—this is all you need to look top-notch on all occasions.
13. Chin-Length Bobs with Accessories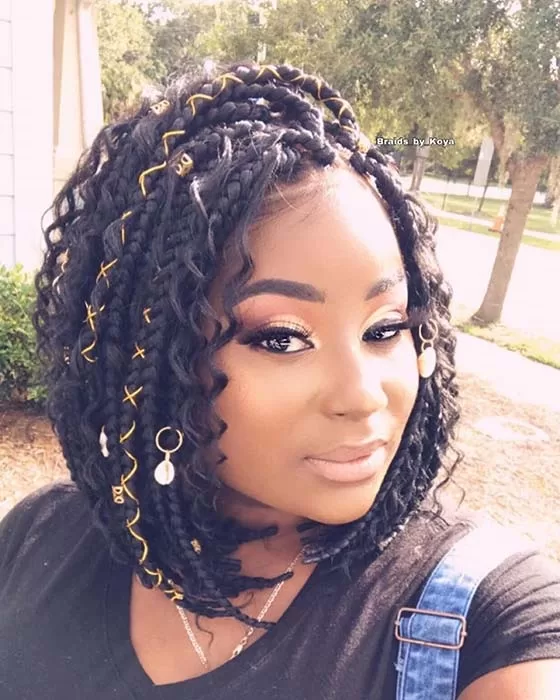 If you prefer short hair, then go for it during the summer. Don't forget to add accessories like this to glam it up.
14. Goddess Box Braids with Loose Curls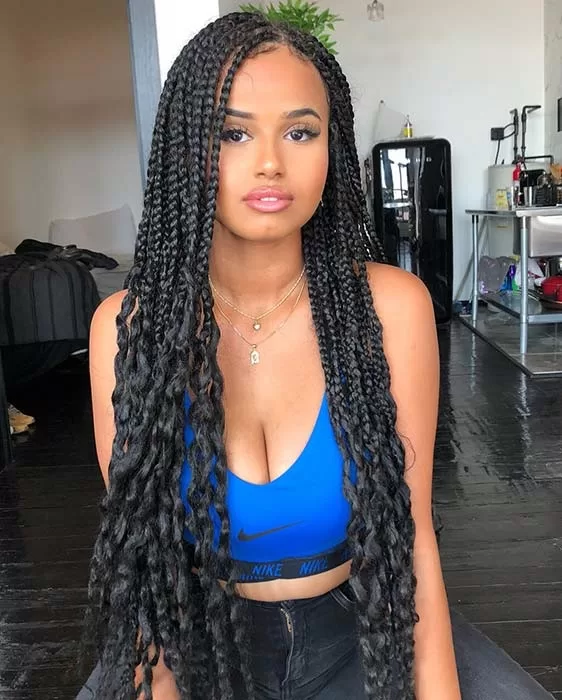 Goddess braids always accompany tight curls. Regardless, here's a stunning goddess braid with loose curls, perfect for a relaxed look.
15. Bob Braids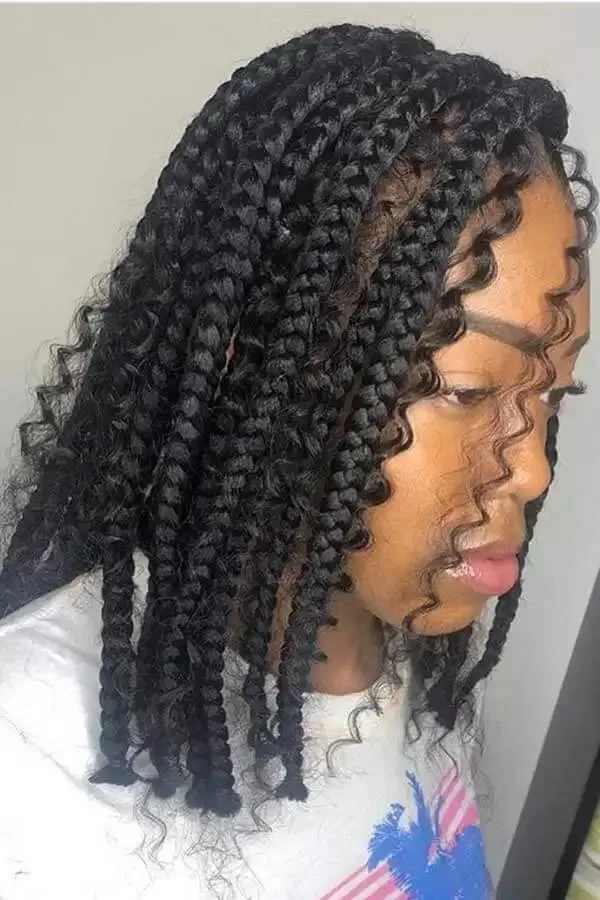 Sometimes it's good to switch from long braids to short box braids.
16. Platinum Blonde Box Braids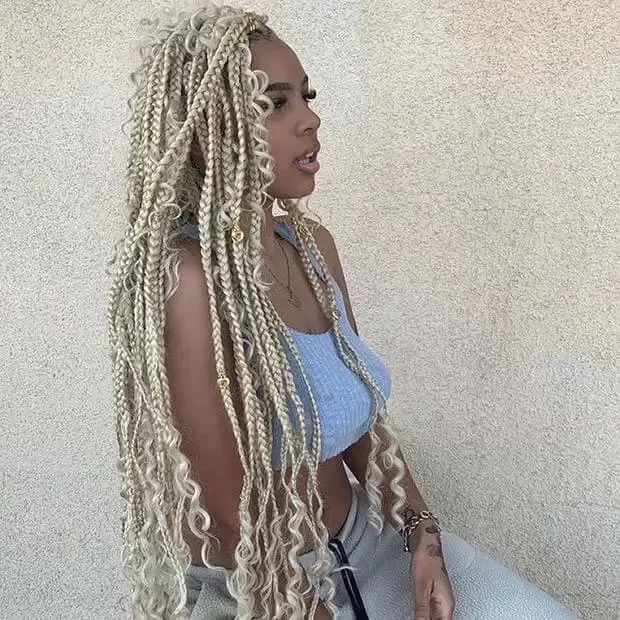 If you prefer blondes but don't know how to go about it, choose platinum blonde braids.
17. Summer Goddess Box Braids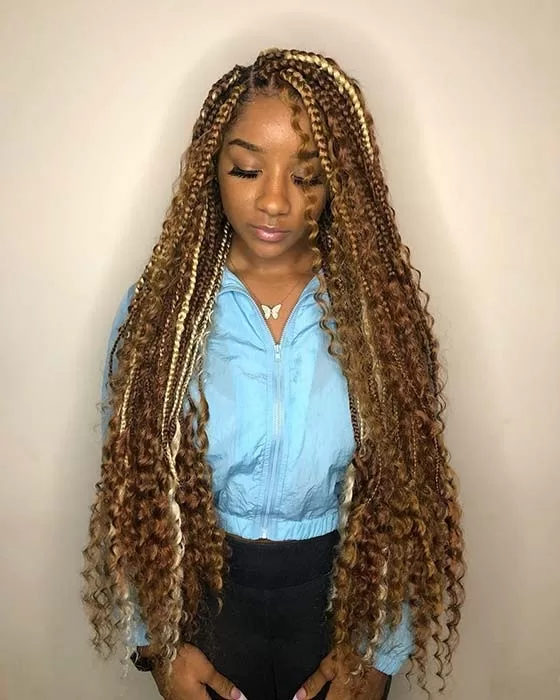 Every lady loves to feel like a goddess, which is what makes goddess box braids the right hairstyle for summer.
18. Gorgeous Bohemian Braids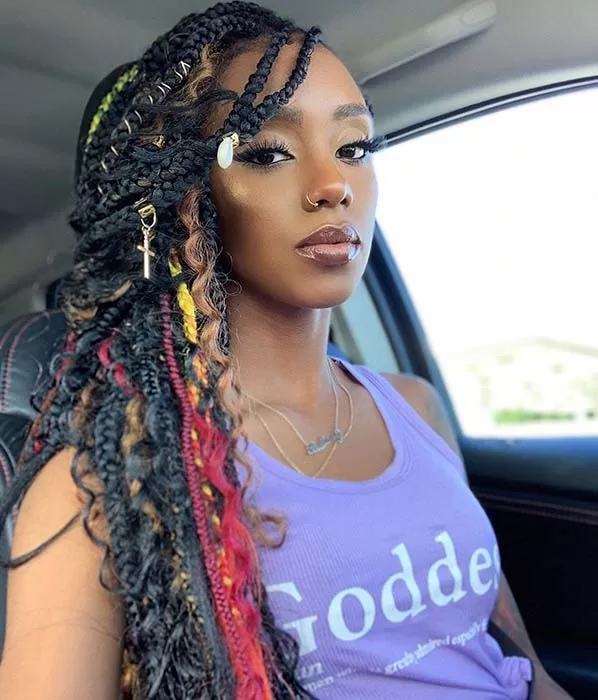 Regardless of the occasion, you can always trust bohemians to bring out your beauty.
19. Thin, Tight Box Braids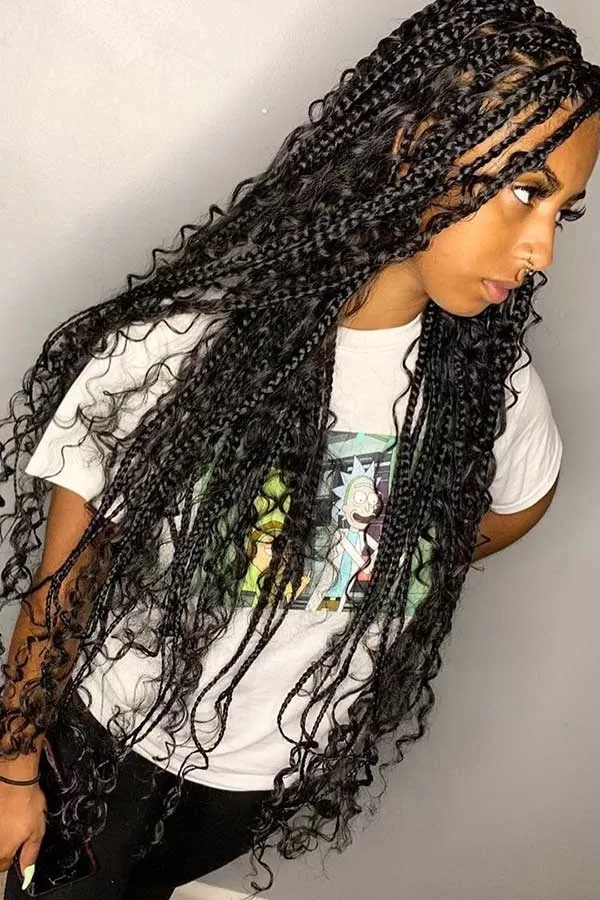 Long, thin, tight box braids with curls are suitable for everyone and every occasion.
20. Short, Summery Blonde Braids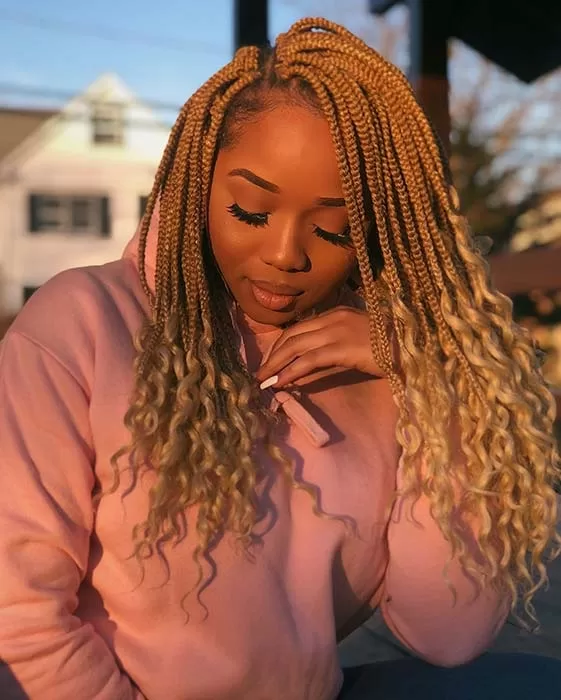 You can get more creative with blonde hair by choosing this short blonde braid.
21. Large Braided Box Braids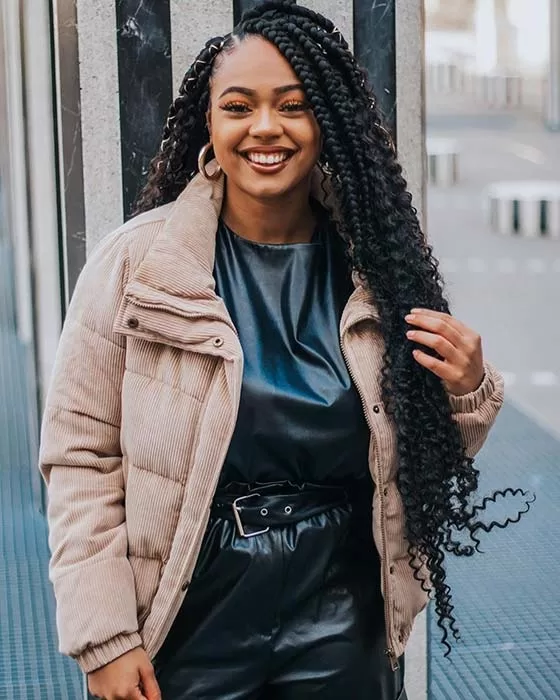 For lovers of curls, you can recreate this style with more curls than braids.
22. Statement Red Boho Braids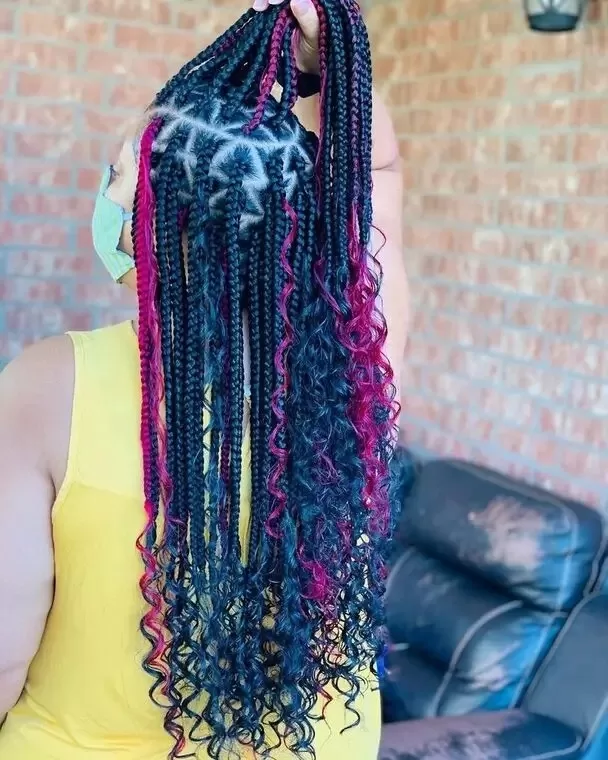 If you want to stand out in public, choose red or purple boho box braids.
23. Dark Brown Box Braids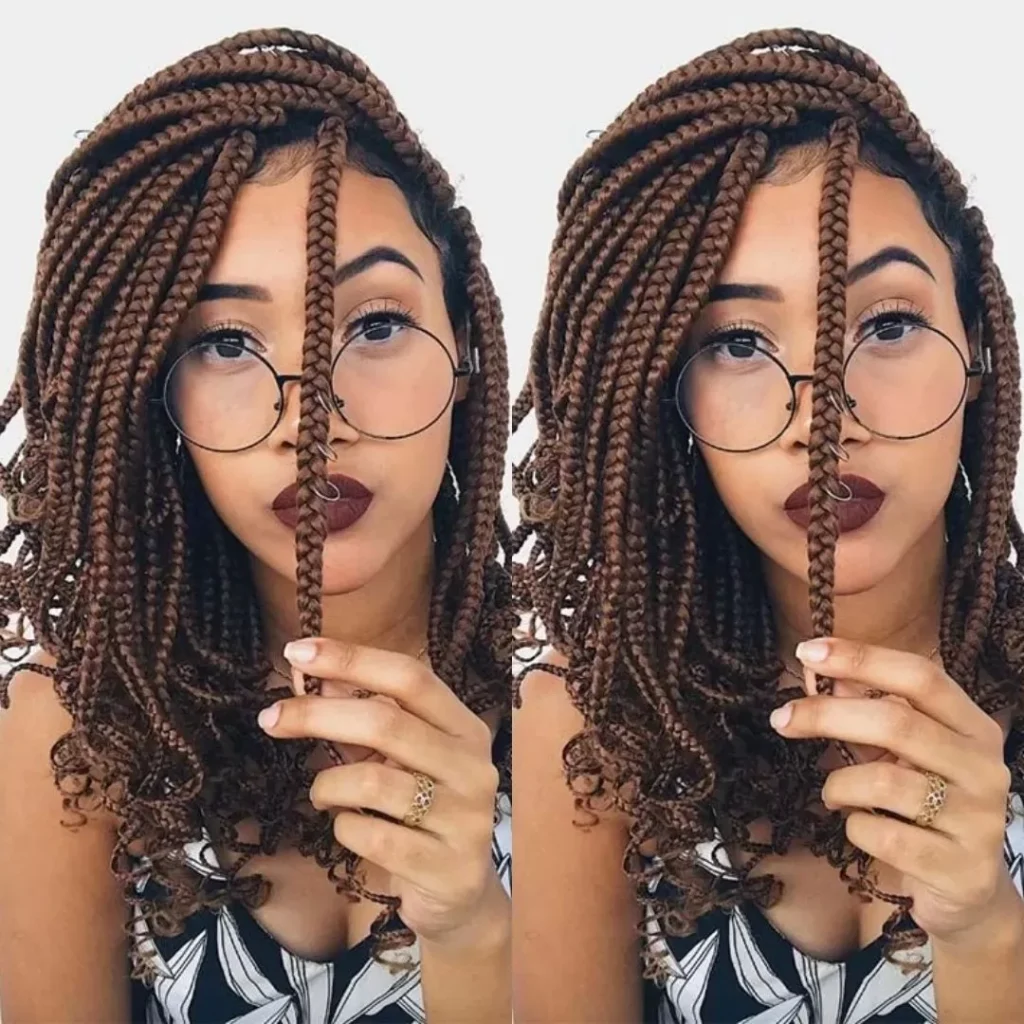 You can always trust that brown, especially dark brown, hairstyles will fit all hair types.
24. Greyish Goddess Box Braids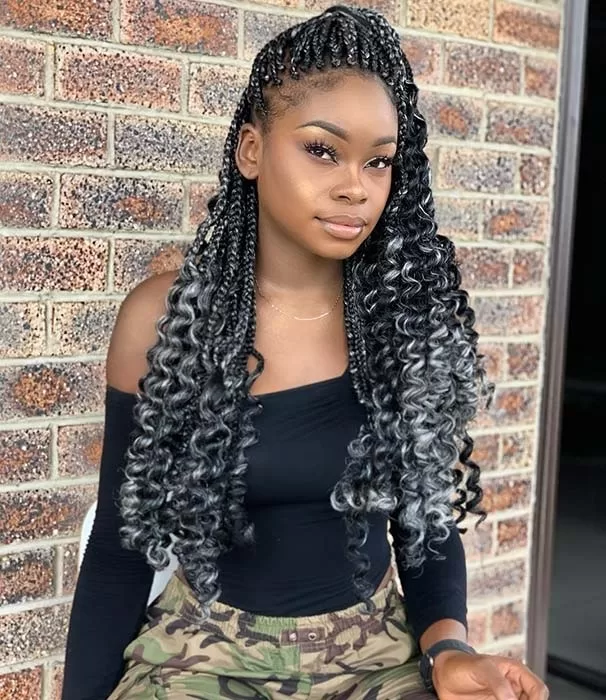 You can never go wrong with your box braids when you choose this grayish color.
25. Bronze Box Braids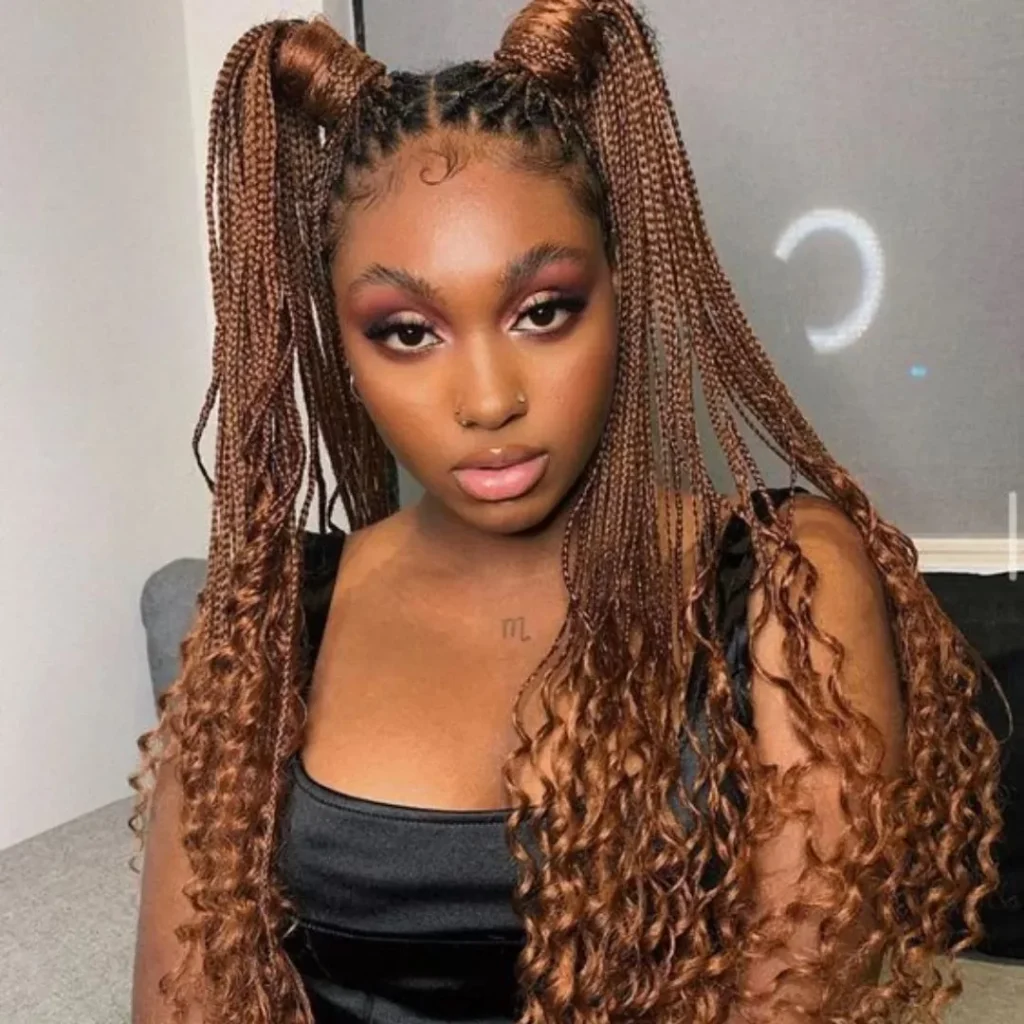 Go for bronze box braids if black isn't your thing and you love to use a single-colored attachment.
26. Red Boho Braids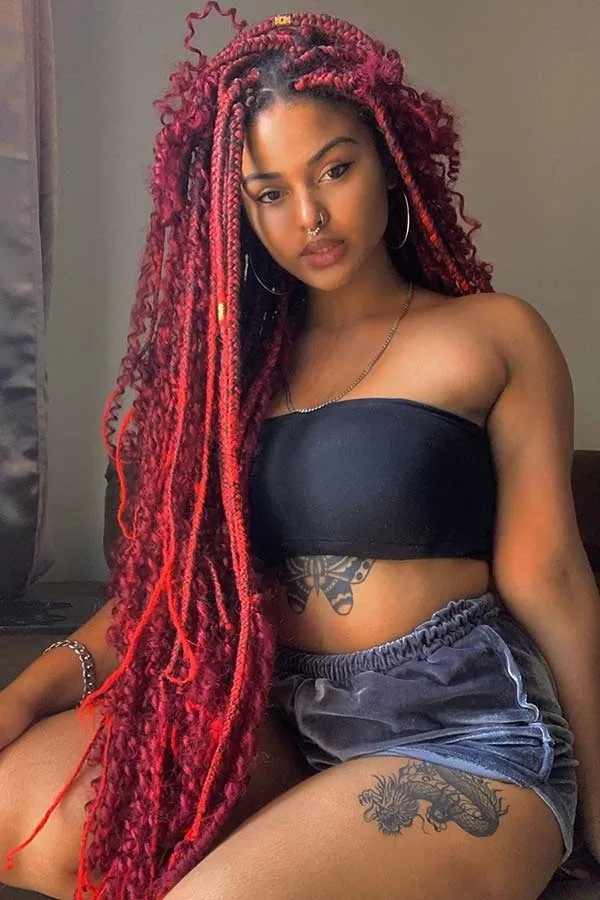 Boho box braids with curls come out bold and beautiful when you choose colors like red or purple.
27. Traditional Box Braids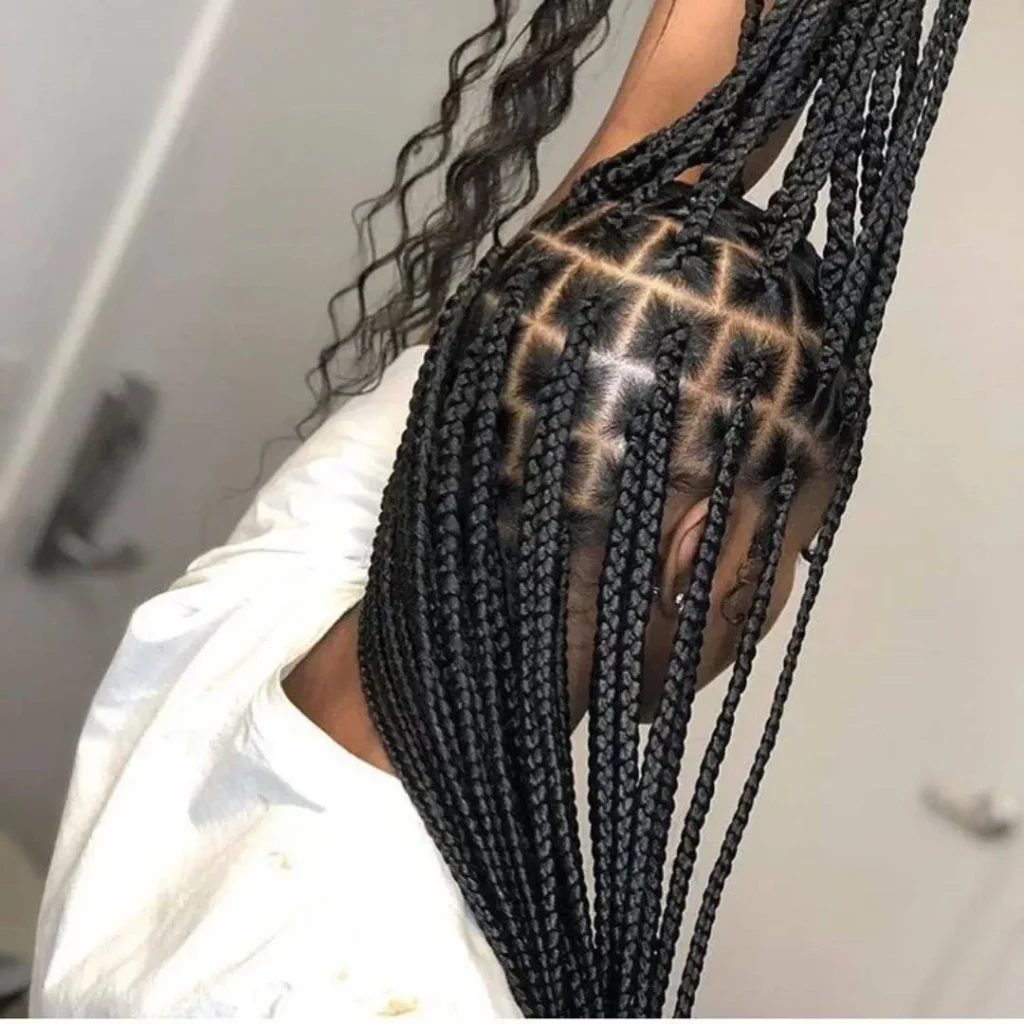 If you're still skeptical about box braids, this is the hairstyle to try out first.
28. Thin Multi-Tone Box Braids with Curls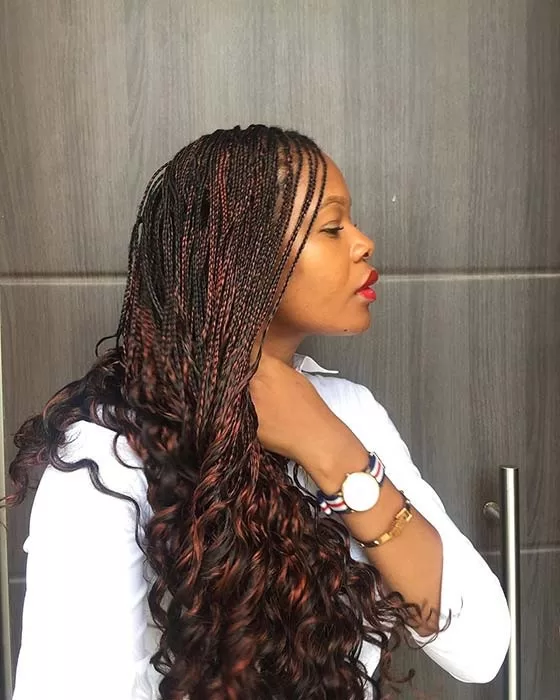 Here you have black, warm, coppery-toned, thin box braids if you love to carry your hair in multiple colors.
29. Blue Chunky Box Braids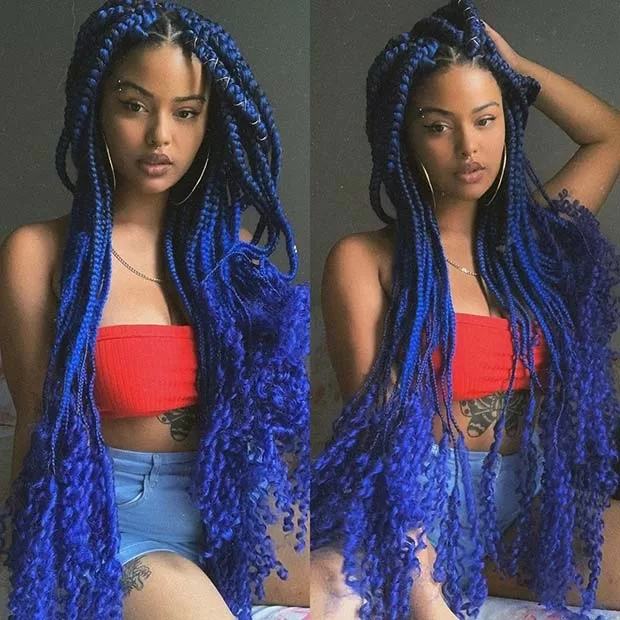 Blue-colored jumbo box braids with chunky curls are enough to give you all the boldness you need.
30. Jumbo Updo Braided Braids with Curls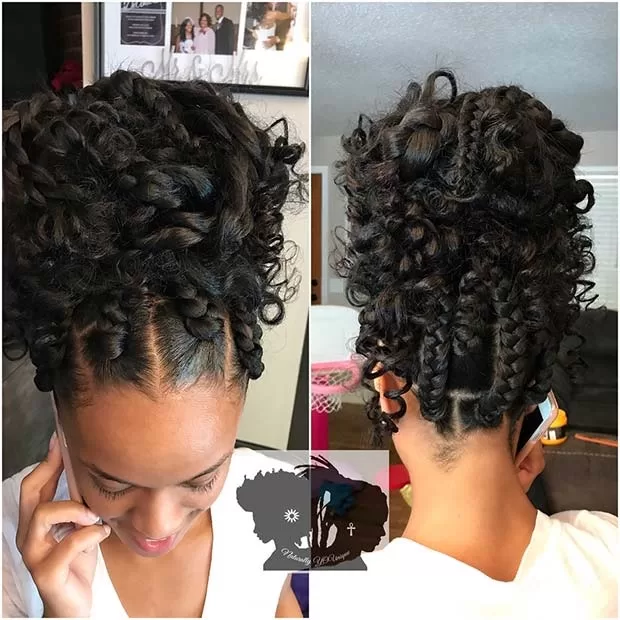 Making this jumbo and wrapping it like this gives you the perfect look for a dinner date.
31. knotless Box Braids on Brazilian Hair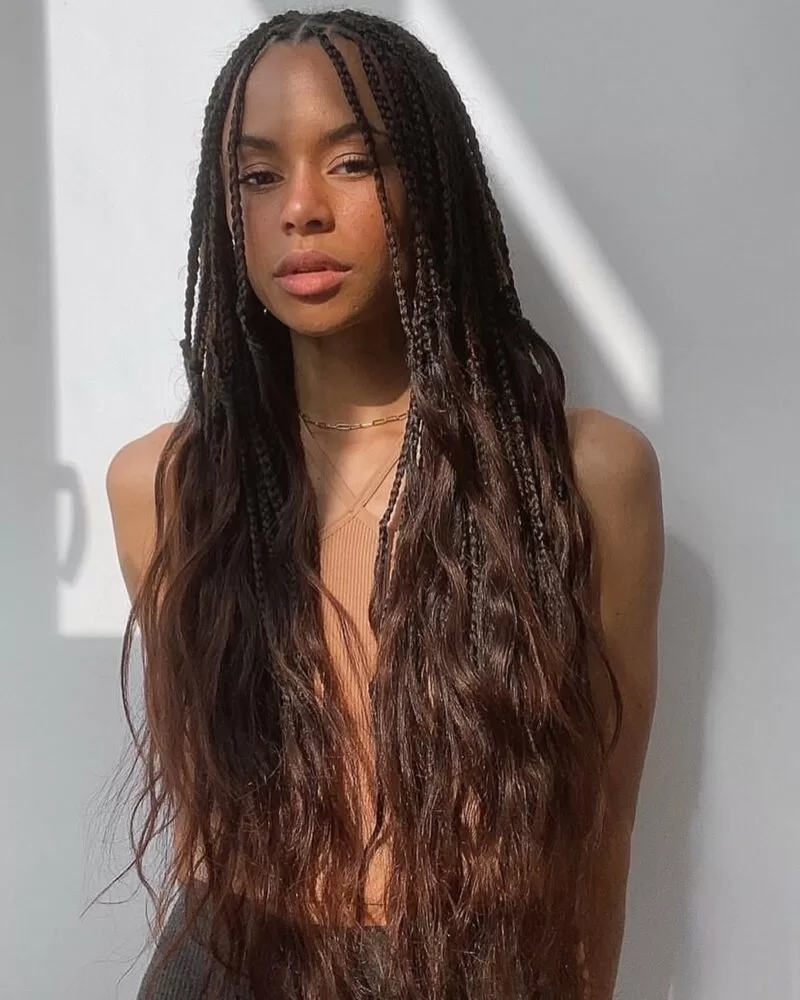 Brazilian hair not only serves beauty goals as a wig alone, but you can braid it up to mind-blowing knotless box braids with curls like this one.
32. Crotchet Curly Box Braids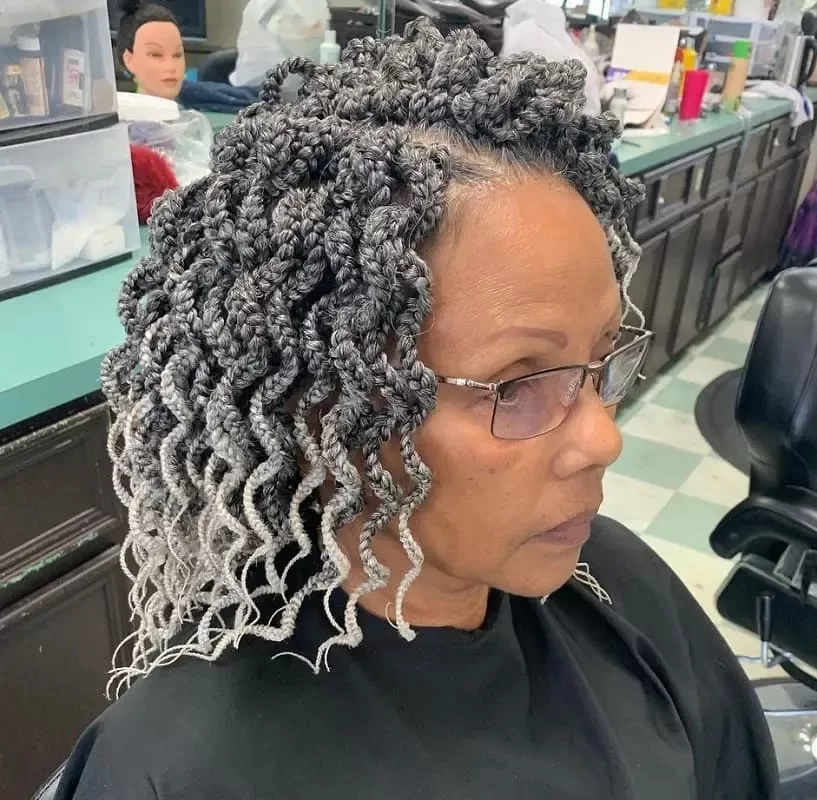 Feel young again with gray ombre crochet braids. You can recreate it with a silver color as well.
33. Caramel Light Box Braids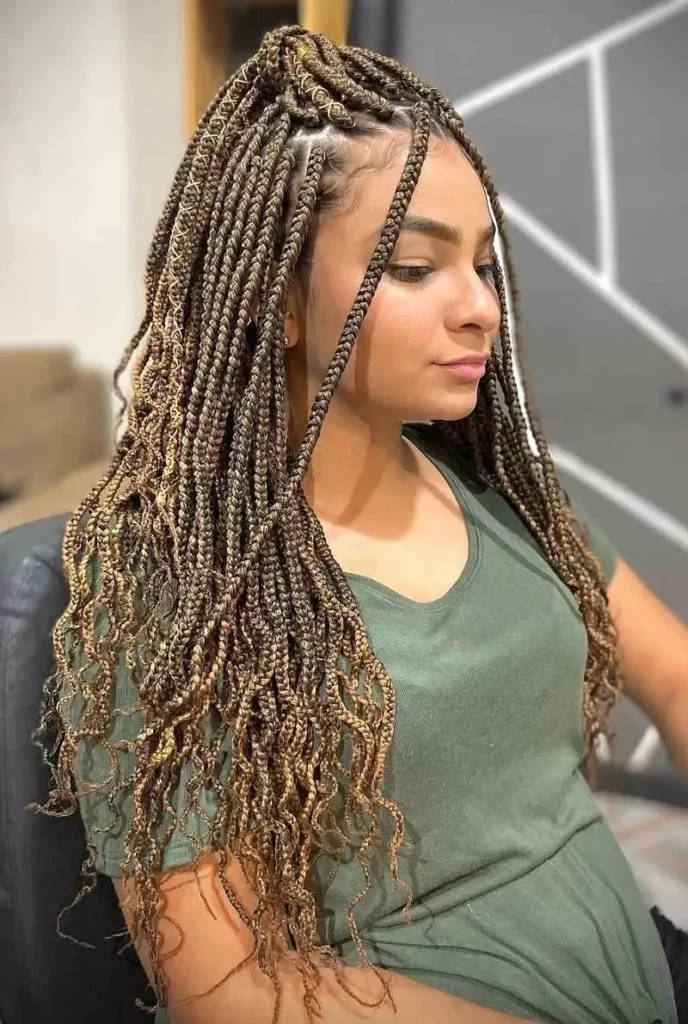 This caramel lightbox braid will give you the light and relaxed look you need.
34. Knotless Box Braids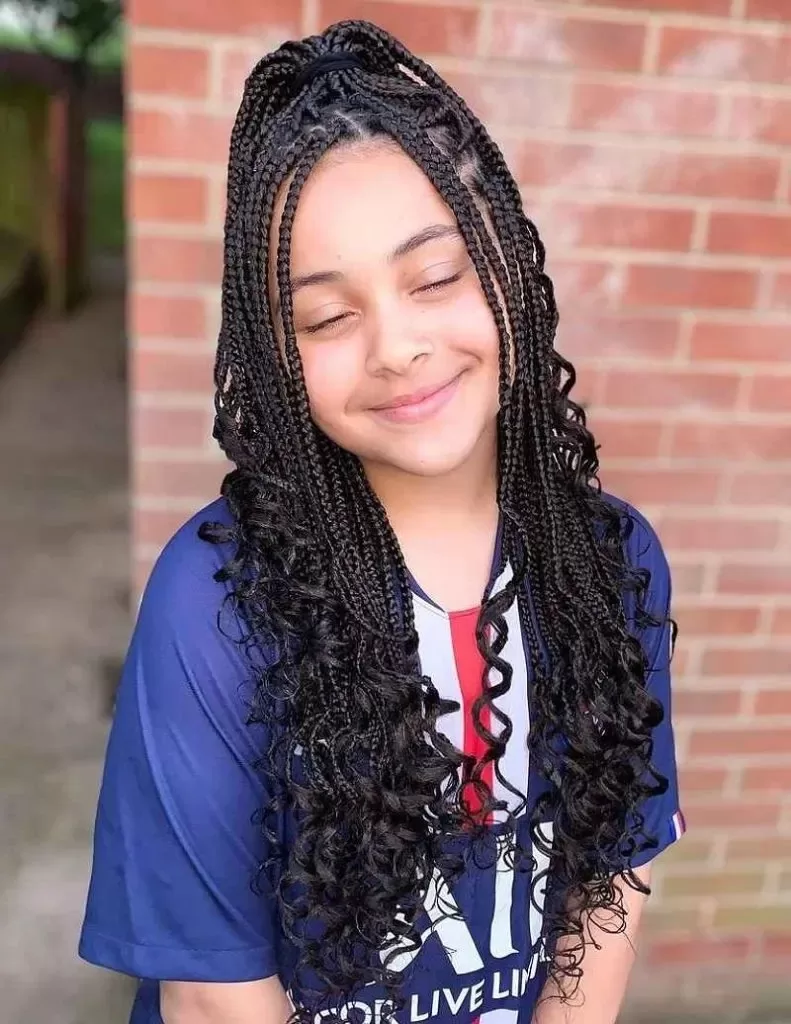 Knotless always saves the day and makes you look stylish.
35. Combination of Light and Dark Blue Braids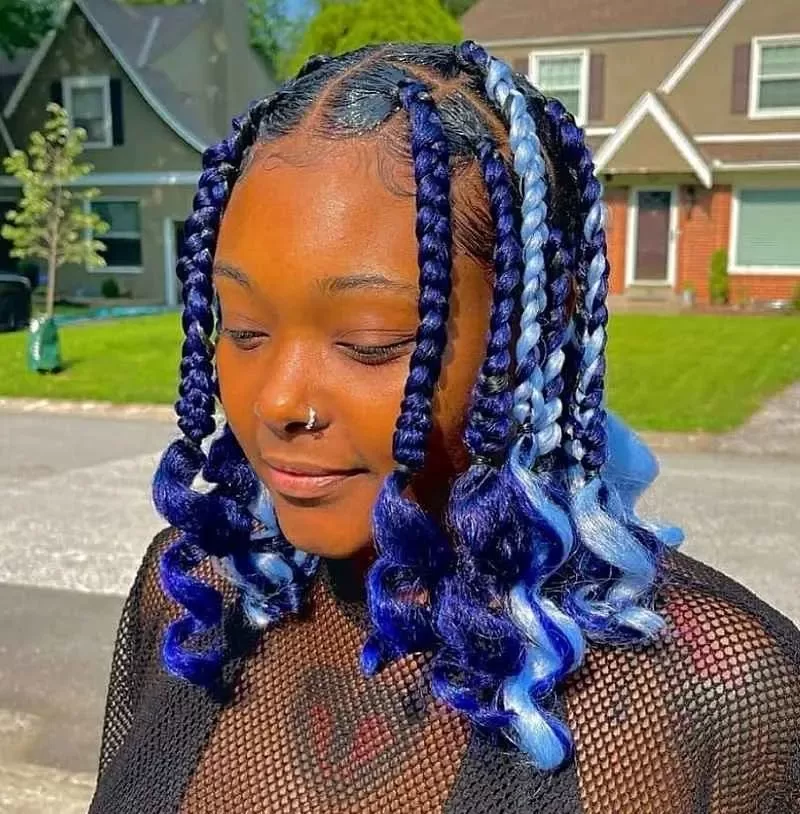 As an avid lover of blue shades, you can recreate this.
36. Extra Long Box Braids
Your confidence level increases when you rock very long box braids with curls.
37. Gypsy Knotless Braids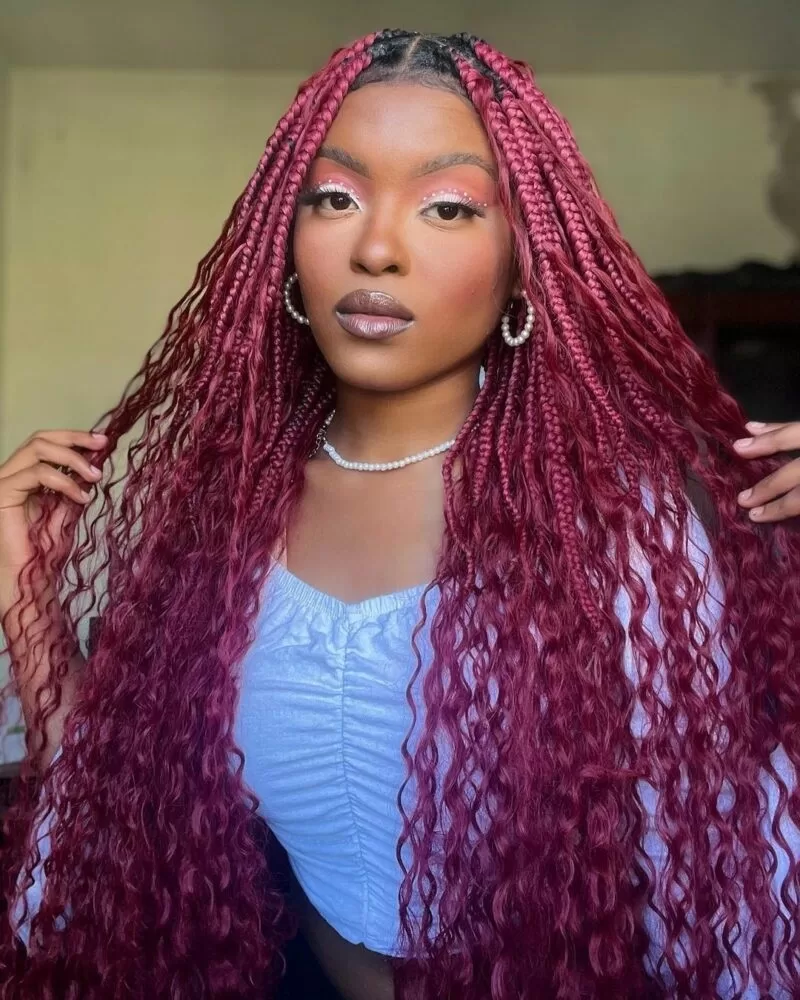 When you recreate this, you're opting for a gypsy look.
38. Medium-Texture Box Braids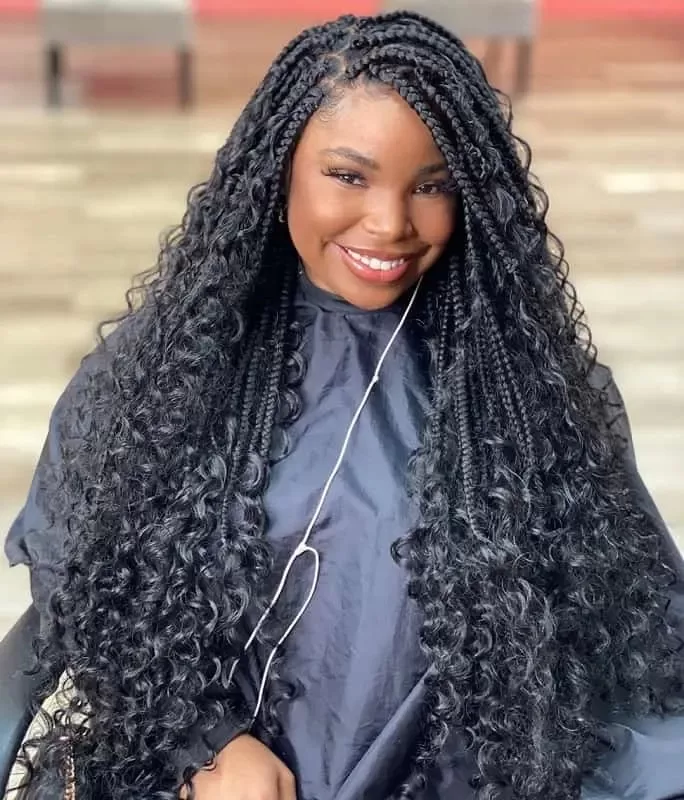 Go for the medium-textured box braids. If you need a change from thin and thick braids.
39. Bold Purple Box Braids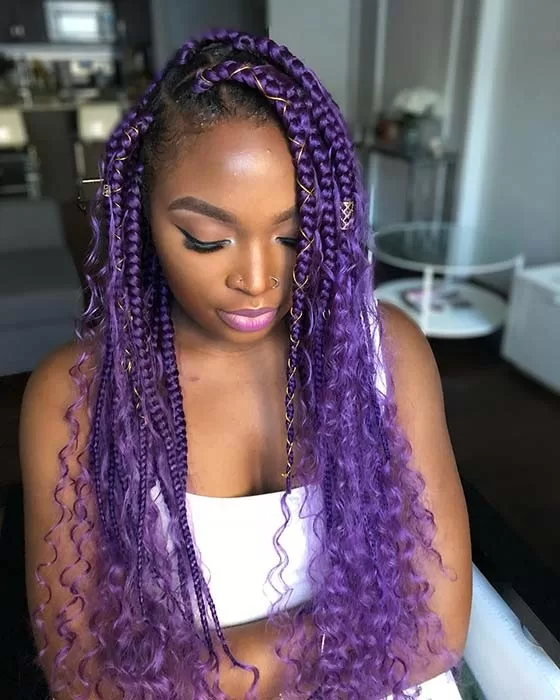 To rock this, you need a pack of purple Freetess Gogo curls and four packs of purple-coloured EZ braid hair.
40. Beach Blonde Box Braids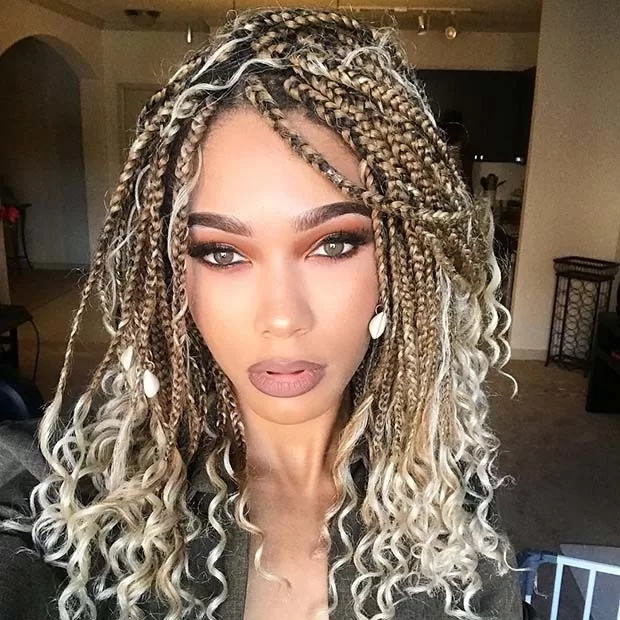 Another way to rock a blonde is to opt for this mid-length goddess box braid.
41. Simple Goddess Box Braids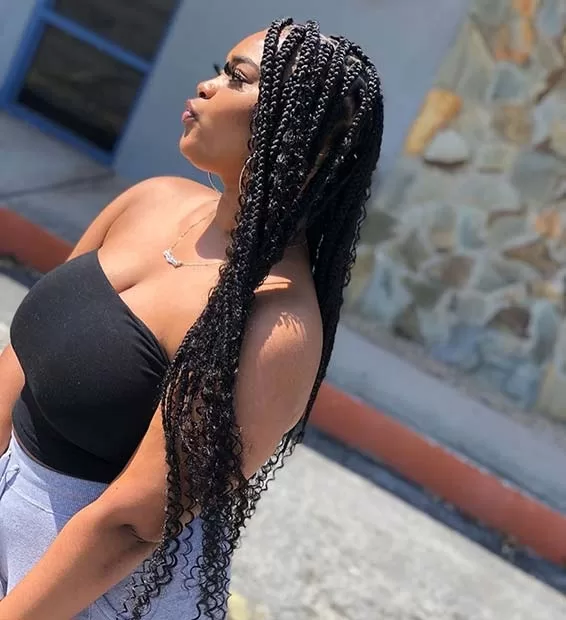 Simple braids with tight curls like this give off a gorgeous look.
42. Goddess Braids with Loose Curls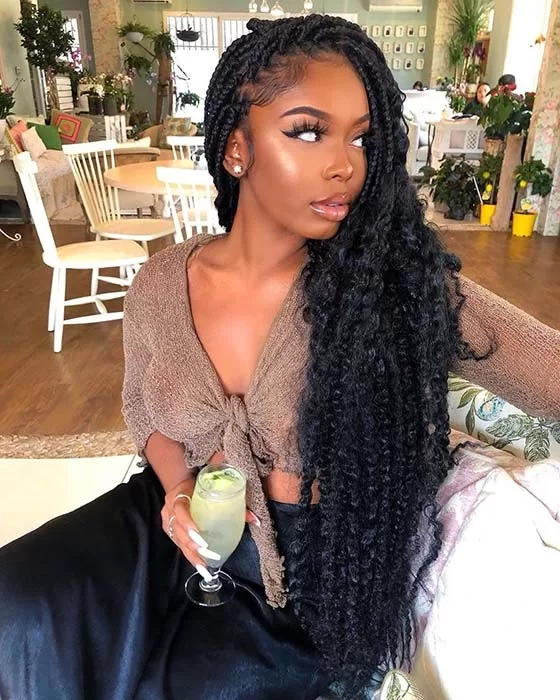 Here we have a chin-length braid with loose curls, perfect for romantic dates.
43. Knotless, Long, Thin Braids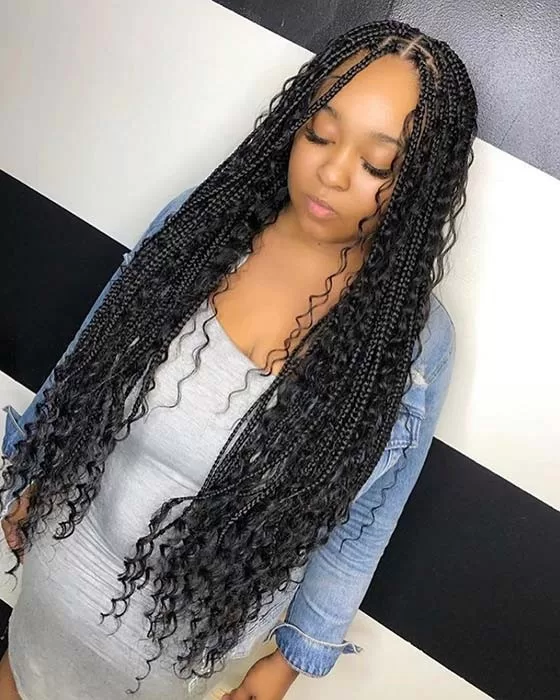 If you want an easy hairstyle, you can pack it into a half-up, bun, or ponytail when you try out this knotless, thin braid.
44. Braided Ponytail Braids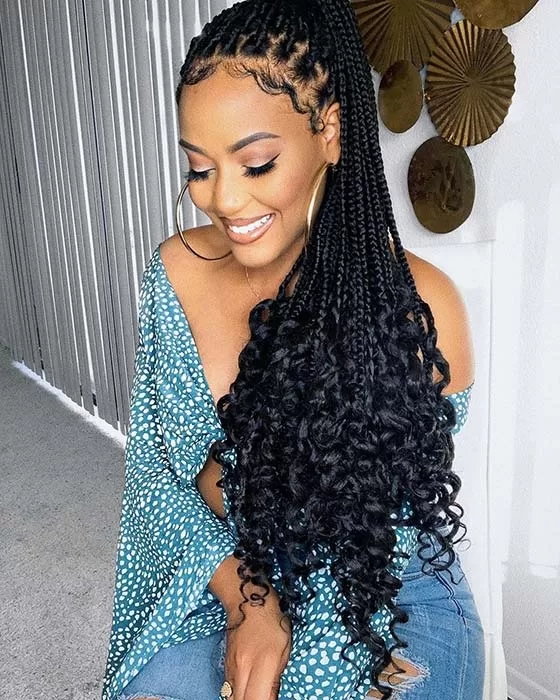 Not carrying wigs or weaves doesn't stop you from rocking a ponytail.
45. Mid-back Knotless Box Braids with Curls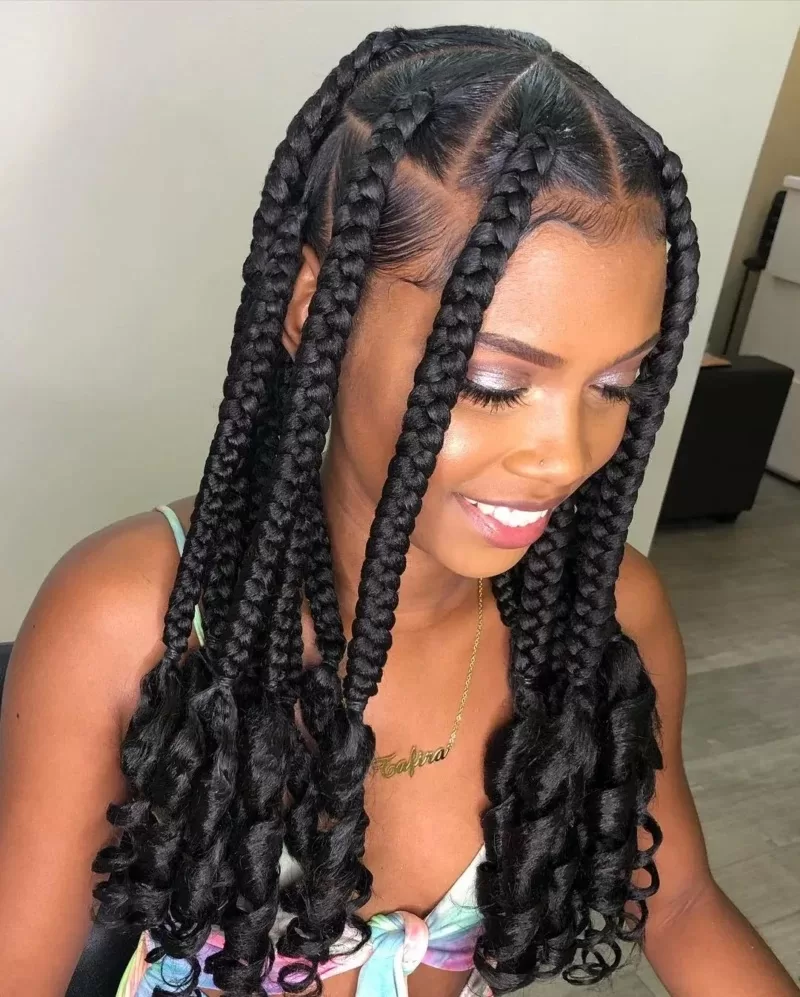 You can take a break from colorful hairstyles with mid-back knotless braids.
46. Triangle Box Braids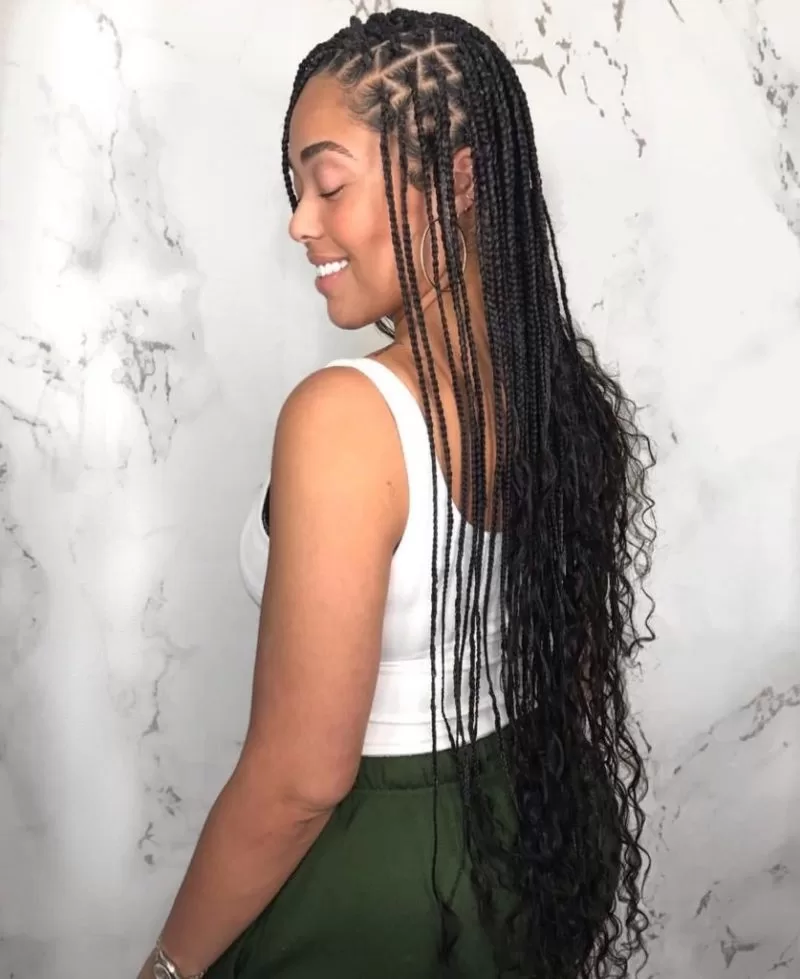 Triangle long box braids are a great alternative to the mid-back if you can't do without long braids.
47. Jumbo Curly Braids on Ombre Hair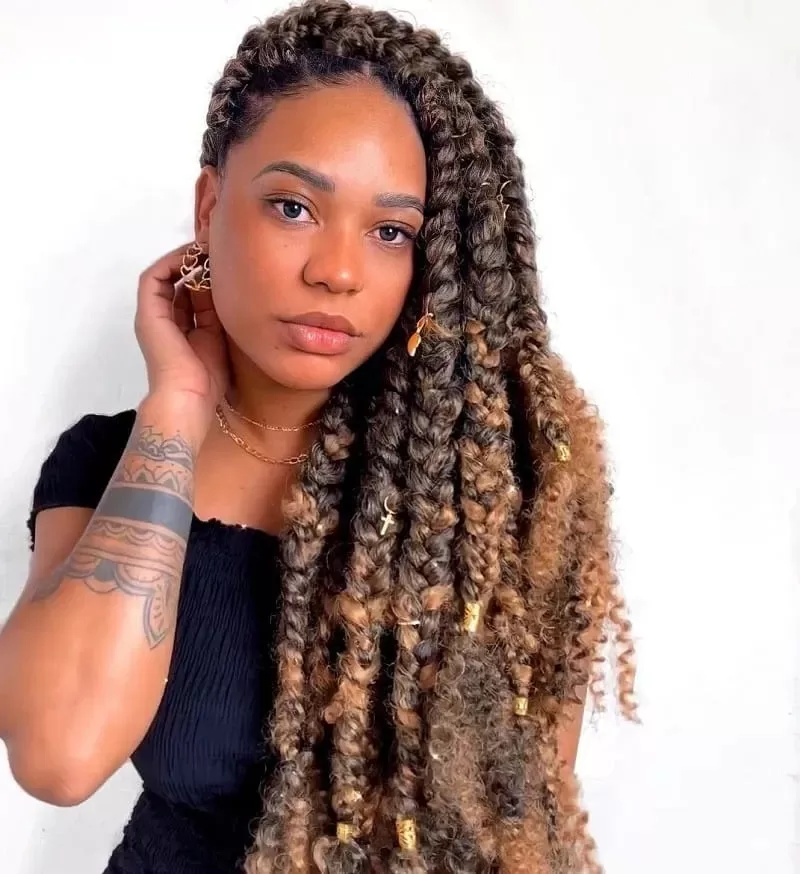 One of the best ways to use ombre hair is to turn it into a jumbo box braid.
48. Loose Waves Box Braids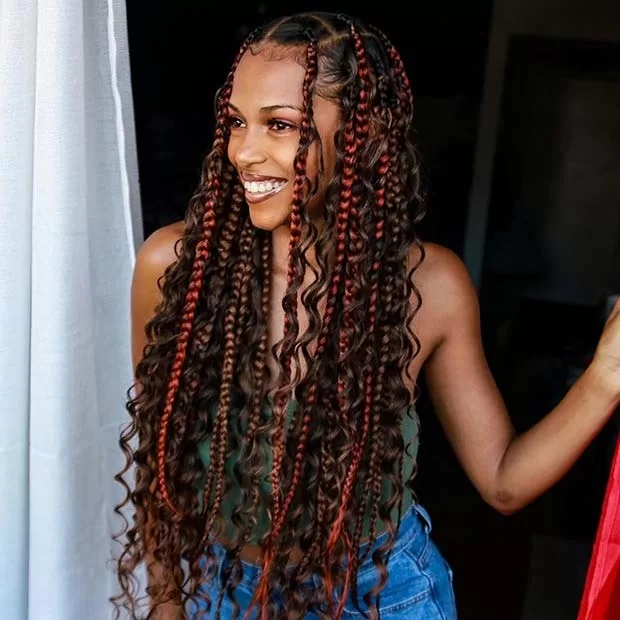 To make a long-lasting statement in an important occasion, go for this large parting box braids with loose waves.
49. Undone Box Braids
You can't recreate this with short braids. You can only achieve this using a boho aesthetic with long braids.
50. Goddess Braids with Shell Beads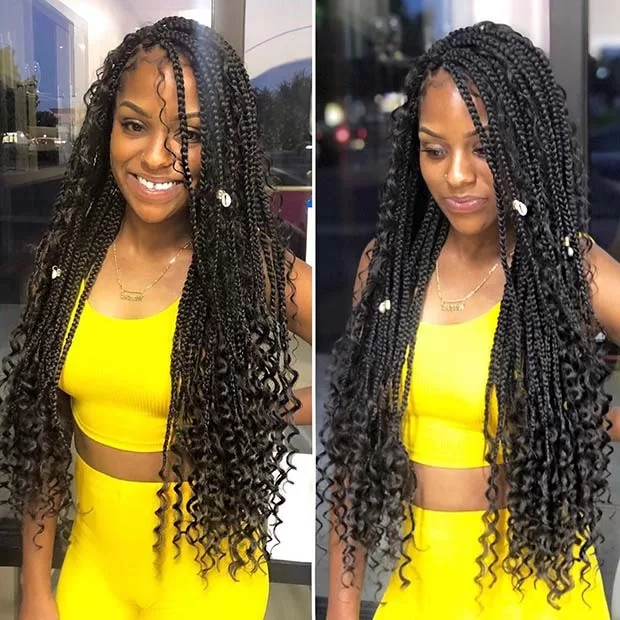 There are different types of goddess braids. Here's another one incorporated with shell beads capable of making heads turn.
51. Dirty Blonde Shoulder-Lenght Box Braids
You need 2 packs of matching color freetes deep twisted hair and 3 packs of yaki kanekalon braiding hair. Don't forget to add accessories to it.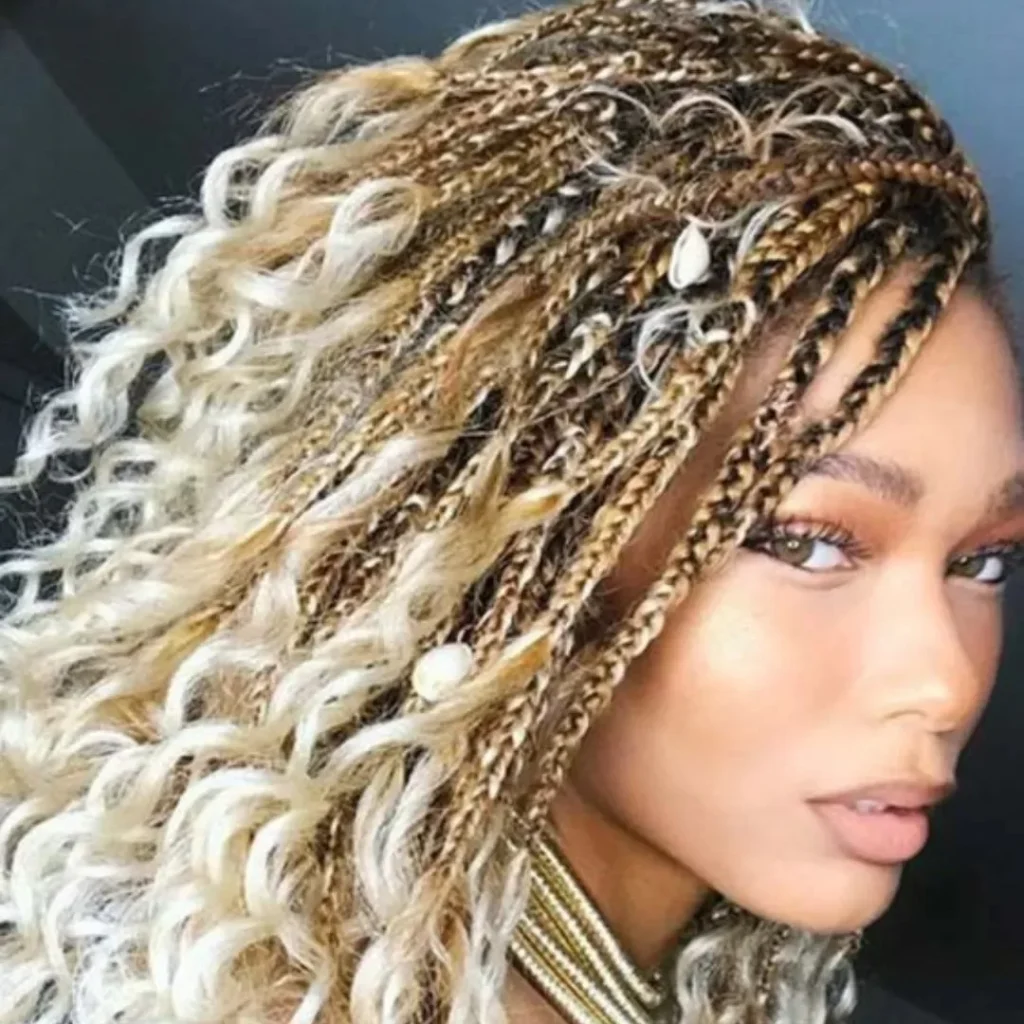 Box Braids with Curls FAQs
1. What are box braids?
Box braids are shielding hairstyles for natural hair. The hairstyle entails using a comb to divide the hair into small squares and braiding from the root afterward using extensions.
2. Do box braids fit every hair type?
Yes, box braids for curls fit coily, curly, straight, and wavy hair types.
3. Can I wash my box braids frequently?
Yes, it's okay to wash your box braids with curls frequently. It's recommended you wash it every other week, and it's also best to let your hairstylist do the washing.
4. How long can I keep box braids?
Your box braids shouldn't last more than six weeks before you lose them.
Conclusion
That's it for the various types of box braids with curls available. Make a choice, but ensure your hairstylist is familiar with your choice. Above all, ensure that you keep your hair in a healthy condition while carrying the braids.