This post provides you with the most gorgeous pinup hairdo you'll ever come across. Tired of making long and complicated hairstyles? Then it is time to make a change and settle for comfortable hairstyles. Although dating back to the 40s and 50s, these pinups will grant you relief from long-hair stress and make you stand out in the crowd. They are:
1. Pinup with Dutch Braid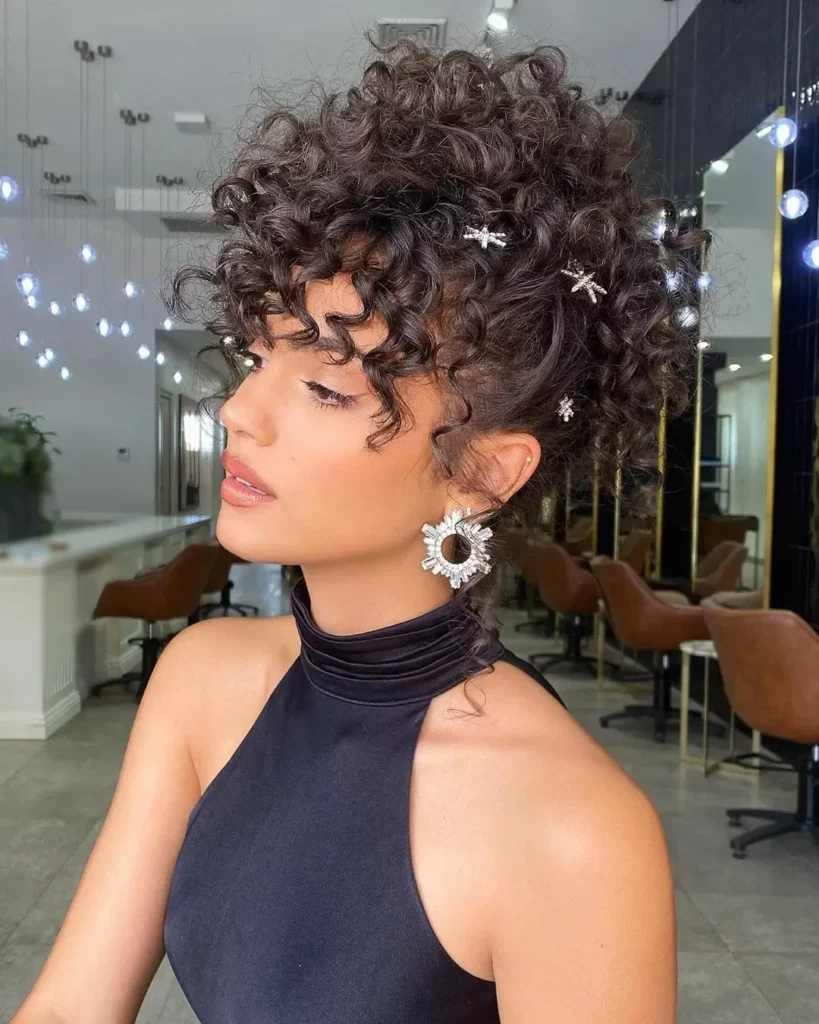 Leaving your wispy curls undone to fan your face and nape and your pinup loose leaves you ready for a semi-f toormal occasion.
2. Updo Bun Hairstyle with Headband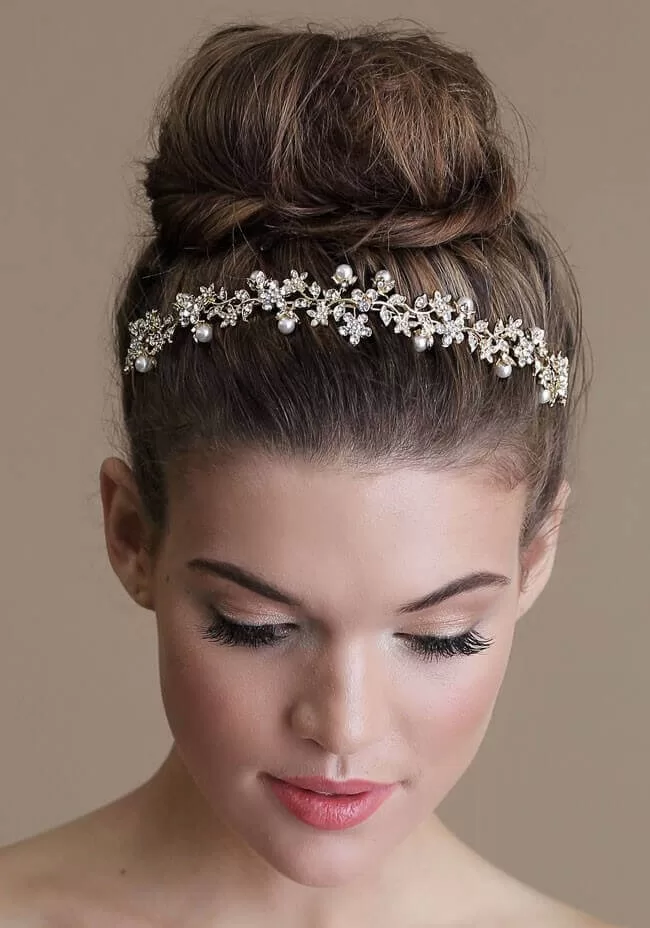 You only need to pack your hair up to form a neat bun, then add your favorite clip in the front.
3. Pinup using a Bandana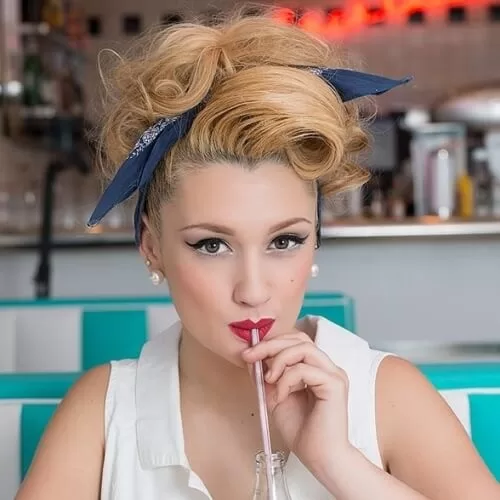 Make the most of your curls by packing them up and styling them with a bandana.
4. Trendy Pinup with Bangs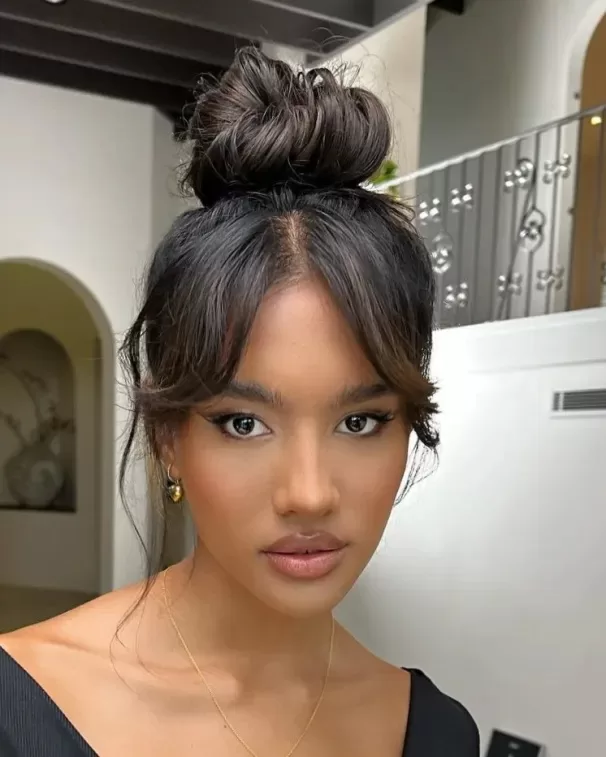 If it's a Japanese occasion or you want to look like your favorite Japanese model or actress, this pinup hairdo is for you.
5. Pinup Hairdo for Medium Hair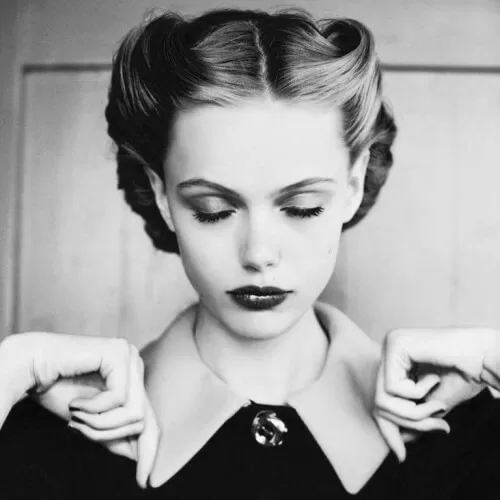 All that's needed to rock this is shoulder-length hair.
6. Rockability Pinup Ponytail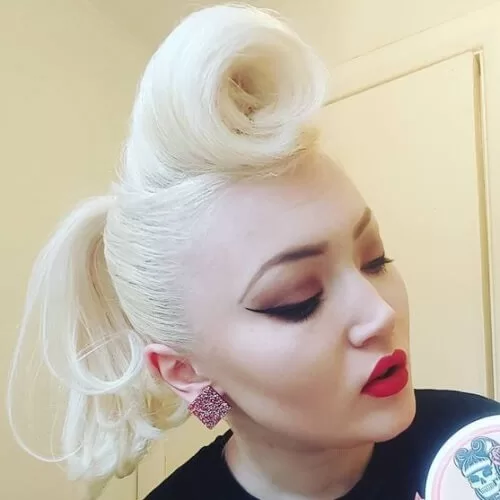 Going to a jazz and reggae event? Look no further than his hairstyle.
7. Protective Pinup Hairdo for Black Hair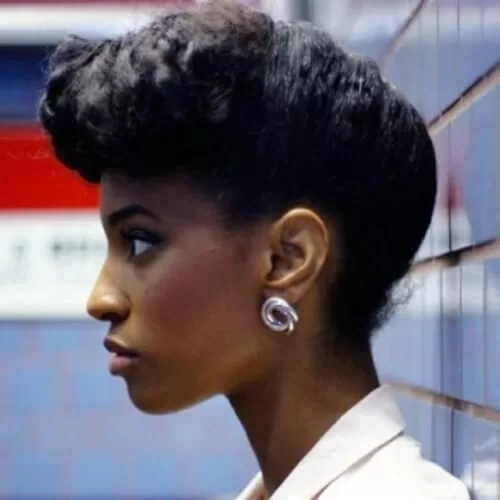 Here's another beautiful way to style your afro-natural hair. Make sure you relax your hair with the right products before you try this.
8. Pinup Side Curls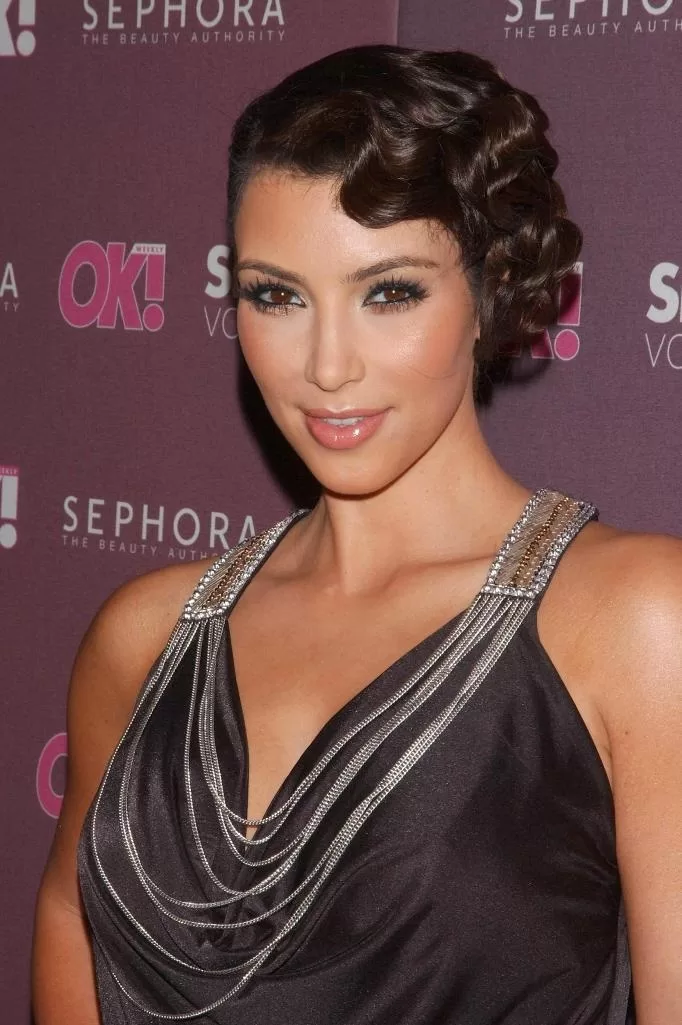 Keep the curls small like this, and with the help of a good-hold hairspray, you'll be able to stand out at that evening event.
9. Cornrows using Pinup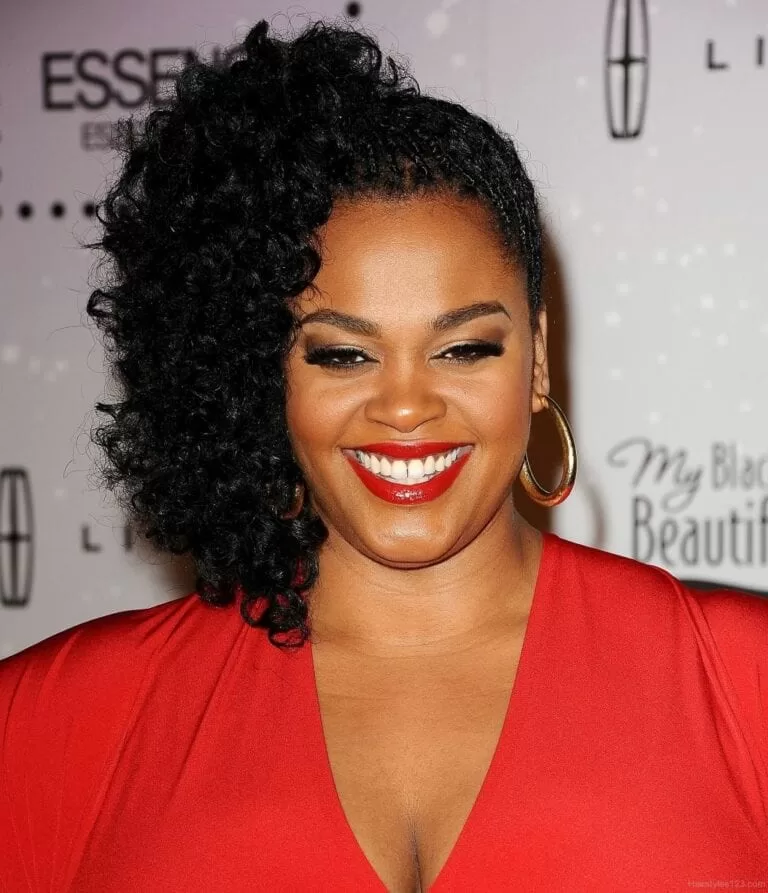 Perhaps you can't do without extensions; you can still achieve a classic pinup look with this.
10. Twisted Low and High Bun Pinup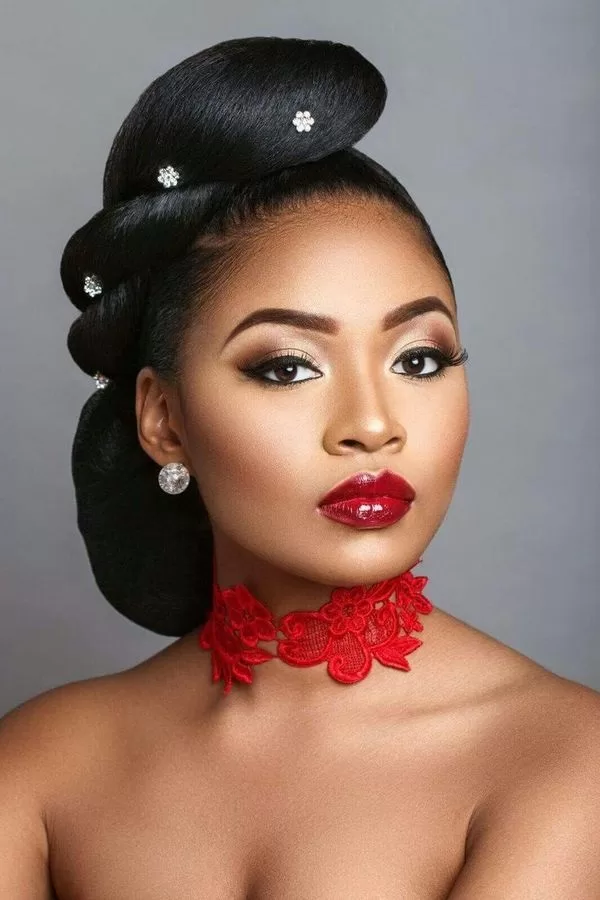 This is simpler than you think: Gather every hair tress together at the center, then form a burn by twisting the buns side-wise.
11. Pinup Hairdo for Curly Hair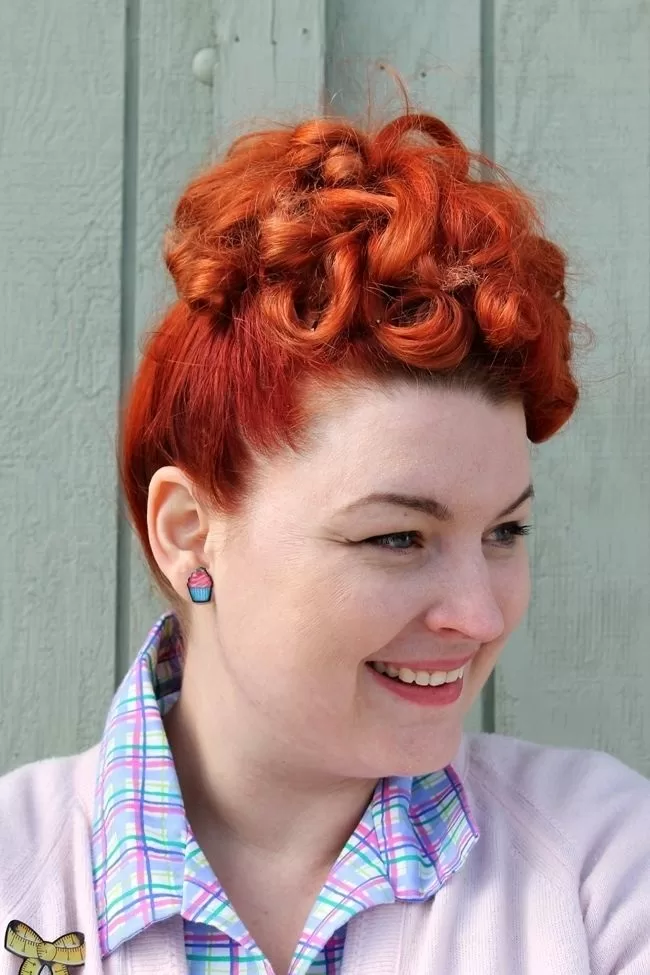 We do not leave older adults out of looking elegant in pinup styles.
12. Pinup Hairdo for Bob Cuts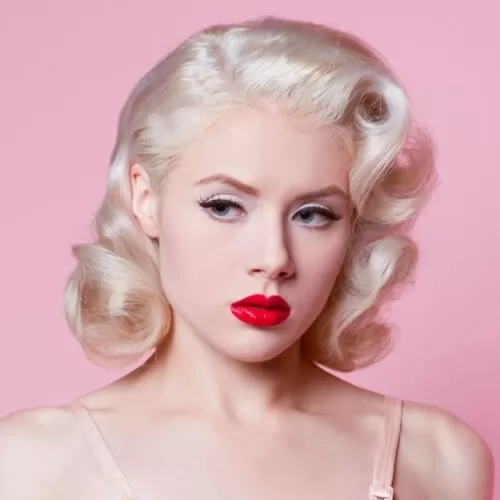 Avid lovers of Bob's hairstyles, here's another way to make the most of Bob.
13. Traditional Bun Hairdo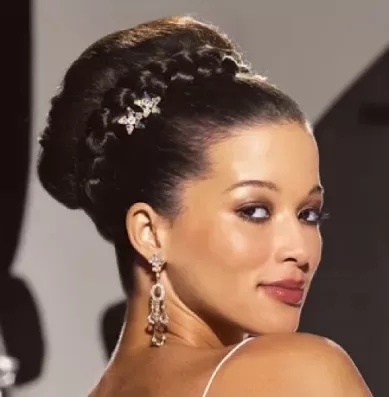 There's no better way to show up as the queen of the occasion than this.
14. Wedding Pinup Mermaid Hairdo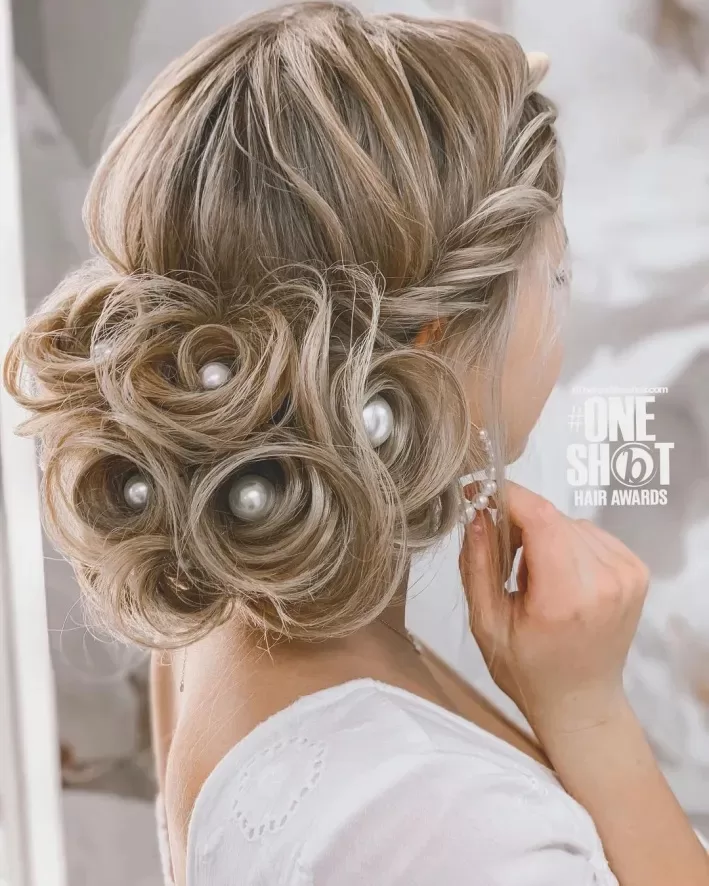 The best hairstylist is required to complete the main work of wrapping those silver stone clips.
15. Pinup for Natural Hair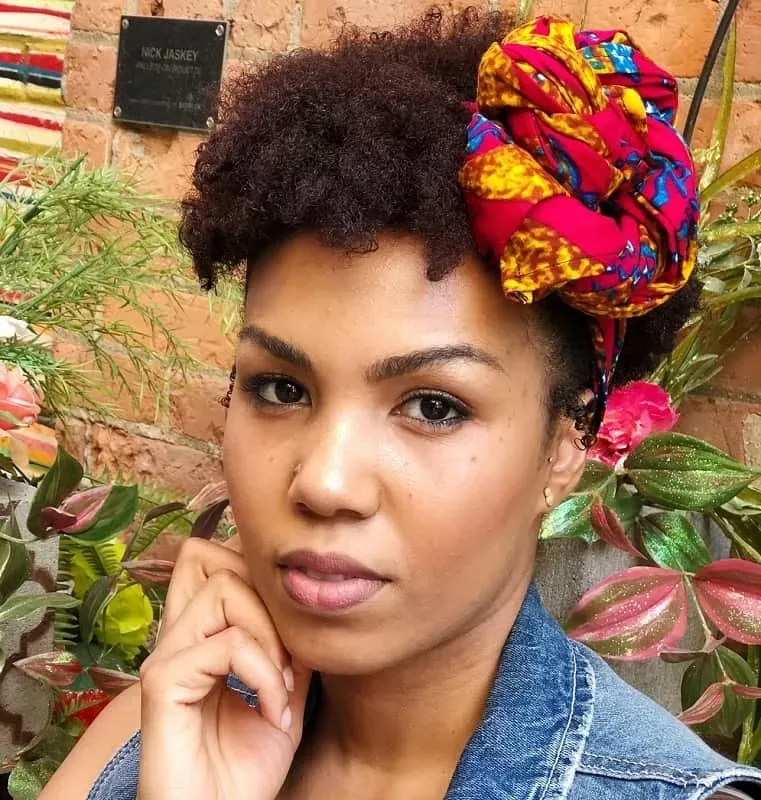 It's good to let your hair take a break by rocking your natural hair like this.
16. Retro Pinup for Blonde Hair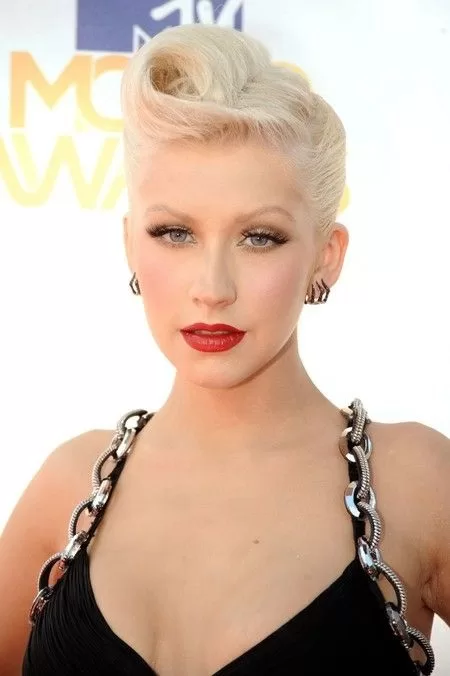 Behold a simple but classic chic on blonde hair.
17. Bouffant French Twist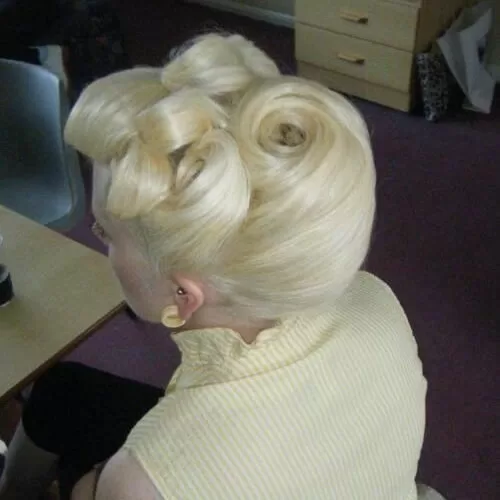 Here's to paying homage to French culture while ensuring the curls are the true icing on the cake.
18. Gibson Rolls Pinup Hairdo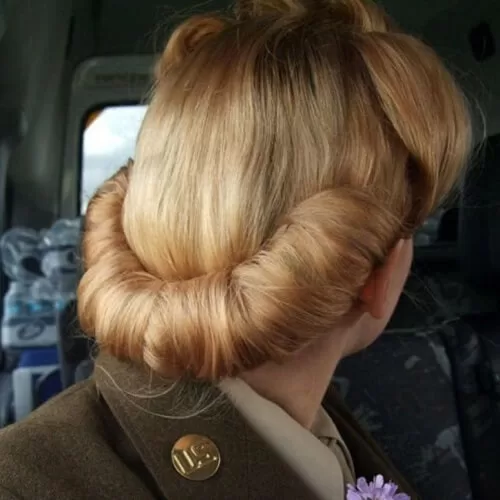 This is the best hairstyle you can rock in that military uniform.
19. Retro Half up-Half Down Pinup Hairdo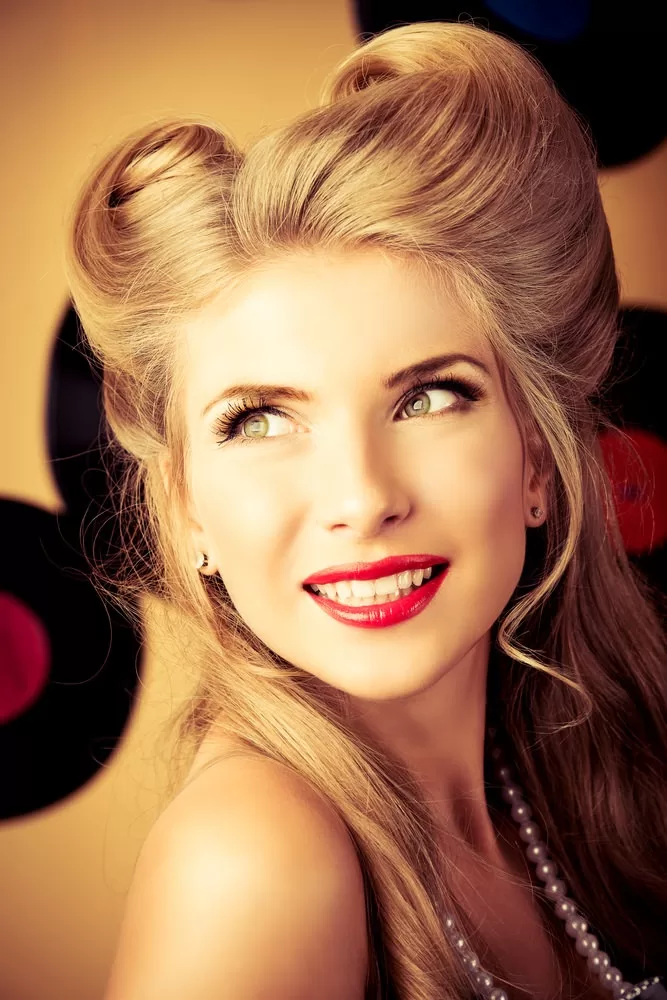 Of course, it's a quiet event, but you're here to steal the show.
20. Short Curly Updo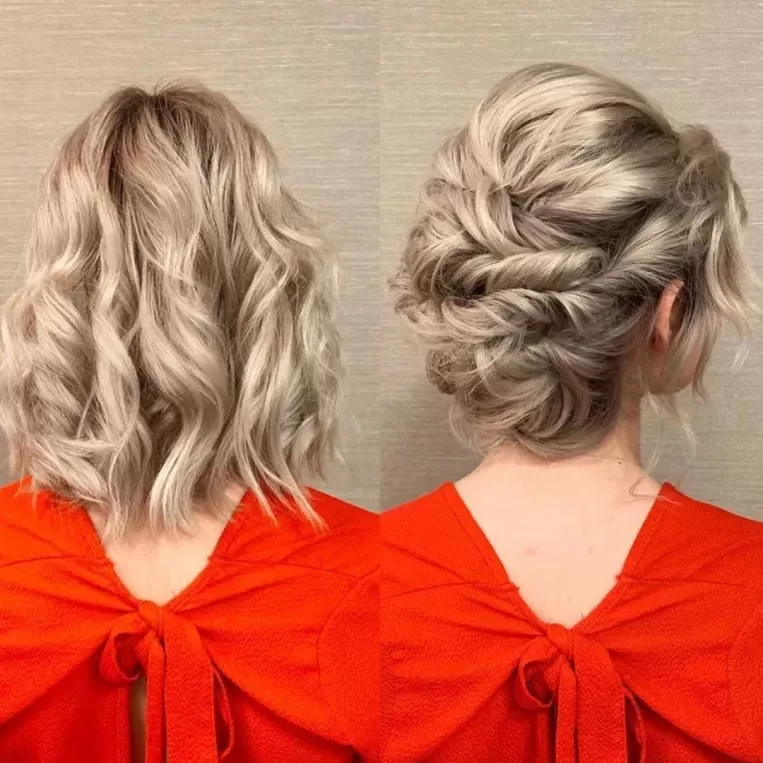 This is great for brides with short hair, as it increases their height discreetly on their big day.
21. One-Roll Voluminous Pinup Hairdo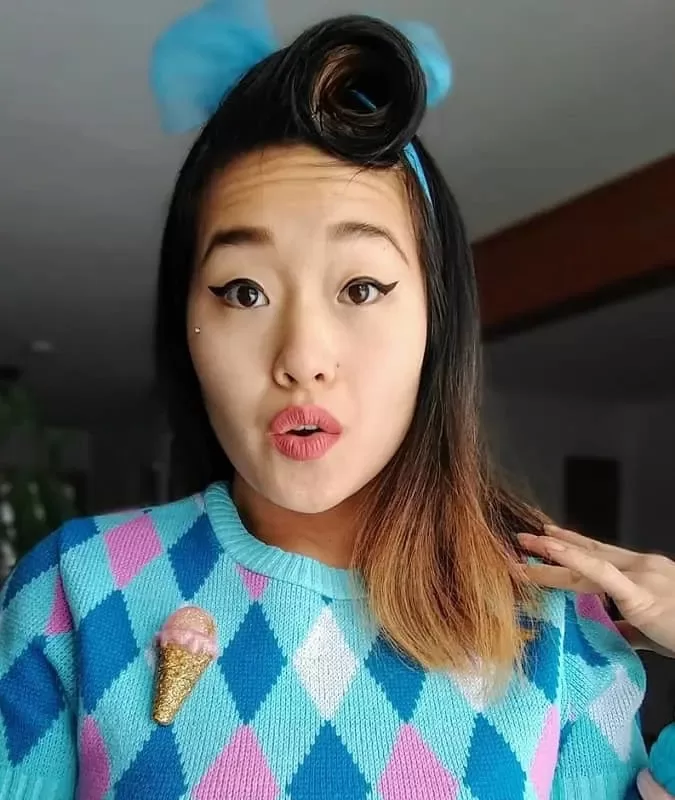 We do not leave even our Chinese fans out of exploring exceptional pinup styles.
22. Bumper Bang Pinup Hairstyle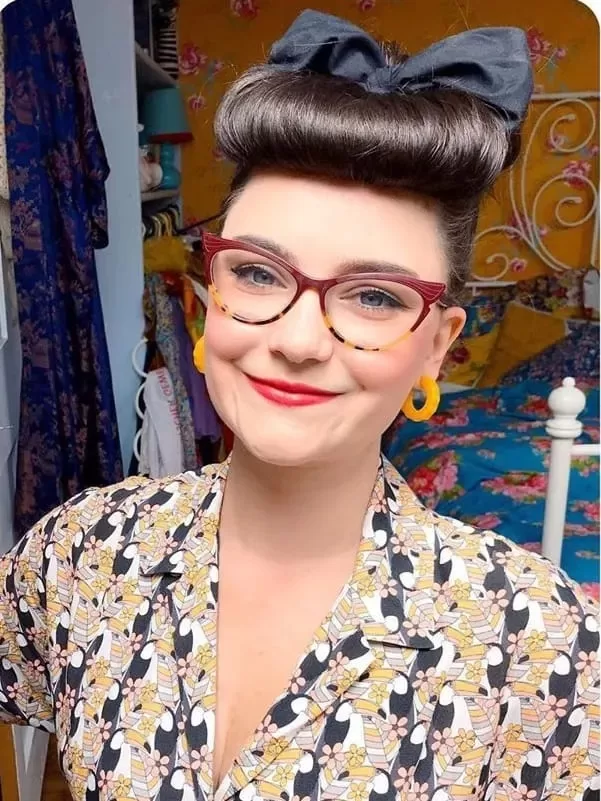 Low on budget? Then opt for this bumper banger.
23. Low-Loop Pinup Hairdo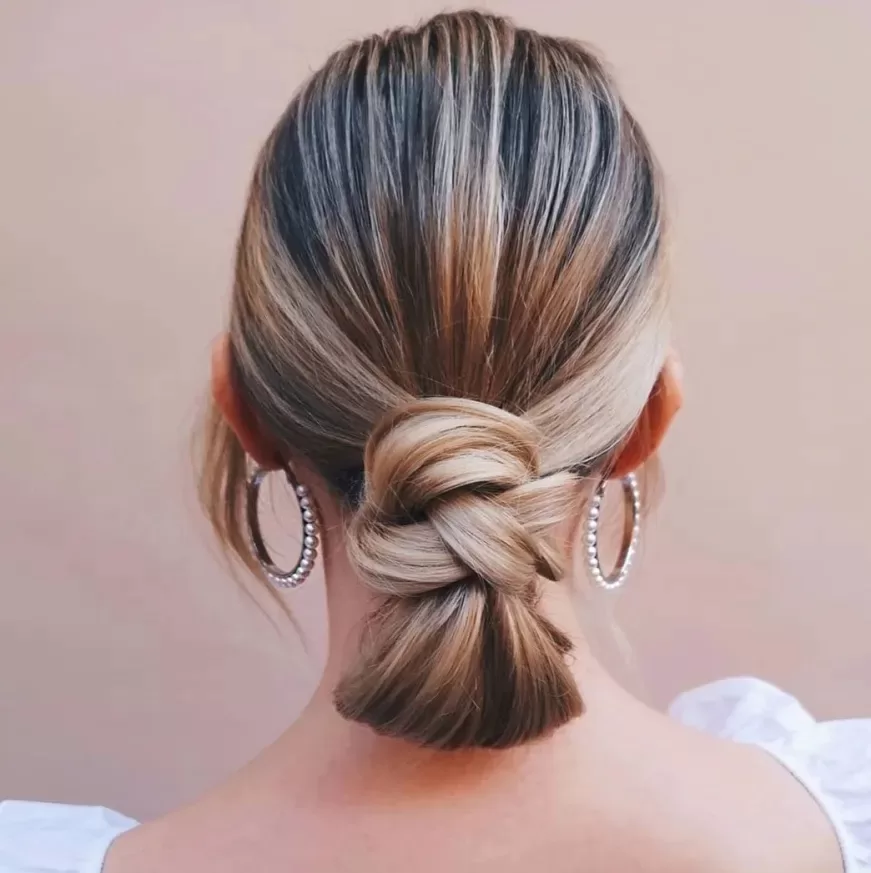 Start with a loop through the ponytail, loosely braid up the tips, and wrap it around the base.
24. Pinup for Thin Hair Type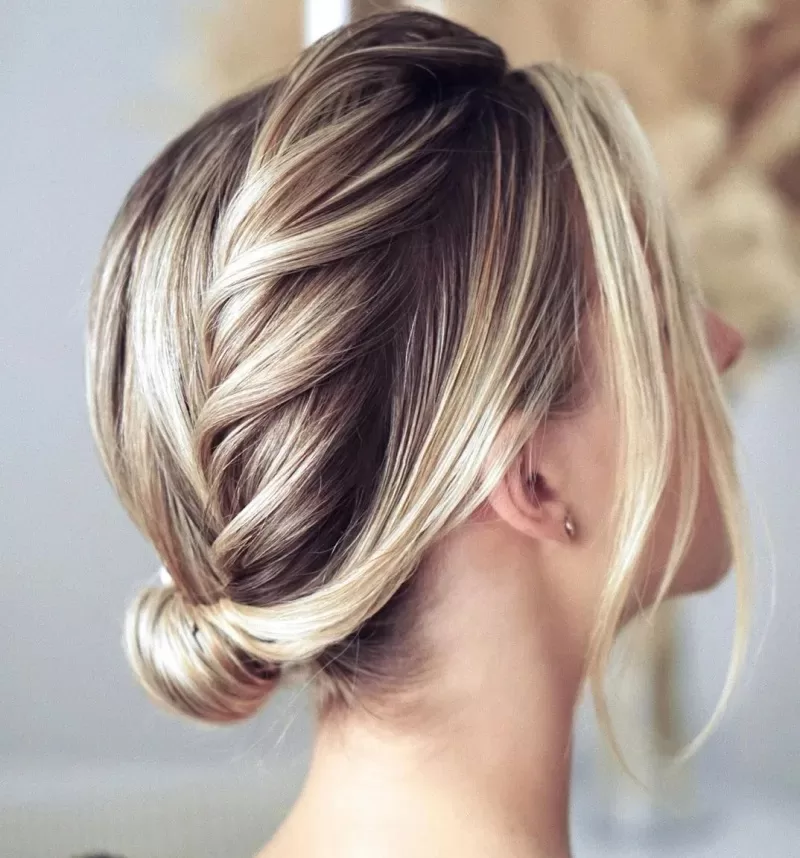 There's a perfect pinup hairstyle for every hair type.
25. Sexy Pinup At the Side
As a lady with pretty balanced features, carry this on with blonde or black hair.
26. Front Puff Hairdo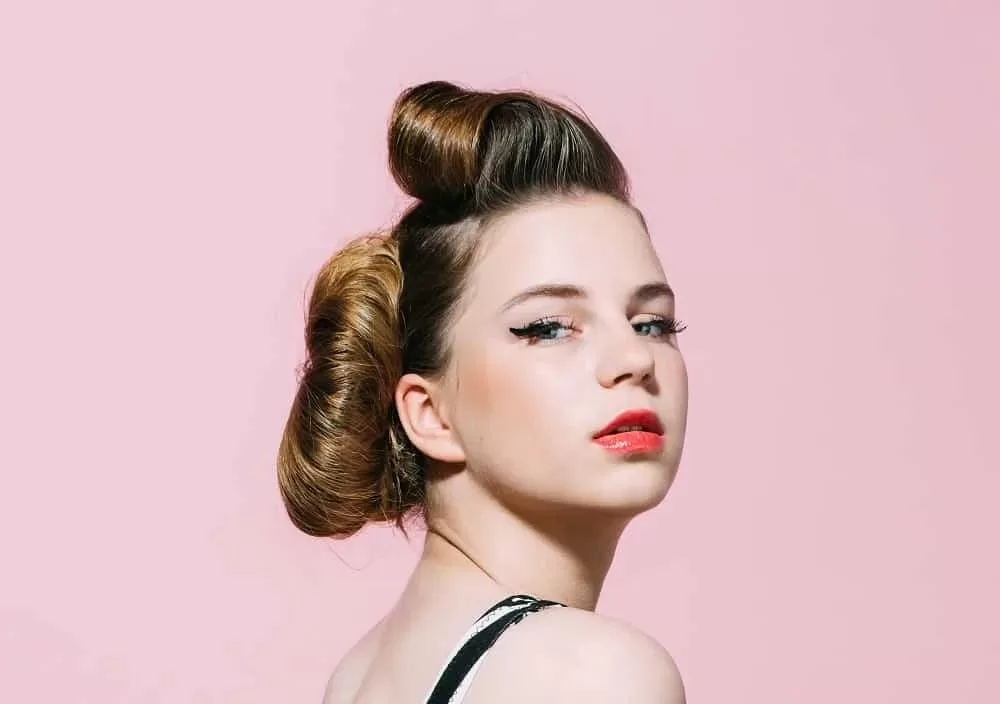 Replicate this by teasing the front puff and then rolling it inward on the head.
27. Oppositely Rolled Bangs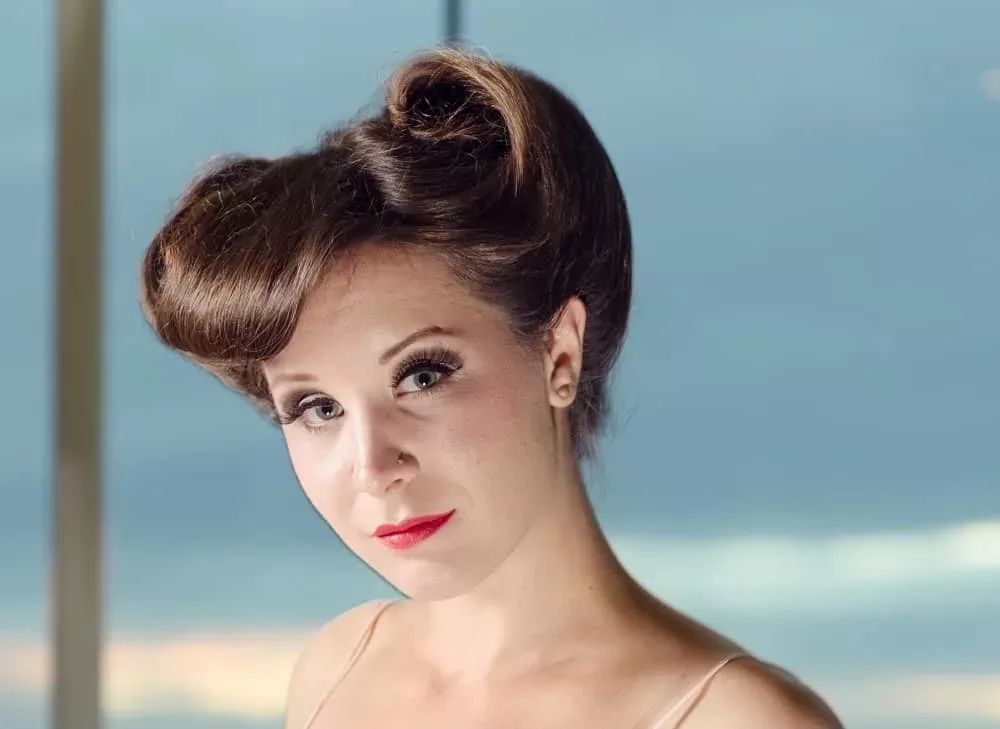 An unconventional pinup to achieve the spot on dinner date look.
28. Pinup Hairdo for Afro Ponytail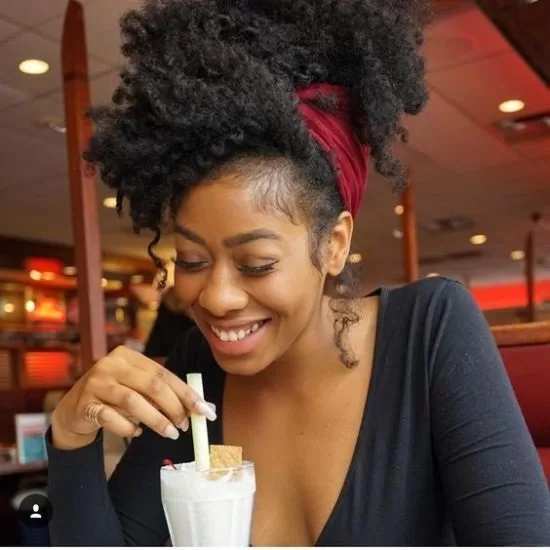 This classic pinup hairstyle is for every lady, including mixed-race and black women.
29. Side Braid Pinup Hairdo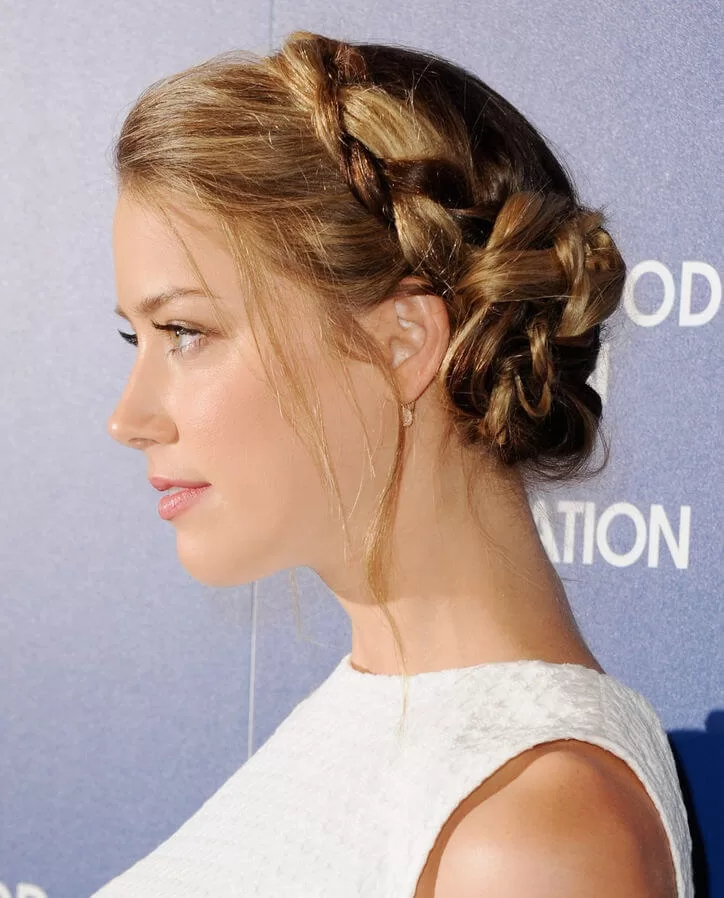 Braid to the side and spice this up with a messy bun at the back.
30. 1950s Pinup Hairstyle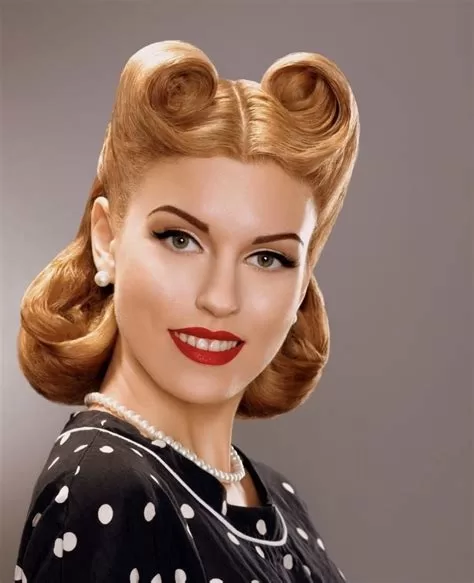 Replicate this vintage hairstyle with a vintage dress to match.
31. Tucked Braid Hairdo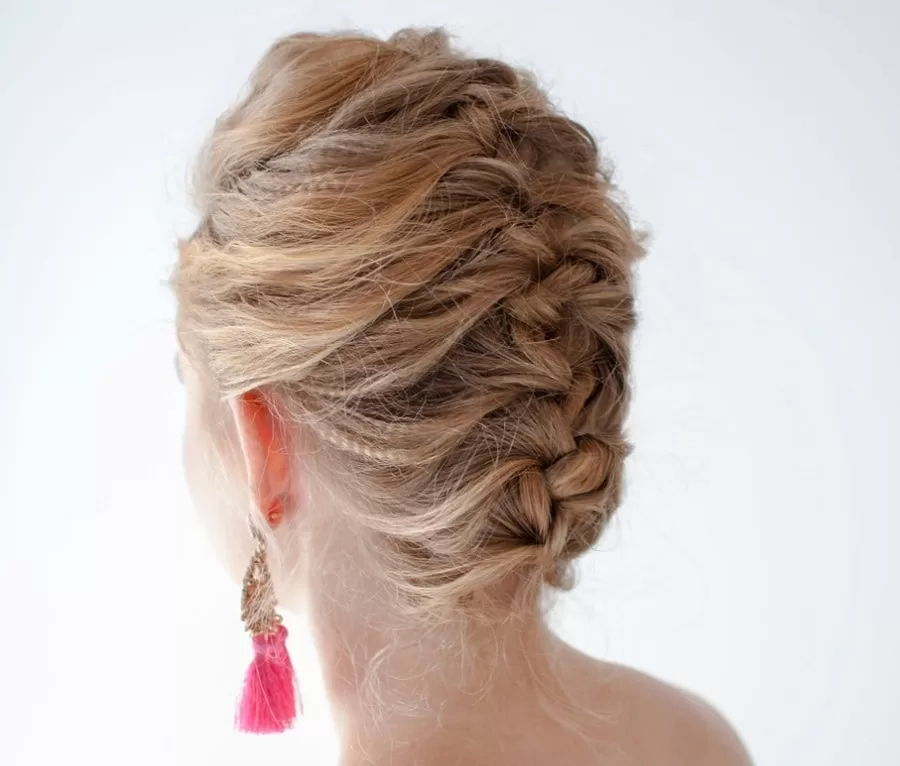 Another easy hairdo you can do in the comfort of your home.
32. Pixie Hairdo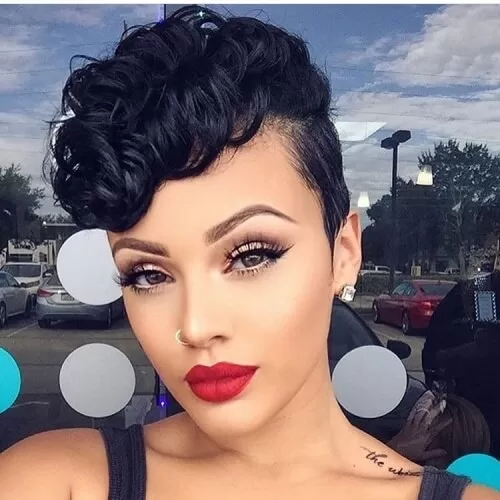 Perhaps your hair does not reach your shoulder; you aren't left out as well.
33. Two Tendril Pinup Hairdo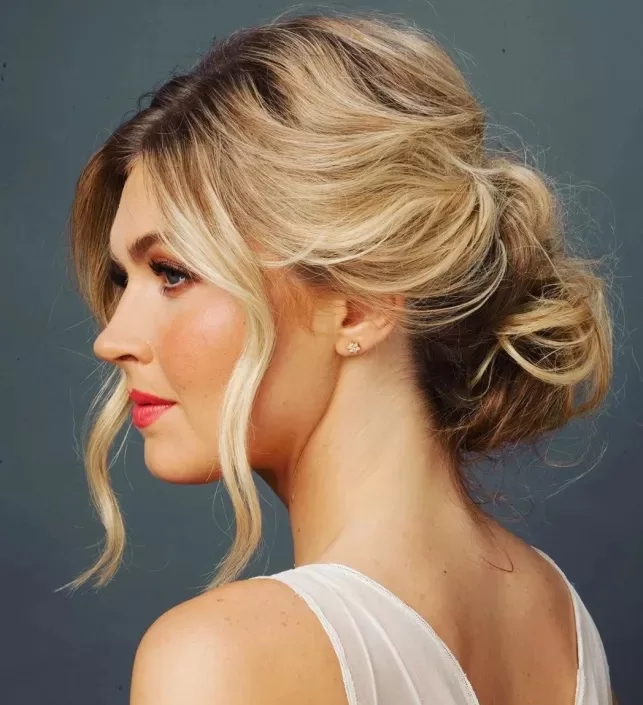 Dear lovers of tendrils, opting for pinup shouldn't stop you from creating tendrils, as usual.
34. Low Updo Pinup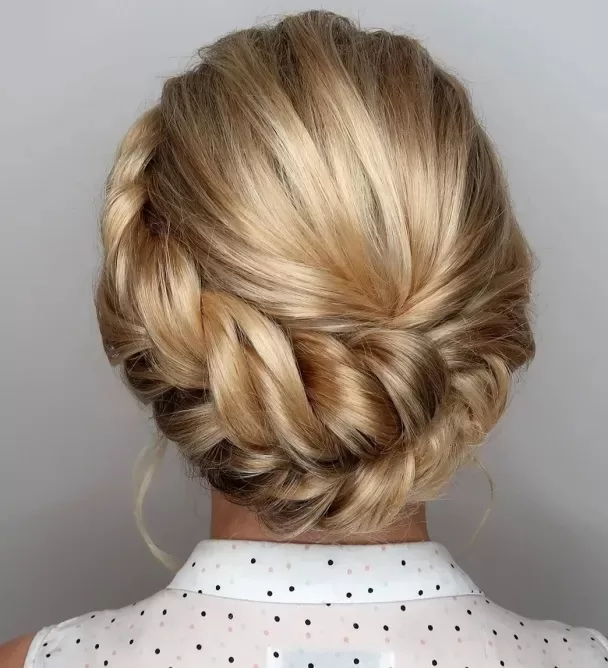 There's no better hairstyle to make when you're on a serious mission than this bold & beautiful pinup.
35. Finger Waves Pinup Hairdo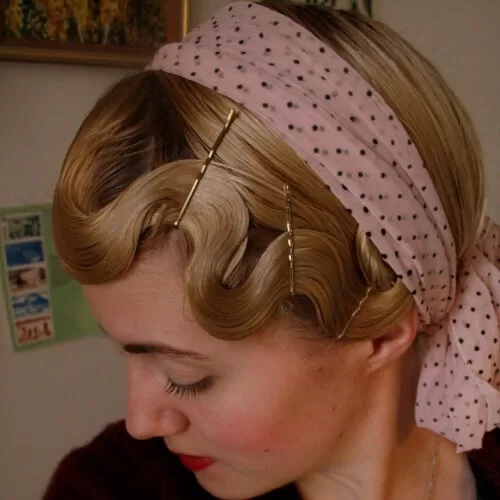 Back in the 40s, you hadn't really made a classic pinup if you weren't rocking this finger wave style.
36. Single-Roll Hairdo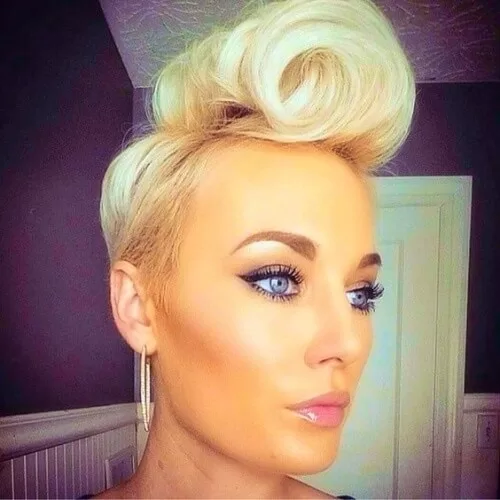 Victory rolls are always in pairs, but you can choose to be unique by going for these single pinup rolls.
37. A Pinup Hairdo for a Natural-Haired Bride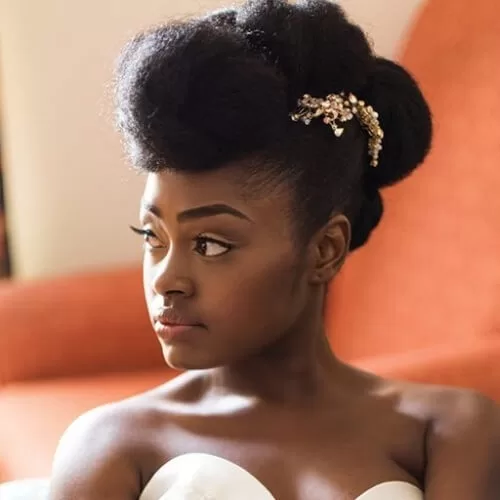 If you're thinking your hair won't fit into any of the pinup styles for brides because of your hair type, Here's the most beautiful pinup for your wedding.
38. Retro Chignon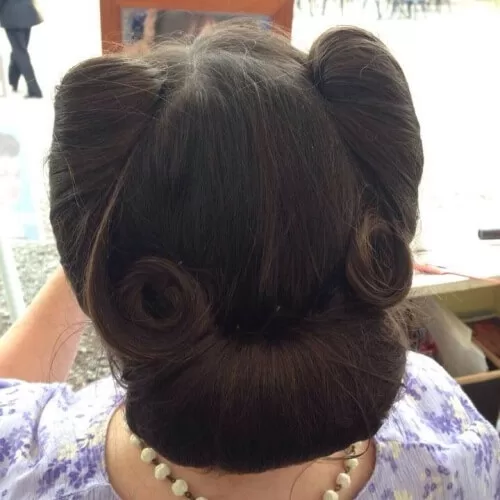 Here's another hairstyle you can rock as a slaying officer!
39. Sleek Bun Pinup
Similar to our traditional bun however, this time around the bun isn't that big, and it isn't in the center either.
40. Bubble Mohawk Pinup Hairdo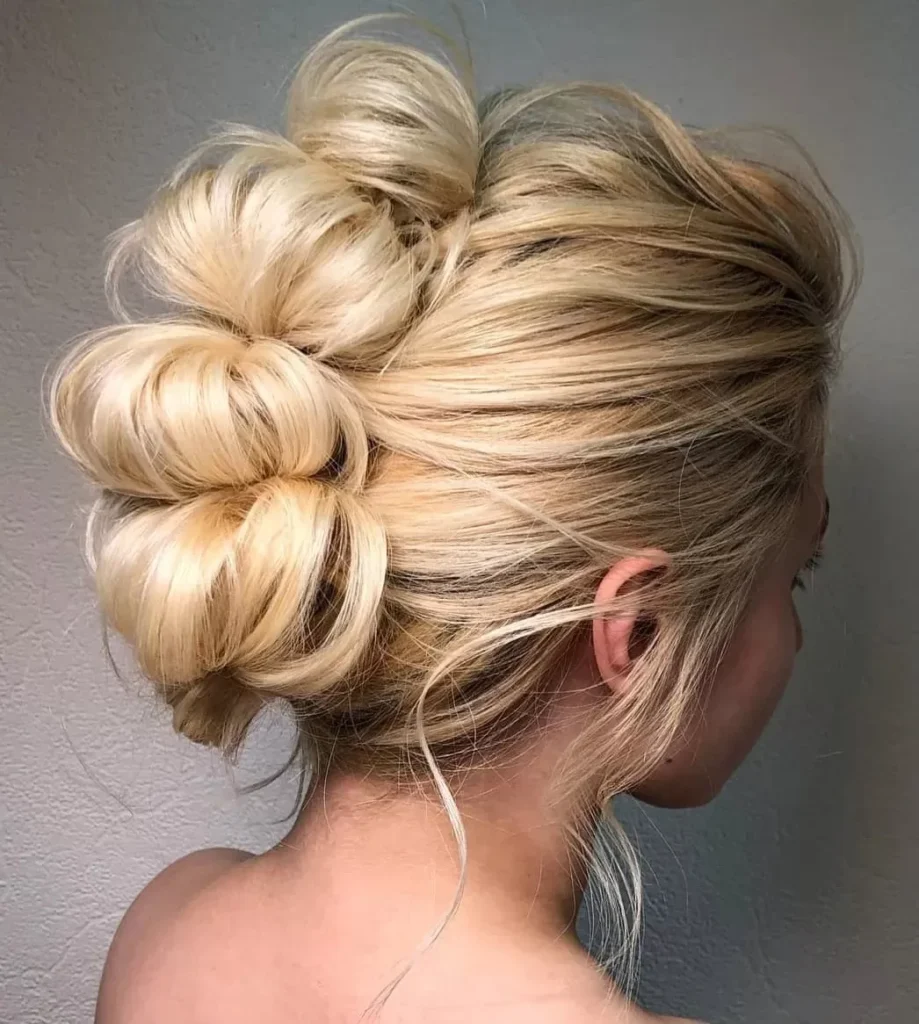 It's a formal event; however, you always love to make a bold statement with your hairstyles.
41. Pinup Roll Hairdo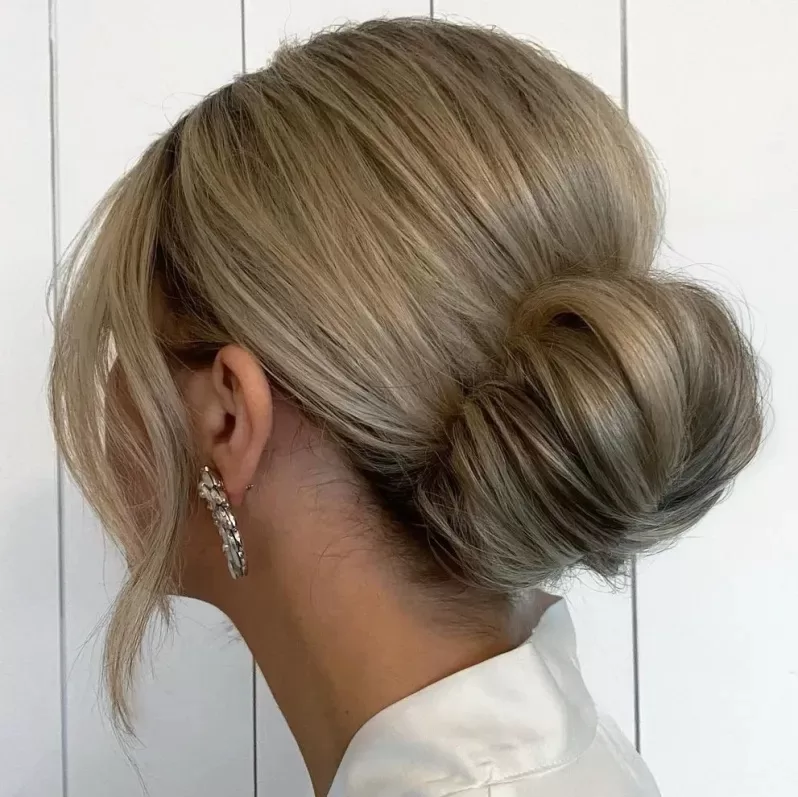 This is an on-point bouffant you'll want to keep making for the rest of your life.
42. Loose Hairdo for Long Hair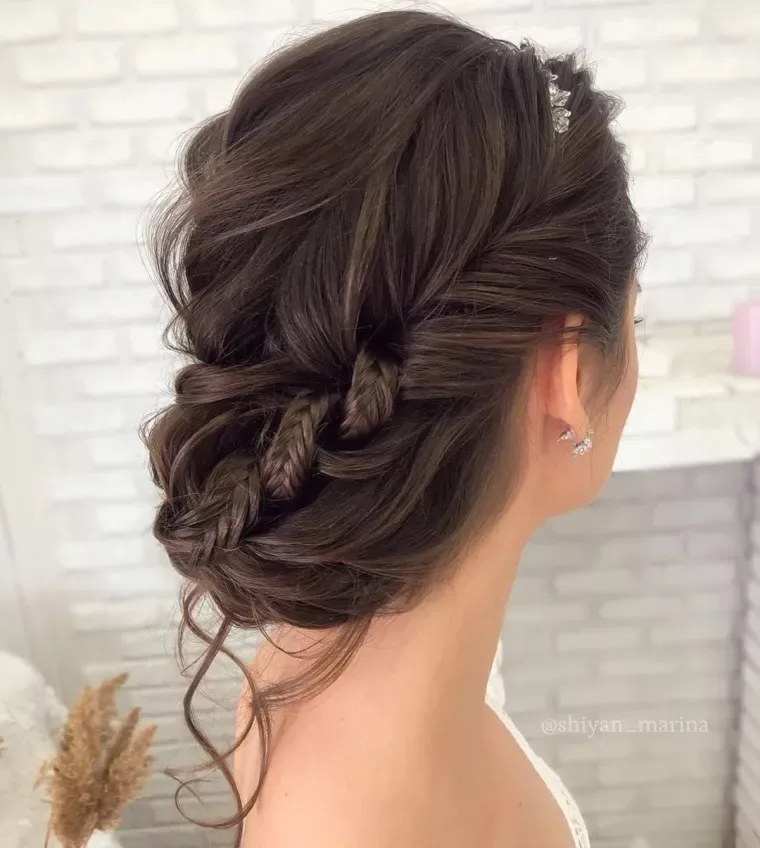 Get creative and confuse people a bit by weaving a small fishtail into a chain braid, then finally tucking the ends of the hair into a messy bun.
43. Round-braided Hairdo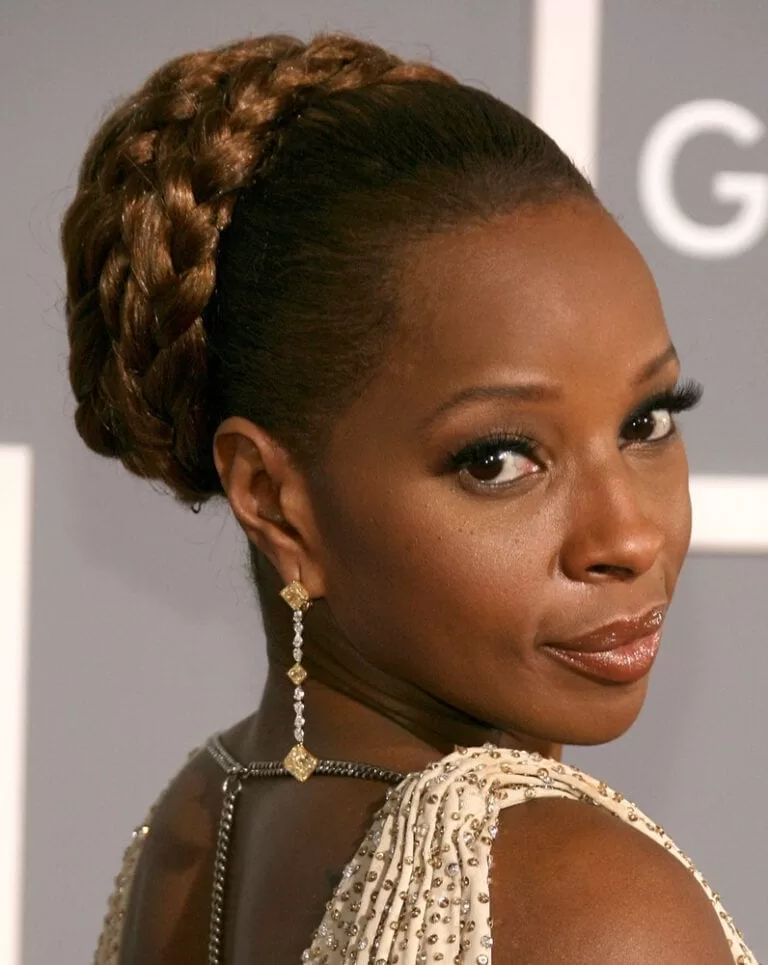 Pack the hair into a bun, braid the tip, and wrap it around the bun.
44. High Bun with Slanting Fringes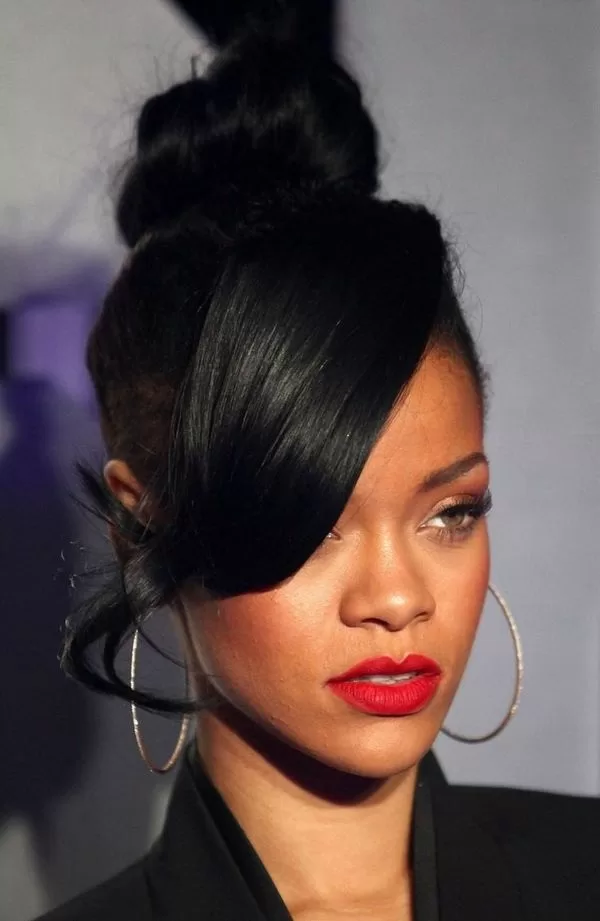 Not only does hair improve your looks, but it also helps spice up your queenly attitude.
45. Puffed Victory Hairdo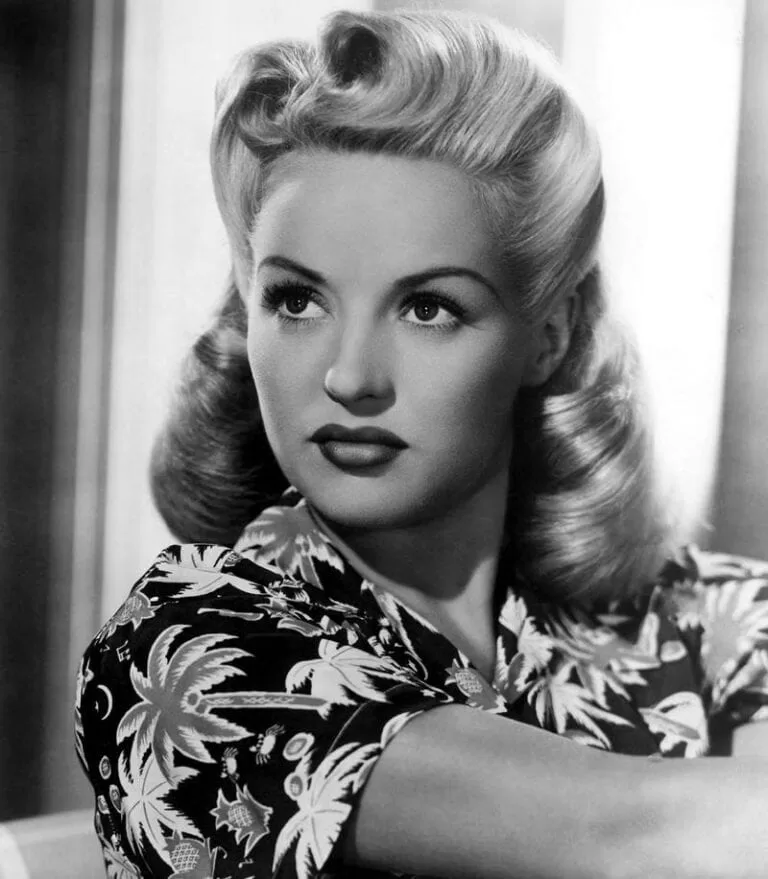 Choose this if you want a bouncing and voluminous pinup hairdo.
46. Two rolled Bun Pinup Style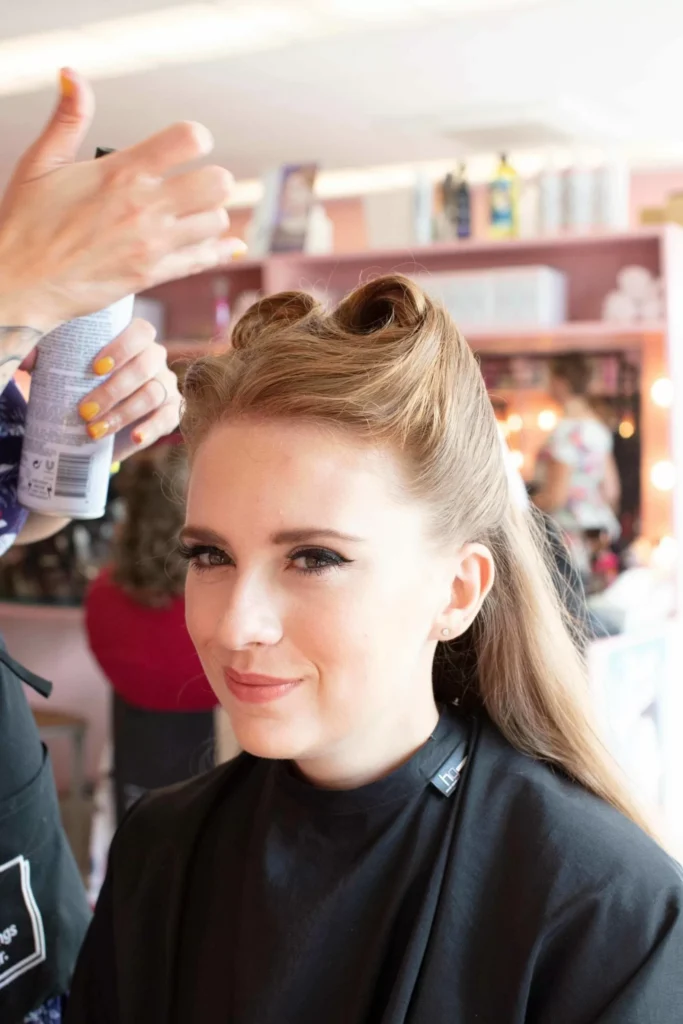 Be the most lovable person in the room with this.
47. Flipped out Bob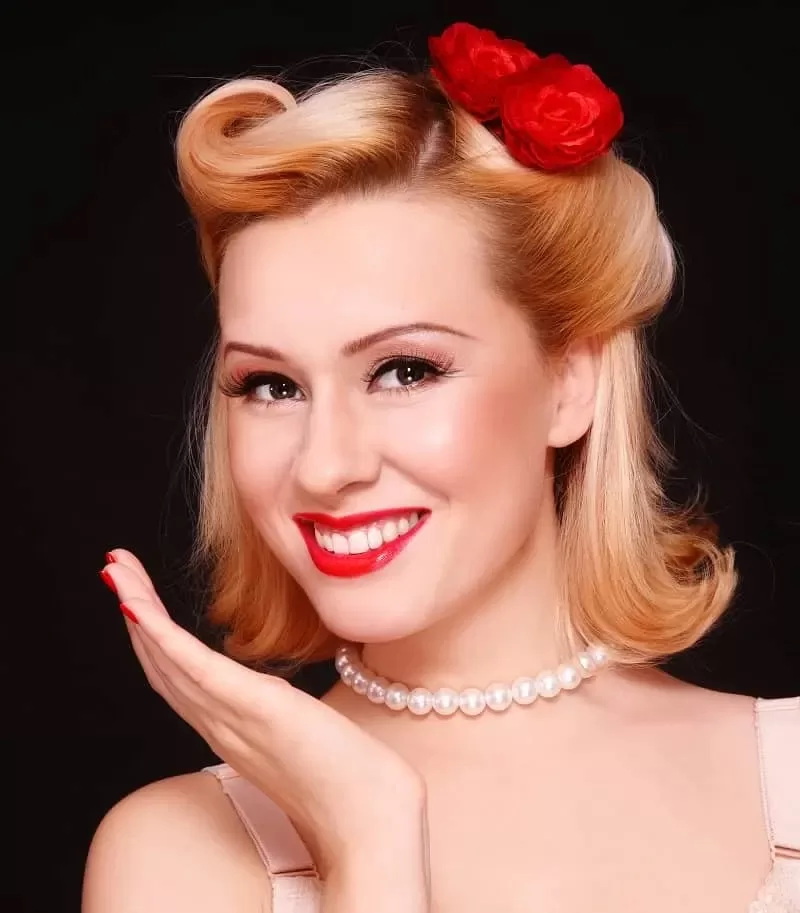 Try this when you're not in the mood for serious hair and there's an important event.
48. Twisted Tucked Pinup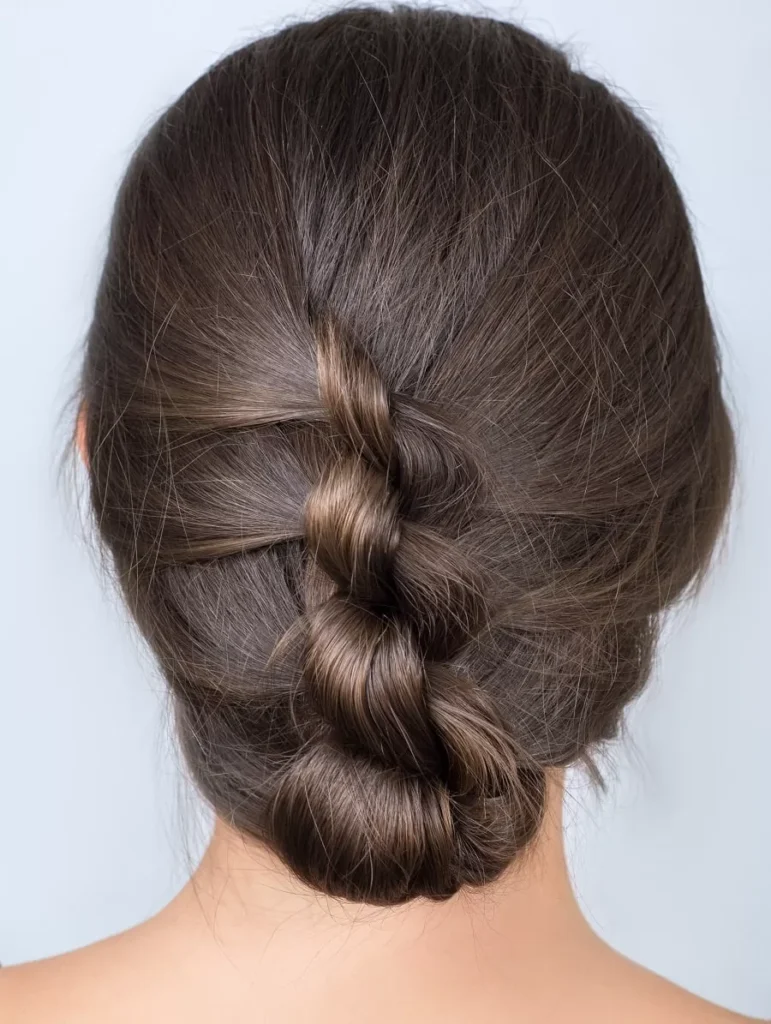 Twist up the hair loosely, pull the long tresses, and then dress up for that evening date.
49. High Piled Hairdo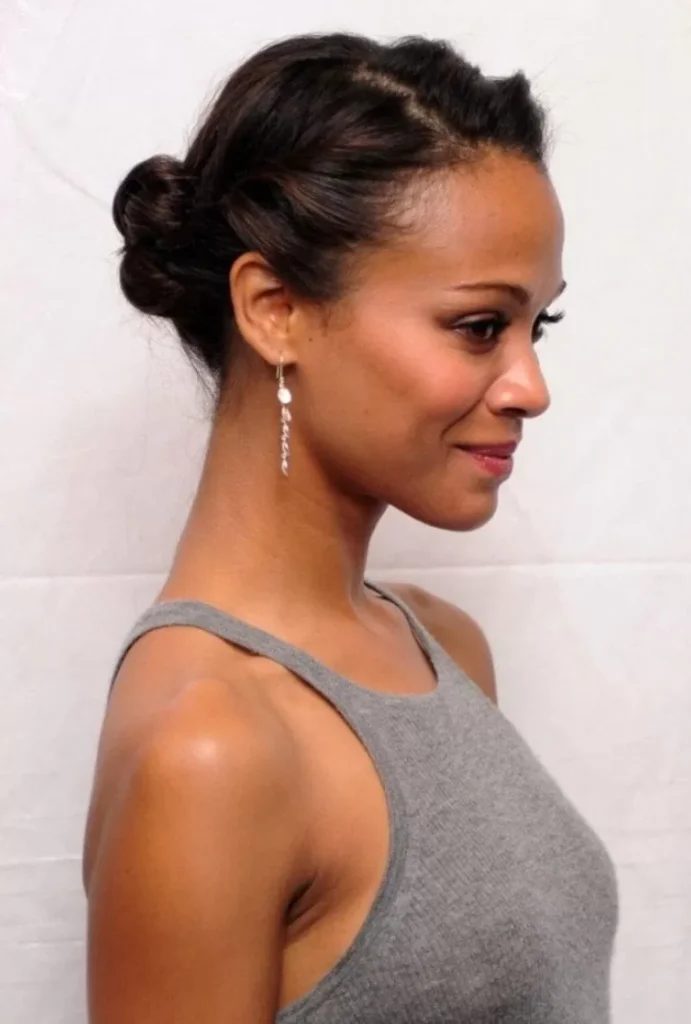 This is the easiest and most common pinup to do during the weekends while resting at home.
50. Curly Pinup Hairdo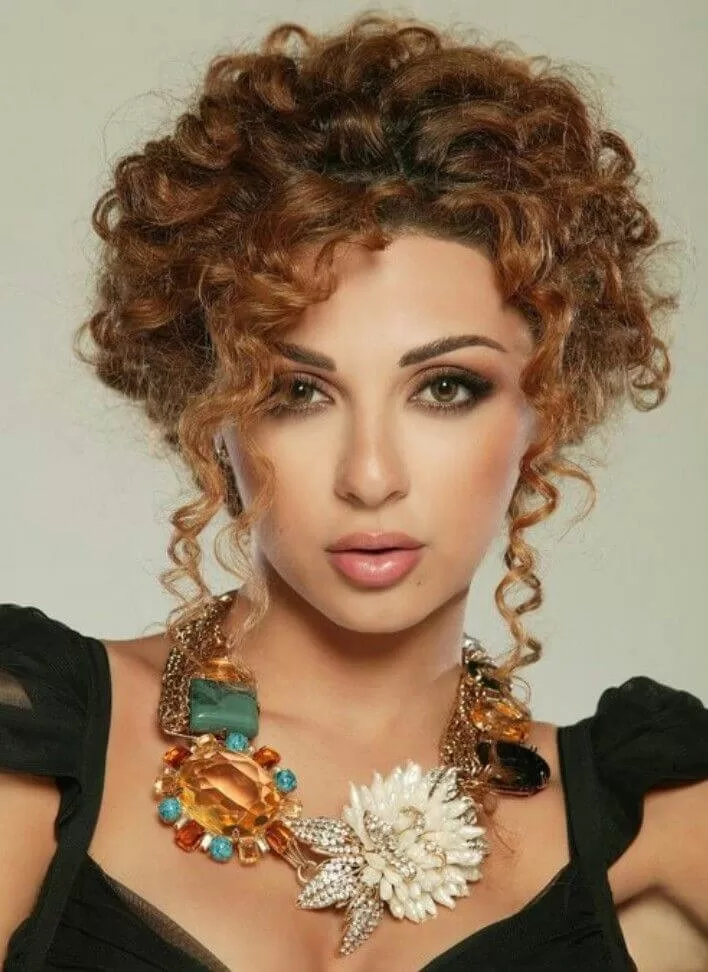 Another option for people with medium-length hair.
51. Vintage mermaid Pinup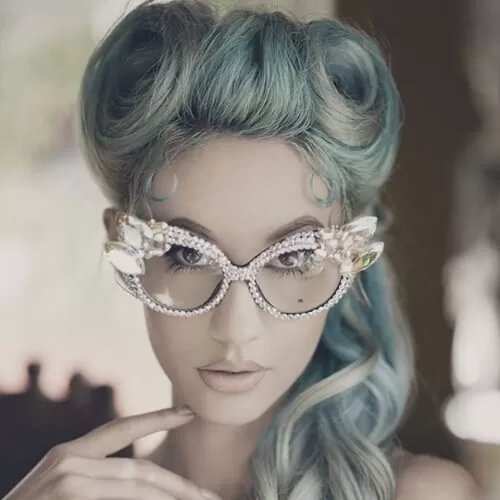 This hairstyle is perfect for Halloween events.
FAQs
#1. What does a pinup hairdo mean?
A pinup hairdo is a hairstyle wrapped in a way that it's held away from the back and face with clips, pins, or a scarf.
#2. How can I make my pinup last?
You can make your hairdo last long by frequently spraying it with a light-hold hairspray.
#3. What do I need to do before making a pinup hairdo?
The most important thing to do before making this hairstyle is to wash your hair.
Conclusion 
That's it with the best pinup hairdos ever. Note that not every pinup style here will be perfect for you. Therefore, study the pictures well with your hairstylist to pick the one that fits the shape of your face.