Going back to school is always challenging and should come with a new determination to change things for the better! This means, there is a good reason to try new easy hairstyles for school! Fortunately, there are infinite ways in which you can style your hair without dying it, all you need is imagination, patience, and lots of accessories that will allow you to express your personality!
I. Easy Hairstyles for School With Braids
1. Single Braid with Low Ponytail Easy Hairstyle for School
This hairstyle is basically a reversed Dutch Braid that starts at the nape and continues with a medium-high ponytail covered by a small strand of hair.
2. Double Braids With Low Ponytail Hairstyle
Although it might not be such an easy hairstyle for school, this combination of French braids and a low ponytail creates a very cool design!
3. Rainbow Hair with Easy Top Braids
This hairstyle requires a visit to the hairstylist but it can hold for weeks. The three installed braids at the top make the strands slightly curl and enhance the multicolored highlights even more!
4. Long Dark Blonde Hairstyle with Single Braid
To reveal the dark roots of your blonde hairstyle, it is enough that you section the crown area with a comb and pull three strands that you can braid afterward in a single braid at the back.
5. Side Braid with Baseball Hat Hairstyle
Comb all your hair on a side and start braiding it in gradually smaller strands and cover the whole hairdo with your favorite baseball hat.
6. Messy Faux French Braid
Easy hairstyles for school wouldn't be the same without the French Braid! This classic braided hairstyle looks great on long thick hair and you only need a tight elastic band to secure it at the ends.
7. Short French Braid with Big Ribbon Easy
Sometimes all you need for an easy hairstyle for school is a cool, colorful ribbon that will make your braid look stunning, just like the one below!
8. Top Knot with Easy Braids
Get ready to turn heads for real at school with this reversed hairstyle that has sleek, neat strands at the front and three back braids with a colorful thread in the center.
9. Long Hair With Waterfall Braids And Hair Accessories
This shouldn't take more than 10 minutes to make and it has a beautiful loose waterfall braid that will make your crown gain a bit of volume, while the rest of it stays long and straight.
10. Long Tight Easy Braids
Extra length and texture and very symmetrical sectioning of the hair will allow you to install long braids that you can wear without having to worry about them falling apart.
11. Waterfall Braid with Two Colors
Shiny dark strands and bright fuchsia shades combine together to create a splendid result and you only need one waterfall braid on the diagonal to separate the two.
12. Violet Box Braids with Blue Strands
This bright shade of violet combined with blue strands makes a cool visual effect and the installed box braids will amplify the volume of your hair!
13. Colorful Space Buns with Easy Braids
Become the queen of fall with these autumn-inspired shades that make these space buns really stand out from other similar hairstyles!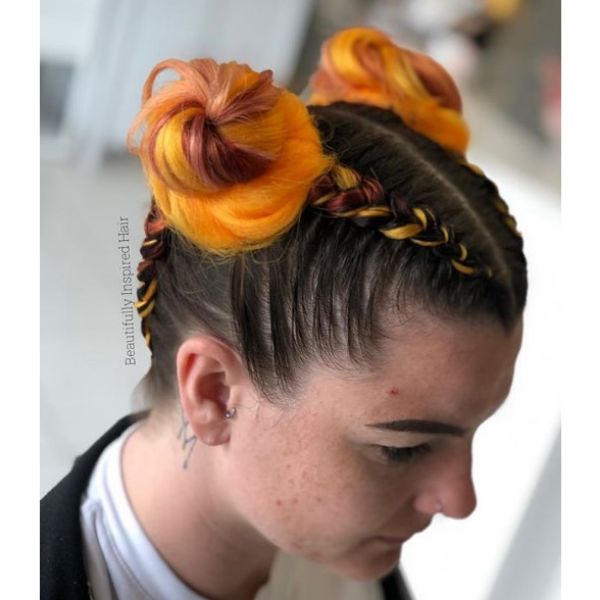 14. Dar Turquoise French Braids with Side Part
This look enhances the perceived depth of your dark turquoise strands with two simple cute French braids.
15. Blonde Ponytail with Dutch Braid Hairstyle
No better way to personalize your ponytail than with this added side braid that will enhance your hair's volume and make your blonde highlights appear lighter.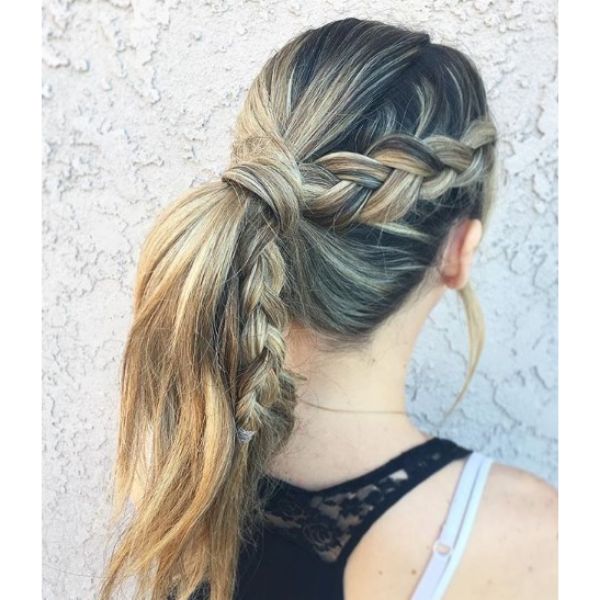 16. Box Braids with Hair Cuffs
A classic hairstyle for any Afro-American woman, this look is achievable with the help of a loctician and has many cool hair cuffs that bring a splash of color to the whole hairstyle.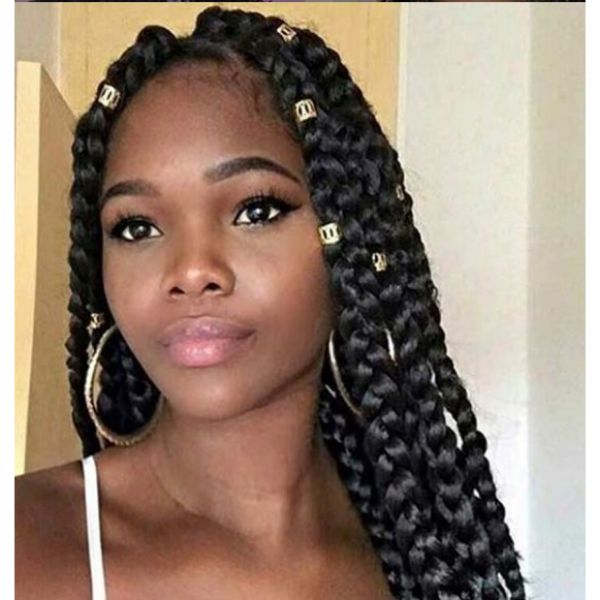 17. Green Thin Easy Braids
One of the best ways of sporting box braids, if you don't want them to be too harsh on your roots, is to opt for ultra-thin ones that will create a very delicate but colorful look for your mane.
18. Braided Cornrows with Blue Strands
Easy hairstyles for school are all about colors and fun textures such as these tightly braided cornrows that have an added shiny strand to enhance the color of the hair.
19. Low Braid with French Beret
A simple hairstyle, such as a single low braid with many colorful hair accessories will instantly make your outfit and your appearance a lot more joyful even if it rains!
20. Braided Space Buns
This hairstyle is created by parting the hair in two separate sections and bringing all the hair in a bundle of tightly braided strands. For more ideas on how to braid your hair check 50+Braided Hairstyles For Long Hair!
21. Red Braided Side Fishtail
This super colorful look is created by simply combing the hair on a side and braiding it really close to the hairline. Add your favorite statement earrings and you are ready even for prom night!
22. Sleek Ponytail with Braided Section
This sleek ponytail is created with high precision. You need to start intertwining two thin front strands and fixate them with bobby pins. Afterward, bring them together in a sleek ponytail that you will comb on the side.
23. Sleek Shiny Space Buns with Braids Hairstyle
Start by braiding two pigtails and then bring them together in tightly coiled braids in order to create a shiny appearance for your braids. Make sure to add a hair gel to prevent all the baby hairs from covering your forehead.
II. Short and Medium Easy Hairstyles for School
24. Spiky Blonde Punk Hairstyle
Rockn'roll inspired hairstyles such as this punk hairstyle will help if you have fine hair that needs a bit of texture and styling to stay upwards.
25. Short Bob With Colored Strands Hairstyle
Request a long, asymmetric hairstyle with extra-long wings and finely chiseled sideburns while asking your hair colorist to apply a vibrant palette of tones all over the hair.
26. Short Chopped Easy
This textured chopped hairstyle has a cool relaxed look and you only need to comb it and arrange it in the mirror to maintain the line of the bangs.
27. Pink Mullet Hairstyle
This rebel look is the perfect hairstyle for a busy day at school since it will free your face from the weight of extra long hair that needs to be constantly rearranged!
28. Punk Mullet Hairstyle with Messy Styling
A darker look is always a good idea if you love Gothic looks. This messy Mullet with zero faded sides has both long and short strands, which makes it super versatile!
29. Long Shaggy Mullet with Long Sideburns Hairstyle
A combination between a Shag and a Mullet, this hairstyle has long sideburns and a straight back part, allowing multiple styling options.
30. Galaxy Colored Hairstyle with Side Part
If you watched the Joker and you know Harley Quinn, this hairstyle will suit your tastes like nothing else! A half-blue, half-pink hairstyle is sure to draw everyone's attention.
31. Curly Pixie Cut Easy Hairstyle
With long sideburns and playful curls, this hairstyle is all about the playful springy curls that need a good conditioner to keep their shape.
32. Messy Bob with Small Threads Hairstyle
Fairies are real and an ocean colored bob will convince you of keeping your inner magic intact while mesmerizing everyone with your unique hairstyle!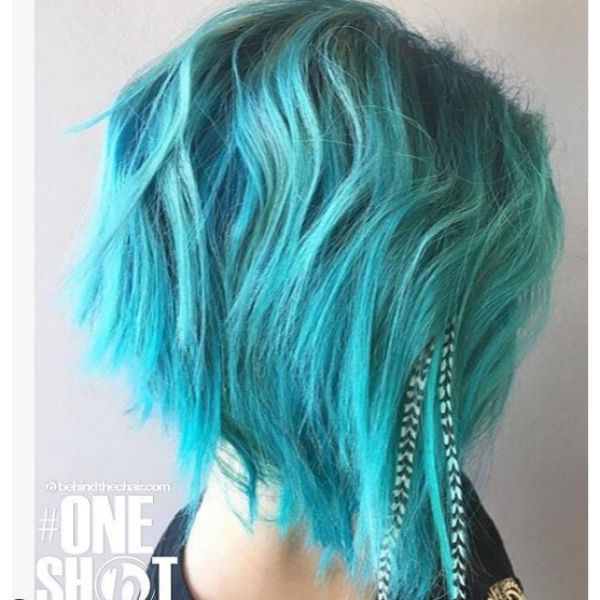 33. Wob With Headscarf Hairstyle
The wavy bob is super fast to get in the morning with just a couple of curls and it can be enhanced if you add a satin headscarf in a contrasting color. Simple, yet chic!
34. Half-knot with Mermaid Colored Hairstyle
Dark mermaid colored hair tends to absorb light and so adding a flower hair pin will accentuate the contrast and emphasize your half-knot.
35. Gothic Hairstyle with Flame Highlights
This incredible masterpiece is created with amazing skill by a talented hair colorist and you only need to add a couple of beach waves here and there to make it look perfect!
36. Straighten Medium Hair with Beanie Hairstyle
Fine, straight hair, with a U-shaped haircut will benefit from adding a colorful, beanie if you opt to cover your head during cold mornings.
III. Simple Hairdos and Easy Hairstyles For School
37. Messy Hairstyle with Headband
For a relaxed, casual look, you can choose to bring all the hair in a messy top bun and cover the hair with a twisted headband to personalize your appearance!
38. Straight Simple Easy Hairstyle with Headband
Comb the hair after washing it and give it a gentle blow-dry to obtain medium volume. Use a simple headband to fixate all the strands on the back.
39. Twisted Bun with Headband Hairstyle
If you opt to gather all your hair with a headband that will fixate it, you can complete the look with a straight triple low bun secured at the base of the nape.
40. Sleek Ponytail with Colorful Accessories
Imagination can help you create an exquisite hairstyle with three differently colored rubber bands and two hairpins that you will place at the base and the end of the ponytail while leaving the front strands to fall naturally around your forehead.
41. Long Straight Auburn Hairstyle with Headband
A simple headband can completely change the way you look when you pull the crown hair along with the sideburns and leave the rest of the hair out. Use a flat iron to arrange the bangs around the forehead.
42. Pink Hairstyle with Wavy Strands
This day-to-day look is super easy to obtain if you give your hair a good blow-dry and afterward create small, light curls and arrange it on the sides. All you need is a matching lipstick.
43. Emo Punk Wob Hairstyle
These cold toned shades of green and the blonde roots are a cool combination reminding us of the Emo revival trend while the light curls make it look more feminine!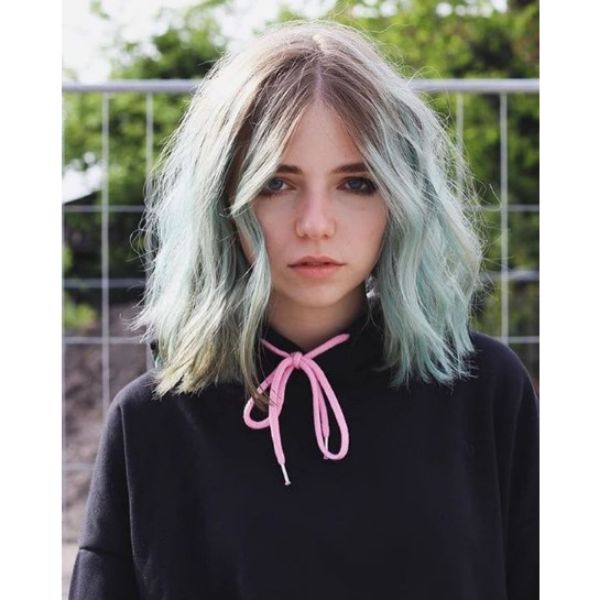 44. Low Ponytail with Twists and Velvet Headband
Fine, sleek hair can gain volume if you choose to create a low ponytail with falling front strands and decorate the whole ensemble with a velvet headband.
45. Simple Straight Hairstyle with Hairpins
When you have bangs it's sometimes hard to keep them from getting into your face and so you can use a couple of hairpins to fixate them on one side of your head.
46. Intricate Twisted Bun Hairstyle with Hair Accessories
A very lady-like appearance can be created with classic, elegant hairpins and a vintage bar clip used to fixate the carefully twisted bun at the back.
47. High Ponytail Back to School Hairstyle
This high ponytail is a classic '90s look that everyone can replicate with a strong colorful headband and a strong fixating spray used to arrange the locks around the shoulders.
48. Straight Bob with Bangs Easy
A cool hairstyle can sometimes be achieved with a couple of hair accessories that will instantly draw attention to your straight, long locks that are cut right at the neckline!
49. Curly Easy with Black Satin Ribbon
Perfectly rounded curls that fall around in a cascade can be stopped by choosing to create a half-ponytail and secure it with a huge satin ribbon on top of your head.
50. Twisted Ponytail Easy with Hair Accessories
After teasing the crown strands a little bit you need to create a loop at the back and secure the hair with cute hairpins that will match your outfit.
51. Twisted Bun Easy with Falling Strands
Another hairstyle that has a lot of volume at the crown and that will enhance your facial features is this twisted messy bun that you can fixate at the nape.
52. Messy Bun Easy with Falling Strands
School days sometimes can be very hectically and so, opting for a messy bun sometimes can improve your appearance in no time!
53. Auburn Colored Wavy Easy
A good blow-dry and a long colored wavy hairstyle can make any day of the week a good hair day and this layered haircut proves it so!
54. Mermaid Green Easy
Medium length hairstyles usually look better with soft waves that will balance the volume of the hairstyle and you can separate the crown hair in two top knots while leaving two strands out to frame your face.
55. High Ponytail Easy with Shiny Hair Strands
To achieve this look, you can braid your hair when it's still damp after washing it and you will get small waves without heat. Bring the top hair in a half knot and secure it tightly, while applying a couple of shiny strands on top.
56. Medium Bob with Money Piece Hairstyle
A quick and easy hairstyle for school and for any other occasion, really, this medium bob with subtle waves and two light blonde highlights in the front that will brighten up your appearance.
57. Long Bubble Ponytail
Either you use colored hair accessories or your own strands of hair, this look is obtained by sectioning the top hair in three parts and tying them together in a long ponytail.
58. Blonde Wavy Pigtails Easy
One of the most popular easy hairstyles for school, the classic blonde wavy pigtails will look even better if you use the curling iron to define their tips a little bit.
59. Messy Bun Easy Hairstyles for School With Jeans Headband
Get a thick piece of fabric, or a jeans headband and wear it over your hair in a classic high bun with strands falling all over the crown.
60. Slick Back Easy Hairstyle
This hairstyle is easy to obtain by simply using a styling product and a comb to create a wet look and choosing to focus on the eye makeup instead.
61. Half Up-do with Transparent Hair Accessory
Easier said than done, this hairstyle is unique thanks to the special hair accessory that makes it look really special and can be obtained by simply pulling half of your top hair in a half knot.
62. Teal Colored Bob Hairstyle
Feeling blue doesn't have to be a state of mind, sometimes it can simply be a hair color! This bright teal dye makes the hair gain volume and really emphasizes the straight cut ends of the bob haircut.
63. Space Buns with Long Blonde Messy Waves
After getting your hair washed and teased around the crown area, make sure to create two equal messy buns on each side of the hair, while leaving the rest of the strands free to fall around your shoulders.
64. Bubble Ponytail with Hair Accessories
To amplify your volume, you can choose to apply many hair accessories and ensure a messy structure on the sides to contrast with the tightly secured ponytail.
65. Low Ponytail With Blonde Messy Strands
This bohemian look is made by teasing really well every strand of hair followed by curling the ends while bringing the locks together in a ponytail at the back.
66. Wavy Half Up-do with Falling Strands Hairstyle
Long, full, rich hair can look amazing with a bit of curling applied on the length of the haircut and you can keep it in a tight small up-do with falling strands to look feminine!
67. Messy Space Buns with Falling Strands
Rosalia's hairstyles are always impressive and can be easily replicated if you choose to straighten up your hair and create an Asian inspired look with straight falling strands that frame your face.
68. Curly Half Up-do with Headband Hairstyle
This pin-up inspired look is a cool, easy hairstyle for school you can replicate by fixating the curls with hairpins and a white-colored headband.
69. Half Buns with Blonde Strands
This amazing look is based on creating a perfect visual effect between the blonde strands in your hair and the dark roots, by rolling the hair in two half buns covered with blonde strands.
70. Twisted Low Ponytail with Hair Accessories
Put your creativity to test with this twisted low ponytail with natural texture and add sparkling hair accessories with your favorite symbols to personalize the look.
71. Balayage Hairstyle with Hat
Classic hairstyles are not the same without a cool hat such as this military-inspired cap that makes a cool contrast with the shirt but also with the caramel strands in your hair.
72. Gothic Long Hairstyle
With a part red and a part black, this simple hairstyle only needs a couple of gentle waves in the front to look amazing and you can comb the long bangs over to increase the crown volume.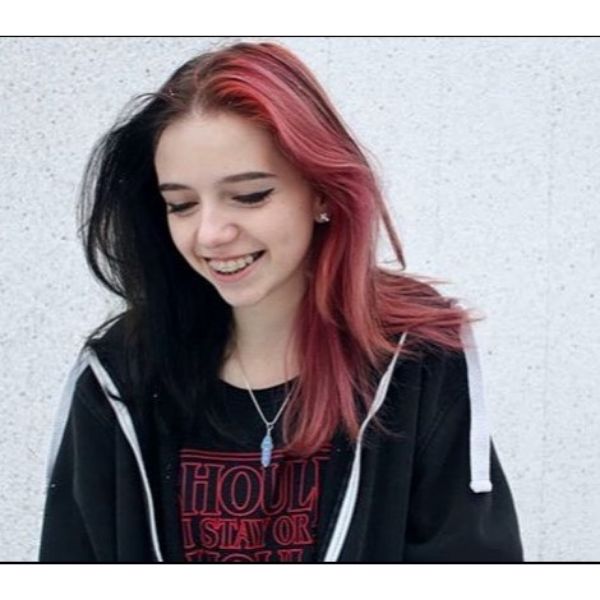 73. Afro Hairstyle with Space Buns
Any girl with a medium-long TWA can get this cute look by carefully separating the front strands from the rest and arrange them around the forehead to create a faux fringe.
74. Blonde Space Buns Hairstyle
These blonde messy "space buns" are actually a couple of long strands coiled carefully and secured with elastic bands to prevent them from falling apart.
75. High Messy Bun with Falling Strands
Using differently colored accessories with chunky shapes will make an interesting contrast with the messy, undone high bun while the falling strands will bring femininity to your face.
76. Rainbow Colored Hairstyle
This bright, fun look is surely an easy hairstyle for school since it doesn't need any effort to shine, except for a color refreshment!
77. Long Curls with White Ribbon Hairstyle
Bring all the hair at the back and after creating the curls, bring together two strands of hair from the temples and secure them together with a white ribbon.
78. Undercut With Side Razor Design
This is a cool example of easy hairstyles for school that combines both an interesting haircut and it needs a bit of hair spray to stay fixated on the side.
79. Green Violet Bob Hairstyle
The classic bob haircut can be improved with a couple of wavy curls that will enhance the asymmetry of the hairstyle and bring together the two beautiful shades of green and violet dye.
80. Messy Hairstyle with Head Scarf
Sometimes easy hairstyles for school only depend on a cool accessory placed strategically to prevent the hair from getting into your face while also making the hair appear longer than it actually is. Cool trick, right?
81. High Ponytail with Scrunchie Hairstyle
Easy hairstyles for school can be created with a colorful scrunchie that will create a contrast with the dark color of the hair and with the wispy bangs that frame your face.
82. Messy Bubble Ponytail Hairstyle
This hairstyle is also known as a Jasmine Ponytail with a messy styling, and it might take a while to master the technique behind it but it takes less effort than braiding your entire hair.
83. Twisted Back Ponytail with Silky Ribbon
Start by turning the hair towards the nape and bring it in a ponytail by fixating a couple of strands in the back and applying a silky ribbon over it.
IV. Special Easy Hairstyles for School
84. Asymmetric Hairstyle with Long Strands
This long hairstyle with an asymmetric cut is a cool way of sporting both long and short hairstyles and it can be easily arranged in the morning with a curling iron.
85. High Messy Bun with Scrunchie
This super-high messy bun can be easily replicated with the help of a simple velvet scrunchie and it's also a safe easy hairstyle for school since it won't cause any breakage.
86. Soft Peach Pink Mullet Hairstyle
A short, strategically trimmed hairstyle such as this soft peach pink mullet can improve your hair's soft texture and will instantly illuminate your skin
87. Straight Bob Hairstyle
A simple straight bob hairstyle will make your hair easier to manage and also accentuate the beautiful accessories in your ears and at the neck.
88. Blonde Hairstyle with Knotted Bun and Headscarf
To amplify your hair's volume you can tie your hair in a knotted bun using a headscarf while the rest of the strands will be straight and freefalling around your shoulders.
89. Jasmine Ponytail Hairstyle
This hairstyle is a 1-1 replica of Disney's Princess iconic look and it might require the help of a hairstylist to perfect the shape and the messy strands around the hair.
90. Messy Bun With A Clip
Start by combing the hair lightly and separating the top hair from the crown. The next step is to coil the strand in a messy bun and fixate it with an elastic band and a hair clip.
91. Two Braids Hairstyle with Curly Sideburns
To create this hairstyle you need the help of a professional loctitian and you can keep it for many days provided that you use a toothbrush or a special comb to arrange the baby hairs in a beautiful pattern.
92. Twisted Low Buns Easy
Easy hairstyles for school and for any other occasion really wouldn't be the same without the twisted low buns that you can always create when you have long hair with a bit of patience and a bit of patience to achieve the perfect shape.
93. High Ponytail with Easy Braided
This hairstyle reminds us of Ariana Grande's iconic look with a high amped-up ponytail and super sleek front part. The only props you need are a toothbrush or a simple hairband that you can use to arrange the baby hairs around your hairline in small semi-circles.
94. Half Updo Easy with Scrunchie
Take the top strands and gather them in a small ponytail while leaving the other ones free falling. Choose a loose scrunchie that you can twist twice to create a richer look!
95. High Curly Easy with Back Ribbon
Bring the top hair in a messy bun and secure it with a velvet ribbon at the back while directing all the top strands towards the sides and the front.
96. Braided Cornrows Easy with Silver Strand
This hairstyle can be easily achieved if you have a braids specialist around that can install the cornrows on the diagonal of the scalp while using a shiny thread to create a contrast!
97. High Silver Ponytail Easy with Top Strands
This look also requires the help of a braiding specialist that will manage to section the scalp into 4 different sections while opting to secure the rest of the hair in a top ponytail tied with an elastic band in a contrasting color.
98. Small Medium Bob Easy with Half Up-do Hairstyle
Simply take two strands of hair and place them together to amplify the volume of the hair with just a comb and a simple flower elastic band!
99. French Bob Easy Hairstyle
This casual, natural look is really cool to create and wear as an easy hairstyle for school if you opt for a short length and simply apply a hair spray before leaving the house.
100. Half-knot with Purple Strands Easy Hairstyle
With a beautiful mix of purple and fuchsia shades, this intensely colored hairstyle with a half knot is an easy hairstyle for school that will fascinate and intrigue your classmates!
101. Orange Pink Mullet Easy with Dark Strands
With a string-like texture, this impressive pink mullet haircut with dark strands is a cool combination of warm and cold tones that will instantly make your appearance noticed!
Conclusion
When it comes to easy hairstyles for school, you can feel free to choose between intricate hair-dos or exquisite colors, your style won't be boring, that's for sure! With these 101 easy hairstyles for school, you are sure to never run out of ideas about your school outfits!