50+ Braided Hairstyles for Long Hair
If you crave a change of looks, but don't have time for a visit to the beauty saloon, we suggest trying to braid the hair, using different techniques for unique hairstyles. This braided hairstyles for long hair list shows both simple and complex braids that you can try and do at home.
I. Fishtail Braided Hairstyles for Long Hair
1. Faux Fishtail Braid with Hair Scarf
To create a faux fishtail braid you will have to divide your hair in two thick strands. Take a thin strand from the left section, and cross and incorporate it into the right section. For this particular hairstyle you will also need to incorporate a hair scarf at the beginning by tying it at your nape in a knot.
2. Half Fishtail Braid for Long Multicolored Hair
For this particular half updo, try and make two looser sections from your front sides and start intertwining them in thin strands in one central braid.
3. Half Fishtail with Small Side Plaits for Long Wavy Blonde Hair
Take two small strands from your temples and twist them slightly bringing them at the back of your head. Start braiding the fishtail and add a couple of side plaits to create a perfect summer hairstyle.
4. Double Back Fishtails for Long Blonde Hair
Opt for a practical updo with two fishtails swept on your back and equally parted. Secure them with two thin elastic bands.
5. Coachella Style Multiple Fishtail Braids for Ashy Blonde Hair
A festival-inspired look, these multiple fishtail braids create a beautiful casket for your long tresses. Start from your temples by creating six side fishtails and bring them together in one central braid.
6. Classic Single Fishtail Braid for Long Straight Hair
A slightly tilted fishtail, but braided in a classical style, this single black braid looks super feminine but is also a practical choice for busy days.
7. Woven Fishtail Braided Hairstyle for Long Hair
A woven braid has separate warp (long-wise elements) and weft (back and forth or shorter-wise) elements, unlike a normal braid, where the strands take turns. This woven braid look complex but mesmerizing.
8. Dutch Fishbone Braided Hairstyle for Long Blonde Hair
This fish bone style braided dutch braid has the strands interrupted from place to place by strangulation with same -hair strands which bring a unique looking aspect.
II. Mermaid Braided Hairstyles for Long Hair
9. Mermaid Tail Braided Hairstyle for Long Hair
There is nothing quite like a thick, messy mermaid tail to bring your healthy, luscious tendrils in the spotlight. Section your hair in three parts and start intertwining them.
10. High Mermaid Braided Hairstyle for Long Dark Hair
The beauty of the Mermaid Braids lays in it's messiness and unique looking result that comes out of each hair. In this case, the braiding starts right at the back part of the crown hair and keeps all the hair together with an intricate pattern that looks both effortless and elegant.
11. High and Thick Mermaid Braided Hairstyle for Balayage Hair
Created with lots of twist and pulled out plaits, this two-colored mermaid braid make your hair look thicker and more voluminous.
12. Mermaid Style Messy Braid for Brides
An intricate, twisted mermaid braid with many Topsy -Turvy turns, this bridal hairstyle is arranged by hand to get those perfect edges and adorned with hair accessories, which make it the perfect festive look.

III. Pull Through Braided Hairstyles for Long Hair
13. Pull Through Pigtail Braids for Long Blonde Hair
Not an actual braid, but a pull-through braid, which you can learn how to make by reading 30 Stunning Braid Hairstyles for Long Hair, this cute- looking pigtails are both girly and chic!
14. Pull Through Braided Hairstyle with Scrunchies
As buoyant and sophisticated is looks, as easy it is to make this long ponytail with pull-through strands. Simply start by sectioning your hair in one ponytail and separate the lower-part to insert the ponytail through it. Before pulling it, put a schunchie over it.
15. Single Braid For Long Hair with Pulled Out Strands
On the opposite side of the braided spectrum, we have this single braid with pulled-out strands for an ultra-messy effect. After braiding, start pulling out, but not entirely, little tendrils to create this effect. Use hairspray to fixate the whole look.
16. Braided Pigtails with Pulled-out Strands of Hair
This time, section the hair in two equal sides and braid two classic pigtails. Take the strands and press them to create this flattened, messy look for your braids.
17. The Double Pull Through Braid
A new challenge for your braiding skills, this braid requires double the effort but the satisfaction will also be doubled!
18. Three Strand Pull- Through Braid
Combining a french-style braiding technique, this pull-through braid involves using three strands instead of two.
IV. French Braided Hairstyles for Long Hair
19. Thin French Braid with Free Falling Hair
Section two small part of hair on each side of your forehead using a thin comb. Start braiding three strand tails and secure them with an elastic band. Leave the rest of the hair free falling.
20. French Style Braided Space Buns with Ribbons
So feminine and playful, this braid variation is also suited for layered haircuts, since the braiding starts right at the nape and goes upwards for a reversed french-style braiding. Leave half of the braids free and shape them in ribbons instead of classical space-buns.
21. Messy French Braid For Long Hair
This french braid is made to resemble a mermaid braid, except the strands are very visible and the messy effect is obtained by pulling out a bit every part of the braid.
22. Side-Swept French Braid with Free – falling Long Hair
To replicate this look start by parting your hair and then separate a small section to create the three strands necessary for the french braid.
23. French Braid with Woven Ribbon
Take a small section from the center top of your head and tie a ribbon or scarf around it. This section will be the center section of your braid.
Take a section on either side of the center one, add the ends of the scarf to those outside sections, and begin French braiding about halfway down your head, and then continue a regular braid down to the ends of your hair.
V. Dutch Braided Hairstyles for Long Hair
24. Side-braided Dutch Braid with Side Part for Long Free Falling Hair
For this Dutch-style braid, instead of braiding over the strand, like you normally do in the case of the French braid, you will be crossing the strands under.
25. Wrap-around Dutch Ribbon Braid
For this special dutch braid, use a hair scarf or a simple headband that you will fixate at the top of your hair and use it for your three strand- braiding.
26. Double waterfall With A Side Dutch Braid with 2 Three Strand Braids Twisted in
This Waterfall Braid with a side dutch braid with other 2 braids twisted in, sure looks complicated and it's not for beginners. Before trying to replicate this look you should watch a tutorial about waterfall braids and after see how you can combine it with other types of braids.
27. Half Dutch Braids with Hair Scarf
This look is actually two side braids that are connected using a hair scarf tied in a ribbon at the back for a girly look.
28. Single Dutch Braid with Ribbon
Section off a large oval on the back of your head, from the crown to the nape. Clip the two front sections out of the way.Dutch braid the center section down to the nape and secure with elastic.
Pull the front sections back to a ponytail (with the braid) at your nape and secure with another elastic.
VI. Unique Braided Hairstyles for Long Hair
29. Infinity Braid for Long Hair with Colored Hair Piece
Similar to the fishtail braiding technique, the infinity braid makes for a perfect summer updo thanks to the tight and sleek resulting braid.
30. Waterfall Braids for long Hair
These tiny, microscopical waterfall braids create a strong optical illusion, making it look as if the woven braiding technique was used when actually is all about starting with thin strands of hair that you will drop after and replace with a new thin strand after braiding them.
31. Dragon Braid with Free Ponytail
This ridged, wavy texture resembling dragon's skin is created with a special braiding technique and finished off with loose curls and a low ponytail.
32. Josephine Knot Low Ponytail
Named after the famous wife of Napoleon Bonaparte, this knot originates from the Orient and is both a macrame- technique as well as a braiding style. It looks intricate and fascinating nonetheless.
33. Half-free Half braided Long Hair with Low Ponytail
A combination of smooth and textured finishes on the hair, This half braided, half free updo combines 4 thin braids with a half section in one single low twisted ponytail.
34. Chain- Patterned Braid for Long Hair
As intricate as it may look, this chain-like patterned braid starts with one simple three-strand braid that you will later braid with other four separate strands to create this final result.
35. Boho Braids with Messy Bun
The elegant messy updo we all crave these boho braids combined in a loose messy bun at the back make for a cool updo for any occasion.
36. Scissors Braids for Long Ashy Balayage Hair
Similar to the Waterfall Braids, but a bit more complicated, these horizontal thin braids require both skill and dedication since they will take time to perfect the look.
37. Celtic Knot Braided Hairstyle for Long Blonde Hair
This special braiding technique inspired by the insular art is one of those thing that look more complicated than they are. The perfect summer quick half-up, half-down look!
38. Side Braids with Voluminous Ponytail
A great half-braided, half-loose hairstyle is the way to wear your day to day hair. This updo requires a little patience and some bobby pins to secure the side braids with the rest of the hair.
39. Cage Braid with Hair Accessory
Another intricate hair design this cage braid requires minimal skills and look great paired with contrasting color accessories.
40. DNA Shaped-braid for Long Hair
This intricate hairstyle requires a high level of dedication and patience to be created. The final look should resemble the design of the DNA molecule.
41. Topsy- Turvy Tail Braids for Long Blonde Hair
Not your usual braided pigtails, these cute, fluffy Topsy braids are a cool way to enhance your outfit and makeup.
42. Beach-style Braid with Free Falling Hair and Shell Accessories
Speaking of outfits, this beachwear inspired braid half-up, half-down look requires around 6 shell -shaped hair pins to decorate your horizontal braid.
43. Twisty Double Buns
The easiest way to put your hair up, this twisty hairstyle requires you to section your hair in two equal parts and slowly start twisting them in two braids that you will later put in a bun secured with hair pins and let the front pieces hang freely.
44. Topsy Tail Braided Hairstyle for Long Hair
Moving on to a more neat, carefully combed hairstyle, this Topsy tail was braided using a woven technique that is not for the left-handed!
45. Braided Elements on The Back of The
Head and Fishbone Braided Bun
Start by sectioning your crown hair in a French-style braid and bring it together with a low fishtail coiled at the base of the nape in an itnricate bun.
46. Twisted Low Ponytail for Long Balayage Hair
This easy-to-make twisted ponytail starts by making a simple low ponytail and separating after that in two strands that you can twist and intertwine to create this voluminous stylish twisted ponytail.
47. Ladder Braided Hairstyle for Long Hair
Called so because it resembles a ladder, this intricate hairstyle requires many exercises in order to nail this look.
48. Milk Maid Braid With a Hair Tie Braided In
This Milk Maid Braid with a twist requires you to add a hair scarf in your three strand braid to create this colorful feminine look. Perfect for adding extra volume and dimension too!
49. Messy Double Braided Hairstyle for Long Hair with Flower pins
For those with long full hair or wearing hair extensions, these double braids are styled for the perfect vacation style, with floral hairpins and a loose braiding technique.
50. Bridal Braided Hairstyle with Low Bun
This intricate hairstyle starts with a simple side braid that you will later incorporate in your full-head braid and bring them together in a low bun. Use a bit of hair mousse to create this neat, clean finish.
51. Half Updo with Two Dutch Braids into A Bun
These half feed-in braids will add extra inches and extra coolness to your typical half-up half- down updo and they also require minimal effort to be made.
Conclusion
These are only a small part of the Braided Hairstyle for long hair the world has to offer. Make sure to exercise and start with the simple ones such as double braids, classic fishtail braids and moving on to more complicated ones such as Waterfall Braids or Braided Space Buns. No matter which one you choose, your efforts will not go unnoticed!
YOU MAY LIKE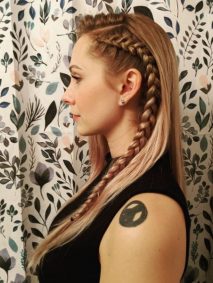 June 29, 2020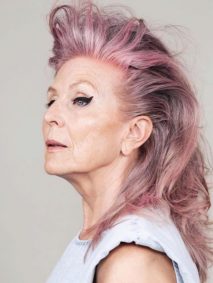 June 29, 2020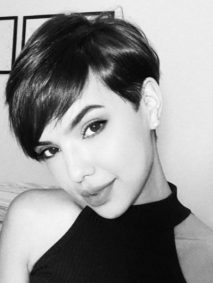 August 28, 2020