These 100+ haircuts for wavy hair suggestions can be a very cool way of improving your looks and not pay too much effort in gaining volume since the natural waves bring more shape and dimension. In between stick-straight locks and springy curls, waves have that casual, low-maintenance appearance that will make you fall in love and wear lived-in waves all year round!
I. Short Haircuts For Wavy Hair

1. Short Baby Pink Haircut For Wavy Hair
This cotton candy-colored haircut for wavy hair is super feminine and easy to wear in any circumstances thanks to the super-soft natural curls that create natural waves.
2. Short Bob Haircut For Wavy Hair
With a short fringe that has a V-shape and continues with wavy sideburns that make a cute pointy angle at the sides, this short bob has plenty of volume at the back that will give you so much movement and freedom.
3. Short Medium Bob With Chunky Highlights Hairstyle
This super shiny, medium bob haircut has the most gorgeous caramel color mixed with dark roots and subtle waves made from the half downwards to make a cool match with the warm tones in your makeup.
3. Messy Pixie Short Haircut For Wavy Hair
Who needs a messy bun when you can get the same effect with this messy short pixie cut with untamed dark curls that bring so much volume and texture to your crown and highlight your beautiful gaze?
4. Short Wavy Bob With Auburn Hues
A daring look is sometimes achievable with a bright intense color such as this light auburn shade applied on your wavy locks to bring the best in your bob haircut!
5. Short Curly Pixie Cut With Silver Gray Hair
Say hello to this fabulous pixie cut mixed with a cool silver-gray color and some natural, high-swept curls that will create a Faux Hawk effect for your crown! Who thought natural looks can be this cool?
6. Textured Bob Haircut with Beach Waves And Low Lights
This textured bob haircut with soft waves creates a very cool dimensional look for your mane and the subtle blonde low lights here and there bring a cool tone to your dominant color.
7. Short French Bob Haircut For Wavy Hair
Playful and chic at the same time and supernatural volume make this short French bob a great hairstyle for any lady with thick, wavy hair! The perfect geometry of this haircut frames the face in a cool way!
II. Medium Long Haircuts For Wavy Hair
8. Medium Long Wavy Haircut With Lavender Rose Highlights
Simple, graceful, and spiral medium curls with a messy texture will create a super chic and feminine look if you opt to add subtle lavender rose highlights for a unique appearance!
9. Galaxy Colored Medium Length Hairstyle for Wavy Hair
This messy, medium-long, slightly layered hairstyle is absolutely fascinating thanks to the incredible mix of purple, orange, bright green, and thick bangs which create a colorful look!
10. Medium Long Haircut with Long Bangs For Wavy Hair
These gorgeous wavy bangs with super voluminous wings are the perfect match for small, messy curls displayed on the length of this medium haircut that is super chic and modern! Wow!
11. Medium Wavy Bob With Bright Green Layers
Those who prefer strong bold colors such as this mermaid green hair color can opt for making quick subtle waves on the sides to bring a bit of shape to an already cool haircut!
12. Medium Long Hairstyle With Wavy Orange Highlights
These soft, lived-in waves are the perfect option for this bold combination of strong hair colors: purple locks and orange that will bring an interesting note to your medium haircut for wavy hair! Wow!
13. Medium Long Caramel Hairstyle with Front Highlights
This perfectly chopped medium length haircut has a couple of soft waves added to create a feminine appearance and some killer warm blonde highlights in the front that bring luminosity to your appearance.
14. Medium Long Purple Haircut for Wavy Hair
The stick-straight fringe that covers the forehead makes a cool contrast with the long, silky waves in this haircut that will complement your green colored eyes perfectly!
15. Indie Bob Haircut For Wavy Hair
The ear-level long pixie haircut makes for a cool indie style mix between a short haircut and a bob with short blunt cut bangs that will bring an air of mystery to your face.
16. Platinum Blonde Wob Haircut for Wavy Hair
A cool way of toning down the cold platinum tones in your blonde bob is to create a couple of messy waves with the help of a small curling iron.
17. Rose Ice Blonde Wavy Bob
When you want to enjoy a cool, feminine touch for your long bob, these rosy hues are the perfect addition to creating a seductive wavy bob with very negligent waves for a relaxed attitude.
18. Textured Bob For Wavy Haircut
Thick hair has the best texture for a messy, chopped-up bob with plenty of volumes and you can play with alternating colors to create a cool pattern.
19. Extra Wavy Bob With Chunky Tips
For this very symmetrical look, you can use a large-barrel curling iron to create your waves and get a perfectly wavy shape for your hair without too much heat damage.
20. Bright Copper Haircut For Wavy Hair with Half Updo
These ultra-bright locks for your wavy haircut are looking amazing thanks to the easy-breezy waves and the cool shell-shaped hair clip that brings a cool Princess Ariel vibe!
21. Ashy Gray Hairstyle with Soft Waves
Styling a medium length bob is super easy and these undone, messy soft waves are so seductive thanks to the incredible ashy blonde hair color that they only need a bit of hair spray and arranging them with a hairbrush to look so cool.
22. Cherry Colored Hairstyle For Long Wavy Hair
Long haircuts usually require more volume in their second half to look this impressive allowing your curls to bring shape and dimension to the whole ensemble.
23. Shag Bob Haircut With Dark Blue and Purple Highlights
When the hair matches the outfit it makes the colors in your strands even more impressive and you can create a couple of front waves using a curling iron with a medium barrel to create a messy look.
24. Blonde Balayage For Wavy Bob Haircut
This super stylish bob has the perfect framing shape for your face and the soft, waves enhance the light effect brought by the front highlights. Simple and stunning!
25. Messy Long Wob With Blonde Highlights
It takes a cool hair colorist to achieve this very subtle mix of ashy blonde and strawberry blonde hair colors that will amplify your hair's depth and playing with a curling iron or a brush will get you these negligent waves.
26. Caramel Highlights For Wavy Bob Hairstyle
The warmth and effortless soft waves created at the ends of this beautiful wavy bob make this hairstyle perfect for the fall and winter season. For more ideas check these 100+ Medium Length Hairstyles.
27. Sunkissed Balayage for Wavy Bob Hairstyle
This full-bodied wavy bob has a cool balayage with sunkissed highlights that make it shine naturally and bring light into the haircut. These lived-in waves also increase the volume of the hairstyle and can be sprayed with salt spray to look even fuller.
28. Pastel Pink Haircut For Wavy Hair
Bring out your inner Barbie with these incredibly luscious locks that look like bubble gum and make us dream of going to Disneyland asap! Adding a bit of wavy texture can be done without heat if you want to prevent breakage.
29. Medium Long Platinum Blonde Hairstyle with Teal Blue Highlights
This look is worthy of an ice-queen thanks to the beautiful blend between platinum blonde locks and blue colored highlights which bring a cool reflection into your hairstyle.
30. Warm Auburn Wob With Curly Strands
Nothing compares to a rich warm auburn shade that will enhance your wavy bob and make a cool match with the rest of the warm colors in your outfit and makeup! Great style indeed!
31. Wavy Bob With Blonde Highlights and Soft Curls
This ultra-texturized wavy bob has plenty of shape on the horizontal plan that contrasts with the length and will give you a youthful appearance no matter the age! The added blonde baby lights accentuate the lighter hues in your hair color!
32. Cinnamon Wavy Bob With Lived in Waves
The warm, rich color is combined with modern, lived-in waves that will instantly amplify your hair's volume and create a beautiful color play in your locks.
33. Bubble Gum Colored Hairstyle With Messy Waves
The long wispy bangs combine perfectly with the rest of the curls on the side of this platinum blonde haircut that has a glossy shine which makes it one of a kind!
34. Wavy Messy Bob Haircut for Blonde Hair
The flipped-over part helps give any wavy hairstyle that effortlessly tousled look. To recreate it on your own, part your hair as you normally would, then flip the front section over to the opposite side and enjoy the amazing colors.
35. Orange Colored Shag Haircut for Wavy Hair
A bright, strong orange color will definitely make your appearance instantly noticed, and adding a bit of texturizing spray and playing with the strands will help you achieve a cool volume!
36. Sleek Messy Curly Hairstyle
This sleek haircut for wavy hair has way more definition on the curls but less volume than you would normally expect on a haircut for wavy hair but the unique texture is so alluring!
III. Long Haircuts For Wavy Hair
37. Red Brown Shag Haircut With Blonde Highlights
With a cool mix of red and brown, this shag haircut offers a full, feminine hairstyle, with strong Boho elements such as the thick bangs and the added blonde baby lights are little sparks of light in the whole composition.
38. Bronde Wob With Highlights
We're all about a one-length cut that hits just above the collar bones. Coupled with blonde highlights, this look is fresh yet sophisticated and the waves only add to the note!
39. Soft Feathered Dark Wavy Hairstyle
Dark brunette locks usually glow under direct light or rays of sunlight and can be easily styled with heat or no heat devices to bring a bit of texture and volume at the tips. And don't forget the earthy tones for the makeup to complete this sultry hairstyle!
40. Long Layered Blonde Cut with Beach Waves Hairstyle
This ultra-texturized hairstyle is created by using a curling iron with a large barrel iron and tousling the strands afterward to get this casual, relaxed look.
41. Long Layered Haircut For Wavy Hair with Straight Bangs
Keep it classy with a long layered haircut for wavy hair is never been easier. You can keep straight bangs to create some straight edges and brush the hair to bring more volume to the mane.
42. Bright Blonde Balayage Hairstyle With Flowy Curls
This amazing hairstyle with a stunning balayage applied on a brunette base is obtained by curling the lower half of the hair using large barrels and gently tousling them to keep a relaxed look. Gorgeous!
43. Light Brown Wavy Bob Hairstyle
These thin bouncy curls and the added precious headband bring major pin-up retro vibes for this wavy bob that will flatter all hair colors and hair types!
44. Peach Pink Wavy Bob Hairstyle
Gradual hair color can be achieved by carefully increasing the pink pigment and applying it over the strands and then creating beautiful waves that will increase the amazing visual effect.
45. Vintage Rose Bob Haircut For Wavy Hair
This adorable hairstyle is a successful mix between straight cut, asymmetric bangs, and wavy curls that reach shoulders' length, the perfect length to display the cool natural volume of your hair.
46. Blonde Highlights For Long Wavy Haircut
A long, one-colored haircut can be boring, you think? Well, not if you add a cool money piece highlight and a couple of undone waves that will instantly turn you into a hair-goddess!
47. Copper Blonde Hairstyle with Straight Bangs and Waves
Major hair-envy is real and for God's sake who wouldn't believe so when looking at these long, luscious copper blonde strands that have amazing reflections and will beautifully frame your facial features.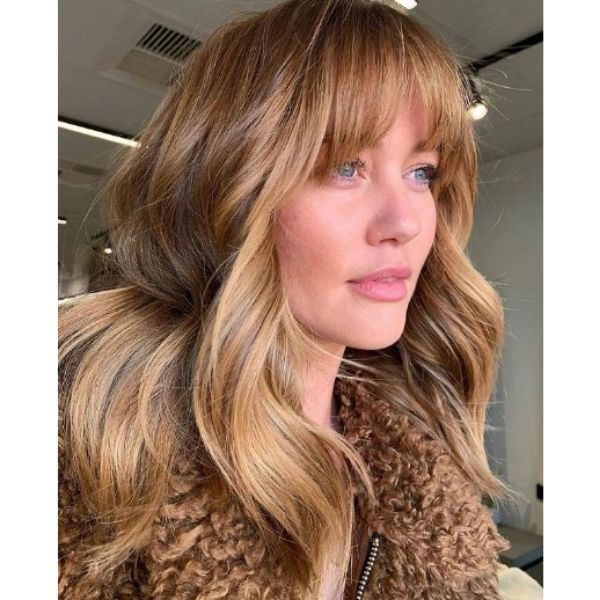 48. Soft Balayage Hairstyle For Wavy Hair
Ultra-long locks can turn into an amazing hair crown if you opt for mixing in a soft balayage that will brighten your whole look and create a couple of loose waves with a hairbrush and a blowdryer.
49. Long Wavy Bob With Subtle Blonde Highlights
This asymmetric bob is made to look absolutely gorgeous thanks to the beautiful blend of blonde and brown colors and the messy, super delicate waves created on the lower part of the haircut.
50. Soft Waves For Long Auburn Hairstyle
This cool, rich auburn hair color deserves to be displayed with a full, long hairstyle and using a small curling wand to add curls and volume where you might want to enhance it.
51. Beach Style Waves For Bob Haircut
The secret for beach-style waves is to use salt-based hair spray and then use a curling iron with a large barrel to shape the curls while leaving a 1-inch distance from the tip.
52. Light Blonde Balayage with Dark Roots Hairstyle
For those who want to rock both dark colors and light platinum blonde this amazing balayage mixes them perfectly together and you can add a couple of soft waves to increase the volume.
53. Wavy Brown Bob With Subtle Highlights
This shoulder-length cut won't weigh down finer hair textures, and the mid-shaft waves will fake volume in all the right places for this wavy brown long bob with subtle highlights we can't get over!
54. Bronde Balayage with Subtle Waves Hairstyle
These swift waves bring the best in this extremely well-executed bronde balayage with subtle waves that make it look spectacular no matter the circumstances.
55. Hot Pink Long Bob with Dark Roots Hairstyle
The amazing colorful contrast between hot pink and dark red strands makes this impressive haircut a total killer look especially if you opt to curl mid-shaft the strands for extra volume and texture.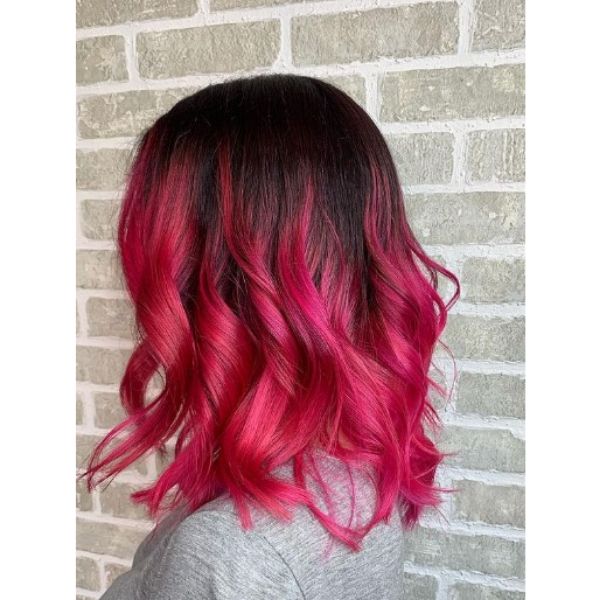 56. Wavy Bob Haircut With Blonde Balayage
This lovely, awesome hairstyle can look incredibly chic by adding super relaxed beach waves that will accentuate the blonde balayage of this chunky modern bob.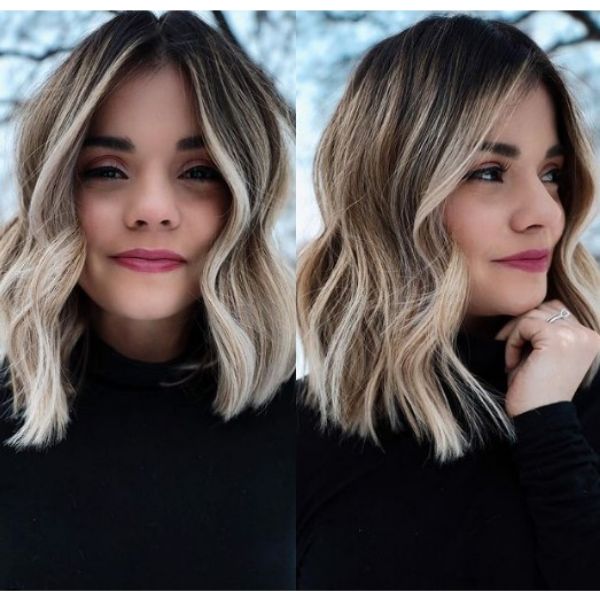 57. Long Wavy Hairstyle with Thick Bangs
This super long wavy hairstyle has subtle waves and bangs that hit right at the chin, making a center-part, side-part, or sleek pull-back all options! The color is really cool also!
58. Midi Bronde Haircut For Wavy Hair
Rather than a thick head of hair weighing her down the look, the mid-length haircut for wavy hair helps to add balance and structure to this fine hair while the carefully placed baby lights make it exceptionally cool.
59. Tousled Dark Strands With Messy Waves
This amazing look is basically a finely layered long haircut for wavy hair with enhanced curls created by waving the hair and flipping it on one side to get a flowing cascade of curls.
60. Long Elegant Blonde Hairstyle For Wavy Hair
Long, finely layered hair can benefit from adding some S-shaped layers that will instantly make all your beautiful colors shine and will stay fixated with a couple of large hairpins with pearls for an extra touch of glam.
61. Blonde Balayage For Long Layered Haircut
This haircut with three levels of layers is highly recommended to those with a thick healthy hair structure that will decrease in volume and get a beautiful, long S-shape.
62. Cotton Candy Pink Hairstyle With Undone Waves
A look worthy of a magical Disney Princess can be ready in seconds if you choose to add some soft, undone waves using a curling wand to your beautiful blend of cotton candy pink hair color.
63. Golden Balayage Long Hairstyle For Wavy Hair
The perfectly defined S-shaped waves in pretty golden hair color can look ultra-sophisticated by adding simple black satin hair ribbons and parting them in the middle.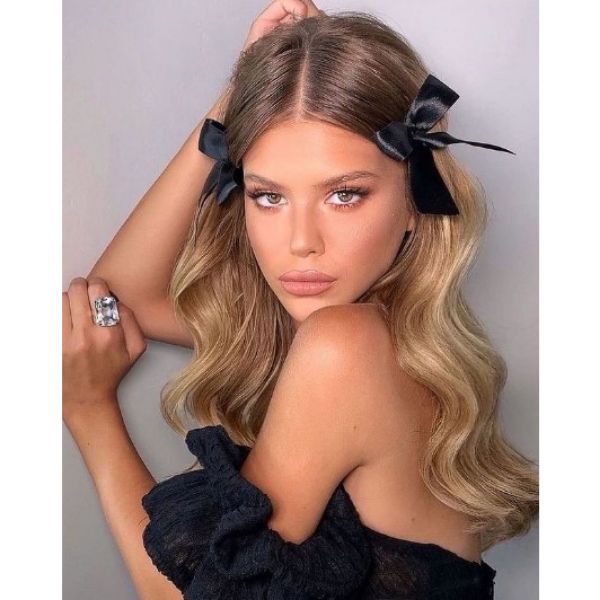 64. Balayage Shag Haircut with Wispy Bangs
The super-long wispy bangs that reach around the chin and frame the face perfectly bringing attention towards the eyes make this shag haircut a cool combination with the soft warm tones of light brown and blonde strands.
65. Wavy Shag Haircut with Straight Bangs and Side Braid
With super wavy ends and a wide, straight shag haircut, this cool hairstyle is the perfect shape and volume to frame your face when you are on the run and don't have much time to arrange it.
66. Honey Almonds Hairstyle For Wavy Bob Haircut
With super soft color melt and a cool length that stops right above the shoulders, this wavy bob has cool highlights around the face that bring a lot of light to the whole ensemble.
67. Space Buns For Curly Hair
Curls, curls, curls for days, and a couple of front strands that can make your red lipstick the center of attention will make your hairstyle incredible with or without the space buns at the top.
68. Blonde Wavy Bob Haircut with Soft Curls
This blonde haircut with a bob shape and perfectly shaped waves make for an elegant, refined look that you can complete with shiny accessories and the brightest red lipstick out there!
69. Long Wavy Shag Haircut With Straight Bangs
These tousled long layers of rich dark hair have the softest waves that you can enjoy for the freedom and playfulness they bring in a monochromatic hairstyle.
70. Pink Berry Magenta Hairstyle With Wavy Strands
This special wavy haircut has not one but three complementary hair colors that create a very girly combination that looks super feminine with or without the curls.
71. Iced Latte Balayage with Subtle Waves
A neutral hair color can look amazing if you choose to pair it with massive sparkling golden jewelry and add a cool money piece highlight in the front to bring even more luminosity to your face!
72. Long Messy Shag with Subtle Waves Haircut
The whole weight of the haircut is centered around the top of the hair, while the sides are really layered and thinned to create a natural wavy texture that you can maintain with a bit of salty hair spray. Incredible volume!
73. Subtle Balayage With Layered Highlights
This intense dark red hair color with subtle blonde highlights is proof that undone, lived-in waves will give your hairstyle a cool breezy texture and a silky shine.
74. Glam Styled Waves For Long Haircut with Deep Side Part
These glossy tresses will complement your bright skin tone and whether you opt to wear them on a side or tousled around the shoulders you are sure to look like a Hollywood celeb with no effort!
75. Wavy Layered Shag With Wispy Bangs
This super messy haircut has plenty of texture and a very layered cut that makes it look like a lion's mane which means freedom of movement and plenty of dimension for your look! Plus, it brings all the facial features on display!
76. Soft Blonde Chopped Haircut For Wavy Hair
With long chopped bangs that reach the jawline and a soft light blonde color applied randomly on the length of the hair, these messy waves are very soft and defined at the same time and they create a very light, cool contrasting look with your bright makeup.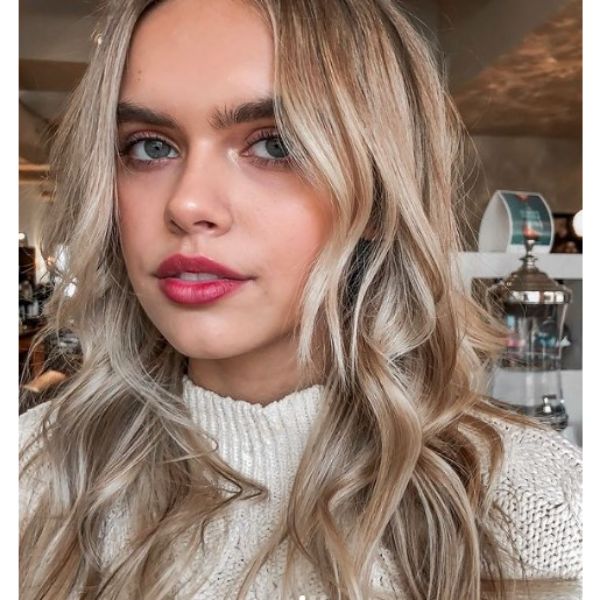 77. Feathered Brown Hair With Purple Money Piece
The so popular money-piece highlight is equally great looking on dark brown strands if you choose a bright violet shade of purple to make the chromatic contrast even more popping! For a cool shape simply use a curling wand to add S-shaped waves.
78. Sunkissed Balayage for Long Shag Hairstyle with Thick Bangs
One cool way of cutting down the weight on your long shaggy haircut is to opt for a cool balayage with super subtle blonde baby lights that won't damage your natural hair color that much.
79. Bubble Gum Pink Hairstyle with Wavy Curls
No better way to display these amazing hair colors than by adding mid-shaft wavy curls with a small curling wand and parting the long tresses symmetrically with a middle part.
80. Teal Blue Hairstyle For Wavy Hair
This amazing hair color is in fact a subtle cool balayage of pale and dark blue shades that are greatly mixed to create a beautiful melange when curled.
81. Copper Balayage Wob Haircut For Wavy Hair
This incredible balayage will look cool with or without the curls thanks to the cool descending levels of colors from dark brown to copper and even bright red tips.
82. Long Coral Pink Haircut For Wavy Hair
This incredibly feminine haircut for wavy hair is a totally cool look thanks to the rich pink shades mixed with pale strawberry hues around the lower part of the hairstyle that will mesmerize everyone.
83. Bright Blonde Shag Haircut For Wavy Hair
A gorgeous bronze color will be instantly noticed if you opt for Natasha Lyonne's ultra-shaggy haircut with messy waves that bring your hair's texture to the display. And adding big jewelry will only create more sparkle!
84. Long Shaggy Haircut For Wavy Hair
Women with thick wavy hair can benefit from opting for the retro Shag haircut since it will follow the natural waves of your hairstyle and bring volume to all the right spots!
85. Long Dark Shag Haircut For Wavy Hair
Freedom of movement and plenty of dimension for your curls can be obtained with a medium-long shag haircut that brings texture and finesse to all the right places.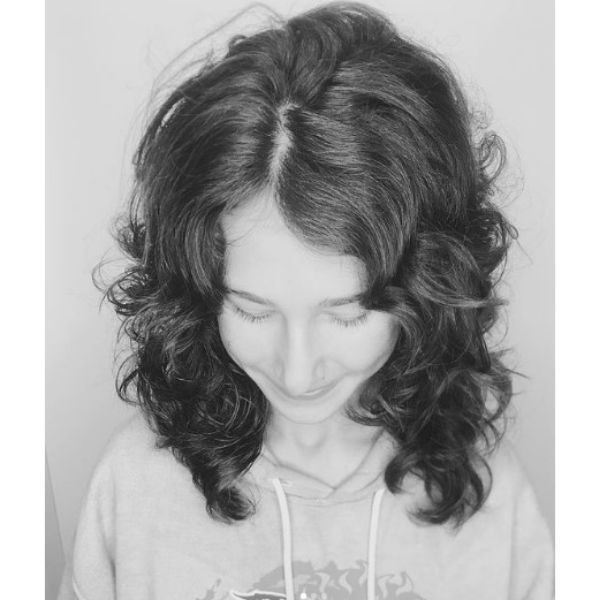 86. Shinny Red Haircut for Wavy Hair
A wavy bob or a simple mid-length haircut can transform into an amazing hairstyle if you opt for intense red hair color and add some tousled waves around to make it more dynamic and shiny.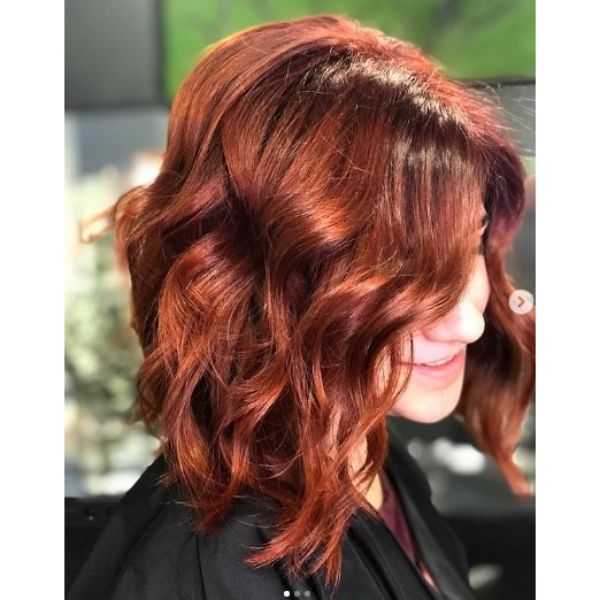 87. Bronze Colored Half-Updo with Subtle Waves
Haircuts for wavy hair wouldn't be the same without adding a simple half-bun at the back of the hair while leaving the other hair strands fall freely to the back to give you a cool, princess look.
88. Ultra-long Soft Layered Hairstyle with Dark Roots
Haircuts for wavy hair can also include a soft, ultra-long, layered hairstyle with super wispy bangs that reach around the chin and create a cool frame for your face.
89. Gray Blended Balayage With Pink Highlights
For those with medium length haircuts for wavy hair, this gray-colored balayage with dark roots and pink highlights has the perfect balance between strong messy texture and feminine colors.
90. Bright Orange Colored Shag Haircut For Wavy Hair
These finely chiseled strands make this shag a stunning example of haircuts for wavy hair that can be adapted for bright orange colors that will match your blue eyes and white skin.
91. Long Brown Haircut with Straight Bangs And Curls
Haircuts for wavy hair are super versatile and will complement any face shape or hair color if you find a good hairstylist that knows how to cut the fringe and the curls so that they frame the face perfectly.
92. Honey Colored Melt Wavy Bob Haircut
This honey-like blonde hair color with subtle waves and superfine, thin fringe has the perfect blonde reflections that make haircuts for wavy hair such cool options!
93. Natural Colored Shag Haircut with Silver Grey Strands
This silver-grey hair that has such a beautiful natural pattern can be integrated into modern haircuts for wavy hair with the help of the shag haircut that creates a cool wavy and layered aspect with no heat treatment.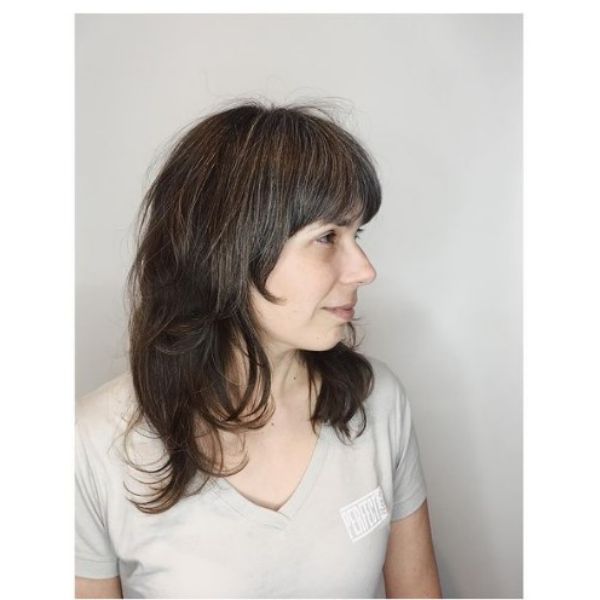 94. Long Layered Haircut For Dark Wavy Hair
Haircuts for wavy hair also looks stunning if you opt to add a middle part and create superficial, small S-shaped curls for the front strands in order to get a feminine look.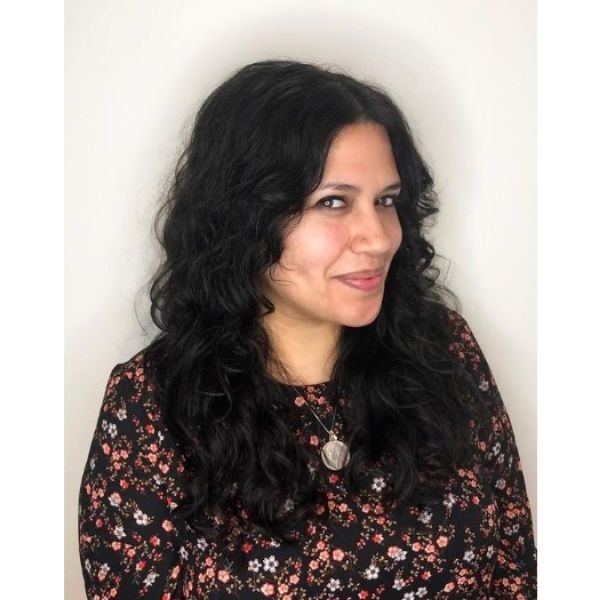 95. Platinum Blonde Hairstyle For Wavy Hair
If your hair is somewhere between stick-straight and slightly curly, it will instantly benefit from a layered haircut that makes the upper part more puffed and matches the bleached eyebrows!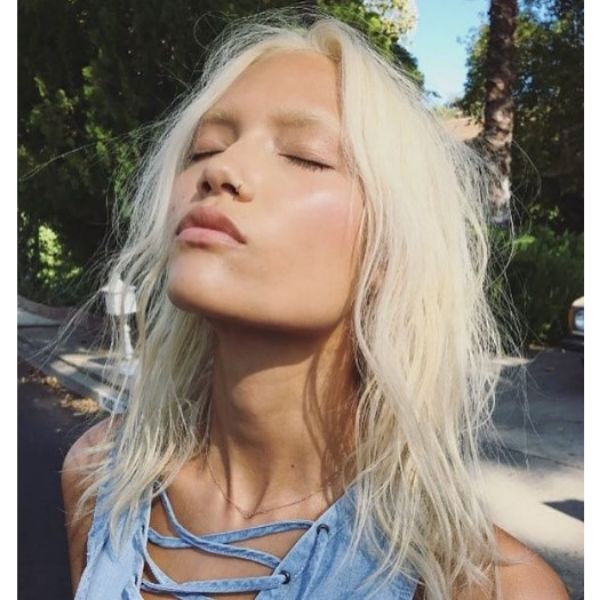 96. Wild Messy Haircut For Wavy Hair
Haircuts for wavy hair are sometimes so messy looking that you can get a playful, incredible volume and a very curly texture with no styling products needed.
97. Long Messy Rose Gold Hairstyle With Wispy Bangs Hairstyle
These "Bardot-bangs" bring that incredible look to any type of medium haircuts for wavy hair and getting this cool, rose-gold shade for your curly, locks will help you gain a very beautiful, feminine look.
98. Long Messy Shag Haircut For Wavy Hair
This particular example of haircuts for wavy hair is a combination between a mullet and a very short shag that brings maximum volume around the crown and on the sides as well.
99. Long V-shaped Hairstyle with Blonde Balayage for Wavy Hair
We don't know what to love more about this loose yet structured wave hairstyle: the colors or the shape? To get the look, alternate your curl patterns towards the face and away from the face. Don't curl the ends and instead leave about one inch out of the barrel. 
100. Dirty Blonde Long Shag Haircut For Wavy Hair
A shag haircut for wavy hair matches any type of hair but it can look stunning on girls with massive amounts of hair that are looking to gain shape and loose volume in the right parts.
101.Wavy Soft Balayage with Blonde Tips
Nothing can look more charming than a couple of blonde highlights negligently added towards the lower half of your locks and adding a couple of waves to create a mesmerizing haircut!
Conclusion
Wavy hair is super versatile and easy to arrange and it can be adapted to multiple hairstyles and haircuts for wavy hair. From classic French Bobs, Retro Shag Hairstyles, and soft, long layered cuts with wispy bangs, the options are limitless! Which one of these hairstyles did you like the most?