If you haven't figured out yet which hair length suits your physiognomy best, you can definitely try one of these 101 medium-length hairstyles and haircuts! Optically there is a very small difference between long and medium hairstyles since in both cases the strands frame the face and the neck so the perceived impression is quite similar! Medium-length hairstyles and haircuts are easier to style and will instantly bring more volume though! Check the ideas below!
I. Bob Medium Length Hairstyles
1. Sunflower Yellow Curly Medium Length Bob Haircuts with Bangs
Those with naturally wavy hair will greatly benefit from a medium-long bob haircut since it will increase the "bounciness" of the curls and paired with a bright yellow shade will make your appearance unmissable!
2. Straight Chic Bob Medium Length Hairstyle
This super sleek, shiny bob with straight strands and short sideburns that frame the cheekbones can be obtained by straightening the hair really well after having a geometric type of haircut.
3. Smooth Long Steel Grey Bob Hairstyle
Another cool idea for medium hairstyles is this asymmetric grey long bob haircut with extra-long front wings and a subtle fringe that you can use to get a mysterious look! Simply stunning!
4. Medium Length Blue Curly Bob Haircuts
A typical bob haircut for naturally wavy hair can be enhanced by curling the strands and opting for a bright blue hair dye that will instantly make a cool contrast with your skin color and give you a modern look!
5. Medium Length Hairstyles with Fresh Green Highlights
With long heavy bangs that frame the face and medium-long strands that surpass the shoulder's level, this hairstyle is enhanced by the neon-bright green highlights which make the hair look futuristic!
6. Galaxy Colored Medium Length Bob Haircuts with Sparkling Alice Band
Medium long straight hair reaching neck level can look stunning either natural or colored with bright turquoise and violet shades that will make your hairstyle look surreal especially paired with an Alice hairband with sequins and colored gems.
7. Medium Length Strawberry Blonde Bob Haircuts
When your bob haircut already has a couple of months that passed since you last trimmed it, you can opt for subtle waves to be added to increase the volume at the crown and leaving the ends straight for a cool effect!
8. Mid Length Textured A-line Bob Hairstyle
An A-line bob haircut is the best option to frame your face while at the same time sport super-short lengths at the back and create beautiful waves that will enhance the beautiful red tones in your hair! Cool!
9. Long Straight Bob With Blue Strands
With a very subtle A-line cut and subtle dark blue highlights, this medium long hairstyle has a cool, relaxed vibe that will make everyone admire your carefree attitude.
10. Textured Bob With Thin Bangs Medium Length Hairstyle
The best way to frame your face and accentuate your natural angles and eyes is to get this textured bob with thin bangs that cover your forehead and a wavy styling for a bit of softness.
11. Pepper Grey Medium Length Bob Haircuts
A silver-grey or pepper grey hairstyle is super easy to maintain especially if you opt for a French bob cut with slightly curved tips. For more ideas of silver-grey hairstyles check 100+ Hairstyles For Women Over 60!
12. Soft Layered Lob Medium Length Hairstyles
Forget about the fuss of straightening for hours your extra-long Rapunzel locks! Instead, choose to wear a soft layered long bob with strands that reach just above the collarbones and play with your crown hair for a different look.
13. Straight Medium Length Lob Haircuts With Blonde Front Highlights
Another cool medium long hairstyle idea is this two-colored straight lob with thick blonde highlights that will illuminate your face! Smart, right?
14. Cool Wavy Lob with Brown Highlights Hairstyle
Long bobs are super versatile and this chestnut brown colored hair has so much warmth and shine that will make everyone admire your sweet curls!
15. Mid Length Dark Green Mermaid Lob Hairstyle
There is no better way to make your hair stand out than a change of color! These pale mermaid green strands bring a splash of color to your appearance and make your dark lob look more feminine together with the front waves.
16. Wavy Curly Mid Length Hairstyle with Side Braid
A simple bob haircut can be styled to look amazing and gain extra-texture by adding thin curls and a side braid that will prevent the curls of getting into your face. Very feminine!
II. Red Medium Long Hairstyles
17. Crimson Red Balayage Mid Length Hairstyle
If you have naturally straight hair and you'd like to enhance the color of your hairstyle, opting for this crimson red subtle balayage that will intensify the shine and depth of your long locks instantly!
18. Copper Curly Layered Cut Hairstyle
A copper shade of color for your curls can make your hairstyle really stand out and the layered cut will make the hair gain extra-volume and shape for an amazing look!
19. Dark Magenta Colored Medium Length Hairstyle
A cool mix between a strong intense color and a medium length for your straight hair can make a big difference in your everyday look and this hairstyle stands as proof!
20. Peach Mullet with Straight Bangs Medium Length Hairstyle
To attract the focus towards the eyes and make the upper part of your hair you can try this peach colored mullet with blunt cut bangs and heavily layered sides that make the tips look really thin.
21. Short Layered Red Mid Length Hairstyle
While the top strands are silky smooth and finishing into a heavy fringe that frames your face, this layered haircut with messy strands at the back can be styled into multiple hairdos which is a big plus!
22. Mid Length Hairstyle with Red "Flames"
This super haircut for medium wavy hair has super well-defined curls that reach different points and dark red colored roots that increase the contrast between the "flame" red strands and the rest of the hair.
23. Pastel Pink Feathered Layered Mid Length Hairstyle
A feathered layered haircut will look ten times more soft and feminine if you color it in a pastel pink hair dye with subtle peachy highlights towards the end. Plus you only need to add a couple of curls and you are ready to party!
24. Magenta Mid Length Hairstyle with Side Braid
If you choose to play with different textures in your hair you can try and braid as close to the scalp as possible a half braid that will display all the dark tones in your hair while at the same time add a couple of curls for a feminine look.
25. Medium Length Pumpkin Spice Hairstyle
A killer color such as this pumpkin spice shade will make your medium length hairstyle look amazing no matter if you opt to add curls or leave the hair fall naturally after you washed it and blow-dried it.
III. Shag Medium Long Hairstyles
26. Curly Shaggy Medium Length Hairstyle
This hairstyle has all the volume and the shape you could ask from a naturally curly hair entirely obtained by trimming the hair in just the right spots! The blonde strands add a bit of light and color to the whole ensemble.
27. Pink Shag Hairstyle with Heavy Bangs
A wonderful shade of pink can turn any type of haircut and especially this heavy layered medium Shag into a real success! The slight curves that frame the face can be obtained by brushing the hair when blow-drying it as well!
28. Auburn Colored Shag Hairstyle with Straight Bangs
The Shag haircut is one of the most permissive and versatile haircuts that need minimal styling on a daily basis and you will still look fabulous! This auburn colored version is the perfect proof!
29. Mid Length Mullet Shag Miley Cyrus Hairstyle
One of the most original hairstyles we have seen this year, the Miley Cyrus version is a combination of mullet and shag haircuts with heavily chiseled strands and straight bangs that only need a bit of styling to stay sleek and natural.
30. Shaggy Mullet Hairstyle with Dark Shiny Strands
Heavily trimming your hair can help with thinning a very thick mane and also to create texture without using styling products which is a cool bonus when you want your hairstyle to be flawless any day!
31. Shaggy Golden Blonde Hairstyle
This '70s Era inspired hairstyle has a gradual length that reaches the collarbones while the top strands create a triangle shape that makes your face really pop-out and beautifully frames your facial features.
32. Wavy Shag Mullet Hairstyle with Purple Orange Strands
This is a rather cool mix between ultra-short strands that reach the temples and create a bowl-shaped cut for the front part and a long, layered hairstyle with wavy strands that make your hair gain volume and crazy galaxy vibes!
33. Medium Length Shag Haircut with Messy Bangs
Long sideburns that reach almost half of your cheekbones and a messy wide fringe with a full shaggy back part will ensure you look flawless just by carefully arranging your hair with your fingers in the mirror!
34. Shaggy Curly Mid Length Hairstyle
An extra curly version of the shag haircut can also be executed and will ensure that your face is surrounded by beautiful, bouncy perfect curls with a cool longer part at the nape which will keep a bit of length so you don't miss the long hair days!
35. Medium Layered Shag Haircut with Bangs
Thick straight hair tends to lose shape as it grows so choosing a medium layered shag haircut to wear will create different soft angles and wispy bangs that will help your hairstyle gain shape!
III. Colored Medium Long Hairstyles
36. Half Dark Half Brown Mid Length Hairstyle with Soft Waves
A good alternative to the popular balayage can be this half-half look that combines dark tones of brunette hair with warm blonde highlights to illuminate your face while the soft messy waves will increase the femininity of your looks! Stylish!
37. Violet Dark Wavy Hairstyle with Thick Bangs Hairstyle
This unique look with violet and ashy dark roots needs intense teasing and a high resistance fixating spray that will make the messy styling keep its shape over the day and prevent the long bangs from getting into your face.
38. Warm Brown Hairstyle with Soft Waves
A combination of warm brown tones and caramel highlights will add softness and delicacy to your thin medium long hairstyle while the beach waves will make this look effortlessly cool, proving you don't need extra-long hair to feel feminine!
39. Ombre Wavy Bob Mid Length Hairstyle
Chunky strands with messy waves and a very light shade of blonde make this ombre hairstyle a very popular choice of many women who grow tired of extra-long hair! It's all about the free movement and the carefree vibe of the haircut nowadays!
40. Long Wavy Messy Blonde Hairstyle
Thin subtle blonde highlights mixed with dirty blonde hues and ashy brown strands make this look more surprising than a one-color medium length hairstyle while the small curls add playfulness!
41. Teasy Lights with Subtle Waves Medium Length Hairstyle
Modern Hairstyles for women bring freedom of movement and they are worn with radiant colors, shades, and highlights. So this chunky brown bob haircut with teasy highlights and subtle curling of the front strands is in high demand and you should give it a try too!
42. Purple Silver Mid Length Hairstyle with Soft Waves
Straight thin hair can benefit from a medium length and a pastel coloring since it will help your hair gain both volume and texture without any additional effort plus the combination between the light purple strands and ashy grey bangs will create maximum contrast!
43. Blonde Hairstyle with Soft Side-swept Bangs
To increase the top volume of your medium-long hairstyle you can opt for long-winged bangs that blend seamlessly with your side hair and make the eyes the central part of your hairstyle!
44. Dark Mid Length Hairstyle with Green Bangs
If you have dark brunette hair with a thick healthy texture, you can opt for a super-thin fringe with a straight line and add a bit of color from halfway down to the tips which will highlight your look, while the soft waves will create infinite reflections of your hair's natural shine.
45. Mid Length Hairstyle with Back Plait
This easy hairstyle with a simple back plait proves that you don't need to be a braiding expert to achieve a chic hairdo that will complement both your hair's length and hair color!
46. Bright Ashy Blonde Highlights with Messy Dark Waves Hairstyle
This cold toned brunette hairstyle with bright blonde thin highlights is the perfect way to illuminate your face without changing your entire hair color just by adding soft waves at the front.
47. Half Up Half Down Hairstyle with Soft Waves
A silver hair accessory can turn a simple half-up half-down hairstyle into a precious look thanks to the added sparkle that highlights the pale blonde color.
48. Dark Brown Layered Cut with Messy Styling
This Rock'n Roll inspired hairstyle with messy uneven strands and side-swept fringe is all about cutting the right strands to create this cool shape for your hair! Amazing!
49. Medium Length Hairstyle with Hair Clips
A couple of bold, sparkling hair clips can turn any hairstyle from bland-looking into a precious glam hairdo! Simply use them to secure one or both sides of your medium long hair depending on how much sparkle you want in your hairstyle!
50. Half Ponytail with Headscarf Mid Length Hairstyle
To achieve this fluffy, relaxed weekend-style hairdo you will need a hair spray to fixate the teased strands at the crown and a colorful scarf to tie over the elastic band you used to create the half ponytail.
51. Medium Length Haircuts with Side Swept Fringe
This subtly trimmed medium length hairstyle with side-swept fringe and a beautiful mix of dark brown and caramel highlights is one of the easiest medium length hairstyles you can sport.
52. Crimpled Hair Medium Length Hairstyles with Side Part
Crimpling your entire hair or braiding it while still wet can make any type of medium length hairstyles gain texture and extra-volume with no extra effort! All it takes is patience!
53. Straight Medium Length Haircuts with Headband
A simple straight bob cut with a middle part is a very popular option of medium length hairstyles that you can personalize by adding your favorite elastic headband, holding the whole hairdo together!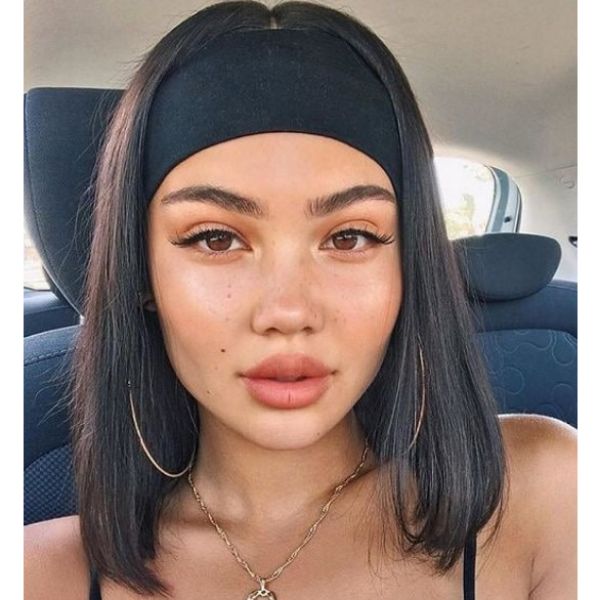 54. U-shaped Blonde Hairstyles with Dark Roots
This layered haircut helps fine blonde hair gain extra volume and gives a distinct shape to the whole look!
55. Warm Voluminous Brown Hairstyles with Soft Waves
Blunt cut strands with soft, undefined waves or simply teased strands that will frame your face effortlessly make this hairstyle a chic, modern option of a classic bob cut!
56. Medium Length Voluminous Bob Haircuts with Dark Roots
Fine blonde hair can keep its volume amplified with a hairbrush and fixating spray that will make the longer front strands delicately frame your face.
57. Medium Length Pastel Hairstyles with Straight Bangs
This messy hairstyle will help those with fine hair gain texture and movement for their mane while still keeping a bit of length to surround the shoulders and accentuate eyes with uneven bangs.
58. Mid Length Haircuts with Hair Scarf
Straight medium length hair can be turned into a stylish hairstyle with a simple headscarf that you will tie at the nape while pulling two shorter front strands out to frame your face.
59. Slick Back Straight Red Medium Length Hairstyles
Going for a glamorous elegant look? In that case, combing all of the front hair on the back and teasing the crown part will create a smooth, amplified look for your mane, allowing the beautiful red hair to be admired in all its beauty! You only need a flat iron, a couple of bobby pins, and a fixating spray!
60. Straight Golden Platinum Medium Length Haircuts
This medium length hairstyle with a deep side part and straight medium-long strands need a flat iron or a very soft blow-dry and a hairbrush to create the stick-straight texture of your hair.
61. Rainbow Colored Bangs With Medium Length Hairstyles
This creative hairstyle will be the only colorful accessory you need to brighten up your outfits and everyone's day! The smooth, silky texture of the back hair makes the rainbow colors pop out!
62. Long Warm Blonde Hairstyle with Light Highlights
This super delicately layered medium length hairstyle has a soft side part with extra-long bangs that reach nose level which you can sweep on one side to reveal the extra-thin pale blonde highlights.
63. Medium Length Hairstyles with Pearl Headband
Especially when you haven't refreshed your ombre in a long time, this hairstyle has a natural, relaxed look that you can improve by accessorizing it with a pearl Alice headband.
64. Cool Copper Brown Mid Length Hairstyles with Straight Bangs
A cool retro look that will instantly frame your face without being extra-long is this shaggy medium length haircut with layered sides and heavy bangs that you can part to reveal your forehead.
65. Violet Medium Length Haircuts with Dark Roots
Intense, unusual hair colors can turn any type of haircut into a spectacular hairstyle such as this dark violet tone with black roots and soft, relaxed curls that amplify the shine of the strands!
66. Brown Balayage Medium Length Haircuts with Fine Fringe
These medium-long messy strands have a subtle balayage applied that brings light and make a beautiful mix with the dark brown fringe and roots, a perfect way to attract attention towards the eyes!
IV. Unusual Medium Length Hairstyles
67. Blue Afro Hairstyles With Purple Highlights
This bright, colorful look with strong pigments of blue and violet tones is the only accessory you will need to make a statement when walking into a room!
68. Wavy Blonde Feathered Mid Length Hairstyles
For those who love playing with different patterns to create a distinct shape for their hair, this combination of bright red, platinum blonde and blue highlights is a great hairstyle choice!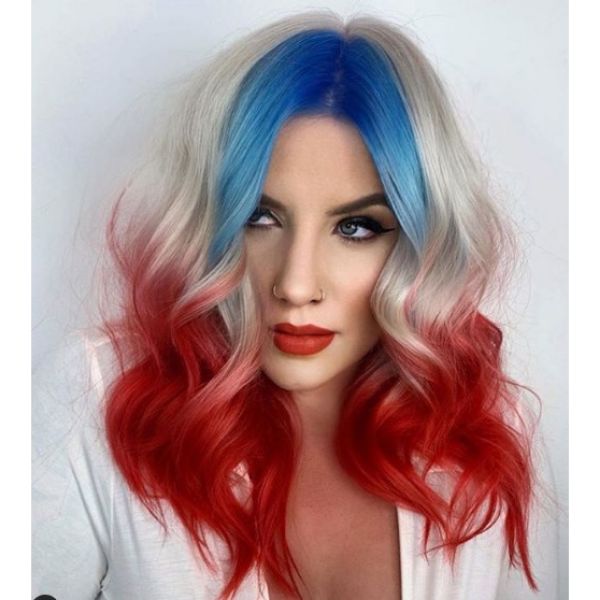 69. Deep Purple Mid Length Hairstyles with Curly Strands Hairstyle
No better way to accentuate the deep purple highlights in your hair than these bouncy curls that make the color pop out from the rest of the dark strands.
70. Low Messy Bun with Cute Headband
Go from "bed hair" to " negligent artsy bun" by simply applying a cute colorful headband over the low messy bun and applying salt hair spray to fixate the long front strands.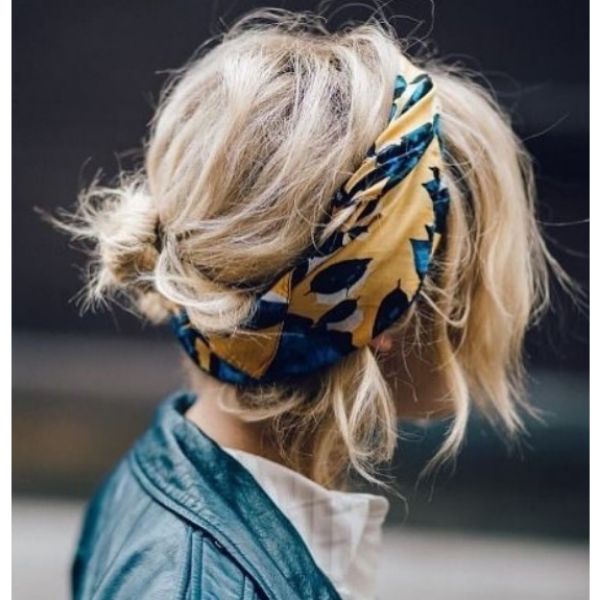 71. Half Orange Half Yellow Mid Length Hairstyles with Soft Waves
This medium length hairstyle has heavily chopped strands with soft waves and blunt cut ends with a thin middle part that makes a clear separation between the orange and the yellow locks, an extravagant duo!
72. Afro Mid Length Hairstyles with Pastel Highlights
Medium length Afro hairstyles can look colorful and bright too! By simply adding a couple of pastel highlights, the whole look becomes more girly and fun!
73. Cotton Candy High Fluffy Bun Hairstyles
An interesting variation from the high bun is this super light blonde twisted bun that was tightly secured and creates a cool contrast with the dark roots.
74. Braided Medium Length Hairstyles with Curly Sideburns
These nicely shaped side braids that gather all the short strands and bring shape and volume make a very cool combination with the chandelier earrings and curly sideburns that create an Aztec inspired look!
75. Dark Roots with Green Highlights Mullet Hairstyle
The strongest contrast you could possibly imagine is here created with a blend of green highlights and neon yellow patches that make this heavily chopped mullet look amazing!
76. Lavender Pink Afro Mid Length Hairstyle
Subtle pink shades and soft dense curls that get smaller and smaller as they reach shoulders level make this Afro hairstyle a very feminine and fashionable choice!
77. Platinum Blonde Wavy Hairstyle For Medium Hair
Straight, blunt cut bangs and soft side waves make this hairstyle an exquisite look that makes your platinum blonde locks really stand out!
78. Medium Length Hairstyles with Side Accessory
A medium-long bob haircut with curls and natural styling can be made to look extra-precious by adding a golden hair accessory that will reveal your beautiful face.
79. Neon Pink Space Buns Hairstyle
This neon pink medium length hairstyle needs two half space buns to complete the super fun, bubble-gum look!
80. Peach Blonde Mullet with Straight Bangs
A very soft, sweet, and feminine color is here matched with a messy mullet haircut with short layered sides that were straightened while the top hair is chopped into straight bangs with messy strands to balance the sleek texture.
81. Purple Pink Mullet Hairstyles
This exquisite look inspired by the colors of the universe has a subtle transition from the bright blue top to the pale violet tips that is greatly enhanced with the special cutting technique that brings volume and texture at the crown and definition to the tips.
82. Messy Mid Length Hairstyles with Thin Braids
This super messy medium length hairstyle can instantly amplify your volume while the two thin braids will frame your face and keep the other strands from getting into your face.
83. Mid Length Layered Haircuts with Dark and Blonde Strands
Although it gives the impression of a very short haircut this medium long hairstyle is a duo of dark brunette and blonde strands with messy styling and side-swept bangs that make it look really relaxed.
84. Copper Curly Medium Length Hairstyles
A messy, Bohemian look can be achieved with a bright copper hair color and medium curls that you can "mess" by running your fingers through your hair with your head upside down.
85. Mid Length Hairstyles with Twisted Pink Highlights
This medium length hairstyle has such a creative display of highlights that create the optical illusion of a pink ribbon placed at the halfway length of the hairdo and the subtle waves make the whole look super feminine!
86. Mid Length Hairstyles with Blunt Bangs and Copper Highlights
A slightly curved fringe with blunt type bangs and copper highlights will help you look amazing with this duo of complementary colors that bring light and fun into your everyday look!
87. Comb-Twists with Hair Cuffs Hairstyles
Two-strand twists or comb twists can be styled in medium length hairstyles by simply arranging them evenly around the crown and adding a couple of shiny hair cuffs and metallic accessories for extra shine!
88. Straight Bright Blonde Mid Length Hairstyles with Pink Highlights
This interesting mix of two bright colors will greatly enhance your look and surely make you look like the star of the party no matter the occasion!
89. Razor Medium Length Mullet Blonde Haircuts
A delicate shade of blonde that almost matches the color of your skin tone can be enhanced by texturizing it with fine precise scissors that will help adjust the shape of your bangs.
90. Punk Rock Mullet Hairstyles with Spiky Strands
The not so famous Mullet haircut is one of the best medium length hairstyles you can go for if you want a rebel type of hairstyle with messy fringe and a spiky texture that continues all the way to the shoulders.
91. Curly Medium Hairstyles with Curly Bangs
Type 3 and 4 curls will look amazing if you opt to wear them at shoulders level since they can amplify their volume with no extra styling products needed.
92. Half Updo for Medium Length Hairstyles
This look is a quick way to add volume to your crown by simply pulling two twisted ponytails and leaving the rest of the strands free fall around your shoulders.
93. Soft Blonde Medium Length Hairstyles with Top Knot
In those hasty days, simply pulling half of your crown hair into a top knot and arranging the fringe around the head to frame your face while straightening the rest will help you achieve a great look!
94. Medium Length Hairstyles with Straight Bangs and Messy Waves
This hairstyle looks amazing and will ensure your crown area a smooth, rich voluminous shape while the messy waves on the sides will break the pattern of your mane.
95. Messy Low Bun Hairstyle
This look is as easy as "1, 2, 3"! The only hair accessory required is an elastic strand that you will use to pull all the hair strands through, leaving the short ones out for a carefree design.
96. Mid Length Hairstyles with Claw Clip
This year a lot of the '90s hair trends met a revival and the claw clip is also a very popular hairstyle of that era. To use it properly you need to pull the hair in a ponytail and twist it and apply the clip! Ready to go!
97. Medium Long Faux Locs Hairstyle
Faux locks are very versatile and opting for medium-length hairstyles with these types of braids can be a bit gentler on your roots so you don't need to worry about damaging them!
98. Blonde Soft Hairstyle with Pink Highlights
This choppy beautifully cut soft hairstyle has a cool, futuristic look thanks to the pretty pale blonde and pink hair colors that create a very subtle visual effect with the rest of the facial features.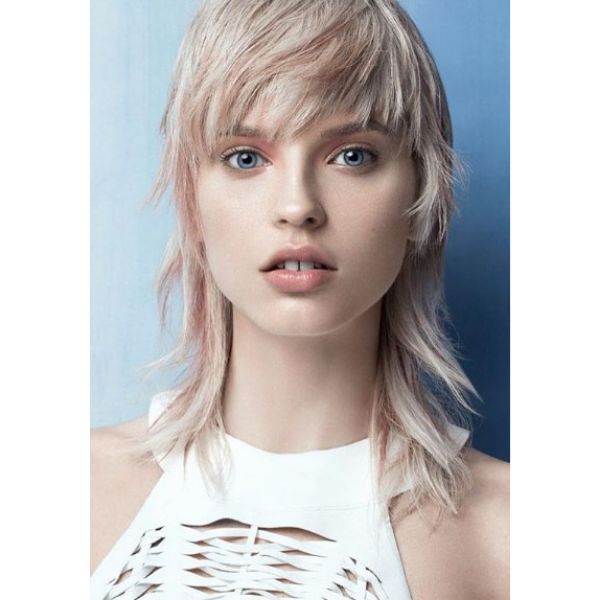 99. Wavy Medium Length Blonde Haircuts
Simple, soft curls will help thin, fragile hair gain texture and volume in the lower part while the top will also gain a bit of hold since medium-length wavy hairstyles don't put so much weight on your mane!
100. Clean Bun with Scrunchies and Falling Strands
Suited both for business looks and for casual outfits, the famous bun is a very practical look and can be styled to obtain a "clean look" with two free strands framing your face.
101. Twists-out Curls Medium Length Hairstyle with Side Swept Top
After "unwrapping", let's say, the two-strand twists in your hair, you need a strong hair pin to fixate half of the side hair on one part and sweep the other part over the head to create a distinct shape for your medium length hairstyle!
Conclusion
Length is super important when it comes to optical views and different angles that will advantage your particular type of physiognomy or body proportions and we tried to cover as many options as possible into this 100+ medium-length hairstyles list! Don't be afraid to try them!