When looking for a cool addition to your typical haircut, you can always count on a fringe to change your look completely! Have you ever wondered how do I know if I'll look good with bangs? Ask no more, because we've prepared for you a guide with classic, curly, supershort, asymmetrical, and many more cute and different types of bangs you can go for if you haven't decided yet on what type of fringe you want!
Types of Bangs According to the Shape of the Face
The bangs are in high demand this season. Choose the one that perfectly fits the shape of your face, so that it can frame your features harmoniously, minimizing the defects and highlighting the pluses! In general, the bangs harmonize the face of any wearer and even reduce the real age by a few years, softening the features.
1: If you have a heart-shaped face, with a rather wide forehead, high cheekbones, and a narrow chin…
… wear bangs with rare strands, cut in stairs, so that the shortest parts reach the level of the eyebrows, and the longest ones it reaches the corners of the eyes. This will create a messy, casual look. If on certain days you want a slight change, you can wear the bangs combed to one side.
Avoid straight and thick bangs, which cover the entire forehead and tighten the features.
2: If you have an elongated face, long vertical, without right angles, with a narrow forehead and chin…
… wear messy bangs, asymmetrical, cut-in stairs, whose side strands extend to the corners of the eyes, thus balancing the elongated shape of the face. You can wear it both on the forehead and combed on one side, or with a path in the middle.
Avoid short bangs (ending more than an inch above the eyebrows).
3: If you have a round face, with full cheeks and a not very well-defined jaw…
… wear thick bangs, which end at the level of the eyebrows. The M-shaped bangs (a longer idea on the edges and in the middle) benefit from a round face, giving it structure.
Avoid sparse and/or short bangs (ending more than an inch above the eyebrows). Both tend to accentuate the round shape of the face.
4: If you have a square face with a rather wide forehead, prominent cheekbones, and a well-defined jaw…
… wear sparse, long, and asymmetrical bangs, cut in stairs, whose side strands extend to the corners of the eyes, thus sweetening the rigidity of the square face.
Avoid short bangs and straight and thick bangs. Both tend to tighten their features.
5: If you have an oval face with a high forehead, contoured cheekbones, symmetrical features, finely curved…
… wear any kind of bangs.
Avoid thick and long bangs (up to the level of the eyebrows), or the ultra-short ones are dramatic variants worth trying.
I. Classic Types of Bangs
1. Straight Bangs for Straight Medium Hair
The typical, simple, and classic types of bangs are these straight-cut, medium-thick types of fringe you can go for at any time after you had your haircut. A good hairstylist should notice immediately what type of bangs match your facial features, so don't be afraid to ask! If you wonder what type of haircut you should choose, you can't go wrong with a bob!
2. Long Choppy Straight Bangs
These chopped-up, thick bangs will surely attract attention to your face, they are slightly wavy and cut to match the layers of the haircut. They make a cool frame for your facial features and will blend easily with the rest of the strands, so no worries about getting bored!
3. Long Messy Auburn
Long, soft bangs in beautiful auburn color are a great way to enhance your charm, especially if you have white, pale skin that will make a cool contrast with the rest of the haircut.
4. Feathered Blonde
The "feathered effect" is obtained using a special technique of cutting thin layers and is especially used on thin hair, which will benefit the given texture and volume. It's a very good idea to get this type of bangs if you want a subtle, feminine look to match your fine facial features.
5. Subtle Pink Wispy
A subtle, thin-cut fringe covering your forehead does more than just frame your face, it can also correct your appearance. In this case, an elongated type of face is brought to an oval shape using a dark fringe that brings harmony and contrasting effect with the rest of the pink ombre.
6. Feathered Long Bangs
Dark colors can benefit from adding texture with the help of feathered bangs and in this case, we can see how these extra-long, side-swept bangs bring mystery and charm to their owner.
7. Straight Long Blonde
These stick-straight blonde bangs have a cool texture given by cutting the hair with razors so that the ends look soft and have a vague edge. This is a super cool method to bring softness and femininity to your looks!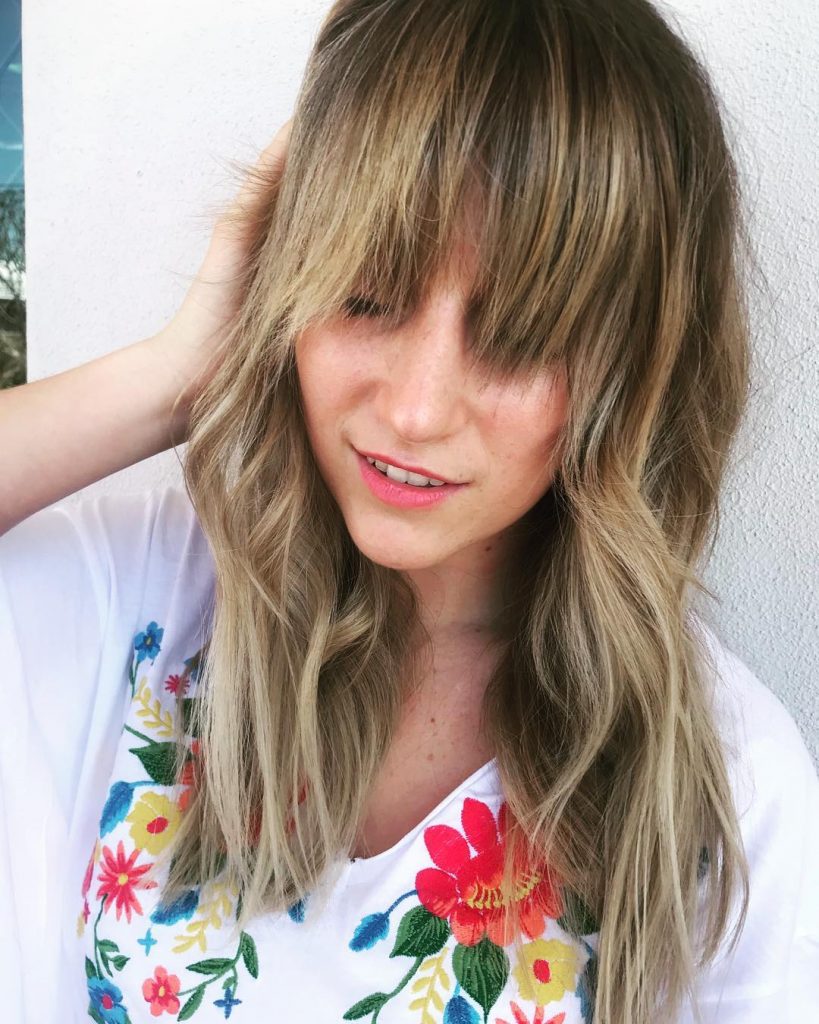 8. Cinnamon Red Shaggy
When looking at this haircut, we don't know whether to admire the skill of the hairstylist or the hair colorist first! This bright cinnamon-red color is delicious so it was only natural to add shaggy, thick bangs to display it fully!
9. Retro Shaggy
A pair of retro, side-winged shaggy bangs can enhance your haircut in an instant and are so cool to bring attention to your face and smile! And the volume will leave everyone speechless!
10. Straightened Auburn Fringe
Straight hair that falls right to the ground, goes perfectly with a straightened fringe and we think that women wearing glasses will have a perfectly cute nerdy look.
11. Side Swept Long Bangs with Baby Lights
This is an awesome fringe! Those long thick strands look great while parted and the subtle baby lights are cool and add style to the whole haircut! Simply love it!
12. Side Parted Straight Fresh Bangs
When the hair is freshly cut, it tends to curve slightly in its natural direction, since it is lighter. In this case, the side-parted bangs seem to follow a natural direction and create a separating line between the forehead and the eyebrow. Natural and charming!
13. Straight Curtain
Curtain bangs are those that were cut to pass nose level and this particular example below has a gradual longer cut from the forehead to the temples, giving a very oval shape to the face.
14. Thin Cut Fringe with Long Hair
If you are afraid that bangs might cover your eyesight or make your face look bulky, you can go for a thin-cut fringe, with very little volume that will certainly stay put and bring a subtle pop of color to your face!
15. Textured Baby Bangs
The shortest fringe you will ever see, the baby fringe is a very small type of bangs that covers only half of the forehead and brings a pop of this gorgeous shiny copper penny color to your face. Super cute!
16. Amethyst Colored
A subtle shiny amethyst hair dye combined with the right haircut can do wonders for your hair! These blunt-cut, straight baby bangs create a beautiful frame for your face while also correcting the large forehead!
17. Curtain Long Layered
Plenty of volume, color, and a beautifully textured curtain fringe make this haircut an absolute winner! This is our top 5 favorite of all these 100 types of bangs!
18. Fairy Green Straight
Bring mystery and coolness to your typical straight cut by adding forest green highlights that will lighten the whole ensemble and a fringe to match it!
19. Classic Curtain Bangs
This is a combination you can't go wrong with! A medium-long shag haircut combined with thick, full, shaggy curtain bangs will display your full beauty!
20. Long Blonde Side-swept
As mentioned before, bangs have the gift of correcting facial slight disproportions and this is what makes them awesome! This elongated, triangle-shaped face was brought to an oval form by adding long bangs that make the jawline look less narrow and balance the pointy chin!
21. Side Parted Long Bangs for Dirty Blonde Hair
Simply stunning! A deep-parted, long fringe that falls casually on one side of your face brings mystery and charm in an instant! This dirty blonde ombre looks even cooler with these long bangs!
II. Curly Types of Bangs for Long and Short Hair
22. Lavender Pink Curly
This amazing lavender-pink hair color deserves to be admired from all angles and so, adding a curly fringe was only natural. In general curly hair can benefit short layers and so is the case with these pretty, wiry bangs that make us want curly hair!
23. Curly Fringe for Curly Bob Haircut
A short trimmed curly fringe will add sweetness and a lovely allure to your whole face and complete an innocent look! We recommend that you let a hairstylist do the cut since curls are a bit more complicated than straight hair to cut.
24. Cute Curly Fringe for Curly Hair
Flaunt your natural curls with a medium-long, messy fringe that will add a charming frame to your face and ensure plenty of bounce and volume to your mane!
25. Natural Curls Fringe for Short Hair
Adorable lamb-like subtle curls are always a joy to see, especially in a short haircut that will look sweet and innocent at the same time! These natural wavy bangs complete the whole hairstyle.
26. Curly Pin-up
Bring a retro touch to your looks with a pin-up-inspired type of fringe. These curly, short bangs make for a contrasting look with the rest of the straight or slightly wavy hair and resemble a pretty natural flower you wear on top of your head effortlessly.
27. Massive Curly Bangs for Shag Haircut
This Botticelli-inspired hairstyle is a sharp-trimmed shag haircut combined with massive, buoyant bangs that will display the full beauty of your natural curls! Simply adorable!
28. Faux Curly Fringe Headband Hairstyle
Another '50s-inspired look is this messy faux- fringe that puts these colorful curls in the first plan! Simply put your hair in a ponytail and bring half of the hair in front securing it with a headband to get this faux fringe! No need for scissors, just a playful mood to match!
29. Heavy Curly Balayage Bangs
These super thick highlighted bangs bring plenty of volume, colors, and dimension to the whole appearance, making this simple haircut a stunning hairstyle. It stands to prove that you don't need sophisticated haircuts for an impressive look, but you can play with different balayage techniques to create a special visual effect!
30. Long Curly Hair
Playful, girly curls can be better displayed if you cut a short fringe that will make the shape more visible. Plus, your top hair won't have a flat appearance but more volume than you ever imagined!
31. Curly Curtain Bangs
This is a childhood-inspired look, a short crop combined with curtain bangs that bring instant focus to your eyes and cheekbones. It makes for a beautiful frame for your entire face!
32. Red Curly
Go, ginger power! This long-trimmed fringe combined with a beautiful red color is the perfect way to create a popping effect for your whole look, so don't hesitate to wear bangs if you are a natural redhead.
33. Messy Short Fringe for Curly Hair
This short trimmed fringe balances the pointy shape of the face, by narrowing the forehead and making it look smaller. It's a fresh cut that frames the face just perfectly!
34. Wavy Pixie
The perfect carefree pixie bangs are these wavy, long strands that bring volume to your top hair and give a feminine look to a short women's haircut!
35. Wavy Hairstyle
A romantic way of styling your hair, wavy bangs will amplify your waves and create a distinct frame for your facial features. You can wear them with a middle part for an asymmetric look, or with a deep part.
36. Contrasting Wavy Type of Bangs
Create an interesting visual effect by opting for contrasting colored bangs that will be sure to attract the attention of onlookers! This is a cool way of integrating grey hair into your haircut too!
III. Super Short Types of Bangs
37. Spiky Baby Bangs
Short, spiky, thin strands of hair that barely surpass the hairline make for a really cute baby fringe that suits especially large forehead types of physiognomy.
38. Pixie Cut
Pixie short bangs are needed when you want the perfect short crop for your hair, especially if you have a thin type of hair. You will get more contrast and texture than with a classic cut.
39. Aggressive Textured
The highlight of this lob haircut, this finely chiseled fringe will make your haircut unique looking especially paired with a shiny copper penny shade.
40. Chopped Up Blonde Straight Fringe for Short Mullet
One of the bravest cuts out there, this short, chopped-up, punk-style haircut with matching bangs is definitely for a girl with an attitude! The overall messy look combines long sideburns and strong eye makeup for a complete look!
41. Pink Baby Bangs for Straight Hair
A subtle rounded short cut for your front hair that goes from temple to temple will free your facial features and create a strong impression. These baby bangs colored in a pastel pink shade are quite a masterpiece!
42. Spiky Short Hairstyle
Again, these spiky bangs were added to a short bob for curly hair to make the forehead smaller and bring an edge to the whole haircut. A brave choice!
43. V-shaped Short Bangs
Enhance the overall shape of your mullet haircut with these V-shaped bangs that will be sure to catch the eye when you enter a room. Ask for a slightly rounded central point so that the look is not too edgy.
44. Asymmetric Short Trimmed Silver Blonde
Create the perfect diamond-shaped face with this asymmetric, super-short fringe cut on a short crop. The silver-blonde hair creates a beautiful contrast with dark skin and is great to amplify the volume and texture if you have thin hair.
45. Micro Haircut
If you are adept at alternative hairstyles, this choppy lob will look perfect paired with micro bangs, a type of short fringe, with an irregular shape and reaching about halfway on your forehead at the longest point.
IV. Asymmetric Types of Bangs
46. Neon Asymmetric
Asymmetric types of bangs are usually sported by unconventional personalities and models for hairstylists and this neon-green combed forward fringe makes no exception. No matter the color, this type of undercut with front-facing bangs is very punk!
47. Asymmetric Icy Pink Fringe
A super short bowl cut mixed with shaved sides and a unique cut for your fringe to break the circle makes for this interesting hairstyle that is especially recommended if you have a large forehead.
48. Funky Sharp Cut Asymmetric
Silver Fox colored hair can benefit greatly from adding a splash of color with a bright green highlight. The half-trimmed fringe contrasts with the wavy appearance of the rest of the hair.
49. Asymmetric Multicolored Fringe
Choose to play with different lengths and colors to add the Wow-factor to your typical shortcut. In this case, this short mullet has bright yellow and red highlights that make this haircut stand out from the crowd!
50. Asymmetric Long Orange Fringe
This looks like a David Bowie-inspired haircut, given the bright colors and asymmetric cut. The front hair reaches the cheekbone level at its highest point and starts just above the eyebrow.
51. Side-swept Asymmetric Nordic Ice Blonde
Again, another asymmetric fringe, side-swept this time, will make a very geometrical shape to your hair and also balance the super short back hair. Great for hot summer days also!
V. Retro Types of Bangs
52. Bumper Hairstyle
History lesson time! These types of bangs were very popular in the '40s era and were usually fixed in place using hairpins and decorated with flowers. It is possible that the placement was because women had to work in the factories while men were at war.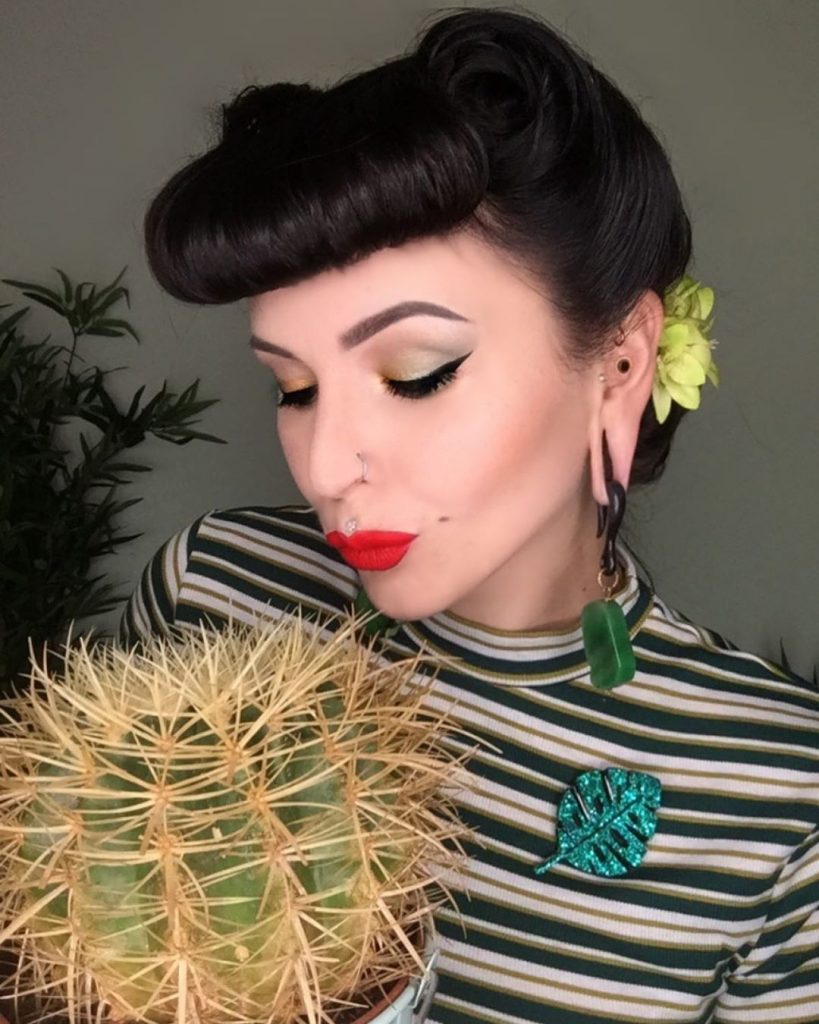 53. Bettie Page Type of Bangs
These short, blunt-cut types of bangs are named after the woman who made them popular at the time, Bettie Page, a pin-up queen artist in the 1950s who was so admired for her looks. Take this look to the next level by adding colored earrings and a headscarf!
54. Bridget Bardot Style
When you say Bardot bangs you must have in mind the iconic look of France's famous babe, Bridget Bardot, a '70s actress admired both for her looks and talent in front of the camera. These long, blonde bangs remind us of her unique hairstyle.
55. Victory Rolls Fringe for Blonde Hair
The Victory Rolls were popularized at the same time as the bumper bangs and they probably have to do with the fact that in the 1940s women needed a more practical haircut, suited for working in a factory. They are made with the longer strands of hair, behind the straight-cut bangs, using hairpins to fixate them.
56. Retro Hair with Middle Part
Retro-styled bangs have a soft look, with rounded edges and even length and in this example below are parted sideways. The main characteristic is that they are slightly arched and curved for a doll-like look.
57. Romantic Hairstyle
Few women can pull this type of look, which somehow seems related to the 80s era, due to the high volume. The bangs are combed and curled upwards to create a wavy floating shape, a romantic hairstyle suited for a classic feminine style.
58. Bardot Types of Bangs
Bridget Bardot's legacy is once again displayed in this beautiful blonde shag haircut with a heavy front fringe that reaches past-eyes level and creates a full frame for your face.
59. Turquoise Colored Victory Rolls Fringe
This mermaid-like hair has a retro vibe thanks to the big victory rolls added in the back. It seems like Victory Rolls were the equivalent of space buns at the time and we need to see this hairstyle more often!
60. Surgically Curved Types of Bangs for Short Straight Bob
Strong make-up and short bobs were iconic for the beginnings of the cinema and this haircut might be inspired by the roaring '20s when women cut their hair very short as a sign of emancipation. This rounded fringe creates a special visual effect!
VI. Braided Types of Bangs
61. Lovely Loose Waterfall Braided Fringe
Don't worry about changing your mind minutes after you had your bangs cut. These braided types of bangs can change your looks blending the front strands with the short bangs to create a waterfall type of braid that will catch the eye of onlookers.
62. Braided Fringe
The secret to braiding your bangs resides in knowing how to make it resist in its initial shape and you can blend in a long strand of hair that will hold the short strands together as you progress. Plus, you get ultra-textured fringe!
63. Faux Braids Fringe
Box Braids are typical for women of color hairstyles and you can opt to get short bangs as well when having them installed by your braider. These short faux bangs look awesome with a headband in a contrasting color!
64. Dreadlocks Types of Bangs
If you love dreadlocks and want to give bangs a try you can do so with short dreadlocks too! This type of bangs is great for you. All you need is to make them equal in length and thickness to give a uniform look.
65. Carnival Braid Bangs
Specific to Brazilian Carnival culture, this braided fringe, heavily adorned with hair beads in a multitude of colors makes for the perfect festive look! Beware of the extra weight that will be added to your head!
66. Box Braids
A Cleopatra-inspired look, these medium-long box braids with hair cuffs added at the ends look even cooler thanks to the short braided bangs! We truly want to see this hairstyle more often!
VII. Special Types of Bangs
67. Heavy Parted Two-Colored
An interesting look can be obtained with simple cuts and this type of bangs stand to prove it! The styling and the color blend to create a unique design that catches the eye.
68. Multi-tonal Straight
Soft blonde strands, beige, and pale blue colors mix in this messy straight fringe for a futuristic type of hairstyle. You can create this look with the help of a skillful hair color artist.
69. Punk Swiped-up Silver Fox Bangs for Short Hair
This brave choice for any woman not just mature ones is super modern and cool looking despite the natural color. The silver fox bangs are swiped upwards to create a faux Mohawk look. Make sure to use plenty of hair pomade to get this look!
70. Disconnected Bangs with Shaved Sides
This modern interpretation for straight cut bangs done with zero transition from the front to the sides is called disconnected. The separation was marked using blue hair dye to color the skin shaved sideburns.
71. Flicked Fringe for Long Brunette Hair
Don't worry about having to comb your bangs every three minutes to make them stay put. This flicked type of fringe is perfect for thick, rebel hair and it will surely give you a relaxed '70s Hippie vibe.
72. Rainbow Colored Fringe
Show your support for the LGBTQ+ cause with a rainbow-colored fringe. This super colorful, bright fringe is a cool way to add energy and light to your typical bob haircut.
73. Gradual V-shaped
An ultra-modern shag haircut, this interpretation of the iconic '70s haircut gets a unique look thanks to the layered, gradually cut fringe that will blend with the layers of the haircut as it grows. Make sure to turn heads with this look!
74. Bright Magenta Messy
This hairstyle looks like a crazy strawberry magenta-colored gorgeous mess that we can't help but admire! The front bangs were chopped to stay negligent and add plenty of volume to the front part of the crown.
75. Sleek Blunt Cut
These soft long layers were completed by a sleek straight fringe that covers the forehead reaching the nose arch level. This is the typical straight-cut fringe, suited especially for the straight type of hair.
76. Grunge Style Curved
Somewhere between a V-shaped and a slightly curved fringe, this grunge-styled front piece, in dark black and bright green, completed with small space buns is not your everyday type of hairstyle. Make sure to go to a skilled hair artist to get this super intriguing hairstyle.
77. Natural Silver Fox
Take a chance and integrate your grey hair with the rest of your mane with the help of a sharp pair of scissors and a bit of imagination. In this case, the grey strand of hair goes perfectly with the dark auburn fringe.
78. Messy Colored
Short chopped front bangs look awesome paired with a mermaid green hair color that will give you a pixie-like look. Especially suited for girls with fine facial features, this haircut is one of a kind!
79. Voluminous Ashy Blonde
Whether you will use a curling wand or hot rollers to create this spectacular shape for your long face-framing bangs, the secret is to create a big wide curved line that will create major hair envy!
80. Punk Style Sharp
A medium-long mullet never looked so good! This punk-style haircut mixed with dark roots and chopped-up bangs is the ultimate rebel hairstyle you have been looking for!
81. Pompadour Bangs
This side-swept voluminous fringe with a very sinuous shape makes this haircut look like a Pompadour. It is a unisex type of fringe and it was always sported by men rather than women.
82. Curved Chunky Bangs for Straight Shag Haircut
An almost perfectly round shape was obtained by cutting gradually longer layers on a shag haircut and adding chunky, piecey bangs to amplify the volume. A great choice if you have a strong jawline and want to correct the shape using layers.
83. Pink Blonde Bangs
A soft bob haircut in pristine blonde hair color is matched with a contrasting colored fringe cut in the same thin layer as the rest of the hair. It is a perfect choice for women with thin hair that want more dimension for their looks.
84. Sleek Curtain Bangs with Middle Part
Very Latina-like, sleek dark curtain bangs will surely add drama to your looks with a simple cut! Just style them using hair pomade to get the wet look.
85. V-shaped Shiny Magenta Colored Fringe
Time for a Goth-inspired type of bangs! This V-shaped two-colored short fringe is another dramatic-looking hairstyle you can wear if you want to look more mysterious and dark.
86. Soft Side-swept Thin Fringe for Straight Hair
For a feminine, gracious look, you can always opt for the side-swept long fringe that covers your forehead creating a unitary look with the rest of the hair.
87. Bohemian French Bangs for Short Bob
French-styled bangs are usually thick cut and go with a carefree type of haircut and a casual attitude to match. Don't hesitate to get this fringe if you have white pale skin and want more contrast for your face.
88. Fake Fringe
Fake fringes are very easy to do and they don't need any scissors! This ballerina, subtle fringe was created by pulling the ends of the bun out and fixating them using hairpins and discrete elastic bands. Elegant and classy!
89. Parted Long Bangs for Blonde Hair
Major 70s vibes with these wide-parted long bangs for blonde hair. This is the perfect hairstyle for any woman who is proud of her looks and wants more layers to play in her hair.
90. Chopped Up Bangs
The distinct scissors trim is very visible in this chopped-up fringe as in you can see every cut that was done by the hairstylist which makes for a cool, effortless-looking hairstyle.
91. Blonde Faux Fringe
To get this look, simply pull all your hair after carefully combing it in a high bun and start pulling several strands over your forehead to get a wavy, elegant look.
92. Piecey Bangs for Balayage Hair
If you have a balayage done to your hair and you still want some dark colors you can go for a piecey, chunky type of bangs that will have a darker tone than the rest of the hair. Great way to draw attention to your eyes!
93. Heavy Blonde Asymmetric Bangs
An S-shaped straightened type of asymmetric blonde fringe makes for a seductive look with a simple cut! It takes a lot of attention and surgeon-like precision to cut this precise shape but the result is sure worthed.
94. Choppy Balayage Bangs
A super stylish, casual choppy type of bangs that will emphasize your facial features and eyes, this balayage fringe is especially pleasant due to the warm colors and soft tones used.
95. Curved Bangs
This is a perfectly girlish look that will make you look stylish and innocent. The carefully trimmed bangs were cut with surgeon-like precision and they sure deserve to stay in the spotlights!
96. Curtain Bangs with Middle Part
Amplify your crown area with the help of curtain bangs that are great with any type of length. In this case, they blend seamlessly with the rest of the free-falling strands to create the modern chop we will soon see everywhere!
97. Messy Bangs for Balayage Shag Haircut
Plenty of volume, texture, and shape is brought to your crown area with the help of messy bangs. These chopped-up short bangs are the ultimate accessory you will want to wear this year. It's all about natural hairstyles this year!
98. Baby Hairs Fringe
Inspired by the Burlesque arts, this type of wavy, sleek fringe is obtained by combing the baby hairs above the hairline in a very distinct manner so that they cover the forehead with a curved pattern.
99. Shaggy Bangs for Natural Blonde Hair
We can't get enough of these winged, wispy layered shaggy bangs with their fluid appearance and soft texture that makes you want to cut it right away!
100. Two Colored Retro Bangs
If you feel like experimenting with your hair, which is not usually recommended, you can opt for a contrasting two-colored fringe that will create an asymmetric look and geometrically satisfying appearance.
101. Parted Bangs
A bouncy bob cut with winged parted bangs will instantly make you look younger and joyful. An effective way of changing your whole appearance and even your age, this dark-colored fringe makes for a cool contrast with the rest of the hair.
102. Green Yellow Bangs For Asymmetric Dark Bob Hairstyle
This interesting fusion between neon yellow and dark green strands catches all the brightness and light in the room and makes for the coolest addition to an asymmetric dark bob haircut.
103. Dark Curly Bangs For Bob Hairstyle
When it comes to different types of bangs that you can certainly pull off, count on these small, curly locks to bring you volume and a cute look with minimal effort.
104. Messy Curly Chopped Bangs For Blonde Bob
These undone waves go great with a layered, messy fringe with thin blonde highlights that you can fixate on using some hair spray or a styling gel.
105. Thick Silver Steel Gray Bangs For Textured Bowl Cut
There is nothing more shiny and stylish looking than a thick pair of bangs that reflect this awesome silver steel shade to create a metallic-inspired look.
106. Neon Green Rounded Bangs For Medium Bob Hairstyle
One quick and effective way of bringing a splash of color into your dark strands is to opt for a neon green front highlight and arrange it so that all the underneath colors are displayed as well.
107. Ice Blonde Piecey Bangs For Pixie Haircut
Chopped bangs manage to create a beautiful effect above the eyes and this killer hair color matches the bold attitude.
Conclusion
If you are still asking yourself whether to get a fringe or not after reading this article, the answer is YES! You have seen all the different ways you can cut your front hair, from classic to unconventional, from ultra-long to baby bangs and so it is impossible not to find something right for your face shape and hair type. Don't you agree?