You might believe that short hair offers limited possibilities of styling, but that is far from the truth. In this list of over 100 cute hairstyles for short hair, you are about to find all kinds of hairdos and styling options for short hair. You will learn how to elevate your look from ordinary to unique.
I. Cute Hairstyles for Short Dark Hair
1. Asymmetric Retro Hairstyle for Women
When it comes to straight hair, playing with different angles and shapes around the hairline will result in beautiful asymmetric designs that are really adorable.
2. Curly Pixie Hairstyle for Women
To achieve these bouncy, playful curls, you will need a short, 3-inch overall length for your pixie haircut. You can opt for a diffuser when drying your hair.
3. Dark Pixie With Front Highlights and Colorful Hairpins
No better way to bring a stylish accent to your pixie than by adding two or three brightly colored hairpins. These will instantly attract attention to your crown.
4. Comb Over Pixie With Swept-Over Bangs
There are certain face shapes and hair textures that go great with a simple pixie haircut. You can opt for a side-swept fringe to uncover your forehead and create a perfect oval shape for your face. Voila!
5. Dark Voluminous Pixie Cut
This '80s inspired hairstyle matches women with naturally wavy hair. Also, it has the advantage of being really easy to style whenever you want to make it look fashionable.
6. Cute Short Brunette Mullet for Women
The famous mullet haircut is back in trend. It can be a gloriously cute option if you decide to wear a short hair hairstyle. You can wear it both natural or straightened if you prefer a rock and roll look.
7. Classic Dark Pixie Cut With Textured Top
Go for a cute classic short haircut with thin, feathered fringes. Ruffle the top just a little bit to achieve a natural look.
8. Up-Swept Dark Pixie With Low Fade
Although it has a very rough, unkept look, this hairstyle brings a cool, fresh vibe to your appearance. You can style it in whatever direction you want.
9. Cute Dark Red Mullet
Suited for women with thick, coarse, straight hair, this textured red mullet makes for a modern style with a strong rock & roll vibe. Also, you can easily adapt to different outfits.
10. Razor Cut Short Shag With Baby Bangs
If you are ready for an edgy hairstyle that will be the perfect accessory for your rock-inspired looks, check out this entry. The thinned, short shag haircut with wispy tips and spiky baby bangs might be just what you need. For extra ideas suited for a thin mane check 100+ Best Thin Hair Styling Tips!
11. Messy Dark Blue Pixie Mullet
Opting for this intense dark shade of blue can really amplify the volume of your mane. Furthermore, you can add extra texture by asking for a mullet cut with scissors.
II. Cute Hairstyles for Short Pink Hair
12. Cotton Pink Pixie Haircut
Keep the roots dark-colored and texture the crown area to create a mixed cotton pink and black top, thus creating a nice contrast with pale skin.
13. Curly Pink Mullet With Messy Bangs
This half curly, half straight soft ginger mullet haircut is a super cute hairstyle for short hair. Also, it can grow into a beautiful medium-length hairstyle.
14. Cropped Pink Hairstyle for Straight Hair
These extended rounded bangs create the impression of an oval face and create a natural brim for the round retro glasses.
15. Shiny Brown Bob With Colorful Highlights
This impressive color melt brings together both natural and glossy shades to help create an incredible effect when moving your head.
16. Asymmetric Two-Colored Bob
This asymmetric bob features stick straight sides and a thin fringe mixed with longer, messy fuchsia highlights. These details create an amazing chromatic contrast.
17. Peach Pink Bowl-Cut With Textured Top
Just in time for the summer season, this bowl-cut with thick sides and short, straight-cut bangs will be the perfect accessory for a feminine outfit.
18. Candy Pink Short Hairstyle for Women
If you aren't sure about your short hairstyle, go with bold hair color. This bright pink will make your appearance unmistakable.
19. Feathered Pink Haircut With Baby Bangs
This strong, dark shade of pink goes amazingly well with cold-toned makeup. You can use only a bit of styling spray for a wavy texture at the top. The pink-colored eyebrows are a super stylish detail.
20. Candy Pink Rock Mullet With Green-Yellow Baby Bangs
This amazing combination of neon hair colors and rough cuts brings out all the aesthetic potential of a short mullet. Adding colorful accessories further enhances its effect.
21. Pink Blonde Sleek Short Hairstyle
An original way of styling a short haircut is to go for a masculine slick-back style. Opt for a soft, pastel pink shade for an androgynous look.
22. Rose Pink Pixie With Side Razor Design
Shaved hairstyles for black women have great potential and a lot of sex appeal. It's hard to resist going for a bald shave and a chic side design. Coloring your hair in a dusty rose pink shade will add a feminine accent.
III. Cute Hairstyles for Short Black Hair
23. Curly Platinum Blonde Short Haircut
What is not to love about this platinum blonde short hairstyle? The soft curls and subtle faux-hawk design for extra volume are simply stunning. Once you get the desired trim you only need a curling iron to define the small waves.
24. Curly Coily Multicolored Pixie Hairstyle
Go for the extra mile with this marine-inspired color mix that will make your super short coils stand out. Create an amazing look using a toothbrush to define small waves around the temples.
25. Peacock Blue Curly Pixie Hairstyle
Shave the sides as close to the skin as possible and keep a 1-inch length at the top. This will allow you to create small curls that will amplify your crown's volume and accentuate the beautiful blue hues in your hair color.
26. Pixie Hairstyle With Curly Top
This unisex haircut is suited for women with straight and wavy hair who wish for an easy-to-style hairstyle. With or without the top curls, this cute short pixie is perfect for hot summer days.
27. Multicolored Curly Pixie Hairstyle for Black Women
Although you can achieve this super curly texture with a semi-perm, it's easier if your hair is naturally kinky. You can discuss with a professional hair colorist for the best color combinations to match your skin tone and eye color. Click this link to see more amazing hairstyles for curly hair.
28. Sleek and Wavy Pixie With Side Part
This smooth, short, sleek wavy pixie with a straight side-part is the perfect option for a pool-side look. You can use a bit of hair wax to tame all the short strands around the hairline.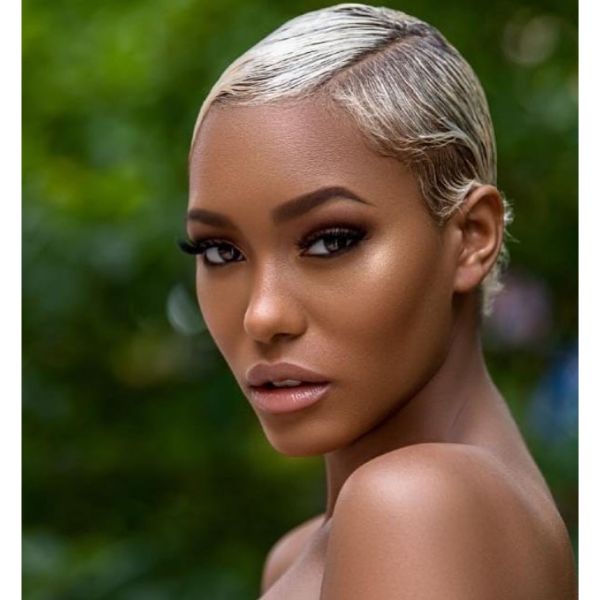 29. Soft Wavy Pixie Cut With Side Part
An asymmetric pixie with big waves is the best way to bring shape to your short strands. This is a super fresh look for dark locks.
30. Wet Sleek Pixie
Bring back the 90's with this wet look that maximizes the shine in your locks. Use a small comb to create tiny coils for a feminine feel.
31. Short Hairstyle With Multicolored Cheetah Print
Shaved hairstyles can be made to look really cute if you opt for prints. This creative colorful combination will make your appearance reflect your bold personality.
32. Ultra-Short Vivid Blonde Razored TWA
These cute hairstyles for short hair show that you can use your hair as an extension of your personality. The sky is the limit when it comes to modern hair designs.
33. Cute Short TWA Hairstyle With Lilac Purple Hues
If you love floral looks, this lilac-purple hair color will create the most delicate TWA hairstyle.
IV. Cute Hairstyles for Short Colored Hair
34. Up-Swept Pixie With Side-Swept Strands
A professional balayage will look equally stunning on a short, messy pixie. You can style it upwards for a rebel, youthful appearance.
35. Yellow Blonde Pixie Cut With Textured Top
This sun-flower yellow is the brightest shade of blonde you could match with a razored pixie cut. It will create an optimistic, luminous vibe for short locks. Hello, sunshine!
36. Ginger Red Pixie Cut
This foxy ginger red hair color will compliment women with a pale skin complexion. It is also an amazing accessory for dark-colored, office outfits.
37. Short Straight Platinum Blonde Pixie With Berret
Pastel lovers will simply adore this look that combines soft pink with platinum blonde hues and a super modern pixie cut in one feminine look. If you are looking for more hairstyle inspiration for blonde hair, visit this post.
38. Silver Blonde Short Pixie With Razor Design
One easy way to personalize your short pixie is to add a geometric design around the exposed nape. Keep the top length slightly longer to allow creating small curls.
39. Crimson Red Straight Pixie Cut
Say it all with one strong shade of crimson red hair color that will make your hairline become really visible. Create a uniform, neat look for your straight short strands with a bit of styling product. Gorgeous.
40. Straight Blonde Mullet With Orange Rounded Bangs
This blonde mullet with orange low lights has a genius design and length. It will brilliantly complement soft delicate physiognomies. Although the styling might be a bit too much for a day-to-day look,
41. Ashy Blonde Bowl Cut
A metallic shade of blonde will bring your cute hairstyle for a short hair option that edgy note that will make you stand out in a crowd. Way to go!
42. Ruby Red Mullet With Textured Top
Long sideburns are the coolest addition to a firey red short mullet with a layered top. These details will help you maintain a bit of length for your mane.
43. Firey Orange Bob With Blonde Highlights
This voluminous short bob with a shiny red color makes for a super bold and amazing haircut. Go for it if you adore a daring look.
44. Ashy Blonde Swoopy Mullet Hairstyle
With or without the minimalistic nude make-up, this ashy blonde mullet with razored sides makes for a great festival look.
45. '80s Style Blonde Pixie Hairstyle
Remember Cindy Lauper's look in "Girls just wanna have fun" hit single? This blonde pixie will definitely give you those '80s vibes.
46. Lavender Undercut
An extra-long top part created endless styling possibilities with an undercut. You can opt for a lavender-hued dye to bring more femininity to your cute short hairstyle.
47. Chopped Pixie Hairstyle
Messy and natural strands are the recipe for a youthful, carefree look. Your natural beauty will stand out with little to no styling effort.
48. Mermaid Green Pixie Hairstyle
If you love goth-inspired looks, this look is for you. The square-shaped pixie with baby bangs and a mermaid green hair color will definitely make a great match with your black leather accessories and strong eye-makeup.
49. Hazelnut Brown Textured Razor Pixie Hairstyle
Warm brown hair colors are great at adding a soft contour to your beautiful features. The color will enhance your femininity and also create the illusion of a fuller mane.
50. Spiky Vibrant Colored Pixie Haircut
Cute hairstyles for short hair can be real statement pieces. Opt for a surreal combination of bright electric blue, orange, and fuchsia hues and match them with an equally extravagant haircut shape.
51. Red Pixie Cut With Long Sideburns
This rock'n'roll look is a two-level pixie with extra-long sideburns. You can style these to bring even more red to highlight your face and skin.
52. Stylish Ashy Platinum Blonde With Curly Waves
If you are born with a perfect skin complexion then you can highlight this beautiful feature by going for a cold, ashy blonde dye job. Use a classic styling gel to create a wet shiny look for your natural dark roots.
53. Golden Blonde Messy Mullet
Girls with full, rich manes will definitely benefit from a messy short mullet, since it helps make the styling more manageable. The haircut is a perfect match for a classic blonde.
54. Cute Mullet With a Splash of Color
Nature always offers plenty of inspiration. You can bring vibrant spring colors to your short hairstyle by adding cute multicolored highlights in your fringe and style it accordingly.
55. Short Undercut With Bright Orange and Teal Stripes
These amazing contrasting highlights create a mesmerizing visual effect for any type of cute short hairstyle for women with straight hair.
56. Multicolored Bowl Cut With Thick Bangs
Cute hairstyles for short hair wouldn't be so rare if more girls would have the courage to go for a rainbow color palette instead of the classic one-color mane.
57. Chopped Mullet with Natural Hair Color
This apparently negligent mullet has an amazing texure and a unique design that will completely transform your face and overall appearance.
58. Rainbow Pixie Hairstyle
A killer rainbow-inspired color combination for your short strands will turn your pixie from usual to extraordinary.
59. Ashy Gray Pixie Cut With Faux-Hawk
Go for short shaved sides to create a slim profile and keep the top long enough to be able to style a Mohawk that reaches all the way to your nose bridge.
60. Super Straight Blonde Pixie Haircut
Sometimes the secret to a stunning pixie is the super chiseled, textured crown that goes smoothly around your head. This cut makes the blonde color pop out even more.
61. Ginger Red Short Shag With Bangs
When it comes to cute hairstyles for short hair, shag haircuts have a unique rugged charm. Use a curling iron or a simple hairbrush to style the strands around the face.
62. Cropped Mullet With Razor Design and Lilac Up-Swept Bangs
Bringing colorful accents at the nape and the front hairline will help your mullet stand out more. When you will want a change of look, you can easily get the accents out of your hair
63. Short Bob With Pastel Yellow and Purple Highlights
This stunning bob has that perfect color blend. It has an easy transition from purple to yellow, a transition so smooth and beautiful that it's impossible not to get drawn in.
64. Playful Pixie Hairstyle for Women
Fresh-looking hairstyles are on the verge now that we have all endured the effects of the lockdown on our looks.
65. Galactic Purple Short Hairstyle With Razor Design
Keep the sides zero faded and opt for a slightly longer top to allow the purple hues to glow. Adding a killer side design at your nape with the help of a skilled barber or hairstylist will take the look to the next level.
66. Cute Natural Colored Pixie Hairstyle
Keeping a bit of length at the sides will bring you more volume and, as an added benefit, something to play with when you are bored or stuck in traffic.
67. Messy Lilac Blonde Shag With Straight Bangs
This combination between a bowl-cut and a soft shag will allow your hair to fall freely around your face. You can further increase the luminosity by coloring your eyebrows in the same shade and matching eye make-up.
68. Demi Lovato's Chopped Pixie Hairstyle
Demi Lovato's buzzed pixie with baby bangs is an amazing example of minimalistic cute hairstyles for short hair. What is more, the look is rather easy to replicate.
69. Wavy Blonde Mullet Hairstyle
If you love textured hair and using hair spray to make your look impeccable, this wavy messy blonde mullet is the perfect match for you.
70. Layered Blonde Hairstyle With Messy Bangs
These rough layers make the whole look unique. They bring volume at the sides and the crown while keeping the profile elongated and sharp.
71. Cinnamon Red Mullet With Soft Layers and Straight Bangs
This is a great alternative to a classic shoulder-length bob. Opt for a layered mullet with straight bangs that will make your gorgeous cinnamon red hair color truly pop.
72. Purple Pixie Hairstyle
Chopping off the length doesn't necessarily mean your hair can't look feminine. On the contrary, you can look even cuter if you add a bright color to your mane.
73. Pixie Cut With Straight Bangs
Cute hairstyles for short hair can take an avant-garde turn. To get this haircut, ask your hairstylist to keep the sides zero faded and focus on the bangs. Create a straight contour above the eyebrows and add color-blocking for a striking visual effect.
74. Short Emerald Green Bob With Baby Bangs
Bright hair colors such as this emerald green bring a note of mystery. Also, they work really well with any cute hairstyle for short hair, including a classic french bob with a razor-straight type of bangs.
75. Two-Colored Spiky Mullet-Pixie With Pastel Purple Bangs
This impressive color mix is an awesome example of a successful combination between a mullet, a pixie, and a killer pair of bangs. The fringe is highlighted with a soft pastel purple.
76. Shiny Silver Pixie Cut With Messy Top
This minimalistic pixie haircut makes for a modern cute hairstyle for short hair. While it is easy to style, it does require frequent visits to the hair salon for color refreshing and trims.
77. White Blonde Juice Cut Hairstyle
This impressive look is the best example of how you can use color contrast to emphasize a simple wavelength short hairstyle.
78. Blonde Curly Pixie Hairstyle
Negligent curls with little definition and light blonde hues create a cute hairstyle for short hair that is easily adaptable to the modern lifestyle.
79. Shaved Red Hairstyle With Side Razor Design
One easy way to beautify your shaved hair is to add a bright color. Also, a simple geometric shape will make the whole design ten times more interesting.
80. Teal Blue Pixie Hairstyle
This classic, up-swept grown-out pixie suits those who like to wear summer days and ocean waves in their hair.
81. Blonde Buzz Cut for Women
If you are tired of styling your hair every morning in the mirror, cut it all off. Choosing a super short buzz cut is one of the cutest hairstyles for short hair.
82. Asymmetric Platinum Blonde Pixie
Be ready to shine 24/7 with a super straight asymmetric platinum blonde pixie. The long fringe stops right at the nose bridge and the corners are carefully trimmed.
83. Disco Blue Pixie Hairstyle
You can always count on a high-resistance hair spray to achieve a spiky pixie hairstyle perfect for a disco party.
84. Marine Blue Undercut
These thick side-swept strands colored in cool marine shades will definitely steal you some compliments this summer.
85. Intense Red Mullet With Fuchsia Highlights
It might not be visible at a first glance, but this short mullet colored in strong red has very subtle fuchsia reflections that dance under direct sunlight.
86. Bright Yellow Bob With Straight Bangs
Illuminating yellow is one of the trendiest colors of the year. Go ahead and give it a go next time you choose a new shade for your bob.
87. Soft Pixie Haircut With Textured Top
Go for a full scissors haircut with a full nape and a bit of texturized layers in the front. Leaving your neck and shoulders exposed is a very feminine look for the summer.
88. Electric Blue Pixie With Blonde Razored Sides
If you crave colors in your mane, choose these daring shades. Combine them with a classic mullet cut to be the center of attention, no matter where you go.
89. Katie Perry's Faded Pixie With Short Chopped Bangs
The pop singer is well known for her amazing hair transformation. She proves time and time again that she can pull off cute hairstyles for short hair as well.
90. Mint Blonde Pixie Cut With Shaved Sides
This high-maintenance hair color suits a super short pixie cut with shaved sides as it will enhance the fresh, stylish accents in your mane. Also, it perfectly compliments silver jewelry.
91. Ultra-Short Blonde Buzz Cut
Nothing works like a buzz cut for women with a round face shape. It helps highlight and contour delicate facial features.
92. Faded Lavender Hued Pixie Hairstyle
A quick, easy way of getting a feminine accent for cute hairstyles for short hair is to add subtle lavender top highlights. Keep the roots natural for an instant boost of volume and color!
93. Combed Buzz Cut
Just in time for the summer season, this combed buzz cut is one of the easiest cute hairstyles for short hair you can get at any barbershop or hair salon.
94. Soft Cotton Pixie Cut With Pearl Headband
Adding a precious head accessory will transform your cute hairstyles for short hair into a real-life fairytale look.
95. Gray Cropped Pixie Cut With Spiky Top
This look suits women with natural silver-gray hair or those who prefer cold-toned shades of blonde. Add oversized colorful accessories to match your cute hairstyles for short hair.
96. Soft Blonde Pixie With Textured Top
A great option for those who prefer warm tones of blonde. This soft pixie haircut has a gradually lighter shade of blonde towards the tips that will increase your hair's natural shine.
97. Short White Fox Hairstyle for Women
Women over 50 can confidently wear cute hairstyles for short hair, especially if they already opted for a completely white-blonde makeover for their silver fox strands. For more inspiration, check out our 100+ Medium Hairstyles For Older Women.
98. Fuchsia Colored Buzz Cut With Natural Sides
If you crave an intense pigment for your hair strands, but you don't want to damage your hair, this two-level buzz cut is a stylish choice. Leave the side of the hair in your natural color to highlight the levels of the hairstyle.
99. Short Ginger Asymmetric Bob
This warm intense shade of ginger red and the asymmetric bob create impressive angles and it will bring a brilliant shine to your locks.
100. Straight Dark Brown Mullet
This finely chopped mullet proves that sometimes all it takes is a well-executed haircut to impress everyone and make your natural brown hair stand out.
101. Short Mullet With Long Sideburns
Since it already marked an impressive comeback, the funky mullet design couldn't have gone missing from our list of cute hairstyles for short hair.
The Sky is the Limit
When it comes to cute hairstyles for women, the sky is the limit! No length is too short to create amazing designs and color combinations that will stun everyone. What do you think of these looks? Did you find inspiration for your next hairstyle?