100+ Medium Hairstyles For Older Women
While our gray hairs can start appearing at any stage in our lives, this process shouldn't be anything to be ashamed of. There is nothing more liberating than acknowledging our own personal journey. Hair is a cool way of expressing your personality and experiences. Here are 100+ medium hairstyles for older women to prove that! As one quote says, we all know that the proper name for this category should be "queen agers".
I. Bob Cut Medium Hairstyles For Older Women
1. Straight Bob With Middle Part For Grombre Hair
A perfectly straight bob haircut is the best way to display a cool grombre. The neck-level length will really give you a trendy modern look that is easy to maintain.
2. Sharp Textured Bob With Silver Highlights
A Sharp textured bob haircut mixed with straight, full bangs will create the illusion of a fuller mane. You can ask your hairstylist to use silver toner to neutralize the yellow hues on natural gray.
3. Golden Blonde Straight Bob With Rounded Bangs
Cutting your hair short can take years off of your face and opting for these modern rounded bangs will turn your golden blonde bob into an amazing medium hairstyle for older women. If you are into blonde, check out these 100+ Hairstyles For Blonde Hair That Will Amaze You.
4. Straight Silver White Bob With Full Bangs Medium Hairstyle
One easy way to embrace white hairs is to opt for light white hair color and a modern chop with enough length to reach the neckline. Cutting the bangs just above the eyes will frame the face nicely. For more amazing bob haircuts click here!
5. Funky Wavy Bob With Short Bangs
Short chopped bangs mixed with wavy sides are a quick way to transform your hair into a unique masterpiece that will turn heads everywhere you go.
6. Curly Grombre Bob With Brown Tips
If you have thick straight hair it can be harder to tame it with a bob haircut. But you are sure to rock an amazing volume with a couple of undone waves.
7. Medium Long Bob With Side-Swept Top
Silver-gray hair is not necessarily linked to aging, but it is surely an easy way to achieve a refined, elegant look. That is the case of this silky smooth bob with slightly curved tips and a full crown.
8. Silver-Gray Half Updo For Medium Bob Hairstyle
If you love contrast, starting with your hair can be a great idea! There is a very cool contrast that your medium-long bob will create with any colorful outfit.
9. Platinum Silver Medium Bob With Wispy Bangs
Keep it natural with a silver platinum bob that has a soft texture. It can be easily shaped and styled into a feathered wavy shape with side-parted wispy bangs.
10. Straight Medium Red Bob With Green Headband
The red color is associated with strong personalities. Going for an intense hair color will result in a magnificent bob that you can style with a colorful headband for a feminine appearance.
11. Silver-Gray Feathered Bob With Deep Side Part
This glamorous hairstyle is the result of the natural aging process. You can style it with a hairbrush and use a bit of hair spray to fixate the small waves at the back of the nape. Red lipstick will really help in making that silver-gray color pop.
12. Medium Curly Bob With Curly Bangs
Although it looks hard to style, the curly bob is one of the latest trends in hairstyle. You can ask for a couple of brown highlights to make the look warmer. Also, take a peek at these 100+ Exciting Curly Bob Hair Ideas And Hairstyles.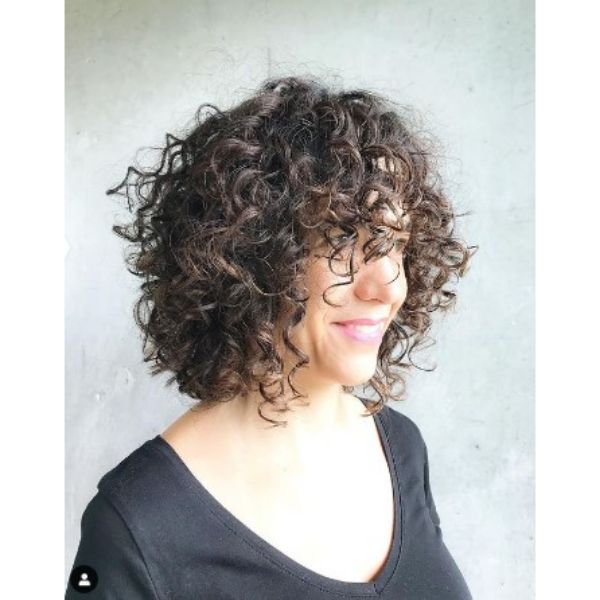 II. Curly Medium Hairstyles For Older Women
13. Silver-Gray Curly Perm Medium Hairstyle
For amazing results, you can opt to dye your curls in different white hues until you have a black and white style. This will highlight every curl in your mane. Amazing!
14. Wild Curly Silver-Gray Hairstyle
The blonde effect can appear when your strands start to get gray. You can embrace that natural yellow shade by adding a couple of curls to your medium-long hair. Tease some of them to create super volume.
15. Curly Silver-Gray Medium Long Hairstyle
These super-light silver strands are slightly layered for extra-volume and curled to create a beautiful halo that surrounds your face. The color naturally attracts light.
16. Messy Curly Silver-Gray Medium Hairstyle
These super tangled curls look way cuter with thin silver threads mixed with those dark brunettes ones. The medium-length allows them to have a super bouncy volume that you can set by spritzing hair spray.
17. Medium Curly Pink Hairstyle With Beanie
One great way in which you can take advantage of your locks graying process is to dye your hair in a cotton pink hair shade. Create a couple of curls for an amazing light, girly look. Head accessories will help you as well.
18. Modern Curly Shag With Baby Bangs
Mixing a modern, daring cut with natural silver-gray hair can give fantastic results. This look is perfect proof that you should go for this change at least once in your lifetime, just to see how it feels. For more shag haircuts, check out this list.
19. Messy Curly Silver-Gray Shag
From the exquisite shape to the unique color, everything about this haircut is truly amazing. It can easily convince you to change your day-to-day look with a modern shag haircut.
20. Curly Hairstyle For Natural Gray Hair
Whether you opt for a bob haircut or a medium layered hairstyle, adding wavy curls will give your silver-gray mane this tousled effect that holds throughout the day. It will offer your hair that much sought-after volume.
21. Bohemian Messy Pink Curly Hairstyle
This magnificent hairstyle is the perfect proof that curls look good at any age. Especially when you opt for a flirty cotton-pink shade that will reflect your playfulness.
22. Glossy Pink Medium Hairstyle With Curly Strands
This surprisingly fun hair color is super easy to style and will make you steal the show whenever you walk into a room. To achieve this messy curly shape you can use both a teasing technique and a curling wand, afterward simply arrange the hair with your fingers.
23. Curly Silver-Gray Medium Hairstyle
Embracing silver-gray hair is all about flaunting your natural color without holding back. These bouncy, springy curls are a truly amazing eye-candy.
III. Silver Fox Medium Hairstyles For Older Women
24. High Top Knot Medium Hairstyles With Silver-Gray Strands
To achieve this look, you will need a strong elastic band and a bit of hair spray to hold the top knot in place. Sleeking the top and pulling the side strands around a little bit will give you that casual, relaxed vibe.
25. Half-Updo With Silver Blue Gray Strands
This sublime combination of silver white and blue highlights instantly creates that "frozen effect" on your crown. Pulling all the top strands in a half-ponytail will have a slight lifting effect on your facial features.
26. Platinum White Space Buns With Straight Bangs
You can mix playful and elegant styling ideas in the same hairdo for a great result. These perfectly coiled space buns are simply mesmerizing in platinum white hair colors.
27. Sleek Silver-Gray Updo With Embedded Hair Accessory
What is great about silver-gray hair is that it looks natural and sophisticated and has a great contrast with colorful hair accessories, such as this precious hair-clip studded with red stones beads and shiny crystals.
28. Gray Sleek Bun Hairstyle
A quick and feminine hairstyle that suits medium-length hair is this sleek bun with perfectly combed sides. The smooth, neat texture will enhance your hair's natural shine.
29. Curly Messy Updo For Grombre Hair
This super high, messy updo is created by gently pulling all curls on top of your head in a messy bun and stopping halfways. The cascade of white ringlets right in the center of your crown will lighten up your face.
30. White Sleek High Bun With Brown Insertions
Snow-white cotton hair is perfect for creating a beautiful contrast with intense brown colors. There is no better of displaying that pattern than with this high bun with straight bangs.
31. Braided Crown Updo With Falling Strands
If you want extra-texture for your medium long straight hair without using heat, then you should totally go for this side braid that will add volume. Leave a couple of strands out to create a casual look.
32. White Braided Ponytail With Brown Insertions
Two-colored hairstyles are anything but boring. You shouldn't be afraid of trying classic, timeless braided ponytails when you have silver-white hair.
33. Straight Medium Hairstyle With Side Braid
The combination of brown and silver-gray strands will create a magical look that will only be enhanced with a knotted side braid. Besides, it also serves a practical purpose, keeping the strands out of your face.
34. Crown Braid With Silver-Gray Strands
One great way of creating more crown volume is to make a quick braid that runs tightly around your scalp. This creates a unique silver-gray pattern for your hair.
35. Messy High Updo With Silver-Gray Highlights
Once your hair starts the graying process you can have a true surprise when you try different styles. This glamorous look has slick sides and a high, uneven top with messy strands and plenty of glow! Super chic!
36. High Coiled Bun For Medium Long Silver Hair
A brilliant option for hasty days as well as special occasions, a silver-gray coiled bun placed exactly on your crown's center. It will make you look younger and fresh.
37. High Falling Bun Updo With Silver-Gray Roots
If you have generous amounts of hair, you can take advantage and wear it in a semi-bun with a rounded shape. You can add a bit of hair spray so that it stays the same throughout the day.
38. Silver-Gray Ribbon Bun Hairstyle With Curly Face-Framing Strands
This refined look is super enchanting thanks to the unique combination of silver and dark strands. These make the hair updo the highlight of any appearance.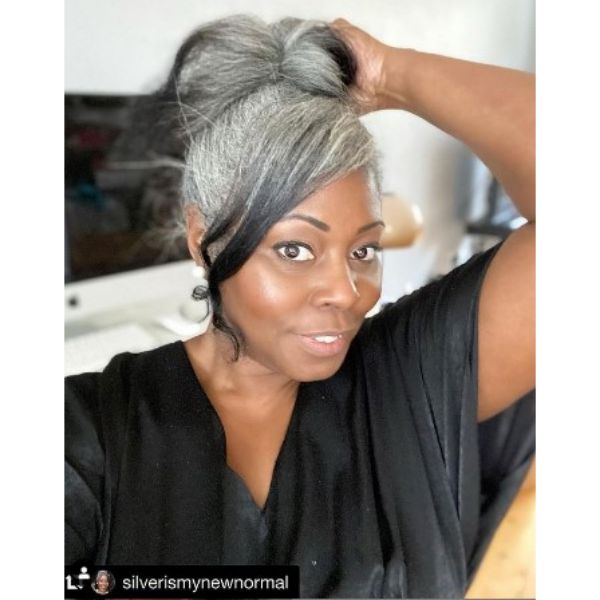 39. Messy Silver-White Updo With Falling Strands
As unbelievable as it sounds, messy and elegant styles can coexist in the same hairdo! These perfectly white shiny locks that surround your face are a great match for precious jewelry.
40. Silver-Gray Updo With Hair Clip Claw
If you want a quick solution for a cool silver-gray updo, you can use a small hair claw with a tortoiseshell pattern to keep all the strands at the back. The end result is a natural, flowing hairstyle that is ready in less than 2 minutes.
41. Curly Messy Updo With Red Floral Accessory
You can turn any high ponytail into a super mesmerizing look in less than 2 minutes if you have a floral hair accessory at hand. Add some fixating spray to make sure your curls are kept in check after you pull them in a ponytail.
42. Dark Auburn And Silver-Gray Half Updo
When you are tired of rocking bangs, you can use a couple of hairpins to keep them in a small coiled shape above the forehead. Pull the hair at the back in a messy updo so that all the beautiful colors in your mane are brought together.
43. White Elegant Updo
This classic hairstyle for women with medium long hair speaks volumes and is also easy to wear. That thin falling strand draws attention to the shiny, crown and makes the whole look really chic.
44. Cotton Pink Messy Updo Hairstyles
Warm days are perfect for sporting a messy bun with falling side strands. That gorgeous cotton pink shade will create an amazing effect against an all-white summer outfit. So girly!
45. Sleek Updo With Red Headband
If you crave a bit of color but you don't want to dye your hair, adding a small, simple red headband over your sleek updo will instantly do that for you.
46. Messy Pink Curly Updo With Floral Accessory And Falling Strands
A great way to accessorize your pink curls is to add a rose hairpin right above your crown. Tease the curls in your updo really well to maximize the crown's volume.
47. Platinum Blonde Feathered Hairstyle With Hair Accessory
The easiest way to highlight your silver-white medium layers is to use a precious hair slidder. This will create a fantastic contrast and will bring a very refined effect on your look.
48. High Ponytail With Silver-Gray Strands
If your face is heart-shaped, pulling all the hair in a high ponytail and applying medium tension on the strands will amplify your features and give you a subtle facial lift.
49. High Messy Bun Medium Hairstyles With Palm-Leaf Shape
This warm brown shade with subtle silver-gray insertions is beautifully displayed on top of your head. The palm-leaf-shaped bun will offer your crown an incredible volume.
50. Silver-Gray Updo With Colorful Headband
When you miss a splash of color in your strands, you can easily achieve that effect by adding a bright colorful scarf over the elastic band used to tie your locks in a single ponytail.
51. Silver-Gray Afro With Golden Headband
Achieve the most elegant color combination by placing a shiny golden elastic headband over your natural silver-gray bouncy curls. So adorable!
52. Scarfed Red Shiny Bun With Straight Bangs
This mesmerizing hair color is worth indulging in. It will look equally cool in a tight little red bun with a black and white scarf placed over the elastic band and perfectly straightened long bangs.
53. Silver-Gray Curly Bun Hairstyle With Colorful Headscarf
A colorful appearance is easy to achieve if you have a multicolored headscarf wrapped over your silver-gray curls and tied in a beautiful ribbon on top of your head.
54. Messy Low Ponytail For Silver-Gray Hair
This light, softly braided ponytail with messy side strands looks cool with bronze and nude makeup that amplifies the whiteness in your medium-length hairstyle.
55. Silver-Gray Ponytail Medium Hairstyle
As you begin to transition to a full silver-gray hairstyle, you can play with the different levels of color in your hair. Wrapping all of it in a simple low ponytail will give you that awesome two-color look.
III. Medium Long Hairstyles For Older Women
56. Gray Twists-Outs Medium Hairstyle
Kinky curly hair can look really shiny and defined if you try some twists-outs hairstyles and add some gold jewelry and sparkling eye shadow. If you have short curly hair, visit this page for more inspiration.
57. Medium U-Layered Hairstyle With Silver-Gray Strands
If you are proud of your silver-gray strands, you can really flaunt them with a u-layered haircut. Soft thin bangs will accentuate your beautiful facial features.
58. Silver-Gray Medium Hairstyle With Light Waves
A medium-length hairstyle is suited for any face-shape and age category. Adding a couple of undone waves with straight tips will give your silver-gray strands that modern vibe.
59. Silver-White Feathered Layered Medium Hairstyle
A great way of creating volume for thin, fragile hair is to opt for a layered medium haircut. Use a rotating brush to style every silver-white strand in a curvy swept away from the face shape.
60. Rose Pink Medium Hairstyle With Straight Bangs
This delicate powder pink hair color will go great with a matching eye shadow. Adding a couple of soft curls and a straight crown hairstyle doesn't require too much styling effort.
61. Wavy Medium Shag With Silver-Gray Strands
Women with thick hair and silver-gray strands will surely adore this highly textured razor-cut shag hairstyle. It has both an amazing color and amazing movement. Check out some of the best hairstyle and haircut ideas for wavy hair at this link.
62. Gray-Brown Medium Wavy Hairstyle With Side Part
This two-colored look has a subtle transition from silky gray natural colored strands to bright brown hues. This creates a beautiful mix and makes those soft waves look surreal.
63. White-Gray Medium Hairstyle With Side Part
This super straight, neatly combed hairstyle with both white and silver-gray patches will turn your mane into a spectacular-looking hairstyle that will accentuate your colorful makeup.
64. Medium Blonde Hairstyle With Feathered Layers
It takes minimal styling effort to achieve this feminine, subtly wavy hairstyle. You can easily shape it with a curling wand and make this warm blonde mane gain movement.
65. Soft Waves For Medium Long Hairstyle Silver-Gray Straight Hair
This silver-toned medium-long hairstyle will look great if you add a couple of soft waves and direct them away from the face with a bit of hair spray.
66. Messy Afro Hairstyle
This amazing voluminous medium afro hairstyle for older women is really impressive thanks to the perfect silver-gray hair color that brings a light feeling to those tangled curls.
67. Medium TWA Hairstyle With Silver Patch
Once you decide to go natural with your hair color you can rock this medium long TWA hairstyle with a lot of confidence. Trust that no other woman will have that same hairstyle.
68. Silver-White Afro
This impressive medium twa has a super silver-white hair color. You can use a hair pick to arrange all the hair strands in a perfect circle around your head.
69. Silver-Gray Medium Hairstyle With Thin Fringe
With this light, shiny silver-gray hair color you can totally own your hair's aging process. Rock a medium-long layered haircut like no other!
70. Medium Long White Feathered Hairstyle
If your hair is on the thinner side, this feathered hairstyle will surely add volume on the sides. It also creates a halo-effect that surrounds your entire face. The style feels light, although it needs hair spray to stay that way.
71. Casual Wavy Grombre Medium Hairstyle
Medium long straight hair is really quick to style. You can easily create a couple of curls for a wavy, fluid shape that still looks natural and effortless.
72. Straight Sleek Medium Hairstyle With Silver Highlights
Although straightening your hair isn't the most creative hairstyle for medium long hair, having white hair highlights will instantly turn your look into a unique one.
73. Silver-Gray Medium Long Wavy Hairstyle
If you are a fan of retro-inspired looks, this wavy, swept-back hairstyle with natural colored hair is a good starting place to explore your personality.
74. Silver-Blue Medium Hairstyle With Straight Bangs
This dreamy blue surreal hair color with subtle silver reflections is best displayed on a long, layered hairstyle with straight bangs. Perfectly straightened tresses will highlight the eye color as well.
75. Natural Gray Feathered Hairstyle With Thin Bronze Highlights
Not only your accessories but your hair, as well, can have golden accents. These will increase your mane's shine and create a wavy shape.
76. Two-Colored Medium Hairstyle With Messy Styling
This two-colored look will definitely turn your appearance into a one-of-a-kind style. All you have to do is tease the length to make the hair look more voluminous.
77. Silver-Gray Medium Shag
These medium-long strands have a natural wavy shape and an amazing color that makes this look a total winner! All you need is your biggest smile and you are ready to conquer everyone!
78. Iced Amethyst Medium Hairstyle
These cold tones are a great winter hairstyle suggestion. Adding some soft curls in the lower part of the mane is a simple way of making your hair more playful and voluminous.
79. Medium Long Silver-Gray Hairstyle With Messy Curls
This wild, highly texturized mane has natural waves and a gorgeous silver fox color that makes for a unique appearance. Nothing is sexier than self-confidence and a bit of hair spray to keep the volume in check.
80. Caramel Brown Feathered Medium Hairstyle With Blonde Highlights And Straight Bangs
These rich warm brown hues are well complemented with blonde thin highlights and straight short bangs. The good news is that you only need a hairbrush and a blow dryer to arrange the front strands away from the face. For more inspiration about blonde and brown combos visit this link.
81. Feathered Iced Purple Hairstyle
If you want to rock amazing volume no matter how often you wash your hair, this is the way to go. These feathered layers cut to reach shoulder's length mixed with a silver ice hair color with subtle purple reflections is a chic, gorgeous choice.
82. Long Messy Feathered Grombre With Deep Side Part
These big wavy curls will instantly improve your mane's volume and add both movement and shape to straight silver-gray hair.
83. Razor Cut Medium Shag For Silver-Gray Hair
If you want a medium-long hairstyle that will keep the top volume, a razor-cut shag with long curtain bangs is the right choice. Keeping the natural hair color will totally impress everyone around you.
84. Two Colored Medium Hairstyle With Straight Bangs And Soft Curls
Medium hairstyles for older women should be the main target for two-colored or transitional dye jobs. Blonde shades are the most high-maintenance dyes out there. You can really achieve a great mix with darker shades such as blonde or brown.
85. Silver-Gray Medium Long Hairstyle With Low Waves
Keep it simple and classy with a medium-long haircut. Thin face-framing strands and a solid silver-gray color with shiny reflections will give you a soft, magic appearance. When you want to add a bit of movement, you can create a couple of loose curls on the lower half of your hair's length. And you are ready to steal hearts!
86. Grombre Medium Hairstyle With Swoopy Layers
This incredible bounce that a medium-long hairstyle has is not natural but the hair color is 100% organic. You can thank your own body for creating a marvelous pattern in your mane.
87. Rainbow Colored Medium Hairstyle With Subtle Layers
Medium hairstyles for older women are not necessarily on the black and white color spectrum, you can be as vibrant and colorful as the rainbow. There is no better proof than this medium-long hairstyle with two face-framing violet colors.
88. Wavy Medium Long Hairstyle With Vanilla Highlights
A swirly pattern with vanilla and golden blonde highlights alternating around your crown will create a sweet, soft mane. You can amplify this with a couple of curls.
89. Silver-Gray Half Ponytail
When you want a quick updo achievable with minimal styling effort, go for this slick-back half ponytail. It will create a beautiful contrast between the silver-gray top and dark under lights that draw attention to your chin.
90. Medium Long Dreadlocks With Silver-Gray Strands
A mixed look with silver and dark strands will accentuate your dreadlocks' shape. Your hairstyle will be one-of-a-kind and state that you are not afraid of showing your true colors.
91. Silver Wavy Medium Hairstyle
These delicious waves have a beautiful silver hair color that will make any hairstyle you choose a truly special one. What an awesome choice!
92. Gray Perm Afro With Small Curls
Besides the contagious broad smile and chic eyeglasses, these gray curls have a fantastic volume and shape that make this medium hairstyle completely eye-catching and fun to wear. Maintainance however is not that fun, but everything can be learned.
93. Wavy Medium Hairstyle For White-Silver Hair
Medium hairstyles for older women are best represented by a wavy medium haircut with messy styling. A solid white color makes a statement in itself and is a very permissive color tone for future changes.
94. Silver-Gray Wavy Medium Hairstyle
This look shows that bold makeup and light natural hairstyles are a match made in heaven. We are really eager to see more women rock this with confidence!
95. Silver-Blonde Lob With Blue Highlights
Blue accents are a great way of bringing fun into your silver-white bob. The shoulder-length makes for a really flattering cut that looks stunning both straightened or with a natural texture.
96. Teased Wavy Hairstyle For Silver-White Hair
One of the trendiest medium hairstyles for older women is a highly teased mane with straight bangs and subtle curls. This will bring attention to your face and delicate natural makeup.
97. Gray FroHawk Medium Hairstyles
A quick way of having amazing volume and a unique shape for your mane is this Frohawk medium hairstyle with gorgeous silver-gray color. Statement earrings will match the "electrifying" dimension of your crown.
98. Platinum Blonde Medium Hairstyle With Straight Bangs
Classic medium hairstyles for older women couldn't have gone missing from this list. Sometimes all it takes to successfully sport a beautiful blonde color is to tease the crown and pull the side strands in a half updo while straightening the backside.
99. Medium Long Shag With Parted Bangs
This amazing haircut with medium-long thin wings and heavy bangs looks fantastic on natural hair color. You can arrange thin silver insertions on each side of your face for more luminosity.
100. Soft Wavy Medium Hairstyle With Silver Blonde Hues
These two complementary color tones are a very frequent occurrence when it comes to medium hairstyles for older women. We think silver and blonde never looked so well together. If you also add soft waves you are sure to bring a delicate feminine touch to the whole ensemble.
101. Medium Long Layered Warm Blonde Hairstyle With Thin Fringe
Natural styling is very subtle and will do wonders for your medium long layered haircut. It will look fuller and rounder with just a couple of brush movements and some fixating spray for your curved tips.
A Positive Outlook on Gray Hair
Beauty is when you can appreciate yourself. Start feeling confident in your own skin and dare we say, hair color! These 100+ medium hairstyles for older women are an hommage to silver-gray hair, but we also found some show-stopping dye jobs that are worth trying! From "grombres" to a silver fox, or cotton white manes, there are dozens of names and examples that bring a positive outlook on gray hair. Which one did you love most?
YOU MAY LIKE
January 05, 2020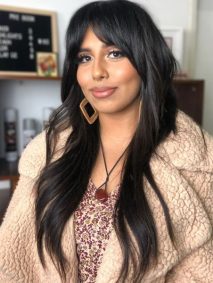 January 19, 2022