100+ Long Layered Hairstyles with Bangs
Long layered haircuts with bangs are an awesome way to get the most out of your long tresses! When you have plenty of length you can play with the different levels by adding layers and the bangs are always an easy way for a new look. In case you don't feel like adding bangs to your hair, check these
100+ Layered Hairstyles and Cuts for Long Hair too, but I think it will be hard to resist getting one after checking out these 100+ suggestions we prepared bellow!
I. Long Layered Hairstyles with Bangs and Haircuts for Straight Hair
1. Platinum Blonde Long Shag Cut with Straight Bangs and Long Sideburns
This is a super stylish and daring haircut, a very layered shag with face-framing bangs that reach above eyebrows level and long sideburns that you can wear behind the ear if you don't like this hairstyle. Wear the rest of the hair straightened or in a ponytail, it will be equally fabulous!
2. Straight Long Layered Hair with Asymmetric Bangs
These long layered tresses will frame your head and neck beautifully, paired with a cool asymmetric fringe that gives a relaxed vibe to the whole haircut. This is one of the simplest and prettiest version of a long layered hairstyle with bangs!
3. Feathered Layers for Straight Long Hair with Long Bangs
Soft, free- falling feathered layers are a cool option for your long hair, especially if you have light colored hair like the person in this photo. Simply brush your hair after washing it and sweep your hair on one side for a stylish coiffure.
4. Asymmetric Pastel Layered Hairstyle with Asymmetric Bangs
This uneven, straight-cut hairstyle for medium-long hair is totally awesome paired with these soft, pastel contrasting colors of strawberry blonde and olive green and the bangs are the highlight of the whole look!
5. Straight Long Layered Dark Hair with Electric Blue Colored Bangs
Pair your typical long shag layered haircut with uneven, face framing bangs in a strong, bright color like this electric blue for a killer look. You can straighten your hair using a flat-iron or you can wear it natural.
6. U-shaped Red Layered Hairstyle with Straight Bangs
U-shaped layers frame the face and cleavage beautifully creating a U-shape contour to your face and they look best when straightened using a flat iron. If you have red colored hair you can opt for a dark smokey eyes makeup to complete the look.
7. Subtle Layered Long Straight Hair with Long Bangs
Straight hair can gain volume and texture when adding layers to it and you can wear it natural and make sure your bangs stay in place by adding a head scarf, a chic way to change your look.
8. U-shaped Layers for Straight Dark Hair with Blunt Bangs
This hairstyle is totally awesome thanks to the U-shaped layers that start at jawline level and go past-shoulders level. The shortness of the blunt cut bangs contrasts with the length of the tresses.
9. Shaggy Layered Hairstyle with Heavy Bangs for Ombre Hair
Make the best out of your blonde-brunette ombre hairstyle with a layered haircut paired with face framing straight bangs that will draw the attention to your eyes. Add subtle waves to enhance the volume and texture of your hair and you nailed it!
10. Red Stick Straight Layered Hairstyle with Side-swept Bangs
A great way to enhance the length and shine of your long tresses, especially if you have thin hair is to add layers that will really make the color pop and give a shape to your hairstyle.
11. Long Shaggy Straight Brunette Hair with Heavy Bangs
This modern, heavy fringe totally sculpts your face and is perfect if you have a large forehead. It will equalize the proportion and draw attention to your eyes. Leave the rest of your hair free-falling to display the layers of the haircut.
12. Ice Nordic Blonde Shaggy Layered Hair with Heavy Bangs
Another masterpiece when it comes to layered straight hairstyles, this ice Nordic blonde shaggy haircut suits all types of physiognomy and looks best when straightened. Get this neat, elegant look, especially if you have thin hair.
13. Extra Long Heavy Layered Brunette Hair with Uneven Bangs
Get the most out of a layered haircut for your extra long tresses with this heavy layered shag that will give shape and dimension by keeping the length at the same time. You can add a couple of highlights to enhance the beauty of the hair or you can wear it natural, it will be great nonetheless!
14. Copper Colored Layered Hairstyle with Heavy Bangs
A beautiful shade of copper red deserves a fair display such as this layered hairstyle with heavy bangs, highlighted with a different color for extra shine and style.
15. Long Straightened Layered Haircut with Straight Short Bangs
This hairstyle suits any type of hair and it's very easy to wear, especially if your hair is naturally straight. Balance the straight razor-cut lines with a messy up-do and let your hair free fall.
16. Feathered Layered Hairstyle with Thin Straight Fringe
Thin, fine hair can benefit the layers cut since it will create a soft, feathered look paired with a straight thin fringe, cut in the same way.
17. Caramel Balayage for Layered Long Hair with Long Bangs
This two-level layered haircut with subtle waves makes for a great display of this gorgeous color and the long, winged bangs frame the face and neck just perfect, blending with the rest of the layers, a look you can get with the help of one simple rotating brush!
18. Disconnected Layered Hairstyle with Messy and Long Bangs for Red Hair
For those in search of an edgier look, this disconnected layered hairstyle is a good option of preserving your hair's length and shaping your locks to resemble a bob. A mixture of haircuts really, this messy up-do is made possible only if you have long straight hair.
19. Wavy Layered Hairstyle for Purple Ombre with Straight Bangs
For the days when you can't decide if you want straight or curly hair, get both with the help of straight bangs and wavy locks for the length of the hair. Flaunt those layered tresses by adding a subtle purple ombre to your color.
20. Voluminous Blonde Ombre for Long Layered Hairstyle with Thick Bangs
This is a cool, laid-back hairstyle, with voluminous layered hair and straight thick bangs that cover your forehead and frame your face giving it a mysterious look.
21. Shaggy Chopped Layers with Sleek Bangs for Dark Hair
A very textured, layered hairstyle for long hair, this shag haircut sports sleek, uneven bangs that frame your face and finely chiseled cuts to tame your wild longs and create a beautiful shape.
22. Auburn Long Layered Hairstyle with Side-part and Bangs
This gradually longer auburn hairstyle is super-cool, thanks to the great hair color and the well-done layering both for the hair length and side fringe.
23. Cinnamon Red Long Layered Hairstyle with Straight Bangs
Gorgeous color and great layers is the recipe for this killer natural look you can sport anywhere since it will enhance your features and frame your face and neck beautifully.
24. Orange Long Layered Hairstyle with Long Winged Teal Bangs
A strong contrast in hair color makes for a very loud and strong hairstyle that is here matched with long layers and winged bangs to create the perfect balance between color and shape.
25. Blonde Long Layered Hairstyle with Straight Bangs and Headband
Adorn your long layered hair with a head scarf, a simple twist to your natural free falling hairstyle that is great for those days when you want to make a change in your appearance.
26. Feathered Layers for Blonde Hair with Baby Lights and Long Bangs
This is probably the best combination between a melange of hair color and a feathered layering hairstyle. Opt for long bangs and soft layers to get this look and enhance them using baby lights.
27. U-shaped Blonde Layers with Face-framing Bangs
Upgrade your typical blonde ombre with these U-shaped layers that you can style using a rotating brush to give them volume and shape and winged face framing bangs.
28. Orange Ombre for Long Layered Hairstyle with Round Short Bangs
A great contrast between the top part of your crown and the rest of the hair is obtained here by opting for an red-orange ombre with heavy layers and straight short bangs in dark color.
29. Long V-shaped Layers for Red Hair with Straight Bangs
A more natural, but equally beautiful look, this same color layered hairstyle is great if you straighten your hair with a flat iron at the ends to display all the tresses and opt for long straight bangs to frame the figure.
II. Long Layered Hairstyles with Bangs and Haircuts for Wavy Hair
30. Two-toned Blonde Layered Hairstyle with Wavy Bangs
Part blonde, part caramel colored hair, this medium-long layered hairstyle is both classy and different from your average blonde haircut style.
31. Wavy Rainbow Colored Long Layered Hairstyle with Face Framing Bangs
Wow, just wow! This rainbow colored long layered hairstyle is all about the greatness of bright shades and contrasting levels to mark every layer of your haircut.
32. Pink Blonde Long Layered Hairstyle with Dark Roots and Modern Bangs
This modern, side-swept messy fringe matches the rest of the layered hairstyle that sports a cascade of pink-blonde long straight locks, very feminine and modern!
33. Bridget Bardot Style Layered Haircut
Look like a 60's style icon with this Bridget Bardot inspired haircut. Long, face-framing bangs, dark roots and voluminous, wavy locks that fall like a cascade on the sides of your shoulders.
34. Wavy Caramel Balayage Layered Hairstyle with Face Framing Bangs
A very soft and subtle hairstyle, this wavy caramel balayage for layered hair is great for any type of hair and especially for hazel eyes.
35. Wavy Shag with Long Brunette Layers and Winged Bangs
Big shaggy hair with plenty of layers and angles that frame your face and make this gorgeous look is what this haircut is all about! The framing winged bangs are a great add and only need your reddest lipstick for a perfect, effortless look!
36. Long Layered Hairstyle with Straight Short Bangs and Subtle Waves
Super stylish modern layered haircut with straight baby bangs is here illustrated on a straight dark hair. Opt for subtle small waves to create this exact look.
37. Wavy Multi-Colored Long Layered Hairstyle with Thick Bangs
Ashy blonde for your ends, soft caramel and strawberry pink for half of your hair makes a cool, multi-colored layered hairstyle that is bound to make you stand out in a crowd.
38. Vibrant Balayage for U-shaped Long Layered Hairstyle with Swoopy Bangs
Vibrant balayage or Valayage, how the author of the hair coloring technique called this hairstyle, implies mixing vibrant colors in your balayage for this multicolored result that looks great with wavy layered haircut.
39. Extra-long Wavy Shag Haircut with Full Bangs
A natural, healthy look for your extra- long haircut is obtained by adding heavy horizontal layers and a thick fringe that will give a voluminous shape to the upper part of your hair.
40. Wavy Blonde Long Layered Hairstyle with Straight Bangs
The perfect babe-look, this blonde wavy hair has a heavy layered fringe and wavy curls that perfect the style. This is a good option for a night out or simply for those day when you want to feel feminine.
41. Rainbow Balayage for Wavy Long Layered Hair with Straight Bangs
Instead of coloring all your hair in rainbow colors as we saw in a previous example here, opt for a balayage technique of adding splashes of color here and there and for accentuating the length of your bangs.
42. Extra-Long Layered Caramel Balayage with Straight Bangs
Add an instant boost of coolness to your typical caramel balayage with these straight choppy bangs that will frame your face and draw attention to the eyes.
43. Bouncy Long Layered Hairstyle with Middle Part and Bangs
Probably a feathered layered haircut, this long haircut benefits some bouncy curls at the ends part that create a beautiful visual effect and go great with the side-swept bangs.
44. Blonde Wavy Layered Hairstyle with Straight-Cut Bangs
Blunt straight short bangs and wavy free-falling layers of blonde locks, what is not to like about this edgy but feminine look? This a great way to go if you crave a change for your typical blonde ombre.
45. Shaggy Red Layered Hairstyle with Face-framing Bangs
Long, luscious red locks displayed in a negligent mess and straight, face-framing bangs make for the perfect babe-look in those days when you don't have time for complex hairstyles.
46. Root Melt Balayage for Wavy Layered Hair with Curved Bangs
Such a soft, feminine combination of shapes and colors, this high contrast balayage is here displayed on an equally beautiful haircut, a layered wavy hairstyle with curved bangs that follow the natural line of the forehead all the way to the ears level.
47. Rainbow Balayage for Wavy Long Layered Hairstyle with Straight Bangs
A very rock'n roll look, this light rainbow balayage with dark roots creates a halo effect around your figure and illuminates the whole face. The dark undertones give plenty of depth and volume to the lower part of the hair.
48. Messy Wavy Chopped Layered Hairstyle with Baby Bangs
The neat, curved cut of the baby bangs create a virtual circle around your forehead and free your face, while the messy long layers add volume and texture to your hairstyle. As a bonus, the sideburns are chopped to mark the jawline.
49. Long Wavy Layered Hairstyle with Baby Lights and Side Swept Bangs
A great feminine way to enhance your long locks is to add layers, a wavy side-swept fringe and baby lights in all the right places to brighten your face.
50. Purple Wavy Long Layered Hairstyle with Winged Bangs
Light purple and lavender-pink tones mix together in this long layered hairstyle to create a feminine look. The bangs are styled to stay off the face and blending with the shortest layer of the haircut.
51. Shag Haircut for Red Layered Hair with Full Bangs
Choppy, messy gorgeous red locks layered to give you a shaggy look and paired with long straight bangs make for the perfect red head in town!
52. Messy Long Layered Hairstyle with Face Framing Bangs
This messy look is obtained by cutting horizontal layers in your hair's length and chiseling them really well, maybe even applying a hair serum or gel get the wet look and adding straight-cut bangs.
53. Luscious Extra Long Layered Hairstyle with Face Framing Bangs
A great balayage starts with highlighting the right strands of hair so that your face is illuminated and the right curls are accentuated with splashes of dark blonde color to frame your figure. Plus, the balayage makes the layers even more visible!
54. Natural Long Layered Hairstyle with Chopped Bangs
Fine chiseled and short trimmed layers with chopped bangs make for a cool, effortless natural look for your long tresses, no matter the color!
55. Voluminous Blonde Long Layered Hairstyle with Full Bangs
Long, bob-shaped top layers ensure the most gorgeous and full volume to your long layered hairstyle and the front full bangs blend beautifully with the rest of the strands.
56. Extra Long Shag Haircut for Red Hair with Face Framing Bangs
A pretty cinnamon red color, fresh and feminine goes great with a long shag haircut that adds volume, dimension and extra-shine to your long tresses that reflect more light.
57. Shaggy Wavy Long Layered Hairstyle with Bardot Bangs
The brunette version of Bardot bangs is an equally cool looking hairstyle that displays the beauty of dark hair. Add waves to enhance the length and femininity.
58. Chunky Long Layered Hairstyle with Piecey Bangs
A more modern, androgynous look is this version of a medium long shag with chunky wispy layers and piecey bangs to complete the hairstyle. Loose, thin waves soften the whole look.
59. Subtle Wavy Long Layered Hairstyle with Dark Roots and Side Swept Bangs
Long layers increase the volume of your ends and add texture to blonde thin hair, so don't be afraid to add them. The side swept bangs, slightly curved frame your face and draw attention to the eyes.
60. Shaggy Long Wispy Layered Hairstyle with Two Colored Bangs
No matter the color combination, this fine chiseled layered haircut creates a beautiful shape to your head. Opt for green and orange colors to get this exact look and a thin cut fringe.
61. Chunky Long Layers for Ombre Hairstyle with Face Framing Bangs
A very fashionable option, this chunky long layered messy hairstyle is here to stay! Add long straight bangs to balance the messy negligent style of the longer strands.
62. Messy Long Layered Natural Hair with Face Framing Bangs
An effortless option for those who want layers is this messy medium-long haircut that benefits the adding of layers and the bangs that blend with the rest of the hair seamlessly!
63. Bouncy Long Layered Hairstyle with Side-Swept Bangs
Thin, bouncy front curls give plenty of femininity and the layering is great for creating a contour to your long lock. Add bangs to the haircut so that the upper side of the crown hair is equally big as the ends.
64. Red Shag Haircut with Chunky Bangs
From straight and shapeless to voluminous, shaggy look, this transformation is awesome! The red color and the uneven chunky bangs draw attention to the eyes and not to the mouth area as it is the case in the first picture.
65. Playful Long Layered Hairstyle with Long Bangs
Well defined, long waves and a couple of layers can do wonders for long thin hair as you can see in this example, since it gives dimension and bounciness to lifeless hair. The long bans should be side swept.
66. Dark Chocolate Colored Layers Hairstyle with Straight-Cut Bangs
Upgrade your straight long hair by adding layers, a straight razor-cut fringe and subtle waves to contrast with the straight lines in the crown area and the strong color.
III. Long Layered Hairstyles with Bangs and Haircuts for Curly Hair
67. Extra Curly Long Shag Hairstyle with Curly Bangs for Balayage
Angelic curly locks can benefit greatly from layers too, since the overall shape is shaggy and messy and the blonde highlights are enhanced too.
68. Dark Shaggy Curly Layered Hairstyle with Curly Bangs
A wiry messy look is the one of the few styling options for curly hair. The added natural curly bangs complete the look and you can use a pomade or hair oil to get the wet shiny look.
69. Long Layered Curly Hairstyle with Big Side-swept Bangs
Extremely curly hair looks gorgeous and you can add a contoured shape to your locks with a shag haircut and big bouncy side-swept bangs that will be the highlight of your look.
70. Voluminous Curly Layered Hairstyle with Messy Bangs for Blonde Hair
This 70's inspired shag hairstyles with heavy layering is a good way to tone down a bit your curly volume and also create a beautiful shape to your locks.
71. Curly Long Layered Hairstyle with Chunky Bangs
Horizontal layering will give plenty of volume to your crown hair and allow your curls to stay well-defined and shiny. Leave the bangs free and natural for an exact look.
72. Curly Heavy Layered Hairstyle with Curly Bangs
It's amazing what a bit of layering can do to the shape of your curls, shortening the length of your crown hair will make your hair curlier and with more volume.
IV. Long Layered Hairstyles with Bangs
73. Half Bun for Long Layered Highlighted Hairstyle with Straight Cut Bangs
Flaunt your long tresses with a half-up, half-down hairstyle that will display the blonde strands of hair as well as give volume to your crown. Simply put in a bun half of your top hair, comb your bangs and let the rest of your hair free-fall.
74. Top Knot with Face Framing Bangs for Straight Hair
For a stylish event, opt for this elegant top knot with face-framing long straight bangs arranged neatly around your face. Cover the knot with a separate strand of hair to cover the hair band for an impeccable look.
75. Messy Bun with Free Falling Bangs
If your hair is naturally wavy and voluminous, make a quick, messy top bun and pull some of the strands out of it to create this gorgeous, simple hairstyle for layered hair.
76. Loose Back Braid for Rainbow Colored Long Layered Hair
Play with the colors and layers in your hair with a loosely braided tail for half of your top hair and soft waves that will make the colors really pop and let the layers free.
77. Loose French Braid with Free Falling Bangs
A more elegant, classy version of braid is this loose french braid with free falling strands and long bangs that is also compatible with layered haircuts since it's a good way to gather all the short hairs in the braid while also keeping the elegant negligent look.
78. Double Dutch Braids for Long Layered Hair with Face Framing Fringe
Dutch braids are super cool to sport when you want that extra-shape and volume to your hair and these double braids will ensure that all your short layers are included and go well with the long fringe also.
79. Feed-in Braids for Red Long Layered Hair
Another great way to make sure your shorter strands stay in place is to create feed-in braids starting the top of your hair and going all the way down to your ends. The good news is that you can also include your bangs in this hairstyle!
80. Half Up-do for Choppy Long Layered Hair with Bangs
A really quick and easy to do hairstyle is this half ponytail that will give your mane extra-height and volume while letting your bangs free fall and frame your face.
81. Structured Messy Space Buns for Red Hair with Straight Bangs
A more complex, elaborate look, for special occasions is this messy structured space buns hairstyle which makes your color and texture really pop-out. Leave the bangs hanging and neatly combed for a contrasting effect.
82. Swirling Low Ponytail for Blonde Layered Hair with Bangs
Long layered haircuts go great with hairstyles that are multi-leveled, waved and not uniform, working as camouflage for the different lengths in your mane, such as this swirling low ponytails, swirled and teased to increase the volume. Pair it with swooping bangs and maybe a hair accessory for special occasions.
83. Crown Braid for Long Red Layered Hair with Straight Bangs
Making a crown braid or Heidi braid is a cool idea for layered hair since the hairstyle, again, will involve all the different hair strands, while the bangs will display the texture and color of your hair.
84. Crown Fishtail for Long Blonde Layered Hair with Free Falling Bangs
A bit more sophisticated and thinner than a usual crown braid, the fishtail braid can bring the same advantages and is also suitable for elegant events where you want to impress everyone.
85. Twisted Side Ponytail with Wavy Bangs
Create a pretty side ponytail by twisting your strands and using them to cover the hairband and add a couple of hair curls to complete the look. You can sweep your bangs on the side.
86. Long Layered Ombre Hair with Side Braids and Bangs
Add a feminine touch to your long tresses by adding two side braids, that start at the center of your hairline and fall freely from half down your hair. They are a cool romantic way to change your hairstyle.
87. Camilla Cabello's Braid for Two- Colored Hair with Straight Bangs
Classic braids with long bangs and a killer combination of colors is the recipe for a cool hairstyle that the singer also rocked and served us as inspiration for braiding ideas.
88. Teased Straight Ponytail for Layered Blonde Hair with Layered Bangs
This ice blond straight hair made to look straighter with a flat iron was teased-up and caught in a neatly combed ponytail that makes it look super stylish. The V-cut bangs make for the perfect frame for your face.
89. Feed-in Braids with Space Buns for Messy Blonde Hair
This idea for layered hairstyles is a bit more complex than your average coiffure but it looks super boho-chic! Simply braid two plaits on the sides of your parted hair and secure them at the back of your crown. Afterwards start making two space buns and secure them using a hair strands so that the final look is stylish and feminine!
90. Elegant Bun for Blonde Hair with Dark Roots and Free Falling Front Pieces
Add extra-height and shape to the hair with this elegant high bun for straight hair and let the front hair simply fall on the sides. The dark roots make a great contrast with the rest of the blonde hair.
91. Half Up Half Down Hairstyle for Curly Chocolate Brown Layered Hair with Bangs
A great way to make sure your coiffure will stay the same throughout the event is to fix it in a half ponytail and curl the rest of your hair using a curling iron so that the locks are well defined and even.
92. Straightened Teased Back Ponytail for Blonde Layered Hair with Dark Roots and Straight Bangs
This 90's inspired look is cool and compatible with layered hairstyles and mandatory for bangs! If you have bangs, you are virtually obliged to pair them with a ponytail that you can tease and style so that it has more volume and add a couple of strands on the side for a negligent look.
93. Half Up Half Down Hairstyle for Blonde Wavy Layered Hair with Bangs
If you don't have much time to style your long layers, simply gather the top strands in a back tail and twist them a bit for a stylish effect. Let your bangs free fall and use a piece of hair to cover the hair band and enjoy the result!
94. Voluminous Curly Ponytail for Chocolate Brown Hair with Free Falling Front Pieces
Tease your crown hair and put it in a tail with plenty of volume and camouflaged by another hair strand pulled over the hair band. Curl the ends of the hair and some free falling front pieces that will add extra-chicness to this classy look.
95. Single Tight Dutch Braid for Balayage Hair with Teased Ponytail
Great if you have long bangs too, this tight high Dutch Braid or balayage hair is super awesome and gives you a rock'n roll vibe thanks to the fake Mohawk effect. Tease the rest of the tail for extra volume.
96. Half-braided Pigtails for Blonde Hair
Layered hairstyles involve a bigger effort to style all the different hairs and such is the case with these half-braided pigtails that are guaranteed to include all the small hairs and pair well with bangs.
97. Feed-in Cornrows with Contrasting Color Extensions for Blonde Hair
Whether you have bangs or not, this hairstyle has you covered! Simply start braiding cornrows from your forehead downwards and in the process add hair extensions and metallic or shiny strands to enhance the look and enjoy plenty of length.
98. Shaved Sides for Long Straight Layered Hairstyle with Bangs
Add extra coolness to your layered haircut with these shaved side that you can cover or uncover when you put your hair behind the ear. A very punk, rebel look without spikes or piercings!
99. Long Layered Hairstyle with Blonde Highlight and Bangs
Vamp-up you typical layered hairstyle for straight hair with subtle waves and a blonde highlight to break the color pattern. Side bangs are also part of the ensemble and don't forget the hoop earrings.
100. Multi-braided Ponytail for Long Layered Hair
This stylish braided up-do looks more complicated than it actually is, since it's actually two asymmetric back braids gathered in one single twisted ponytail but the final look is gorgeous nonetheless.
101. Half Ponytail for Long Layered Hair with Volume
Choose to vary your hair color by adding purple and blue highlights of hair pieces to your dark hair and amp it up using a hair band and a normal brush. Leave the bangs side swept and hanging for a casual look.
Conclusion
There are countless ways to wear long layered hairstyles with bangs, either you choose to hide the bangs or let them free. Either way, this complex haircut allows for multiple styling options and it's really a great opportunity to flaunt your long tresses.
YOU MAY LIKE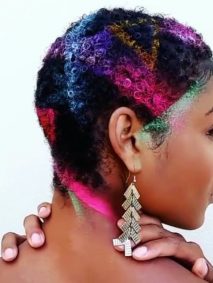 November 13, 2020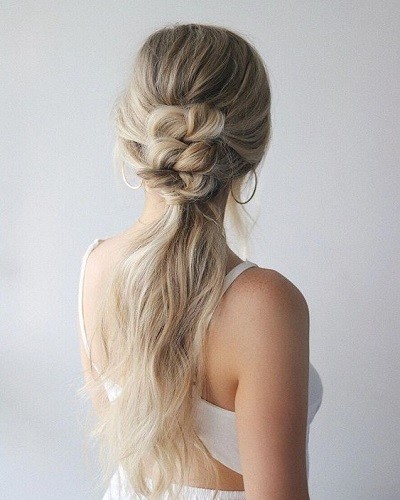 January 05, 2020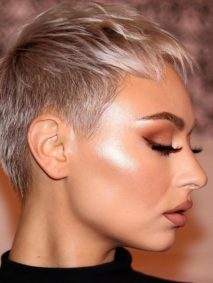 May 11, 2021