25 Alluring Prom Hairstyles For Long Hair
Many teenage girls spend days, even weeks, planning the biggest social event of high school: prom night. So of course they will also want to see and pick from the prettiest styling ideas and prom hairstyles for long hair – and they are all right here! Scroll and be delighted!
1. Wavy Hair With Braided Crown
This is a very simple yet pretty half up, half down way to style long hair for prom. Basically, two strands of hair on the side of the head are used to create a crown braid at the back of the head. The rest of the locks were curled with a curling iron for a wavy finish and left to fall free down the back.
2. The Waterfall Braid Hairstyle
Another very pretty half up, half down hairstyle is this waterfall braid with waves. Similarly to the one above, a thicker strand of hair was used to create the waterfall braid that crosses the back of the head while the rest of the hair is free and wavy down the back.
3. Braided Low Bun Prom Hairstyles for Long Hair
This low bun is definitely one of the prettiest braided prom hairstyles for long hair. To make it, separate the hair into three thick strands that you will use to make the braids. You can go for the three-braids option in this photo or make four or more. Either way, start braiding from the roots of the hair and end the hairstyle in a twisted low bun.
4. The Rose Bun Hairstyle
Continuing our list of braided prom hairstyles, here's an idea on how to make your crown braid look all the more special. Instead of ending it under the hair, unite the two ends of the braids and use them to form a flower-like bun.
5. The Braided Headband Hairstyle
Another very pretty curly prom hairstyle for long hair with braids will have you using the braided crown as a sort of hair headband. Be sure to tease the frontal locks and leave the rest of the hair loose.
6. Tucked Back Prom Hairstyles for Long Hair With Flower Detail
This seemingly tricky hairstyle is actually incredibly easy to make. Just take two strands of hair on opposing sides of the head and twist them together. For an extra touch of charm, fix them in place with a hair accessory such as this flower detail. Make sure it matches your dress or that it contrasts it – in a good way.
7. Pigtails With Bow Details
We will skip over the beautiful teal hair color (for now), and instead focus on telling you how to get this look. Instead of making two full Dutch pigtails, braid them only half-way and leave the rest of the hair free. For a cool finishing touch, end the braids with a hair bow and add a beaded band on the center-part.
8. The Blue and Wavy Updo
When you have such an interesting hair color, really make the most of it by gathering all your hair in a messy and wavy updo. Leave a few strands of hair free in front for a face-framing effect. Consider adding in hair accessories for extra style points.
9. Rose Low Bun Prom Hairstyles for Long Hair
You can also take the hair flower bun idea to a new level and use it as the actual hairstyle and not the focal point. Gather all your long locks and use them to form a hair flower – in this case, a rose – at the nape of your neck. The face-framing strands are optional but very pretty.
10. Low Ponytail with Fishtail Braid Detail
A simple, low ponytail can be very easily transformed into one of the most alluring prom hairstyles for long hair simply by adding a braid to it. Take this photo as an example of how you can incorporate a fishtail braid on the side of the head while the rest of the hair is tied in a low, messy and wavy pony.
11. The High and Wavy Ponytail
Alternatively, just raise your hair up in a high ponytail made on the crown of the head and tease and pomp the locks so that they end up looking fuller and messier than they really are.
12. The Bouffant Low Bun
The bouffant look is making a comeback so take this look and make it cool again for prom by pairing it with a twisted, slightly messy low bun. You can also use some volumizing spray for extra oomph when making the bouffant section on top.
13. The Twisted Updo
This twisted updo is also commonly referred to as the Banana twist. You can learn to do it by yourself at home, but it might be easier to ask for some help the first time. To get it, you must sweep the hair to one side, pin it in place, then sweep it on the other side and repeat. Some hairspray might also be necesary.
14. Romantic Prom Updos
The most romantic prom updos for long hair don't have to be all perfectly put-together. As you can see from this picture, you can also go for a twisted and messy bun at the nape of the neck and with some strands left free. You'll get bonus points if you have or add highlights in different shades.
15. The Elegant Low Ponytail
In contrast, a low ponytail can easily transform into one of the most elegant hairstyles you can wear on a special occasion. Besides using styling products to obtain that sleek look and finish, you can also set aside a strand of hair to cover up the hair tie.
16. Fishtail Updo Hairstyles
You've seen how you can use a fishtail to bring attention to your hairstyle. Now, get inspired and admire how you can wear it as the main hairstyle itself. Braid two fishtails on either side of the head and then unite them in a low bun.
17. The Simple Chingon
The simple chignon, one of the most elegant and classiest hairstyles you can wear at any event. There are many tutorials that can teach you how to make a chignon but we recommend starting with the easiest version and later on advancing to more complicated ones.
18. Vintage Vibes Waves
Vintage will always be in fashion and these retro waves will likely never fall out of style. They can be obtained no matter the hair type – but how you'll make them will depend on it.
19. The Faux Hawk Updo
We all know about the mohawk but what about the faux hawk? This is basically the best way to get the mohawk style without having to cut or shave your sides. To get this faux haw look, separate your hair into as many strands as you want and then twist and place them from the front all the way down to the nape of your neck.
20. The Bohemian Waves Hairstyle
Hippie girls and everyone else, for that matter, will surely want to see some pretty boho prom hairstyles for long hair. Our advice? Don't sweat it and just style those long locks into loose boho waves and wear them brought forward and over the shoulders.
21. The Side Swept Hairstyle
The beautiful Amanda Seyfried can serve as major style inspiration for all ladies. Here she is wearing her hair in loose waves swept over one shoulder.
22. Hollywood Glam Prom Hairstyle for Long Hair
Old Hollywood glam hairstyles like the one in this picture are another great source of style inspiration. Be Red Carpet ready and channel a vintage look by going for a set of very loose finger-style waves.
23. The Side Braided Ponytail
Simple yet so pretty, to get the look, just braid your long tresses using the braiding style of your choice – this is a Dutch braid, for example – and then sweep it over your shoulder.
24. Elegant Half Up Half Down Prom Hairstyles for Long Hair
Combine the beauty of a half-up, half-down with that of a ponytail and get the stunning hairstyle from this picture. For some extra style points, go for a bouffant look for the front and crown part of the head and curl the hair for a wavy effect.
25. The Knotted Ponytail
Another way to spruce up a ponytail is by going for a twisted or knotted look. This one, for example, is knotted in a triple row in two columns. The rest of the pony was teased for a slightly messy effect.
Conclusion
As you've seen, there are many prom hairstyles for long hair that you can wear and many of them are also easy to do at home. Our pro tip is to decide on at least two and then make them several times so you'll be sure you got them right for the big night.
Now that it is all said and done, which of these styles drew you in the most?
YOU MAY LIKE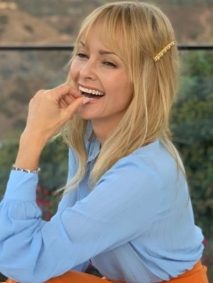 December 30, 2020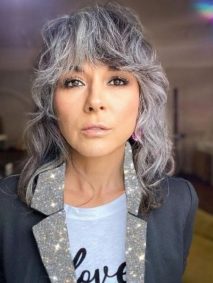 February 22, 2021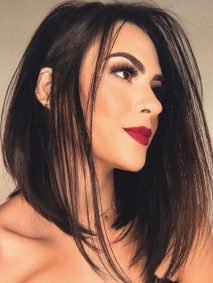 May 27, 2020