Throughout time blonde hair has been associated with sweet, angelic women but in modern days we know that hair do for blonde hair can be anything from fun and flirty to seductive or very classy elegant styles. In this article we gathered 4 major categories of hairdos, starting with iconic celebrity looks that are always a source of inspiration for the rest of us!
I. Celebrity Hairstyles For Blonde Hair
1. Jodie Comer's Golden Messy Blonde Hair Do
These messy long curls with side-swept strands make the most out of Jodie Comer's golden tresses and go great as a day look or at a special event!
2. Emilia Clarke's Romantic Hairstyle For Blonde Hair
A precious headband studded with colorful sequins and chandelier earrings is the perfect accessory for blonde bright braids that you can gather in a messy updo at the back of the head if you want to recreate this look!
3. Naomi Watts Chopped Blonde Bob
This Long Bob Hairstyle can be easily recreated and it will always be as goorgeous as it is on Naomi Watts. Also, the talented actress rocks these blonde, medium-length chopped locks with confidence to prove that when it comes to hair sometimes less is more!
4. Cara Delevigne's Short Textured Bob For Blonde Hair
Short chopped bobs are great looking when mixed with strong eye makeup and dark eyebrows that will increase the shine in your blonde locks! You can use a bit of hair wax to arrange the longer strands for a sleek effect just like the model's hairstylists did!
5. Cara Delevigne's Slick Back Blonde Hair Do
Men and rockstars usually sport this messy hairstyle but you can pull it off as well. If your eyebrow game is not as strong, you can choose to highlight your cheekbones or your lips like Cara does in the photo below!
6. Jodie Comer's High Messy Bun Hairstyle For Blonde Hair
Long gone are the days when Red Carpet events meant perfectly polished hairstyles! There is nothing more fascinating than a combination between a messy bun and a cool Smokey-eyes makeup. This look is a great mix of low-maintenance and high-maintenance elements that we keep falling in love with!
7. Cara Delevigne's Short Spiky Silver Pixie
Every woman should enjoy the freedom brought by short pixie cut once in her lifetime. If this daring look doesn't convince you, we don't know what it will!
8. Helen Mirren's Short Feathered Blonde Hair Do
These cute delicate feathered layers prove that short hair can have so much versatility and volume with the right haircare and they are really easy to obtain if you have a small rotating brush.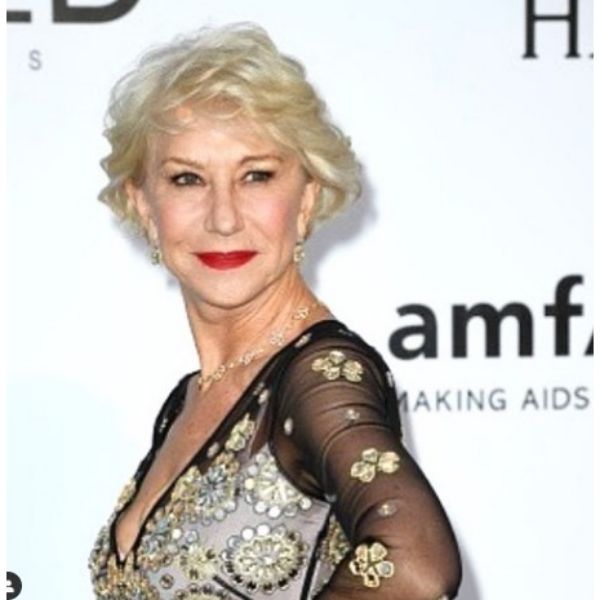 9. Gwyneth Paltrow's Sleek Straight Hairstyle For Blonde Hair
These face-framing blonde highlights bring extra luminosity and shine to these straight locks, drawing attention to the eyes and statement earrings!
10. Kim Kardashian's Blonde Hairstyle For Medium Long Hair
This seductive look is all about the contrast between dark-colored eyebrows and perfectly bleached blonde strands that bring a luscious, heavy look to your tresses.
11. Carrey Mulligan's Flapper Hairstyle For Short Blonde Hair
This is one of the iconic looks from The Great Gatsby movie that the British actress rocked and you can try it too for a special occasion if you have short thin hair.
12. Ellen Pompeo's Wavy Hairstyle For Blonde Hair
These medium long, subtly layered golden locks make a great pair with the natural makeup and the thick structure of the actresses' hair! What a cool appearance!
13. Candice's Glam Hairstyle For Blonde Hair With Falling Strands
Candice Swanepoel's blonde tresses are as famous as her amazing body and you can recreate this look with a curling wand after pulling it at the back in a small bun. Use a bit of hair spray to add extra-shine.
14. Jodie Comer's Sleek Elegant Updo Hairstyle For Blonde Hair
No better way to impress at a Red Carpet event than with this super stylish look that makes Jodie ooze confidence and elegance. You can replicate this look with a pair of diamond earrings and by using a shine hair spray to arrange the strands as neatly as possible around the scalp.
15. Rosie Huntington-Whiteley's Loose Ponytail For Straight Blonde Hair
This flawless ponytail with a super straight thin side part is prone to make your face the main element and it can match any type of outfit! Relaxation and elegance are brought together for a super feminine and fluid hairstyle for blonde hair!
16. Gisele Bundchen's Sun Kissed Hairstyle For Blonde Hair
The Brazilian supermodel shows how to rock sun-kissed highlights for blonde hair with a negligent wavy hairstyle that will totally give your appearance that feminine touch!
17. Paloma's Faith Glamorous Hairstyle For Blonde Hair
With a carefully carved fringe that frames the forehead bringing attention to the strong eye makeup and soft waves, this look is totally stunning and adds some of that old Hollywood glam to the British singer's look. If you ware looking for similar styles, make sure to check our list of easy hairstyles for long hair!
18. Olivia Wilde's Short Wavy Bob Hairstyle For Blonde Hair
Chic meets casual with this wavy bob that complements your facial features and has enough volume and dimension to still look really fresh and delicate!
19. Charlize's Theron Soft Bob Hairstyle For Blonde Hair
This combination between a bob haircut and a medium length wavy hairstyle is perfect for toning down a little the voluminous blonde tresses that could eclipse the beautiful features of Charlize's face and it's a cool example of effortless hairstyles for special occasions!
20. Dove Cameron's Sleek Wavy Hairstyle For Blonde Hair
If you are born with a generous amount of hair, you can always draw inspiration for a special occasion from this sumptuous, sleek hairstyle with impeccable waves and a straight middle part to get a modern Disney Princess look!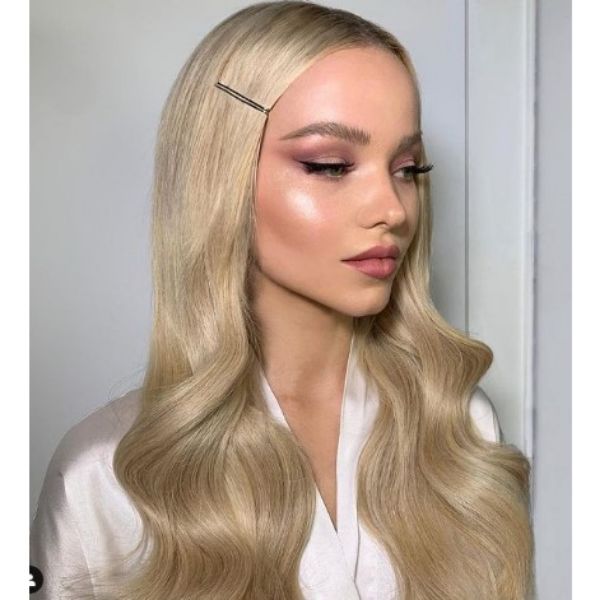 II. Short Medium Hairstyles For Blonde Hair
21. Short Bob With Subtle Feathered Layers For Silver Blonde Hair
While this cold shade of blonde brings a classy, elegant note, the added soft superficial layers added on top make this bob a very flirty and fun silver hairstyle that is also super practical thanks to its length!
22. Wavy Chopped Bob Hairstyle For Bright Blonde Hair
This super modern look is what the actual trends are all about in the hair business at the moment. Go to your favorite salon and ask for a medium length bob with subtle waves and get ready to enjoy super freedom and volume for your tresses!
23. Monroe Style Bob For Blonde Hair With Subtle Waves
So simple yet so sophisticated this "Monroe"-like hairdo can be obtained in two different ways. You can simply curl the tips of your chin-length silver-blonde bob to get that silky smooth texture or you can work with a bigger length as well by twisting the strand inwards around your neck. The effect will be the same and you won't have to chop your hair off!
24. Glamorous Bob Hairstyle For Blonde Hair With Sparkling Hair Pin
Sparkle, sparkle! We can never have enough of it when it comes to a special occasion and these delicate blonde tendrils look stunning when straightened and chopped to reach shoulders level. Adding a big pearl-embellished hairpin on one side will draw the focus towards your eyes.
25. Side-swept Bob Hairstyle For Silver Colored Blonde Hair
This amazing shade will perfectly match your silver-colored jewelry and accessories plus it adds an instant boost of light to your appearance! Super stylish!
26. Shiny Wavy Blonde Bob With Blunt Cut Ends
We love this sandy shade of blonde that brings delicacy and femininity to your wavy haircut while the blunt cut ends make it look modern and make it gain shape and movement instantly!
27. Short Chopped Bob For Icy Blonde Wavy Hair
Although it's a very high-maintenance hair color, this type of icy blonde shade will make the greatest impact on how you look and you can play with strong shades of makeup and clothing to create a strong contrast!
28. Straight Long Bob Hairstyle For Blonde Hair
This soft, feminine look with subtle balayage for the halfway down part of the hair looks wonderful with or without the minimal styling done to the tips that make a slightly curvy shape for the front strands.
29. Short Asymmetric Bob With Peach Pink Highlights and Gold Leaf
For those ultra-eccentric girls, we found a blonde hairstyle to match! This asymmetric bob with golden particles applied towards the tips makes a great stunning impression no matter the angle that we look at this hairstyle! So much shine!
30. Straight Long Bob Hairstyle With Colorful BobbyPins
Super shiny smooth blonde hair and neon-colored bobby pins are a super trendy, stylish look and super easy to replicate once you find the perfect color combination for you!
31. Long Wavy Bob With Subtle Balayage
If your hair has a coarse texture, this medium length chopped bob with big waves and a soft middle part is the best way to rock an effortless look ready within minutes!
32. Soft Bob With Beach Waves Blonde Hair Do
If your hair is on the thinner side, mixing these soft waves with a messy hairstyle will totally increase your natural volume and bring a cool texture to your locks without having to apply styling products!
33. Wavy Bob Hairstyle For Bright Blonde Hair
Make the most out of your blonde locks with this short wavy bob that will enhance your hair's natural volume to an amazing level! Who said you can't get this for your locks?
34. Long Bob Hairstyle For Blonde Hair
Flirty meets business with this bright choppy bob cut for blonde hair with a wavy structure that will make your appearance stand out in a crowd! Use as much hair spray as you wish to increase that volume!
35. Short Straight Bob With Middle Part
Either you create a fake bob or you wear hair this short, you can straighten it and comb it really well to obtain a flawless bob shape that will match the flawless blonde shade!
36. Short Messy Pixie Hairstyle For Blonde Hair
Short hair may seem low-maintenance but actually, you need a bit of skill to create this pixie haircut if you opt for a hair wax to arrange the top hair part while combing the sides and add a cool lipstick that will counterpart the masculine outfit! So stylish!
37. Short Flow Haircut For Silver Blonde Hair
If you are a fan of '80s inspired hairstyles this flow haircut will definitely suit your tastes! Washing your hair every two days and blow drying it will help you maintain that awesome level of volume.
38. Flawless Medium Long Blonde Hairstyle With Swoopy Bangs
These side-swept bangs look wonderful and are the central element of this long hairstyle for straight blonde hair that will subtly accentuate your eye makeup and frame your face!
39. Sleek Back Knot Hairstyle For Blonde Hair
Moving to a more futuristic look, these metallic shades of blonde are highlighted with a simple half knot that exposes your hair's gorgeous shiny texture! Make sure to secure it at the base of the nape with a transparent elastic band for a flawless appearance and add hair wax to increase the shiny wet look!
III. Long Hairstyles For Blonde Hair
40. Sleek Straight Blonde Hairstyles For Blonde Hair
Look like a modern Rapunzel by straightening your blonde locks and arranging them around your shoulders. This look is a favorite go-to hairstyle suited for any casual or elegant outfit!
41. Long Feathered Hairstyle For Blonde Hair
Once you achieve this perfectly neutralized blonde color with the help of a hair colorist, all you need is a couple of layers that you will brush and arrange to stay away from your face and a sparkly pair of earrings for a perfect diva look!
42. Half Updo With Knotted Strands For Blonde Hair
For this blonde hairstyle, you will need a couple of bobby pins to make sure that the knotted strands stay in place once you secured them at the back of the head and a curling wand to shape the rest of the hair. Boom! You are ready to conquer the world!
43. Blowout Hairstyle For Blonde Hair
One of the easiest to achieve and arrange hairstyle if you have long straight hair is a classic blowout that looks gorgeous thanks to its amazing volume and classy timeless elegance!
44. Romantic Waves Hairstyle With Deep Part
Flaunt your beautiful bright blonde strands with a voluminous romantic hairstyle that will amplify your hair's volume to a fantastic level! Go for a deep side part to highlight that volume even more!
45. Medium Long V-shaped Hairstyle For Silver Blonde Hair
This fantastic haircut is totally cool once you straighten it and brush the hair around the shoulders to expose that beautiful blend of bright cold blonde tones and dark ashy gray roots! Stylish!
46. Wavy Medium Hairstyle For Blonde Hair
Playful curls will never go out of style and you are sure to rock this medium wavy haircut if you have thick hair! Simply opt for a couple of face-framing curls to obtain a cute doll look!
47. Swept Back Hairstyle For Silver Blonde Hair
Silver-blonde hair has that ultimate shiny aspect that makes it surreal no matter which way you style it! Sometimes opting to comb it on the back and let its natural wavy hair texture show is a chic quick hairstyle!
48. Relaxed Medium Beach Waves Hairstyle For Blonde Hair
Once you got your blonde locks trimmed to a pass- shoulders length, you can opt to add a few relaxed beach-waves and fixating hair spray to achieve this beautiful texture and loose negligent look!
49. Soft Blonde Hairstyle With Feathered Layers
Delicate, thin layers of blonde hair free-falling around your face are extremely beautiful and will only enhance the perceived depth and texture of your blonde locks if you arrange them with a brush and a blow-dryer!
50. Soft Feathered Long Hairstyle For Beige Blonde Hair
Same haircut, different styling, and the results are equally hypnotizing! These feathered long bangs will bring that mysterious note to your face without any additional effort! Simple, right?
51. Long Textured Curly Hairstyle For Blonde Hair With 90's Hair Clips
We know how much of a struggle can be to discipline wavy curly hair but you can fix that by adding 4 big hair clips that will help keep the hair in one place on the side of the head while leaving the rest untamed!
52. 70's Style Long Retro Hairstyle For Blonde Hair
Long hair can sometimes become flat because of its weight but you can tease the crown area and get this gorgeous 70's inspired look that will bring your volume back to normal! Adding a couple of wavy curls will help you shape its length too!
53. Long Swoopy Layered Hairstyle For Strawberry Blonde Hair
This wonderful long layered haircut requires minimal styling efforts but the result is stunning nonetheless! Simply add a couple of long strands around the face to create these swoopy, negligent waves, and head out the door!
54. Medium Long Choppy Blonde Hair Do
A chopped, straight haircut with a thin middle part is the best way to balance that gorgeous silky smooth texture blonde hair has. Let the color do the rest of the magic for your looks!
55. Curly Long Hairstyle For Blonde Hair
The best way to add shape and a playful girlish note to your blonde hairstyle is to curl a couple of strands from under the ear and let them fall around the shoulders while keeping the crown strands straight and away from the face!
56. High Half-Ponytail Hairstyle For Blonde HairI
If you aim to flaunt your gorgeous beige blonde locks with confidence, this look is a must-try! Section the crown strands and bring them together at the back of the head to create this stylish half-ponytail. Use a separate hair strand to cover the elastic band. Check these 100+ Easy Updos for Medium Hair ready in a minute for more quick, stylish looks!
57. Christmas Themed Half-up half-down Hair-do For Blonde Hair
Welcome the Christmas season with a cute hairpin that you will use to fixate the hair on the sides on the center back of the hair while opting for a straight texture for the rest of the hair! Get ready to receive compliments and extra gifts from Santa!
58. Knotted Bun Hairstyle For Blonde Hair With Falling Strands
The messier and fluffier the better! This swirly knotted bun can instantly turn your blonde locks into a stylish hairstyle that will dazzle everyone with its interesting unique shape! Leave a couple of free-falling strands around the face to complete the look and pull the crown hair up for a fuller, bigger volume!
59. Curly Hairstyle For Blonde Hair With Pink Ribbon
These cute golden ringlets of hair are looking fabulous on their own so adding a simple hair accessory will suffice for you to look amazingly sweet! Get ready to be showered with compliments!
60. Long Wavy Hairstyle For Blonde Hair With Thin Baby Lights
These sandy blonde long locks can totally look stunning if you opt for a wet look and soft waves that will highlight the beautiful blonde baby lights making you look like a real-life mermaid!
61. Medium Long Wavy Hairstyle With Thin Fringe For Blonde Hair
This every-day hairstyle will help you achieve a feminine appearance in under 10 minutes in those busy mornings you have while the fringe will draw attention to your eyes!
62. Messy Blonde Hairstyle With Voluminous Waves
Thin blonde hair can benefit from adding a texturizing spray to increase its volume after giving a good blow-dry to these gorgeous curls and leaving them to fall freely around your face and neck for an ultimate seductive look!
63. Long Blonde Hairstyle With Straight Full Bangs
This hairstyle will leave everyone speechless and help you achieve a cool frame for your face with minimal effort. Adding straight full bangs will add volume and weight to your hair while also make a cool contrast with the curls!
64. Hairstyle With Deep Part For Blonde Hair
Keep this trick in mind for when you want to expose the perfect blonde highlights in your honey blonde hairstyle: sweep the front strands on one side and you will instantly get this feathered effect that brings all the attention to your hair!
65. Western Inspired Hairstyle For Blonde Hair
The essential element of this look is of course the cowboy hat, but you can work with the strands as well to create different textures in your platinum blonde tresses!
66. Soft Layered Shag Hairstyle For Blonde Hair
Those who have naturally darker blonde hair can add more luminosity by opting for a money piece and wear the hair parted in the middle and gently curled for a long layered appearance!
67. Straight Long Hairstyle With Side Braid For Blonde Hair
If there is one word that could perfectly describe this hairstyle it would be "sleek"! These polished straight tresses will give you a seductive elegant allure while the side braid will help you get that sexy look for your hairstyle!
68. Long Silky Hairstyle With Soft Waves And Middle Part
This hairstyle will make your hair resemble a moving curtain thanks to the compact texture and soft side curls. All you need is a fixating spray to make it hold throughout the day!
69. Long Golden Blonde Balayage With Small Waves
Blonde hair colors no matter their shade can look wonderful if you opt to add a couple of small waves that will increase the beautiful volume in your hair making it look cool and feminine!
70. Casual Half Updo Hairstyle For Blonde Hair with Loose Knot
Both elegant and laid back, this loose knot can instantly give your blonde locks a unique look that you can maintain by fixating the strand at the back with small thin bobby pins and straightening the rest really well.
71. Long Straight Ashy Blonde Hairstyle With Soft Feathered Layers
Thin blonde hair can be made to look fuller with a couple of strategically cut layers and a darker shade of blonde added on the sides that will enhance the perceived volume.
72. Glamorous Waves Hairstyle With Side-swept Strands For Blonde Hair
Match a sparkling sequin dress with an equally shiny, perfectly defined curly hairstyle for blonde hair that will make your face and makeup steal the show!
73. Sleek Straight Low Ponytail With Ribbon Hairstyle
Casual meets high-elegance with this impeccable executed low ponytail that is perfectly straightened and tied with a dark leather ribbon for the best contrast you could ask for. Flawless!
74. Long Wavy Blonde Hairstyle With Ombre
Nothing hotter than a cool executed ombre for blonde hair that you can highlight by wearing your hair down and adding a couple of negligent waves.
IV. Braided Updos And Hairstyles For Blonde Hair
75. Half Ponytail Hairstyle For Long Blonde Hair
This precious golden shade of blonde is masterfully put on display with a high half ponytail tightly secured with a separate strand and perfectly defined curls that bring a playful note to this seductive look! Wow!
76. Loose Braid Tail With Orange Flowers
If you want to rock hair extensions, then a thick braided hairstyle with a loose texture will definitely do the trick! Adding some natural flowers is a great way of highlighting that perfect tail!
77. Small Texturized Ponytail With Golden Pieces
Make the most out of your medium-long blonde locks with this special hair accessory that combines pearls, golden hair cuffs, and shiny small golden chains, wrapped around the hair to create a hypnotizing effect!
78. Side Fishtail Braid Hairstyle For Blonde Hair
This loose side braid breathes relaxation and is the best way to keep a feminine look when you want to quickly arrange your hair in the morning and head towards a brunch with your bestie!
79. Classic Pigtails Hairstyle For Blonde Hair
Unlike other blonde braided hairstyles for long hair, these pigtails start at the front of the crown and follow the contour of the hair right under the ears where you can start bending them to stay put around the shoulders and create a perfectly symmetrical look.
80. Messy Knotted Bun Hairstyle For Blonde Hair With Vintage Hair Pins
Is there anything more satisfying to watch than this amazing contrast between dark blonde strands and vintage hairpins with their tiny crystals that give an instant precious touch? We dare say "no!"
81. Tinkerbell Style Bun For Long Blonde Hair
So chic and adorable at the same time! This Tinkerbell inspired look has a cool side-swept fringe and long face-framing pieces that will elongate your face and bring the focus towards the eyes! Wow!
82. Messy Hairstyle For Blonde Hair With Knotted Scarf
For those days when you crave a splash of color in your hair, a colorful, vintage scarf will do the trick for your blonde tresses! Simply braid it into your hair updo and tie in a knot at the base of the nape to create a cool pattern.
83. Braided Hairstyle For Blonde Hair With Small Buns
This hairstyle is best suited for a school-day or a walk in the park and you might need help when you first try it so that you achieve a perfectly texturized braid.
84. Sleek Straight Ponytail For Blonde Hair
Putting your hair in a low ponytail is a good idea for those who want to flaunt their blonde platinum locks and you can pull a couple of shorter strands out to achieve the same negligent chic hairstyle.
85. High Bun Hairstyle For Blonde Hair With Golden Hair Pins
Take your daily messy bun look to the next level with these golden hairpins carefully arranged in a cool V-shaped pattern that will serve both a practical and fashion purpose!
86. Modern French Twist Hairstyle For Blonde Hair
This futuristic look is a French twist adapted for a long blonde hairstyle you can try and recreate with the help of a hairstylist and get ready to impress everyone on a special occasion.
87. Blonde Low Ponytail With White Scrunchie
All hail for the return of the Scrunchie! This popular hair accessory in the '90s is the perfect elastic band you can use to get a feminine ponytail without damaging your hair's structure!
88. Knotted Bun Hairstyle For Blonde Hair
For those more elegant days, you can try this knotted bun and opt to leave out a couple of front strands to add a more relaxed note to your hairstyle.
89. Simple Ponytail With Knotted Scarf And Falling Strands
If you want to upgrade that basic low ponytail to a different level of awesomeness, a small headscarf will be the right accessory you can add to create a unique look!
90. Intricate Pigtails For Blonde Hair
We must admit it! You can try to replicate this look at home, but it's actually a hairstylist's masterpiece and it will be hard to achieve this precise definition and neat braiding pattern! A girl can dream though…
91. High Curly Ponytail Blonde Hair Do
Pull all the hair in a high ponytail and tightly secure it above your head to get the maximum volume possible! Take a curling wand and create a couple of curls to obtain this beautiful ponytail for your blonde locks! Stunning!
92. Sleek Elegant Bun Hairstyle For Blonde Hair
This hairstyle suits those with a thin hair structure best since it can be coiled in a perfectly sleek bun that will stay fixated at the base of the nape making your look as elegant as possible!
93. Braided Bun With Gold Colored Accessory Hairstyle For Blonde Hair
If you crave a Boho-inspired hairstyle, this half-braid, half-bun updo is a cool option that you can decorate with a golden hair clip to add a romantic touch and create a cool contrast with your blonde locks.
94. Blonde MilkMaid Braids Hairstyle
To add more volume and texture to your long blonde hair you can always count on a classic hairstyle to do the trick for you! These milkmaid braids paired with front falling pieces will be a perfect modern look that you can try!
95. Stylish Messy Bun With Falling Strands
Many have tried but few have mastered the art of creating the perfect messy bun! The key to achieving this effortless style is to use hairpins that will hide the fly-aways and make sure to pull the shorter strand in the front out so that you get this relaxed hairstyle.
96. Bubble Ponytail Hairstyle For Blonde Hair
With or without the multitude of hair accessories, this bubble ponytail is a great alternative for the low ponytail that has become all too common in this era. To replicate this look, start by pulling all your hair in a ponytail and then add a couple of transparent elastic bands to make sure you get the small bubble shape.
97. Retro Shag Hairstyle For Blonde Hair
Wispy bangs are one of the major comebacks in hairstyle and this medium length shag haircut is the way to achieve a uniform volume and width for your gorgeous blonde tresses.
98. Mermaid Fishtail Braid Hairstyle For Blonde Hair
To get this voluminous messy mermaid fishtail you might want to practice beforehand a couple of times and also add some hair extensions that will amplify your hair's volume.
99. Ultra-messy Bubble Ponytail Hairstyle For Blonde Hair With Succulent Flower
Nothing looks as spectacular and show-stopping as this incredible bubble ponytail with messy strands and face-framing pieces. You can leave out the succulent flower or replace it with a ribbon or other type of hair accessories if you want to make it more practical.
100. Giant Bun With Falling Strands Hairstyle For Blonde Hair
If you have a generous amount of hair you can always pull it in a gigantic bun at the base of the nape and leave a couple of front strands out to frame your face. Both quick and stylish, this hairstyle is here to stay!
101. Sleek Loose Ponytail For Blonde Hair With Headscarf
We fell instantly calm and ready for a long weekend when we see this loose low ponytail for straight blonde hair. Use a longer headscarf to cover the elastic band so that the effect is equally stylish for your look as well.
Conclusion
From choppy, modern bobs, to sumptuous retro wavy hairstyles or messy layered cuts, the options of blonde hair do we found are simply infinite! We hope you got a taste of what it actually means to rock blonde tresses and you will give a try to any of these amazing looks!