30 Stunning Braid Hairstyles for Long Hair
Welcome to the wonderful world of braid hairstyles for long hair! To get you better acquainted to the many beautiful ways you can braid your hair, we've put together lists of the different types and styles of braids and gathered them in a single place, for your convenience! So scroll and discover the prettiest Caucasian and Afro-American braid styles as well as the many ways to wear them!
I. Caucasian Braid Hairstyles for Long Hair
1. The Simple 3-Strand Braid Hairstyle
The first entry on this guide to the various braid hairstyles for long hair must be the simplest of them all and the one braiding style that everyone will learn or just simply knows! Just take a strand of hair, divide it into three, and then simply braid the leftmost strand over the central strand, then the rightmost locks over the new central ones, repeat, and that is it!
2. French Braid Hairstyles for Long Hair
Now that we've all got our first taste of braiding hair and basically learned its basics, it's time to move on to the famous French braid. Although it looks slightly more complicated than the traditional 3-strand braid, it is quite easy to make and based on it. You will need to separate a thicker strand of hair that you will then start braiding in the classic way. However, after a few rows, you will start incorporating the free hair into the French braid as well.
3. Dutch Braid Hairstyles
The even more complex-looking Dutch braid is nevertheless just as simple to make once you've mastered the French braid. Why? Because you will be using the same braiding technique only instead of braiding over the strand, you will be crossing the strands under. The Dutch braid is also called "the reverse French braid" for reasons simple to understand once you've learned how to do a Dutch braid.
4. Reverse Braid Styles
The eyes are not playing tricks on us as this is, in fact, a Dutch braid, but this style is most commonly referred to as a "reverse braid". Most reverse braids are usually made using the French or Dutch braiding techniques, but some have tried doing reverse fishtails as well, for example.
5. Fishtail Braid Hairstyles for Long Hair
Fishtails might just the be the best braid hairstyles for long hair to save you on a hurried morning when those locks aren't as fresh as you'd want them to be. After all, as anyone will agree, the messiness is part of the beauty of a fishtail braid.
To make a fishtail, you will have to divide your hair in two thick strands. Then, take a thin strand from the left section, and cross and incorporate it into the right section. After that, repeat the action with a thin strand of right hair taken to the left side. Continue alternating sides until you've reached the end of the hair.
6. Pull Through Braid Hairstyles
There's nothing easier to do than a pull-through braid which, as you'll see, involves no actual braiding. You will be working with a series of high ponytails. After two of them are in place, you will have to split pony 1 into two sections and then pull ponytail 2 through them. Seems tricky? There are many tutorials and step-by-step guides to help you conquer the pull-through braiding technique.
7. The 4-Strand Braid Hairstyle
After many quick, simple, and fast braiding techniques, we are presenting you with a braid style that will require a bit more patience and nimble fingers. A 4-strand braid is a sort of 'weaved' braid as to achieve it, you will be weaving a strand of hair over two strands.
To put it simply, after separating four strands of hair, take the outermost right one, cross it over the innermost right hand and then under the innermost left strand, and leave it there. Repeat the some motion, but from the left to the right.
8. The Rope Twisted Braid Look
Moving on to ever more complex braid hairstyles for long hair (at least in appearance) know that the rope twist braid or simply rope braid can be beautifully worn by ladies with bangs too. We recommend reserving some time when you first try it out and also following a great rope braid tutorial (such as this one).
9. The Dragon Tail Braid
The name is self-explanatory but, before getting scared of it, know that the so-called dragon tail braid is actually based on the pull-through technique. This style never quite reached the trend status some predicted for it, but it is undoubtedly an edgier look – perfect for a special occasion.
10. Braided Pigtails
Last but not least for this section, we're ending with a sneak peak at what is still to come. After all, braided pigtails bring the magic of braids to one of the simplest and cutest hairstyles associated to childhood: pigtails. Nonetheless, nowadays, you can sport pigtails and do it style even (or especially) as an adult.
II. African American Braid Hairstyles for Long Hair
1. Cornrow Hairstyles
We are now stepping into the wonderful world of Afro-inspired braid hairstyles for long hair and the first entry must be about cornrows. This is a complex looking braiding technique that comes with a load of benefits. Cornrows are a great way to protect natural hair as it is growing out and also help the locks revitalize after heat damage. Did we mention that they are fun and cool-looking too?
2. Box Braids Hairstyles for Long Hair
Box braids are yet another extremely useful and chic protective hairstyle that have also been going through a style comeback and revival. Know that they are made using hair extensions and we'd recommend asking for professional help. Also, read informative articles to find out all there is to know about them, especially if it is the first time you are trying out this hairstyle.
3. Yarn Braid Hairstyles for Long Hair
What you see (and read) is what you get and yes, as the name points out, these are, indeed, braids made with yarn. Apart from being protective, one cool thing about them is that you will not have to use hair extensions, per se. And seeing as they are made with yarn, these braids can be as colorful as you want them to be – and without damaging the hair either!
4. Goddess Braids
Goddess braids hairstyles for long hair are a must-know and one of the first things you will discover is that they can be done on both natural hair or with weaves. Another thing is that they are cornrow-like braids – because they too are made very close to the roots – but they are generally thicker than cornrows. As with their sister braids, they too can be styled in many different ways.
5. Ghana Braids
Ghana braids have several names as you will also find them listed as straightbacks, Cherokee braids, or even Banana braids. They are usually made using hair extensions that help give them more thickness. That is one of the main differences between them and the traditional cornrows technique used in making them.
Ghana braids have a long history behind them and were usually made straight. Still, nowadays, you can also get them in zigzag or curved patterns, for example.
III. Braided Updos for Long Hair
1. Crown Braid Hairstyles for Long Hair
Now that you have seen the many and various braiding techniques, it's time to take a closer look at the pretties braided updo hairstyles for long hair. First up, the beautiful and expected crown braid style. There are many ways to make a crown braid so we recommend testing them out to see which you like best.
2. The Milkmaid Braids Style
A braided updo that has been making a comeback, milkmaid braids are now so popular that they've made it onto the Red Carpet! Simple yet intricate, you will have to separate two section of hair, braid them, and then bring them together on the crown of the head and pin them one under the other. Once you've mastered them, you can also try going for double 'crowns'.
3. The Braided Bun
Take the classic bun up a notch by braiding it! There are several ways to go around this as you can choose to braid all the hair and style it into a bun. Or, you can start with a ponytail base, braid it up in the preferred technique, and then finish it in a bun.
4. Braided Space Buns
We've discussed braided pigtails but what about braided space buns? This is yet another hairstyle that went from festival fun to everyday enjoyment and one of the best things about it is that it is as versatile as it gets and also as fast. As with the style above, you can either braid just the buns or start from braids that you then style into double space buns.
5. Bun and Braid Hairstyle
While the braid hairstyles for long hair from above were more about fun and games, this bun and braid style is all about elegance and refinement. The hairstyle goes to beautiful combine a perfectly executed French braid – styled in crown-like fashion – with a low and elegant nape-level bun. The thin, face-framing strands help complete and finish the look.
IV. Half-Up Braid Hairstyles for Long Hair
1. The Waterfall Braid Look
On this four and final section, we'll be showing you several half-up, half-down hairstyles that will of course include braids. The waterfall braid is the first such style (and an impossible to miss one). There are many tutorials and articles that can help you make a waterfall braid, this romantic and yet simple to achieve look.
2. Half-Up, Half-Down Braided Crown Look
While once upon a time the crown braid gathered up all the hair, in recent times, hairstyle trends have been more on the loose, messy, and casual side. So in comes the more everyday version of the crown: the half-up crown braid. The lady in this photo is sporting a messy yet beautiful double Dutch braids crown while the rest of the hair is flowing free down her back.
3. Half Updo with 6-Strand Braid
You've seen 3-strand and 4-strand braids, but how about 6-strand ones? That's right, this photo not only goes to show a beautifully loose 6-strand, but also how it can be worn in a half-up do. Once you've learned how to braid a 6-strand, play around with it yourself!
4. Loose Boho Braids
Both braids and long hair are elements traditionally associated with bohemian or boho hairstyles, and this photo shows one of beautiful ways to combine them. This French-style braid is so loose and messy, that it can just as well be categorized as a half-down style.
5. Half Braided Ponytails
Why go full braid when you can stop at the middle and get a whole new look? Instead of braiding all the hair in the technique of your choice, stop just as soon as you've reached the neck and let the rest of the hair flow free, ponytail-style.
6. Side Braids Hairstyles
While many will consider braiding all the hair or playing around with braided updos or half-up braids, also take into account that you can incorporate slimmer, thin braids into the hair. Take this gal, for example, as she proudly sports wavy slightly messy hair styled with just one braid on the left side of the head.
7. Braided Top and Loose Hair
Braided pigtails are one thing, but why not braid only the hair on the very top of the head? After creating the three braids on top, unite them in a very high ponytail on the crown of the head. Tease up the pony for a bit of extra volume and leave some strands free for a faux-messy look.
8. Braided Fauxhawk Look
The fauxhawk is the perfect solution for gals looking to get a mohawk-style look but unwilling to shave off the sides of their sides. Take things up a style notch and braid the fauxhawk as intricately as possible – see how well this showcases the various highlights in the hair too!
9. The Mermaid Braid
Oh so intricate but actually so simple! To make a mermaid braid, especially the first few times, you will need time and patience – but things will be a breeze once you've got the hang of it. After all, this hairstyle uses just one actual ponytail while the rest are all ponytails and twists!
10. Braided Half Ponytail Hairstyles for Long Hair
Similar in making to the half braids we presented a bit earlier on, but with one major difference: the half-up updo. These pull-through half braids also end at neck level but, contrary to their hair encompassing counterparts, the rest of the hair falls free and wavy with this hairstyle.
Conclusion
After seeing so many great Afro-American and Caucasian-inspired braiding techniques, we've lost all our doubts regarding the versatility, utility, and overall beauty of braids. With so many techniques, it's no wonder that we have a world of braid hairstyles for long hairstyles to pick from. While these are our favorites, we'd love to hear which was yours, so let us know and let's chat. Just drop a comment!
YOU MAY LIKE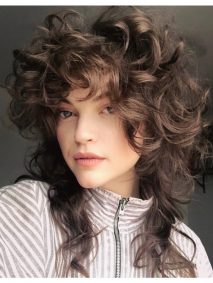 July 09, 2020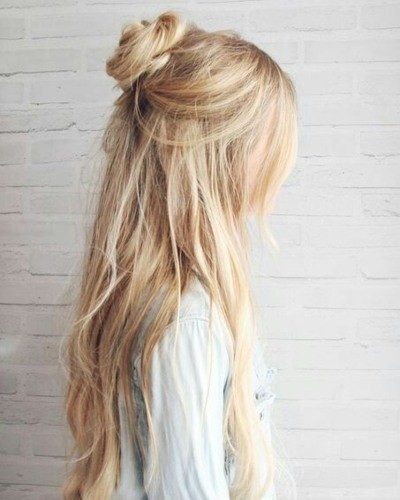 January 05, 2020