100+ Layered Hairstyles and Cuts for Long Hair
At one point in our lives, every one of us had a layered haircut, either we knew it or not. Layered cuts are a great way to add volume or to minimize it, depending on haircut and hair type. If you have thin hair, layers can bring extra-dimension, while on full, thick hair, layers can eliminate the excess and give a slim shape. Bellow, we prepared a 100+ list of layered hairstyles and we hope to get you scrolling through the end, where there are 20 different hairstyles appropriate for layered cuts.
I. Layered Cuts for Straight Hair
1. Long Thick Haircut with Medium Layers
Long hair requires layering for it to have a distinctive shape and frame the face and neck in style. These medium layers, perfectly cut and swiped in different directions create a beautiful pattern on hair's length.
2. Long Layers for Straight Extra Long Hair with Highlights
Past-shoulder layers made the silhouette of this extra long, thick hair, look sleek and silky and way slimmer than before the haircut. Who knew there was also color underneath all that hair?
3. Long Layers for Ginger Wavy Hair
Thick hair can benefit the adding of layers to your haircut, in this case, in the lower half of the hair which makes it look fuller in the crown area.
4. Shaggy Layered Haircut for Long Dark Hair
This long shag haircut with thick horizontal layers is a beautiful way to display all that gorgeous hair, with curtain bangs and thick short chopped layers that give a messy, chic look.
5. Feathered U-Shape Layers for Long Straight Hair
In this case, the layers are long and very thin, thus bringing volume and a feather-like texture and shape to this beautiful brown fine hair.
6. Long Messy Layered Hairstyle for Straight Blonde Hair
Long thin layers create a shift in the length of your tresses, thus giving a surprise to the onlookers and also displaying the beautiful shades of blonde.
7. Long Wavy Layers for Dark Blue Long Hair
These soft beach waves hairstyle gets a major help from the long layered haircut that creates textured ends and beautiful small waves to for this dark blue mane. The middle part styling is also very elegant.
8. Feathered Short and Long Layers for Fine Blonde Hair
Perfect soft feather-like layers bring dynamism to this medium-long haircut, that has both short layers surrounding the crown area and longer ones for an uneven, stylish look.
9. Stick Straight Layers Hairstyle for Rose Pink Hair
Blonde fine hair can be styled very easy with the help of layers in the front side, that create this beautiful visual effect, from shorter to gradually longer strands of hair surrounding the face and cleavage and straight cut ends.
10. Long Cut Layers Hairstyle for Long Ombre
Luscious, thick, straight hair can be enhanced by adding long and short layers that keep the split-ends away from your pretty locks and display the full colors of a ombre for brown hair! Magnificent!
11. Long Shaggy Layers for Wheat Blonde Hair
This wheat-blonde long mane benefits from long layers being cut in its length since they create a shape while keeping the messy shaggy aspect of these thick long locks.
12. Crimson Layered Haircut for Straight Hair
Beautiful layers bring extra depth to your intense color such as this crimson red that is enhanced by the volume of the layers and straight bangs.
13. Long Layers and Wings for Straight Balayage Hair
The long layers play well together with the long-winged bangs that are side swept in this hairstyle for framing the whole face in a nice shape with defined edges and blunt straight ends.
14.Messy Shag with Long and Short Layers
Straight razor-cut layers and short trimmed bangs bring an edgy look to this haircut that is suited for straight thick hair.
15. Sleek Long Layers for Straight Brunette Hair
Subtle long layers were added to this straight haircut with a side part to enhance the shine and texture of this beautiful sleek brunette mane that was also straightened using a flat iron.
16. Thick Feathered Layers for Long Straight Hair
Watch your hair unfolding in a beautiful cascade of locks with the help of long layers haircut and a bit of curling for your ends. Perfect for maximum of volume!
17. Extra Long Layers for Long Balayage Hair
All the layers in this haircut start past- shoulders, hence it's safe to say you need very long hair to pull this Rapunzel look out, or you can add extra-inches by straightening your hair after cutting the layers or use hair extensions.
18. Straight Long and Short Layers with Asymmetrical Bangs
Getting a shag haircut is a great way to enjoy layers both long and short for your mane. The asymmetrically cut, short straight bangs bring the attention to the eyes and face.
19. Long and Short Layers for Extra Long Hair
Same haircut, different hair type usually means a whole different look! And this long and short layered cut brings a shaggy, voluminous aspect to this long brown hair.
20. Silver Colored Layers for Straight Dark Hair
For covering gray hairs, that usually don't grow uniformly, add silver-gray layers that will give volume and shape to your long tresses and also make those gray hairs way stylish than before rocking this hairstyle at any age.
21. Thin Long Layers for Straight Long Hair with Bangs
Subtle thin layers were added on the length of these golden locks to give it an even longer appearance and the bangs are cut in the same manner so that they blend with the rest of the hair.
22. Long Silky Layers for Straight Brown Hair
Circular, long layers were cut to give this wavy look for straight hair without curls! The final look is so fluid, smooth, perfect for an elegant occasion!
23. Long Layers for Shag Haircut
Long layers that were trimmed to slim and eliminate the excess of hair in this shag haircut make the hair look fabulous and stylish, especially due to the balayage technique highlighting the length of this mane.
24. Feather Layers with Highlights for Straight Hair
The perfect combination between design and color, this feathered layered U-shape haircut for long hair looks fabulous with the blonde highlights.
25. Short and Medium Layers For Red Ginger Hair with Straight Bangs
This shaggy haircut transformed an extra-long, dull mane in a full-bloom red explosion of beautiful ginger hairs falling freely at different lengths and the added bangs bring a really visible improvement to the whole look!
26. U-Shape Long Layers for Long Black Hair
A great way to add shine and shape to a long haircut for straight hair is by adding U-shaped layers starting at neck level and downwards.
27. Wispy Multicolored Layers for Straight Hair
The pretty rainbow highlights applied to this dark-purple colored hair really make the layers pop out and catch the light.
28. Long Swoopy Layers for Straight Long Hair
Swiped back layers give a glamorous, shiny aspect to long straight hair, with a rather dull look. These gradually longer layers create a beautiful pattern and pair well with the subtle highlights.
29. Mermaid Green Ombre for Layered Straight Hair
Forest green and mermaid emerald tones play in this beautiful ombre for long layered haircut with subtle side bangs. It definitely suits thick type of hair.
30. Silver Balayage For Long Layered Haircut
A soft wavy cascade of layered tresses falling freely can hardly be competed and we believe this type of balayage matches any type of skin complexion and hair color.
31. Smooth Long Layers for Long Hair
Uneven feathered layers are a nice add to a long haircut for straight hair, especially when that hair is naturally smooth and silky, since the layering will only add to its shine.
32. Past Shoulder Feathered Layers for Straight Hair
Blonde hair is definitely helped to gain volume with feathered layers that will also frame the face and cleavage.
33. Wavy Long Layers for Straight Hair with Long Bangs
These long bangs reaching chin level are a great option if you don't like bangs in general but you also want to add a bit of shape and angles to your facial features.
34. U-Shaped Balayage for Layered Haircut
There is nothing quite like a U-shaped layering done right. In this case the ends are subtly waved and they resemble a delicate sea foam.
35. Middle Part Long Blonde Hair with Long Layers
Fine hair can benefit greatly from adding layers since it will add volume and shape to your locks and fan-out all the tresses, no matter the length.
36. Chunky Long Layers Hairstyle
A messy, random layered haircut with chunky strands of hair will give you a rock'n roll attitude and the hairstyle to match! Big WIN!
37. Long Straight Sleek Layers for Extra-Long Hair
Golden Mermaid Balayage for straight extra-long hair can be a good way to bring a bit of diversity in your looks and keep those ends healthy and monthly trimmed.
38. Past Shoulders Layers for Ginger Wavy Hair
Look like everyone's sweetheart with these bouncy playful layers that fan out and leave those ginger hairs to be admired and envied!
39. Subtle Ombre Layers for Medium Long Hair
These front layers make the ends have great texture and volume, making it a versatile haircut perfect for many hair up dos.
40. Luscious Horizontal Layers for Long Black Hair
These deep-cut horizontal layers bring this haircut to a whole new level of awesomeness and really make the best out of the length of this sleek straight black hair.
41. Cotton Candy Balayage for Thin Long Layered Hair
A beautiful pink shade is here displayed with the help of face framing layers and long feathered ones to reach the longer strands.
42. Beach Waves for Long Layered Blonde Hair
Nothing says laid-back more than a couple of loose relaxed beach waves for long layered hair with dark roots for a bit of drama.
43. Silver Blonde Ombre for Thin Layered Straight Hair
The layers of this haircut are so superficial and subtle we can barely tell they are there, but they sure add a it of texture to this ombre hairstyle.
44. Soft Past-Shoulder Layers for Straight Hair
Embrace the movement of your hair with these wavy ends added to long layers cut to adjust the shape of the mane. Relaxed and casual, perfect for an everyday look!
45. Long Layered Red Hair with Deep Side Part
Great choice for a lived-in color, this multi-layered haircut brings different shades and shapes to the straight hair, styled here with a deep side part that brings mystery.
46. Face Framing Layers for Shag Haircut
Tiny little bangs that will grow on the sides and face-framing layers were added to this long straight hair to give a bit more volume and dimension to the whole look.
47. Long Chunky Layers for Straight Hair with Bangs
Stick- straight uneven bangs for a grunge look and an uncommon shade of blonde make this haircut an exquisite one, perfect for layers with wavy lengths and straight ends.
48. Long Luscious Face Framing Layers for Brown Ombre
If your hair is naturally thick and full, these layers will take back some of that volume and give a nice neat shape to your mane so that it shines bright like a diamond and make you the center of attention when entering a room.
II. Layered Cuts for Wavy and Curly Hair
49. Swept-Back Ginger Red Hair with Long Wavy Layers
A pulled-back, sleek look for wavy long hair in a beautiful ginger red shade is enhanced by the wavy long layers applied to the haircut that bring much needed volume.
50. Wavy Layered Hair with Fuchsia Side Highlight
Adding an extra color can be a real game changer to the look of a layered haircut, in this case, the fuchsia colored highlight bringing diversity and novelty to the haircut.
51. Side Parted Wavy Hair with Layers
A deep side part done to your hair will enhance the volume and display all the layers applied to the haircut for a cascade effect that will leave onlookers speechless.
52. Messy Curly Layered Cut with Curtain Bangs
Layers and curls, what an amazing combination to boost your hair confidence! Waves and waves of free falling curls can be created with the help of a layered haircut and some styling using a blow dryer.
53. Messy Curls and Ombre Layers for Brown Blonde Hair
Extra long hair offers many hairstyle option due to the great length that was played with in this messy coiffure for ombre. While the crown is kept sleek and neatly combed, the rest of the hair was curled and teased up for extra volume and dimension. Exquisite!
54. Subtle Waves for Two Colored Layered Haircut
A spectacular mix of two complementary colors, light olive and dark orange, are here beautifully displayed with the help of short and long layers.
55. Curly Long Shag Haircut with Layers and Curtain Bangs
This lived-in red color is really enhanced by the buoyant curly layers cut from short to long levels and side- swept curtain bangs with long wings. Perfect Bridget Bardot style!
56. Wavy Long Layers for Shag Haircut
If you have bold jawlines, this shag haircut with big bangs swept on the sides will help you adjust the proportions of facial features and also the horizontal layered cuts will give a distinctive shape to your mane.
57. Long Layers with Curled Ends for Ginger Hair
Straight hair ending with bouncy curls is what this look is all about. A perfect way to celebrate your long locks is to add layers to your haircut and curl them up for a lady- like hairstyle!
58. Long Thin Layers for Copper Red Hair with Side Bangs
Gently waved bangs give killer-looks and display the beautiful copper red tones of this long layered hair. No matter the color, this haircut is very versatile and feminine.
59. Messy Wavy Short Layers for Long Blonde Hair
From short to long, this haircut has all the layers you can get! Face framing strands of hair and longer ones are styled using a curling iron to create wavy curls and texture for a pretty blonde mane!
60. Soft Waves for Long Layered Brown Hair with Subtle Highlights
This is a classic in terms of both hair color and haircut. We have a warm tone of brown with subtle balayage for a sun-kissed look combined with soft waves from half down, while the crown is kept straight. Romantic style at its finest!
61. Long Layers for Shag Haircut with Straight Bangs
Straight short bangs create an interesting contrast with the amped up, long messy curls of this beautiful black shiny hair that is both layered and curled up for maximum volume. Chic!
62. Voluminous Layers for Wavy Hair with Side Part
Luscious, shiny balayage hair with plenty of volume and beautiful shaped waves looks so healthy and sculpted that is hard to resist getting this hairstyle, although is not easy to maintain. The side part bring a twist to the whole look.
63. Soft Curls for Long Layered Blonde Hair with Blunt Bangs
A Bridget Bardot inspired look, this long layered haircut sports soft feminine frontal waves and a straight cut curtain like fringe which resembles the iconic bangs the french actress wore.
64. Curly Short Layers for Long Balayage Hair
Curls on point with short layers for a really curly mane that can go with a bit of help from a layered cut so that the hair is lighter and bouncier.
65. Soft Wavy Feathered Layers for Blonde Hair
Feathered layers are great for fine thin hair, adding texture and variety to your look, while the side-swept bangs are a great add to this hairstyle.
66. Rainbow Highlights for Layered Wavy Haircut
A great way to make your layered haircut really stand out is to opt for highlights in a contrasting color, such as these pink, purple and blonde strands mixed between brown locks of hair, that make a beautiful visual display for your tresses.
67. Beach Waves for Extra Long Layered Blonde Hair
A quick and easy hairstyle for your Rapunzel tresses is this beach-waves styling with minimum effort that will accentuate the different lengths of your layers and give you plenty of volume!
68. Long Messy Shag Haircut with Layers and Curtain Bangs
A long shag haircut has plenty of layered horizontal cuts to play with, that you can use for volume and separation and the curtain bangs in this particular case stands out and gives an authentic hipster look.
69. Frizzy Hairstyle for Long Layered Ginger Hair
A messy styling for easy-going curls will be a great upgrade for any layered haircut, in this case specifically bringing volume, shape and personality to a subtle ginger colored hair.
70. Chunky Curly Layers for Bleach Blonde Hair
The perfect babe-look exists and is this chunky haircut combined with a delicate subtle shade of blonde and partially curled for extra volume. This particular haircut allows for all the short and long layers to show.
71. Shaped up Curls for Long Layered Brown Hair
Perfectly shaped curls are a total killer for long layered hair and they are even prettier when styled in a symmetrical manner with a centered part and even curls.
72. Long Bangs and Wavy Layers for Blonde Hair
A Bridget Bardot inspired hairstyle for blonde balayage with dark roots is the perfect way to enjoy long layers and face-framing bangs that mix seamlessly with the rest of the long strands.
73. Shag Haircut with Long Deep Cut Layers and Curtain Bangs
We just can't get enough of this modern shag haircut with deep horizontal cuts that give length to the hair and short layers to frame the face and give height to the crown. The curtain bangs are slightly side-swept for a luminous look.
74. Magenta Ombre for Long Wavy Layered Hairstyle
Get the maximum out of your wavy long tresses with this layered cut mixed with an exquisite hair color, a combination of magenta pink and orange highlights that resemble a shiny flame.
75. Extra Long Layered Haircut for Wavy Ombre
These beautiful chocolate and caramel shades of brown ombre are highlighted by the curly layers added to this long haircut. The middle part makes for a symmetrical look.
76. Long Layered Blonde Hair with Lighter Front Part
Here is a beautiful combination of light blonde and darker blonde colors to enhance the depth of these dense layers cut to frame the face and bring volume to the mane.
III. Hairstyles for Long Layered Hair
There are many perks that come with having a layered haircut, one of them being that you can have as many hairstyles as you wish, long, short, half up-dos, etc., depending on your personal preferences. The different lengths are great for adjusting to the way you feel.
77. Chic Messy Bun for Layered Hair
Messy meets Marvelous with this chic messy bun with entangled strands that come together at the back of your hair, while the shorter ones fall freely, framing the face and neck.
78. Low Ponytail for Sleek Straight Layered Hair with Bangs
Although the hair is gathered in a ponytail, you can still see the different layers of hair that were cut for this haircut, since they frame the face and forehead in a stylish manner for a sleek and chic look!
79. Half-Bun for Pink Wavy Balayage
Enjoy both long and short hair with this half-bun that will allow you to stay feminine and be practical at the same time. After putting half of your hair up, make loose curls for the rest of the hair and smile for the camera!
80. Faux-Hawk for Curly Layered Hair
A bold hairstyle for a special type of hair, such as fine, small-curled hair is the best way to go. Make a statement by letting it free and add small hair pins to create a faux-hawk look with sleek laterals.
81. Braided Half-Bun with Highlights for Long Layered Haircut
To obtain this exquisite up-do, braid one central strand of hair that you will then put it in a bun halfway down the length of your layered hair. It will bring height to your crown and display the rest of the locks and their beautiful blue shade.
82. Loose French Braid for Extra Long Caramel Balayage
A great idea on how to wear layered haircuts is to braid starting from the top of the head downwards to include all the different length hairs while at the same time create beautiful optical illusion for your caramel highlights.
83. Fishtail Braid for Layered Platinum Blonde Hairstyle
Create amazing patterns in your mane with a fishtail braid starting the back of your head and all the way downwards. It will be easy to include all the different length strands and also easy to wear in a busy day.
84. Scarfed Bun with Falling Front Pieces
Bring a twist to a classic bun by tying a scarf from your wardrobe in your hair to have mixed colors and different textures play in your hair. Fashionable and quick!
85. Wavy Auburn Long Layers and Contrasting Hairpins
Make the most out of your pretty colored tresses with this chic and effortless hairstyle. After teasing up a bit the crown and adjusting your bangs, simply separate a strand of hair and fixate a couple of retro hairpins on a side to adorn it.
86. Amped Up High Ponytail for Blonde Ombre
The long layers in this haircut are still visible although the hair is pulled in a high ponytail with messy amped up waves and falling front pieces. The final touch was adding a small piece of jewelry to the strand covering the hair band.
87. Half Bun for Long Layered Haircut with Bangs
Soft waves and a small half-bun to bring that extra-height and volume to your crown is an easy, lovely hairstyle, perfect to display long layered haircuts!
88. Elegant Twisted Low Bun for Balayage Hair
An elegant swirling bun, pulled back really tight is a great option for elegant occasions or a fomal event and it will be easy to create if you have layered hair since it integrates all the strands in one small coquette chignon!
89. Messy Half-bun for Layered Long Blonde Hair
There is no better way to display your long wavy tresses and long-winged bangs but to gather the back part of your crown in a messy bun and let the rest of your hair free fall.
90. Unicorn Balayage for Wavy Layered Haircut
This exquisite hair color combining both gray balayage and unicorn colored highlights is a hairstyle in itself, the only thing missing is the perfect wavy curls that you need to add to these full, pretty layers!
91. Low Chignon for Fine Layered Blonde Hair
Perfect for an active day but also an elegant occasion, this simple low chignon is the best way to tie your hair if you have layered front pieces and thin hair that needs a bit of texture and shape.
92. Side Braids and High Ponytail for Curly Long Layered Hair
Side thin braids for curly long hair create stunning visual effect and amazing crown volume. It is the perfect hairdo to flaunt your gorgeous curls, pulled back in a high ponytail, exposing your neck and shoulders.
93. Half Fish braid for Straight Layered Blonde Hair
Try and separate the longer layer of hair from the bottom one and braid it in a fish tail at the back of the head. It will display all the length while keeping it from covering your face at the same time. Chic and practical!
94. Tucked and Twisted Chignon for Layered Caramel Balayage Hair
This sophisticated twisted type of chignon is very popular thanks to Melania Trump and we think is perfect for layered haircuts, allowing all the short strands to be tucked in and combed in a one unitary bun.
95. Hair pinned Layers for Blonde Wavy Hair
This bohemian hairstyle is very easy to make, the only thing needed being a fancy, round-shaped hair pin and a comb to arrange the hair locks and you're all set!
96. Raised Twisted Ponytail for Long Layered Haircut with Front Pieces
Another great way to gather all the short strands of hair is to make a classic ponytail and twist. Finally, secure the top of the ponytail on the back of your crown and style it a bit for a put together look.
97. Big Messy Bun with Falling Strands for Long Layered Haircut
Big messy buns are perfect for long hair, they give an instant feminine shape to your hair and don't get too long to make. Make sure you leave two or three strands out for a negligent artistic up do!
98. Thick Braided Low Pony Tail with Side Pieces
This sophisticated braided tail combines all the different length hairs for a unitary look, while leaving half of the ponytail free to make up for the volume. Perfect for thick hair!
99. Colored Hair Wraps for Long Layered Haircut
Celebrate summertime with these fun and beautiful hair wraps you can make at home to highlight the length and create a contrast for your layers.
100. Thin and Twisted Back Braid for Platinum Blonde Hair
Twist two long strands of hair from your temple sides and proceed to braid them together in a central tail while letting the rest of your hair free fall! The visual effect is stunning!
101. Crown Braid and Fishtail Braid for Rainbow Hairstyle
A mermaid-style is always a good idea and the effort put into braiding these pretty locks is always worth! Perfect for flaunting those rainbow colors in your mane!
These 101 layered hairstyles and cuts for long hair are great suggestions for how to style and wear layers and you be sure to find solutions for the hot days of summer that are about to come soon. A big advantage of layers is that they take or add volume but you can be sure they will make the burden of long hair a bit less heavier!
YOU MAY LIKE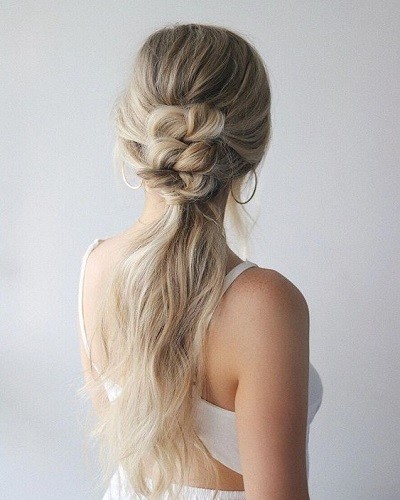 January 05, 2020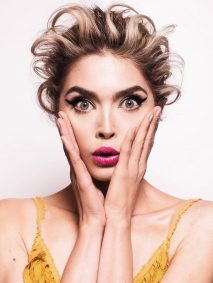 June 20, 2020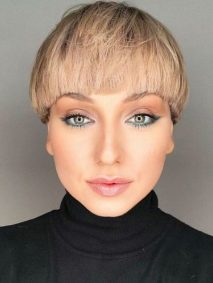 December 18, 2020