Many women as young as in their 20s have white hair nowadays, so this natural process is not a sign of old age anymore. Salt and pepper combinations are increasingly popular hairstyles for women over 50, who decide to adopt a more natural look and this is what you are about to see in this article! Scroll through to discover gorgeous options from silver fox locks to gray ombre (grombre or gombre) hairstyles and other updos involving white hair!
I. Short Hairstyles For Women Over 50
1. Salt & Pepper Short Taper Cut Hairstyles for Women Over 50
To get this super short razor trimmed haircut that will accentuate your feminine features and also display the beautiful pattern of black and white natural hair, you can pay a visit to a barber, rather than a hairstylist, since it has plenty of experience in short haircuts!
2. Teased Short Undercut For Grey Hair
This combed haircut has long layers on top and short trimmed hair around the sides with pointy strands that create a bob-like shape for your locks. To get the same volume, apply plenty of hair spray and tease it really well using a comb.
3. Short Hairstyle with Side Fringe
A flow haircut will help you get a bit of shape and maximum volume for your silver fox hair, which will bring luminosity and elegance to your looks while being very easy to maintain. Also, it will create high contrast with dark-colored accessories.
4. Straight Short Cut with Blunt Bangs
Another masculine-inspired hairstyle, this short Caesar-like haircut has combed-forward front strands and blunt-cut bangs that will make your hair more dimensional and geometrically shaped than usual.
5. Short Blunt Bob Hairstyles for Women Over 50 with Silver Fox Hair
A perfectly short chop with strands that stop at ear-level and fall freely around the forehead will compliment your features and enhance your skin's tone with no effort no matter your age! Priceless!
6. Silver Fox Short Hairstyle With Front Quiff
With swirling shapes and a curly front quiff that reaches the eyebrows, this short hairstyle for silver fox hair looks super stylish and youthful, while also revealing feminine facial features.
7. Short Golden Gray Hairstyle
With a mix of subtle golden blonde highlights and neutral grey, this short haircut with a side part and subtle layers that frame the face is the go-to hairstyle for women over 50! Simple yet stylish!
8. Annie Lennox Short Taper Hairstyle
Taper haircuts are not for men only, and with the right length and color, they can also add charm to your defined facial features. This look stands as proof that you can still look refined even when rocking short hair!
9. Grombre Short Textured Taper Hairstyle For Women Over 50
With scissors trimmed short strands and a sleek, wet texture, this gray and white taper has super pointy sideburns and an effortlessly cool look with no effort needed!
10. Silver Fox Swept-up Pixie Cut
The classic Pixie cut can have a super Rock' n Roll vibe if you choose to shape your front strands so that they create a Faux Hawk on your crown while keeping the sides faded and super short.
11. Messy Spiky Pixie Cut
With short trimmed sides and nape and a messy long crown part, this messy Pixie cut for silver-gray hair will ensure plenty of volume and style for your mature looks! Use shaping foam to make the top stay spiky.
12. Pixie Cut For Grombre Hair
A super short stranded haircut for a mixed colored gray hair will display all the shades of dark brunette and silver fox hairs in your grombre as well as increase your femininity with no effort.
13. Silver Fox For Soft Pixie Cut
Cotton-like thin hair can be dyed and cut to frame your face and add a hint of lightness to your looks as well as blend in the white hairs. To style, you can use a soft brush and hair spray to keep all the baby hair in place.
14. Spiky Pixie Cut For Silver Fox
For those with natural silver fox hair, a spiky short Pixie haircut styled with hair spray to gain a bit of texture and definition will help you keep a fresh, youthful look and be as beautiful as ever!
15. Silver Fox Short Pixie Cut
With an interesting shape, plenty of volumes, and razor-cut edges, this short pixie cut will amplify your femininity as well as reveal your thin neck and cheekbones which will do wonders for a fresh look!
16. Disconnected Undercut For Light Blonde Hair
A more tamed version, with less volume and angled cuts that create an unconventional look, the disconnected undercut will give your hair a distinct shape, with height on the crown and many styling options available!
17. Gray Buzz Cut For Women Over 50
When hitting your 50s you can finally gain the courage to try whatever haircut you want, including this extremely short buzzcut, with a texture similar to sandpaper and zero worries about arranging your hair in the morning.
18. Steel Highlights with Purple Lowlights Undercut
With an elevated crown area and short tapered nape, this short on the sides long top undercut has a splendid mix of colors added to increase the depth and texture and offers many styling options!
19. Silver TWA
For African-American women with naturally curly hair, a short trimmed Afro hairstyle will look even more stunning if you choose to leave your natural silver fox hair be revealed!
20. Purple Silver Hairstyle For Women Over 50
With sharp asymmetric long strands and layered cuts, this gorgeous short haircut has a great purple hue added to the silver base color and will increase your coolness!
II. Bob Haircuts and Medium Long Hairstyles For Women Over 50
21. Ultra Short Bob Blonde Hairstyle with Grey Highlights
A great hairstyle usually combines two things: a daring cut and a great pigment for your hair. This neutral blend of light brown and grey highlights makes for an original look that will compliment your feminine features.
22. Messy Bob with Bangs Hairstyle For Women Over 50
With soft curved tips and messy styling, this chin-level bob with straight bangs is the perfect casual look for any woman approaching her second youth.
23. Side-Swept Bob For Silver Fox Hairstyle For Women Over 50
Aging gracefully was never easier than nowadays when you can color your hair in so many ways and keep your hair as fabulous as ever with a voluminous, side-swept bob cut!
24. Straight Brown Bob Cut with Front White Highlight
Mother Nature can sometimes be a great hairstylist as it is the case with this front highlighted white spot you can choose to integrate into your bob cut for a change!
25. Silver Fox Classic Bob Cut for Women Over 50
With a polished look, a classic bob will amplify your looks and display your unique silver-grey color. To obtain this hairstyle, simply blow-dry your hair using a rotating brush to curve the tips softly after getting your bob cut!
26. Platinum Blonde Teased Bob Hairstyle For Women Over 50
For those with thick hair, this teased bob hairstyle in a shiny platinum blonde color will definitely turn heads and provide maximum volume for your locks! You will need high resistance hair spray to obtain this shape!
27. Chin Length Curly Bob Hairstyle for Women Over 50
This cotton-like texture is usually perfect for holding shape and definition for your curls and a short bob is a way to go when you want to gain maximum volume!
28. Straight Voluminous Bob Cut For Gray Hair
With blunt cuts and a soft side part, this gray-colored hair looks both refined and silky smooth textured and is surely well-hydrated to look this gorgeous!
29. Straight Bob Cut with Splash Of Magenta
Vamping up your typical bob haircut can sometimes be achieved by adding a splash of bright color such as this magenta front strand that makes your looks pop out in a crown and reveals your playful side too!
30. Brown and White Highlights For Bob Haircut
To make the most of your white hair you can opt for a contrasting color for the rest of your hair and leave nature to the rest! This bob haircut with straight curtain bangs displays the beautiful pattern in your hair!
31. Ash Violet Bob With Fringe
Fine hair will surely benefit a short bob cut thanks to the gained volume and perfectly shaped head. To spice things up you can opt for a blended color such as an ashy violet tone that will make you look original!
32. Blunt Bob Cut for Curly Hair
In order to master a curly texture is to find a cut that works for the thick texture and not against it. This perfectly defined curly grey-hair has a perfectly straight cut A-shape and sleek look for a classic style!
33. Side-swept Silver Blonde Lob
To rock silver fox hair, one simply needs to color the font strands using a money-piece technique, this way, your face will gain shine and luminosity and you can leave the rest of the hair natural and side-swept.
34. Platinum Blonde Lob Hairstyle For Women Over 50
Daring cuts, with bold lengths and angles, can revamp your looks in seconds! This lob with short trimmed bangs proves that you can pull off platinum blonde hair no matter the age!
35. Blonde Straight Lob For Women Over 50
Two-toned blonde hair color will give a bit of contrast to women with fair skin and also look good in a lived-in version. Opting for a straight lob that grazes your shoulder is a good way of ensuring the right volume for your face.
36. Straight Lob With Fringe For Blonde Hair with Silver Highlights
This straight, sleek fine hair has just the right length so that it doesn't;t look too flat, and also the silver highlights ensure a natural look for when your natural silver hairs begin to appear.
37. Straight Lob with Messy Bangs For Blonde Hair
Straight fine hair can benefit from a lob cut since it will help your locks gain more volume and movement and also create the perfect frame for your face.
38. Asymmetric Lob Cut For Silver Fox Hair
Show everyone that you didn't lose your spark with this unconventional idea of hairstyles for women over 50. An asymmetric long bob will be the perfect canvas for your silver fox strands that are ready to be admired!
III. Long Hairstyles For Women Over 50
39. Sleek Textured Messy Silver Locks
While keeping the roots fluffy and teased, the length of these silver fox strands was styled using hair spray and arranged with bare hands to create a messy effect!
40. Long Curly Messy Shag Haircut with Fringe
One of the most versatile hairstyles for women over 50, the long shag haircut will allow your different colored strands to blend in with the rest of dark-colored ones and create a messy, voluminous, natural look with no styling efforts!
41. U-layered Long Silver Fox Hairstyle
The U-layered Hairstyle is a combination of smooth, delicate layers of hair that fall around your neck and shoulders and it creates a feminine frame for your face while also enhancing the great contrast with the colorful makeup against the silver hair!
42. Ashy Gray Straight Hair with Front Bangs
A perfectly cool option if your hair already started having white hairs is to dye your entire locks in the closest shade such as this ashy gray color that will instantly make you look cool.
43. Curly Blonde Shag Hairstyle For Women Over 50
Long Shags are great options for hairstyles for women over 50 since they are a revived trend this year that will be more and more present in the following years to come. You have enough volume in the crown area, blended hair color, and perfect framing bangs for your face. What else can you wish for, right?
44. Beach Waves For Medium Long Blonde Hair with Dark Roots
Light and airy layered medium long cuts will give you a youthful look and so much light around your face that you will literally glow with femininity! The subtle curves add to the effect!
45. Straight Brown Hair with Blonde Highlights For Women Over 50
Wispy, long layered hair that reaches your shoulders, dyed in a beautiful warm brown with thin blonde highlights will compliment your skin complexion and give you an instant boost of femininity!
46. Sleek Silver Hair with Blonde Strands Hairstyle
Opting for a natural look can sometimes prove to be the best option if you have curly hair. This way you can play with different hairdos and use the falling strands to cover certain areas you don't want to emphasize.
47. Blonde Straight Hair with Blue Highlights Hairstyle For Women Over 50
An eccentric color can sometimes make you become the most popular woman in your group of family and friends. This high contrasting look with bright blue under-lights is the perfect two-colored hairstyle!
48. Straight Blonde Hair with Dark Roots
Thin, fine textured hair can benefit a straight cut with very subtle layering done to the sides since it will add a bit of volume and an airy texture. The dark roots ensure a bit of contrast and a natural look.
49. Naturally Gray Hair with Side Part
Equally fabulous to its colored counterparts, the medium silver-gray hair can be worn in various manners to compliment each skin complexion and eyes color, but this medium length cut with a side part and sleek crown is a total win!
50. Curly Blonde Long Hairstyle For Women Over 50
Angelic long curls, with natural definition and a light shade of blonde, are super stylish and feminine for any lady who knows how to rock her age with no regrets!
51. Free Falling Curly Grombre Hair
If you are lucky enough to have thick voluminous hair it would e a shame to cut it simply because you are getting older. Instead, choose to wear it free falling over your shoulders and style it with a big brush so that the curls keep their natural appearance.
52. Light Blonde Layered Hairstyle with Long Fringe
Look like a Hollywood actress with a light blonde extra-shiny hairstyle with the right length and subtle front fringe that frames your beautiful feminine features. The layered cut allows your fine hair to have movement and volume.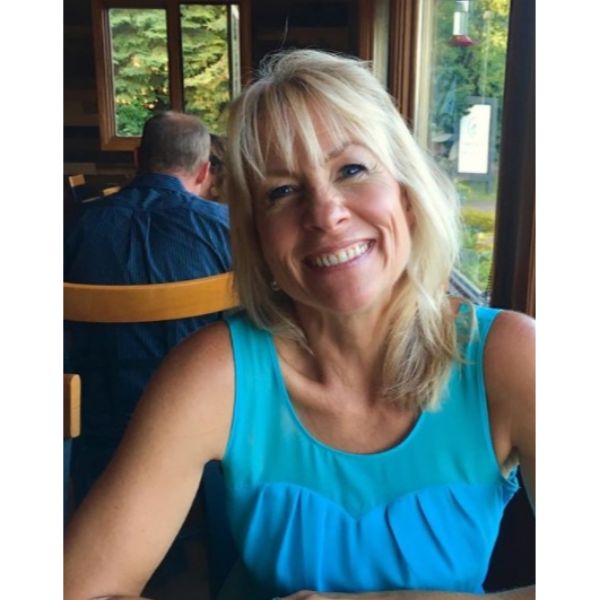 53. Silver Hair with Mermaid Green Highlights For Women Over 50
One of the most daring hairstyles for women over 50, this long silver-gray hair with blonde highlights and green under lights is a total success for your looks that shows you are brave enough to still rock exquisite colors!
54. Big Curly Grey Hairstyle For Women
As mentioned before, cutting your hair to ultra-short lengths is not a necessary sacrifice when you are confident enough to transition to a natural look. Grey hair looks amazing when it's extra long and you can add big curls to gain extra volume!
55. Salt&Pepper Highlights Hairstyle For Women Over 50
A medium-long haircut that grazes your shoulder and has plenty of movement will look ten times cooler if you play with the tones of your hair first. Thin, subtle platinum highlights will make your salt&pepper colors pop even more and ensure a compact appearance!
56. Grombre Messy Hairstyle for Women Over 50
Sometimes you have to go bold or go home! This messy voluminous grombre is styled with plenty of hairsprays and it will reveal your inner lioness as soon as you step out of your hairdresser's saloon!
57. Natural Silver Hair with Blonde Hues Hairstyle For Women Over 50
For a warmer, more colorful look, you can add blonde highlights to your silver-gray hair and keep it natural in terms of length and styling. This way you can play with different colors to create the perfect display for your face!
58. Wavy Soft Silver Fox
Who needs a hair colorist, when Mother Nature has it all covered? This soft wavy long dark hair has two front strands that are two colored to give your face the contrast and light it needs to shine as bright as ever!
59. Messy Blonde with Dark Roots Hairstyle
Adding different shades of blonde will help blend in the white strands as the roots start growing and create the perfect lived-in dirty blonde look. Combined with a medium-length cut, this messy blonde hairstyle is a feminine option for any woman out there!
60. Bridget Bardot Hairstyle for Women Over 50
Long curtain bangs with side wings and voluminous long hair that will surely make you look as young as ever are the perfect replicas of Bridget Bardot's looks, especially if you choose to dye your hair in a warm blonde!
61. Bouncy Blow-dry Curly Hairstyle
Nothing looks more feminine and seductive than bouncy blow-dried curls mixed with a blonde hair color that will instantly make your face glow! This medium length hairstyle was layered and shaped using a rotating brush towards the tips to create the curls!
62. Natural Silver Fox Long Hairstyle Older Women
Whether you hit your 50s or you already have white hair, choosing to transition to a full natural silver fox hair will help you gain acceptance and joy at your hairstyle that matches your life experiences as well!
63. Salt&Pepper Faux Locks
To get a compact, even look for your grey hair, you can opt for Faux Locks to be installed by your braider and rocks Salt&Pepper colors with pride!
64. Elegant Curly Silver Hair for Women Over 50
Getting old doesn't mean you have to chop your hair and wear it in a masculine style. You can actually keep your Rapunzel locks and choose to display a romantic slightly curly hairstyle with the specific silver tones that come along with age!
65. Salt& Pepper Afro Hairstyle
This bowl-cut for kinky curly hair with salt&pepper colors ensures plenty of volumes and an even display of your hair's weight around the head. It also brings attention to your face and goes perfectly with red lipstick!
66. Marbled Red Hair with White Strands
When mixing two colors with high contrast in different proportions you get a marbled effect which is the best way of integrating white hairs in your looks! This long red hair has an interesting fringe that frames the face too!
67. Red Curly Hair with Bangs For Women Over 50
Let your hair graze your shoulders and show off that beautiful subtle red tone in your hair with subtle curls and a thin fringe. No one will guess your real age with this hairstyle!
68. Silver Highlights for Dark Brown Chop
Perfect for a style makeover this short asymmetric chop is also very fresh and trendy while also allowing multiple styling options. Simply use a curling iron to give a bit of shape to your front longer strands and create a feminine look!
69. Bronde Bowl-cut Hairstyle For Women Over 50
This haircut will give you crazy volume and shape if you have naturally curly hair and adding a shinny blonde brown mix of colors in your hair will complete the feminine, warm look! Style it with hair spray to fixate the curls!
70. Soft Warm Blonde Textured Bob Hairstyle For Women Over 50
This warm blonde, feathered blonde bob is proof that you don't have to sacrifice your hair's length or color as you age. Simply getting a medium-level haircut will add volume and a soft feminine texture!
IV. Hair Updos and Hairstyles for Women Over 50
71. Messy Golden Ponytail with Falling Strands
Want some extra lifting for your face? Opt for one of the easiest hairstyles for women over 50 that choose to rock long hair. A perfectly feminine and practical choice, this messy ponytail will make you feel carefree and super young!
72. Grombre Hairstyle with Hair Scarf
Adding a splash of color to your black&white locks will instantly brighten up your face and give you an energy boost. Just look at this beautiful high contrast and let it work on your inner confidence!
73. Silver Grey Space Buns For Women Over 50
Create a super easy and girly look with two space buns coiled on the sides of your crown that will display all the beautiful silver strands in your hair while also lifting your facial features to reveal a youthful look!
74. Side Ponytail for Grey Faux Locks
If you were looking for protective hairstyles for women over 50, this example might be the perfect option for your salt and pepper Faux Locks! With a high contrasting ponytail and more volume than you could wish for, this hairstyle is perfect for busy days!
75. Bun for Box Braids
If you have dark skin, hitting your 50s is a good opportunity for extra color and plenty of contrast in your life! These natural box braids were coiled on top of the crown to create a textured bun that is both feminine and practical!
76. Grombre Wavy Hair with Hair Accessories
A great way to add a feminine touch to your looks is to use hair accessories that will provide all the sparkle you need for your grombre hair. This neutral colored hair gains color and elegance with two side hairpins!
77. High Ponytail for Gray Faux Locks
A stylish and practical option of hairstyles for women over 50 who love big bouncy Afros is this high ponytail that will amplify your volume and display all the gorgeous shades in your mane!
78. Side Twists For Grombre Hair
There is no better way of showing off your splendid silver hues and grombre locks than to wear your hair in a minimalist manner such as side twists you can create in under one minute. They are also very practical as they help to prevent your hair from getting into your face.
79. Grombre Side Ponytail
More precious and shiny than any piece of jewelry, your natural grombre hair can add extra style to your appearance if you choose to display it in a side low-ponytail that you can carefully comb and shape to stay put on your shoulder. Just Wow!
80. Loose Side Ponytail Hairstyles for Women Over 50 with Blonde Hair
Look perfectly relaxed and charming as ever with a loose side ponytail that will help you keep the volume of the crown while also showing off your long locks! Best weekend hairstyle!
81. Blonde Gray Hair With Falling Front Strands
One of the most feminine hairstyles for women over 50 is this straight, simply combed ponytail with front falling strands that will frame your face and give you a soft appearance and seductive look!
82. Half Updo with Scrunchie
Say hello to the '90s with this inspired look that will instantly give you a boost of energy and volume in your upper mane with minimum effort. A simple scrunchie used to pull half of your hair will be enough to create it!
83. Messy Bun For Salt&Pepper Hair
Simply pull your head in a loose high ponytail and coil it so that you create the messy bun on top of your crown. Use bobby pins to hide the tips and fixate the strands in place.
84. High Elegant Bun Hairstyle For Women Over 50
Be the star of the party with a statuesque posture and matching coiffure at any special occasion! This high, elegant bun with neatly combed hair strands will let your face free of any extra weight as well as lift up your face for a youthful look! Stunning indeed!
85. Sleek Grombre Ponytail For Older Women
A great option of hairstyles for women over 50, this slightly lifting hairdo has a very distinct and elegant look thanks to the gray and silver tones. Simply pull a ponytail at the base of the nape and make sure the top hair is neatly combed. Check this article for more inspiration too!
86. Top Knot Undercut Hairstyle With Splash of Magenta
For those with an eccentric personality and plenty of attitudes there is a hairstyle to match. This short sides long top undercut with a splash of magenta color is one the most amazing hairstyles for women over 50 out there!
87. Head Wrap For Salt&Pepper Hairstyle
Traditional hairstyles for women over 50 will look extra-chic if added a splash of color and the right makeup to accentuate your features. Plus this protective head wrap also adds your height extra inches.
88. Silver Hair Messy Bun For Asian Women
Asian hairstyles for women over 50 include the ever-popular messy bun and this silver hair version is simply chic and great looking for a chill Sunday morning or daily workout session!
89. Princess Leia Hairstyle for Grombre Hair
Especially when transitioning to your natural color, white hair will create a great contrasting look and you can opt for this fun and playful Princess Leia's hairdo to amplify it and it really exhibits your reversed grombre!
90. Twisted Elegant Updo For Silver Hair
Black and white and all the other gray colors in between are very elegant tones per se and they can amplify the elegance of a classic hairdo such as a twisted side bun with sleek polished strands that create a very put-together look.
91. Tucked Under French Braid for Grombre Hair
To get this look you will need to braid a loose French braid and use simple bobby pins to fixate the end of the braid tucked in, thus gaining more volume and freedom of movement.
92. Grombre Straight Hair with Hair Accessory
In the transition phase from colored to natural hair, you can take advantage of the two-toned long hair and wear it simply with an embellished precious hairpin to keep it from getting into your face. Hairstyles for women over 50 should include these Rapunzel looks as well!
93. Single Ponytail with Headband
In those busy days when you don't know what to do with your hair, adding a simple headband or flower-patterned one will instantly change your appearance and make you look more feminine!
94. Boho Head Wrap For Silver Fox Hairstyle
For those with a preference for fun, colorful hairstyles, this updo for long hair is quite a match! It has a multi-colored headband that matches the silver fox long straight hair and gives major Bohemian Hippie vibes!
95. High Bun with Headband Hairstyle For Women Over 50
Classic updos look even more refined and stylish with silver fox colors! This sleek neatly combed high chignon has a dark-colored headband for extra contrast! Add big earrings to enhance elegance!
96. Top Half Knot For Long Grombre
During lazy days or busy mornings, you can always count on a messy top knot to do the magic for your looks! This half-knot was loosely pulled on top of the crown and the rest of the hair slightly combed so that it doesn't lose its volume!
97. Side Braided Pigtails
The ever-innocent hairdo we all had in our childhood looks amazing on older women too! Simply braid two side ponytails not too tight so that you don't lose shape and volume.
98. Messy Top Knot For Silver Fox Hair
With a swirling shape and messy styling, a top knot works best for long hair and it will place your gorgeous hair color in the center of attention with no extra effort needed!
99. Perfect Curls For Silver Hair
The perfect look of fresh curls is even more stylish when you have a dash of white hair in your crown. This two-colored look compliments both fair skinned women as well as dark colored ones.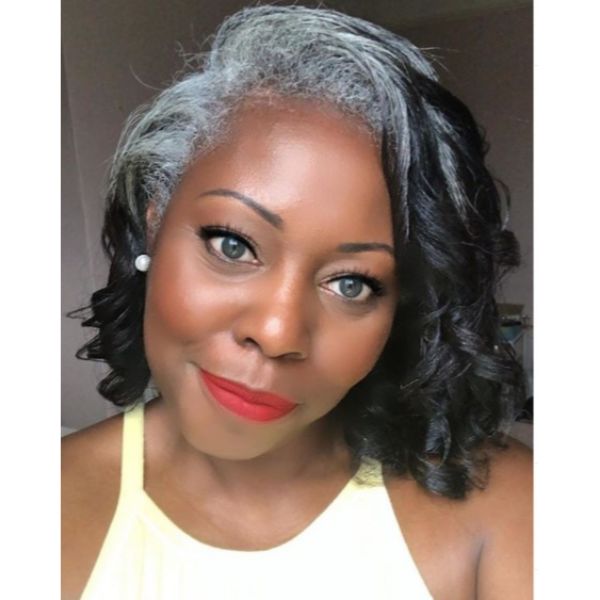 100. Crown Braided Bun For Silver Fox Hair
Either you opt for extensions or simply choose to braid your natural long silver fox hair in a high bun, this hairdo is the perfect style for special occasions and it will also give you a gentle lift to your face!
101. Silver Fox Soft Taper Cut
With a silky, foamy texture, a soft taper cut with well-blended lengths will ensure plenty of shine and dimension to your hair while also providing a subtle look that you can enhance through strong eye makeup!
Conclusion
Hairstyles for women over 50 are as diverse as possible and there are no limits to how you can cut or dye your hair once you hit your second youth! This article revealed plenty of options for those who have curly, fine, short, or extra long natural hair and are not afraid to show their age! We wonder, which one did you like the most?